Every vacation is more fun when it includes a theme park! We have a wide selection of great deals on attractions, dining, and tours.
Hampton Inn & Suites Anaheim/Garden Grove
Free hot breakfast buffet, in-room microwave and fridge. Suites that sleep up to 6 with full kitchen available.
11747 Harbor Blvd.
Garden Grove, CA 92840
Located just over one mile from the DISNEYLAND® Resort, the Hampton Inn & Suites offers spacious guest rooms - perfect for families. Whether you're staying in a standard room or one-bedroom suite, you'll be able to enjoy a free hot breakfast buffet each morning before heading to the Resort.
4.2 out of 5 Rating (32 Reviews)
84% of guests recommend this hotel
Maximum Occupancy: 4
Special: 4th Night Free (Subject to availability)
Check-In Time: 3:00 PM
Check-Out Time: 11:00 AM
Shuttle: Available ($6.00)
Parking Fee: $10.00 per night; payable to hotel at checkout (a $15.00 per night savings)
Resort Fee: $0.00 (Per night; payable to hotel at checkout; a $12.00 per night savings )
Coffee Maker
Microwave
Refrigerator
Laundry
Pets Allowed (Fee $75.00 per day payable to hotel at checkout)
Outdoor Pool
Wading Pool
Hot tub
Exercise Room
In Room Internet Access
Cable TV
Pay Per View
Full Breakfast
Hilton CleanStay with Lysol Protection program includes: using hospital-grade cleaning supplies and upgraded cleaning protocols, extra disinfection of high touch areas in guest rooms, sealing guest rooms after cleaning for next guest, increased clean
2 Queen, Sofa Bed One Bedroom Suite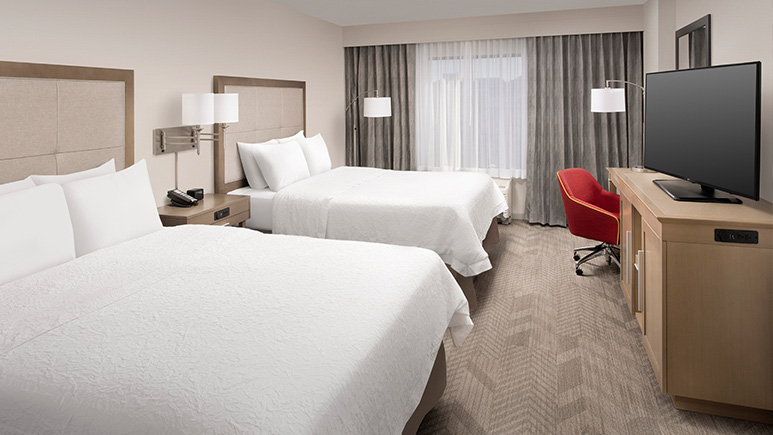 Maximum Occupancy: 6
Check-In Time: 3:00 PM
Check-Out Time: 11:00 AM
Shuttle: Available ($6.00)
Parking Fee: $10.00 per night; payable to hotel at checkout (a $15.00 per night savings)
Resort Fee: $0.00 (Per night; payable to hotel at checkout; a $12.00 per night savings )
Kitchen
Coffee Maker
Microwave
Refrigerator
Laundry
Pets Allowed (Fee $75.00 per day payable to hotel at checkout)
Outdoor Pool
Wading Pool
Hot tub
Exercise Room
In Room Internet Access
Cable TV
Pay Per View
Full Breakfast
Hilton CleanStay with Lysol Protection program includes: using hospital-grade cleaning supplies and upgraded cleaning protocols, extra disinfection of high touch areas in guest rooms, sealing guest rooms after cleaning for next guest, increased clean
---
The Hampton inn and suites was perfect for us! Super close to the park. Walking distance about 30 min. Driving distance less than 5! Breakfast was super yummy, they had so many great options! Great beds too.
I liked this hotel, but if were comparing it to the other hotels in the area I would've gone for those. It was a cheaper option and still a great hotel! Breakfast was good and room was good. Stuff just looked dirty in the room, just mold on the shower head and walls. Other than that it was okay.
Convenient to have the shuttle and be next door to a restaurant. Only negative was the first night the lobby carpet had a musty odor but I didn't notice it next day.
There was never hot water in the morning.
The room was clean, beds very comfortable and breakfast was good, with enough options for each of us. We had two rooms adjacent to each other, one for my hubby and me and one for our daughter and 14 year old granddaughter. The hot tub was great after a busy day at the park. We used Art shuttle every day, it was very convenient. Staff was nice, we especially enjoyed Maria who worked very hard in replacing breakfast items and keeping the breakfast area clean, even though she was busy she would smile and say hello to us every time she saw us. We will stay here again. My hubby who travels for work quite often said he liked it, too.
It suits our families needs and we will stay again:)
When we arrived we were told our suite that we paid for and booked was not available, and they put us in in two separate rooms side by side not adjoining. We were not happy! We have two children with us yes older but we had to split our family up, and we needed that kitchen of the suite because we were planning on making meals at the hotel we were on a small budget. Since it was the weekend no manager was there. On Monday morning at 7 am we spoke to a wonderful manager who managed to fix the issue and understood we were there for 10 days and that would not work for our family or our family. She fixed the problem to be ready for when we got back from Disneyland that day and we switched rooms to a suite. They also camped out parking. This was awesome as we are Canadian and the exchange is horrible. We were very happy with the rest of our stay! They were very accommodating and kind and helped when we need it:) this is our second time at this hotel and it was fabulous. It suits our families needs! We will stay again:)
Complication checking in but friendly staff
There was a complication when checking in. I was told that my reservation was cancelled and I had to go through quite a process to get everything straightened out between the hotel and Getaway Today. In the end however, the hotel did accommodate me and took care of my needs. The staff was pretty friendly but, with the exception of the manager, seemed to be lacking communication. The manager was very nice and took care of everything, which made a stressful situation bearable. There were also complications with the other guests in my group.
Nice family theme hotel, no super big but comfortable.
Close to drive 10 min to Disney parking
Nice fitness room. Pool was good but small. Breakfast just fine. No complaints. Close to drive 10 min to Disney parking. We drove back each day and swam & napped, then headed back to Disney for evening.
We enjoyed our stay at the Hampton Inn and Suites Anaheim Garden Grove. The room was clean on arrival. We were made aware that due to staffing, that our room would be checked only once by housekeeping during our 6 night stay, which was fine with us. On our arrival in the suite, we had to ask the front desk for garbage bags as there were none, and with the kitchen - there were knives, but no spoons or forks. The front desk could only supply plastic wear, but other silverware was left in our room the next day. The staff was always very helpful, especially the breakfast staff - they were so friendly and helpful. The breakfast was very good, lots of daily options and all was very delicious. We felt safe always at the hotel, and truly enjoyed our stay.
Great value for the price
Danielle B. on 10/10/2021
Great value for the price. Highly recommend using the shuttle service to Disneyland. Not really in walking distance to Disneyland or the beach. The breakfast was great with a lot of options. Loved the waffles! Did have limited fresh fruit and they never served bacon. Great Italian ice cream place close by. In-suite with kitchen didn't have a lot of space and/or supplies. We ended up eating out for all meals besides breakfast but it was nice to have the fridge. In-suite had 2 queen beds in one room and a sofa bed in the other. It was really too small for us to stay in the sofa bedroom and have our kids in the other room so we ended up staying all together. You have to request to have your room cleaned they just don't just automatically do it. The hotel is a little bit outdated in some places they still have popcorn ceilings. Overall we had a great time.
Very well kept and close to Disneyland.
Very well kept and close to Disneyland.
Great rooms and breakfast.
The room was clean and comfortable. The breakfast buffet was yummy. The big disappointment with this hotel was the only one functioning elevator. It was a 5-10 minute wait for a ride to the 7th floor.
Clean and quiet. Good breakfasts
Hampton inn has always been our choice when we go to Disneyland. The location is excellent and provides a shuttle to Disney parks. The breakfast is always decent, and there are several choices. Enjoy staying in Hampton because the beds are always clean and we enjoy the suite with the kitchenette
Stay was great, although one of the elevators didn't work, thankfully we didn't have a problem with getting up or down the elevator. Another thing was we witnessed some very distraught guest who arrived the day before we left, as we were checking out, they explained to us that their U-Haul had been stolen from the parking lot and unfortunately the hotel does not have any cameras in the parking lot. Someone also set off the fire alarm around 8a.m due to smoking in their room, fortunately we were already getting ready to head out to disneyland but others had to go out in their pjs. We were let back in 10 minutes later. Overall it was a good stay for us, not far from disney, we used the shuttle at hotel, restaurant Buca di Bipo right next to hotel was good, Jack in the box right across street good location and great service.
1 bedroom suite was perfect for our group! It was clean, updated and roomy! Comfy beds and kitchen area made our stay more enjoyable! Breakfast was convenient and tasty! Overall a great stay!
Nice rooms, average hotel. Poor quality breakfast, slow elevators. 30 minute walk to Disney, shuttle is extra.
The Hampton Inn is always very clean and a nice place to stay. They offer free breakfast that is of a pretty great quality. It is about a mile down the road from Disneyland which is a bit of a downside, but they offer a shuttle service that leaves the hotel twice and hour.
Clean and close to Disneyland
Jennifer R. on 08/09/2019
Overall the hotel was great. Clean and close to Disneyland. Only issue we had was they were doing renovations on one of their two elevators which lead to longer wait times for the elevator. Not a huge deal but may want to notify future guests that you have booked there.
Jennifer G. on 07/19/2019
The staff was amazing and went the extra mile from trying to track down our mis-delivered ART tickets, storing our luggage on the first and last day of our trip and accommodating a request to get 2 rooms next to each other for two families traveling together. Very friendly service. Clean hotel with a decent breakfast. Kids loved the small wading pool in addition to the hot tub and pool.
July 8-12, 2019. I have mixed feelings about this hotel. Will be a long review, but hopefully helpful! I booked and requested a room with a king bed. However, upon arrival they did not have any king rooms available. We were told that there "might be one available tomorrow, you'll just have to come down to check." We came to California from Texas for a wedding, the beaches, Disneyland, and hiking... we had a lot of stuff. The man at the front desk told us just to not bring all our belongings in and just "check back tomorrow." We are the Disney people that go early, stay all day, and close the park. There was no time to unpack, pack, move, unpack again. We reluctantly decided to just keep our room with the two full beds and not deal with trying to relocate all the stuff. I am still very disappointed in that. There was only one operating elevator during our stay. I waited 20 minutes on an elevator going up (to the 6th floor) one morning while holding a plate full of breakfast and hot coffee. The water was turned off from 11am-5pm one day during our stay. While we were at the park during this time, it did not affect us. I did speak to another guest who said her shower backed up after the water turned back on and they refused to move her rooms. Despite these things, our stay was comfortable. The room was clean and much larger than expected. The fridge was larger than in most hotels. There was also ample amounts of storage for other food under the tv. We enjoyed that there was plenty of lighting and mirrors for getting ready. And, it had sitting/table space for 4. The shower had excellent water pressure and stayed hot. Breakfast was one of the best I've had at a "free breakfast" hotel. They have a special for each day as well as the normal offerings. Pick up using the ART was easy and awesome. Well worth the few bucks each day to use it. We were dropped off each night right at the hotel door. Overall, I would recommend this hotel and I would book again. The elevator and water issues I can overlook because, well that's just life sometimes. However, I expected to get the room I booked, requested, and paid for when arriving.
This room was perfect for our family, very clean and up to date. We loved the full kitchen, it made our vacation affordable, and more enjoyable because of it. We were impressed with every aspect of this hotel and will be back again.
Whenever we come to Disneyland we try and get hotels with free breakfast. It makes things so much easier in the mornings with kids. Their breakfast was great, they even had a to-go basket with smaller breakfasts as you are heading out the door. The rooms were nice, the pool was great. We used the shuttle, which they share with the hotel next door, but we had no issues getting on. It is also really close to Target, which was nice!
Made our Celebrations Magical
We let the hotel know a head of time that we were celebrating an anniversary during our stay and they made everything so special. We had a small treat and note waiting for us upon our arrival, it wasn't anything big, but it made our trip special, and memorable.
The beds here surprised me, they were incredibly comfortable and allowed my family to get some good sleep before heading out to the Disney Parks. We loved that we were well rested and well fed each morning, the free breakfast was great and filled each members of my family every morning.
Super hotel for larger families
We were very pleased with everything this hotel offered. It had a tasty hot breakfast (with three teenage boys, this saved us a boatload of $$ each day). The beds were comfy and we had nice pillows too. The hot water was abundant and the showers had lots of pressure/water flow. The only complaint is that Get Away Today notes the hotel is less than 1 mile to Disneyland, but it's actually 1.5 miles and we opted to walk to save money. It was a pretty walk and easy, but when you walk through the park all day, it's a lot if you don't have comfy shoes. We consistently walked 10 miles each day of our trip per the pedometer. Overall, a super value for a hotel, attentive staff, clean & comfy, what more could a traveler ask for? There is a even a swimming pool, kiddie pool, and hot tub to relax in at the end of a busy day. We requested a room on an upper floor facing Disney and were able to watch the fireworks from our balcony at night too. We'd definitely stay here again.
Clean Rooms, Great Experience
We had a great time at the Hampton! The rooms where beautiful and very updated. We loved how clean everything was and felt comfortable coming back to our room each night. The location was great, less than a mile away we could walk to the park each day. One of our family members had a baby so they bought a shuttle pass so they could go back and forth from the hotel quickly for the childs afternoon nap. Everything was convientent and enjoyable.
Its proximity to the park makes it a great stay. The staff was friendly. The rooms were clean and in good order. The beds/pillows were not the best. Breakfast was as expected. A word of caution: They sell shuttle tickets at the front desk. They are for a third party shuttle service, which has horrible customer service.
Hotel is apparently starting long overdue renovations but no mention of this at booking nor did price reflect subpar accommodations. The room felt like a cheap hotel at not a cheap price. Holes in curtains and couch, floor boards coming up, no laundry as advertised, hot tub not working, just not what you expected. Looks like after renovations are done it might be nice but shame on Hampton for not being upfront about conditions and not reflecting condition in price. Have stayed in many nice Hampton Inns, this is not one of them
When we booked our tickets several months prior to our trip we were unaware that the hotel and pool specifically were being remodeled. It was a bummer at check-in to find out that the pool was unavailable. My kids had each packed 3 suits hoping to take advantage of the California sunshine. The front desk was able to accommodate us a neighboring hotel, but it was still not the same. We stayed in a suite, which I would recommend if traveling with kids. Had a full kitchen, balcony and the bedroom with the beds which were very comfortable. The staff was great. The shuttle service to Disney was quick and easy.
I've never been disappointed with a Hampton Inn and this one is no exception. The breakfast is great, the beds are comfortable and the rooms are large and clean. We normally stay in a suite for the extra room, but they were sold out of suites so we stayed in a standard room. It still had a microwave and fridge and was very family friendly.