Hilton Garden Inn Anaheim
In-room microwave and fridge, "Garden Sleep System" deluxe bedding and a flat screen TV in each room.
11777 Harbor Blvd.
Garden Grove, CA 92840
Located 1.5 miles from the DISNEYLAND® Resort, the Hilton Garden Inn offers classic comforts in their family-friendly hotel rooms. Each guestroom comes equipped with "Garden Sleep System" deluxe bedding, microwave and refrigerator. Plus, guests can also enjoy a free daily buffet breakfast as a Get Away Today guest.
4.1 out of 5 Rating (26 Reviews)
85% of guests recommend this hotel
Pricing and availability subject to change until booked.
Please enter travel dates to view pricing and availability
Please enter travel dates to view pricing and availability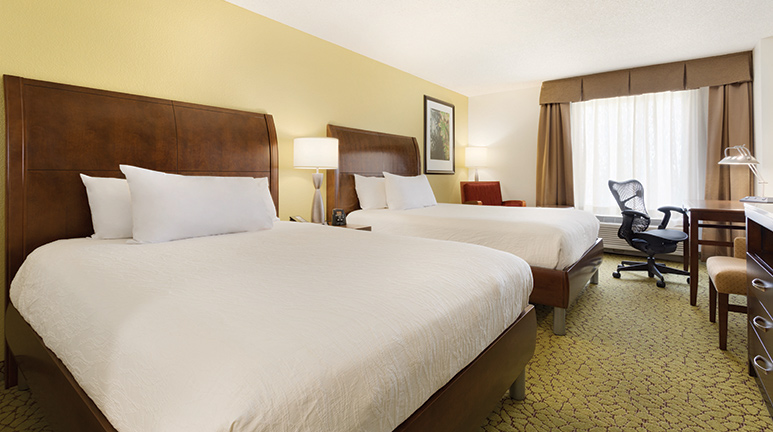 Maximum Occupancy: 4
Check-In Time: 3:00 PM
Check-Out Time: 12:00 PM
ART: $6.00 (Available)
Distance to DISNEYLAND® Resort (1.3 mile(s))
Handicap Access
Parking Fee: $10.00 per night; payable to hotel at checkout (a $15.00 per night savings)
Crib (Upon Request)
Distance to Universal Studios Hollywood (37.3 mile(s))
Shuttle: Available ($6.00)
Distance to Knott's Berry Farm (9 mile(s))
Inside Room Access
Distance to LEGOLAND® (62.8 mile(s))
Distance to SeaWorld (91.1 mile(s))
Coffee Maker
Microwave
Refrigerator
Pets Allowed: $75.00
Free Full Breakfast (Valid for 2 Adults and 2 Kids under the age of 12 daily.)
Outdoor Pool
In-Room Internet Access
Cable TV
Hot Tub
Exercise Room
Laundry
Please enter travel dates to view pricing and availability
Please enter travel dates to view pricing and availability
---
The breakfast was not good at all. They ran out of food 2 hours prior to closing the breakfast down.
Kristen Anderson K. on 03/16/2023
When we arrived, we were greated warmly by the staff. The room was clean and spacious. The rooms were provided with refillable toiletry items for guest use. The breakfast crew was kind and personable each morning at our included breakfasts. Checkout was simple-key drop off.
The hotel itself was really nice but there was a surprise 200$ 'incidental deposit' at the front desk none of us were aware of.
Stayed 7 days. Room was never cleaned. Gave us towels on day 5. Had to go get our towels before then. I recommend staying at another resort
Nothing was mentioned that they are in the process of renovating the hotel until we checked in. Renovations are being done between 8-5. Which actually started before 8am. Don't expect to sleep in or take a nap mid-day. Their kitchen is also closed at this time for dinner as well. We would have personally chose another hotel had we known this. Other than that, we had no complaints. Staff was very friendly, rooms were clean.
Hotel was clean, staff were friendly and helpful
We just stayed there for a Christmas trip to Disneyland. I was excited to stay. They told me this was a great deal and a better hotel. I want to start by saying the breakfast was amazing. The staff was very friendly and the store inside was really great to have. Now for the bad. Due to short staff they weren't cleaning rooms everyday. So the trash piled up fast for us. The floors weren't clean and the beds weren't very comfortable. The room was cleaned once on our 4 night stay. The ART was very convenient. But I don't think we will be repeating this hotel.
Elizabeth C. on 10/16/2021
Hotel overall was a great experience. The staff was exceptional. The rooms were okay, but we weren't in them that much to care. For the price and what you get, it is a great deal.
The staff were perfection. So kind and helpful. We didn't get our rooms straightened or cleaned or the garbage taken out (important when you have a kid in diapers) in between days. When we asked they did come take out our trash on the 3rd day we were there. The room was older and not recently updated which would be fine if it was really clean. But there were some mold spots above the bathroom mirror (no venting in the bathroom for moisture) and our socks were dirty when we walked on the floors. The continental breakfast however was delicious and just what we needed before heading out on our long days at the parks. There is a shuttle for $6 per adult per day round trip to Disney but for some reason when I originally looked at the map on getaway today of where this hotel was located I thought this hotel was located across from the park and within walking distance. Next time I'll be quadruple check my location in multiple areas before making a final decision. Overall pretty good value but I think I'll try a different hotel next time we plan our Disney and California vacation.
I was very happy with this hotel
I was very happy with this hotel. It's very nice, seems very safe, I wasn't worried about leaving my car in the parking lot like I am at some hotels, the staff was very friendly, and the price was amazing. The room we were assigned smelt strongly like cigarette smoke and the hotel staff quickly changed us to a new room that had no bad smell whatsoever. We walked to and from the park, about a 20 minute walk. It's also very close to Target, which came in handy many times! I 100% recommended this hotel and hope to stay here again.
Nice place. Dining area could be a little larger to accommodate the higher occupancy times.
Fernando M. on 12/28/2019
Great breakfast options and open for late night checkins. Staff very accommodating.
We have stayed at this hotel before. The customer service is great. They were very accommodating to our needs. The beds are very comfortable. The rooms were clean. Although this time around housekeeping did not vacuum our room several times during our stay.
We were impressed with the staff and their friendliness! The hotel was clean, provided shuttle services, convenient in location and was overall great. We love this place and would recommend it to anyone and everyone!
Fantastic staff! They helped fix any issue in our room quickly and efficiently. The location requires bus services to the Parks but still a good location. The hotel was clean and quiet. We would come back for sure!
It was a typical HGI, but the service could use improvement. The front desk and restaurant were not managed well as we'd like and I was not impressed with the food in the restaurant.
Great hotel! Not too far from Disneyland, they offer shuttle services for $7 a day or $18 for a 3 day pass. It's also about a 15 minute walk if you would rather do so. I stayed with my 5 year old and he loved it too. Great hotel! Would recommend to family and friends.
The beds here were absolutely incredible!! We slept so comfortably and so soundly, we didn't have any outside noises or anything. It was so nice to be able to come home from a busy day and to rest well each night.
Great hotel, reasonable price
I loved all aspects of the hotel. The only issue I had was the location of the designated shuttle stand for our hotel at Disneyland itself. I was trying to save wear and tear on our feet , and It turned our to be as far from the park turnstiles as it could be and still be on the property. It was almost to Harbor Blvd , maybe 20 feet . I stayed at the Best Western right across the street (I could see it from the shuttle stand) in 2017 and the shuttle stand was only a few more steps closer to the gates . Probably not a great reason to stay elsewhere but it may work out that way.
The staff here always amazes us, they are very kind and helpful. The rooms are a little outdated, but we always have a great stay here. The pool is always a high light to us, the kids love spending time in the water. Great Stay.
We checked in very late at night after our travel went longer than expected. The staff were ready to greet us and make check-in and parking as easy as possible. Any questions we had or needs for linens in our rooms staff were quick to assist in any way they could. The restaurant staff were great as well. We were pleased with the size of the beds and didn't have any trouble sleeping in comfort. The only critique I could think of was that we wished their little gift shop/pantry had a bigger selection of food such as milk, drinks, and food choices for the microwave. We would stay with them again for sure.
Overall this was an amazing hotel. Staff was extremely nice, breakfast was delicious, and the rooms were spacious. Only thing that made me not give it 5 stars was the fact that the cleaning staff didn't service our room for 3 days and they always forgot to leave towels and new supplies. We stayed a total of 7 nights and we most definitely will be returning. It's close to Disneyland and worth every penny!
We absolutely loved the Hilton Garden Inn. Rooms were a decent size (a little on the smaller side), the room was very clean and we had no issues with the room itself. I love that the Hilton has charging stations build in for all devices! That was very awesome!
We stayed in the newly remodeled rooms at the Hilton Garden Inn, and you could tell they were fresh. I don't have a single complaint about the hotel, but it would be even better if they had a breakfast.