Every vacation is more fun when it includes a theme park! We have a wide selection of great deals on attractions, dining, and tours.
Hilton Garden Inn & Suites Anaheim Resort Area
Just steps away from the DISNEYLAND® Resort, the brand-new Hilton Garden Inn Anaheim Resort is located in the heart of Anaheim. Whether you're visiting DISNEYLAND®, going to the Anaheim Convention Center, or want to explore downtown Anaheim, the Hilton Garden Inn Anaheim Resort is the perfect spot for your next vacation.
1441 South Manchester Avenue
Anaheim, CA 92802
The Hilton Garden Inn Anaheim Resort is a brand-new hotel, conveniently located across the street from the DISNEYLAND® Resort. Enjoy spacious rooms that come equipped with an in-room microwave and mini refrigerator. Plus, as a Get Away Today guest, you'll be able to enjoy amenities like free WiFi, an outdoor pool and on-site restaurant.
4.9 out of 5 Rating (3 Reviews)
100% of guests recommend this hotel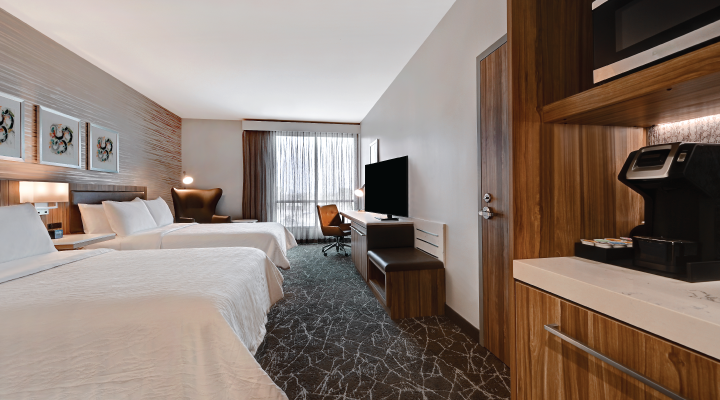 Maximum Occupancy: 4
Standard occupancy: 2 adults (extra adults are $15.00 each per night); 2 children (extra children are $0.00 each per night)
Check-In Time: 4:00 PM
Check-Out Time: 11:00 AM
Shuttle: Available ($6.00)
Parking Fee: $30.00 per night
Coffee Maker
Microwave
Refrigerator
Laundry
Pets Allowed (Fee $125.00 per day payable to hotel at checkout)
Outdoor Pool
Hot tub
Exercise Room
In Room Internet Access
Cable TV
In House Restaurant
---
Very clean and quiet. It was a block off of Harbor and about a 10 minute walk to Disney. That block away from the traffic seem to make for a quieter hotel and it was nice to come some place quiet at the end of the day. The breakfast was good too.
This hotel was perfect for us in every way. The staff were very attentive and the walk made staying here 100% worth it. The rooms are so nice and everything was very clean. We loved the pool during our breaks coming back from the park. I highly recommend this hotel.
This hotel is stunning and feels very new. The rooms are beautiful and were perfect for my family. It was a really easy walk to Disneyland. We will definetly be staying here again.