Every vacation is more fun when it includes a theme park! We have a wide selection of great deals on attractions, dining, and tours.
Sonesta Anaheim Resort Area
Exclusive free hot breakfast daily, in-room fridge, resort atmosphere and large outdoor swimming pool.
1915 South Manchester Avenue
Anaheim, CA 92802
Located one (1) mile from the DISNEYLAND® Resort, this family friendly Sonesta Anaheim Resort is the perfect hotel for your Disney vacation. Take advantage of their BBQ area where you can use their grills, enjoy a meal at their restaurant on property or relax at their large outdoor swimming pool. As an exclusive Get Away Today bonus, you'll receive free hot breakfast daily for your entire family - up to $35/day exclusive savings (gratuity not included)!
4.5 out of 5 Rating (60 Reviews)
87% of guests recommend this hotel
2 Double Standard Room - Breakfast Included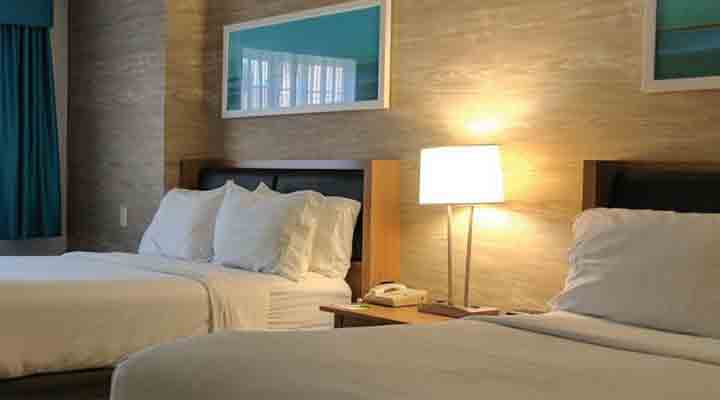 Maximum Occupancy: 4
Special: 4th Night Free (Subject to availability)
Check-In Time: 3:00 PM
Check-Out Time: 11:00 AM
Shuttle: Available ($6.00)
Parking Fee: $0.00 per night; payable to hotel at checkout (a $12.00 per night savings)
Coffee Maker
Microwave
Refrigerator
Laundry
Outdoor Pool
Hot tub
Exercise Room
In Room Internet Access
Cable TV
Video Game Room
Full Breakfast
Kids Eat Free (1 per paying adult) included ($10.00 value per day)
In House Restaurant
---
Hotel is ok, oldish looking on inside, short staffed, however staff was friendly. You have to go to another floor to get ice. Breakfast was really good, morning breakfast staff is very friendly!!!! When leaving I heard a lady ask for the manager, she said her catalytic converter had gotten stolen out of the parking lot from her car sooo probably won't be staying here again if that's happening here.
Small rooms and no housekeeping
The rooms are sooo small! On top of that, we were here for 4 days we were scheduled for house keeping. I called to follow up and they were never able to do it. The only good thing out of our stay was the breakfast!
Was quiet, and staff was helpful
Was quiet, and staff was helpful
Gwenaelle M. on 04/16/2023
The room was spacious enough for two and comfortable too. Very close to the Disneyland resort and having the shuttle right outside the hotel was great. Getting the room cleaned at least once during our 5-day stay would have been appreciated though. Breakfast was good, even if there weren't many options possible.
Great customer service but room wasn't great
Saua Gabby Sebastian and Maria had excellent customer service towards our family during our stay. The registration process was a little annoying we arrived at 3:40 registration should have been at 4,pm our room was not ready they said they would call us when it was ready 5:00 came and no one called us back I had to go in the hotel and ask what was the status in our room. Once inside the hotel the carpet hallway was dirty it was never vacuumed. Our bathroom sink did not drain properly. The pillows were horrible. The bottom box spring was so noisy. The toilet dispenser is placed right next to your leg so it makes it a little hard to get toilet paper.
Michelle A. on 03/09/2023
This hotel was further away from the park, but the ART bus stop is right outside the hotel making it easy to travel back and forth. The beds were doubles, so just smaller if that matters to some. The staff was great and I feel they went over and beyond to make the stay wonderful. Our waiter Guillermo was top notch, we looked forward to seeing him each morning as he took great care of us and made breakfast fun. The free breakfast were delicious! I would definitely use this site again.
We've stayed at this hotel multiple times in the past, when it was Hilton property, it definitely has taken a step down. Multiple elevators were broken, the breakfast isn't as nice, and room ice and supplies were more difficult. I used to recommend this hotel to family and friends, but won't anymore.
Short in staff; water pressure was terrible
Short in staff; water pressure was terrible
Very clean, very helpful, and very safe
Very clean, very helpful, and very safe. The food at this hotel was also very good
The rooms were very clean and the water pressure from the walk in shower was amazing. Jimmy was super super helpful and friendly. He went over and beyond to help us with using the bus app to get to disneyland!
The hotel was nice overall. The majority of the staff were helpful and friendly. Short and inexpensive rideshare rides to/from the theme parks. Walls were paper thin, making it loud in room due to neighbors in next room. Bring a sound machine.
Great hotel resturant is very good. Only compliant is Breakfast is at next door hotel and dosent start until 7am.
It was clean and beds were comfortable! The pool was also nice
I won't stay anywhere else.
The staff at this hotel was very nice, but Housekeeping was not the best.
10 minute shuttle from hotel makes for a easy transit and saves the legs at the end of the night!
The hotel was very up to day, clean and very quiet. We enjoyed the included breakfast and the $5 upgraded breakfast buffet. We also took advantage of the huge spa. The service was excellent at the front desk and in the restaurant. We would definitely come back.
Finally found our favorite hotel.
My husband and I travel to Disneyland 2-3 times a year, we always stay at different hotels looking for our perfect one. I think we have found it! Holiday inn is very clean, friendly staff, accommodating, and overall a great hotel. The pool area is beautiful, the restaurant and their staff is amazing, transportation to and from Disneyland picks up right in front of the hotel. Also the value is good, we will definitely stay here from now on!!
Clean great room and the breakfast was very good.
We stayed at the Holiday Inn on Manchester and it was a great hotel! The staff was so nice and helpful, the room was clean and the food at the burger place inside the hotel was great! Overall a great stay! Totally recommend!
Comfy beds. Delicious breakfast. Easy transportation to Disneyland. What more could you need? We stayed for 6 nights, hotel room and service was average and there were no special amenities, but it was all we needed considering we play at the park all day and just needed a place to sleep. Would consider staying there again.
Free breakfast was great, but it wasn't a continental breakfast, it was a sit down, take your order breakfast, which was delicious, but we didn't realize it would take longer.
Hotel was great. Shuttle stops right in front of hotel. Restaurant and convenience store inside hotel. Close to Disneyland.
Staff was extremely nice. They had a coffee house. There gift shop while small was reasonably priced. The restaurant was tasty plus getting a free breakfast daily was nice. Only complaint a comfortable seat inside room instead of a high school chair would have been nice.
My first choice every time!
Excellent customer service. Great in house restaurant, we got free breakfast every morning and my granddaughter ate dinner free every night. The Shuttle picked us up in front of the hotel and it only took 10 minutes to get to Disneyland and our drop off was the closest to the gate. Out of all the hotels I've stayed at on my trips to Disneyland this is the best, it has 3 elevators, free parking and no hidden fees and I can't stress how great the customer service was. This will be the only hotel I stay at in Anaheim from now on.
Marcell who checked us in and dealt with a room key issue...he was outstanding! Kinda sad we didn't see him the rest of our stay. So very kind!
The hotel staff were very friendly and willing to help with anything we needed. The room was also nice, clean, and comfortable. I would definitely stay here again. :)
Friendly staff, quality food, and transportation on site.
Catherine D. on 11/12/2019
The hotel staff was amazing. They accommodated every request. The restaurant staff went above and beyond. The staff was excellent and made our stay amazing.
This was one of the best hotel experiences I've had in years. The staff was courteous and Marcellus went out of his way to be helpful for us. The breakfast was excellent with the Get Away Today package deal, and the waiting staff in the restaurant was great. The shuttle to/from Disneyland picks you up right outside the hotel entrance. Only inconvenience of the whole stay was the parking lot gets pretty full at night. Room was clean, nice showers/bathroom. Thanks for a great experience!
Staff was incredibly friendly and helpful, breakfast was included, and beds were very comfortable! Value was great for the price. Will stay here again!
The hotel was very clean. Great breakfast options. The beds were comfortable and it was a close walk to the parks!
Loved the complimentary breakfast.
Staff was helpful and super nice. The breakfast was amazing. Shuttle was easy to use. Great value for the price.
Our go to place every time!! Clean and staff is great!
The hotel was so nice. The rooms were clean and had everything we needed. I asked them for a favor and they said they would do it and with unforeseen circumstances they didn't do it. I received a call from the manager with a very sincere apology and they went above and beyond to fix the situation. This hotel also let us do a late check in and leave our bags there all day. They were extremely nice and easy to work with. The restaurant was very good. The free breakfast was just enough. We took the art shuttle everyday to Disney and it was always on time and not too far from the park. Definitely not walking distance but the shuttle was easy and convenient. The pool was nice. It was 5ft in the shallow end. So know if you have small kids they cant touch the ground. But other than that my kids liked it the hot tub was very nice and bigger than most. We had an excellent stay here and we will be staying there again!
The night manager for 4 of our 5 nights was the absolute best. I wish I had gotten his name but he wasn't there on the last night in order to give him the thanks he deserved.
Loved the restaurant, free breakfast and free parking
It was a great hotel, the staff was really friendly specially Beto in the restaurant, he went beyond himself to serve us! The room was so spacious, there was a bathtub in the bathroom, free breakfasting and frees parking so big plus for all that, the only thing is that the mattress in one of the beds was old and uncomfortable, so for the second night we put the our girls on that bed, the other bed was great...so no biggy, after all I will totally recommend this hotel!
This hotel was great! It was clean and comfortable. Breakfast was great!
We were so happy with our stay at the holiday inn. The burger bar on site was fantastic with excellent service. The rooms were clean and the kids enjoyed the pool!
Awesome restaurant, close to the Park and Downtown Disney!
The front desk staff was very helpful and welcoming every time you came into the hotel. I enjoyed the restaurant inside the hotel and the shuttle service that was on the property for Disneyland. The beds are comfy after a long day at the park and the breakfast in the morning was perfect to get the day started.
I loved this hotel. The rooms were great, and very cute! We loved the free breakfast as well, it was delicious and always fill us up.
Just returned from our amazing stay at the Holiday Inn and thought I would add some important things that we found throughout our stay! First of all Getaway Today was amazing! They answered all our questions by email and sent emails before we left to make sure we received all the park tickets and reservation details via post! We live in the U.K so this was a really nice touch! We arrived in Anaheim at the hotel at about 9 in the evening. Hotel right next to the freeway but you can't hear any noise from the rooms. We stayed for 9 nights and we had a king size room. Bed was comfortable and the room was a nice size on the 8th floor. We noticed after a few days that if you are on The right side of the hotel you can see the Disneyland fireworks at night from The window so if you want this maybe email ahead to see if they can arrange a Disney facing room! We completely forgot to ask about how the breakfast works but woke up the next morning to a pile of vouchers for the free breakfast (sausage or bacon with pancakes) or an upgrade to the buffet for $5 which we did everyday. The staff at breakfast were very friendly and polite and the service was excellent! Disneyland is about a 25 minute walk from the hotel and that depends on how long it takes you to cross the roads but we did that a few times. Bus takes about 15 minutes with tickets available from a little machine by the bus stop outside the hotel door (card only). Bus runs every half hour from 06:45 I think til 30 minutes after the park closes. We found the bus leaves the hotel at 30 past the hour and on the hour from Disneyland. The bus stop drops you off right by the gates and it is the closest you can get to the parks via transport which is great! Also at the hotel there is a laundry room with washing powder sold at the small shop by reception. The swimming pool and bus stop is shared by the hotel next door (staylbridge owned by the same hotel chain). There is a restaurant in the hotel called burger theory. We didn't eat here but lots of people did seem to use the restaurant. In terms of local restaurants the garden walk is about 15 minutes walk away and has a few restaurants (bubba gump and Cheesecake Factory) but these were packed every night with long queues out the door! There are restaurants around the park but again packed in the evening. Target is a few blocks away and a small Walmart is a few blocks further. The angels stadium was just the other side of the freeway which was really cool to see and the Honda center was also not far away if your into sports! No real bad points to talk about as our stay was honestly perfect! Will be coming back again! Thank you!
Great room for our small family
The hamburgers in the lobby were so good- hand crafted burgers to die for! The rooms had recently been remodeled and fit our families needs. We have two toddlers so the rooms were plenty spacious. The pool area was oversized and we could grill outside. Easy access off the freeway. We used the ART transportation to Disneyland.
This is my 4th stay at this Hotel it's always been a great place to stay anything you need is right there the staff is the greatest. GET AWAY TODAY IS AWESOME
This hotel was a great place to stay for our family vacation to Disneyland. Great location, property well maintained, the staff was very nice and professional, the pool was huge/lots of seating. We took the ART shuttle to Disneyland (it picks you up to the right of the hotel lobby). Very convenient. The only drawback was our room faced the Santa Ana freeway so we could hear the traffic. On the plus side, we could see the fireworks from Disneyland every night from our window.
Brittney M. on 01/03/2018
This is my 2nd time staying here. Once when my kids were little and then again recently (in Jan 2018). Now my kids are grown. This place is perfect for a Disney trip. The room was a good size for the 3 of us. We all had room to change, took turns in the bathroom, etc. We really only used the room for sleeping but they were clean. The little refrigerator was nice. We brought our own bottled water to take to the park so it was nice that we were able to keep it cold. The beds were full size beds and we fit just fine. We always bring our own pillows so I can't comment on that. The shuttle is amazing! It showed up on time, every time. We got 3 adult, 3 day passes for about $14/each. We came and went as we pleased. And the shuttle stop was right at the entrance of Disneyland, you can't beat that! We came back to the hotel 2 of the days for dinner and to rest a little bit. It was nice to put our feet up for an hour or so. We went down and ate at the restaurant before we'd go back to the park to close it out. It was less expensive than the park and less crowded, plus free drink refills and they gave us drinks to go. With our package we got free breakfast each morning. It is limited to 2 items (not the buffet). But we aren't big breakfast eaters anyway so that didn't bother us at all. I think I saw for $5 more you can do the buffet. The staff here is super friendly. Parking was easy and we felt safe. We could also see the fireworks from our room which got us even more excited to start our "Disney til We Drop" girls trip!! We are already working on booking our next trip and will definitely stay here again.
I have booked with Get Away Today 5 times now, each stay has been different but all great! I booked this hotel a few months in advance, and upon arrival I was a bit upset because I realized that I booked the wrong hotel. I was interested in staying at the Holiday Inn Express & Suites Anaheim Resort Area (1411 S Manchester Ave) because I thought walking distance to Disney may end up being cheaper than taking the ART bus, and also, free breakfast! Both of these hotels are located on Manchester St but this one is further away and definitely not walking distance, when we checked in others also had the same impression, and the front desk said it happens all the time! (So beware this isn't the closer one) Once we checked in we were told parking was free which is also a huge plus! I asked about free breakfast and at first they told us we didn't get any, which left me devastated, but once they realized we booked with GAT they provided us with daily vouchers that were a choice of 2 pancakes, sausage/bacon , and coffee or OJ, or 2 eggs, sausage/bacon, and coffee or OJ (or for 5$ breakfast buffet). The food was delicious! It also came with toast, and potatoes!!!! More than enough for breakfast!!! And I couldn't stop talking about the coffee, so so good! Once we went up to our room, they gave us a double instead of a king, I didn't want to make a big deal so we stuck with the double (no queens btw). The room was small so we unpacked and didn't live out of our suitcases like usual. It had a cute clean bathroom, with a standing shower. I was a little disappointed about not having a tub because sometimes it's nice to soak your feet after walking 8+ miles at Disney. But we got over it! The room had a little kitchenette with a Keurig, microwave and refrigerator. Overall I liked the room! And next time I'll bring k-cups and creamer for early mornings! The last awesome part was the ART bus, it literally pulled up to the side of the hotel, inside the premises so you don't have to walk and look for the bus stop and you can buy your ticket there as well. The bus only picked up from this hotel and dropped us off right in front of Disneyland's entrance! No additional stops which was incredible! It can get packed early morning and towards the end of the night, so try to get there early (first bus is at 7:15 if the park opens at 8 and is every 15 and 45 after the hour). I would 100% recommend this hotel for those traveling in small groups 2-4 people and are getting one room. Sharing the double might be tough, but it's doable! As for booking with Get Away Today, our trip was great. Everything worked out perfectly but always be sure to read the fine print! I thought booking 3 day park hoppers for Disneyland gave us the early morning each day for each park, but you only get one day Disneyland! I would recommend this site to anyone looking to plan a trip to Disneyland/CA Adventure!
Great hotel -5 star rating
I love this hotel. We have stayed in the Anaheim area at five or six different hotels. But we always come back to this one. And now this one is the only one I book. The rooms are clean, the people are friendly, and they have a great breakfast for free. I have always found the food to be delicious. It's close enough to Disneyland that it only takes two or three minutes longer than the other hotels. And you get so much higher quality for the price.
Dirty and Awful Breakfast
We've stayed at quite a few hotels on various Disneyland trips. This is one I'll avoid in the future. Upon check in the lobby appeared clean. Once in the room it was a while ole new story. First of all it was dusty. The bed sheets on the bed were worn through so you could see the mattress. But the worst part was the bathroom. Their were body hair we'll say all over the counters and shower floor. The toilet was clogged and dirty. The breakfast was not good compared to other hotels with lower ratings. I thought it was a breakfast buffet but it's jusy a simple eggs and pancakes or pay 5 dollars to upgrade to th buffet. I wasn't aware of this until eating that morning which is always fun since I didn't have the cash for a tip which the waiter was nice enough to point out.
Ashley-Mar R. on 09/21/2017
They were friendly. Every time we left the hotel they said to have a nice day and when we returned they said welcome back and to have a good night. They checked in regularly to see how we were doing which is new to me.
Great hotel with awesome restaurant!
This place was clean and comfortable! Very accommodating, they let us early Check in 4 hours before check-in time. The restaurant, Burger Theory, was awesome! Great food and great service!
My family and I loved staying here! We stayed for 4 nights and it is now one of our new favorite hotels for when we go to Disneyland. The rooms are very clean, comfortable beds and pillows. We loved having a great breakfast every morning in the in house restaurant. Our room had a great view of the fireworks going on at the park, and the walls are very well insulated because we didn't hear a peep from other rooms like we have at other hotels. Everything was just great, we loved it!
I have gone to Disneyland every year for the past 5 years and 4 out of those 5 years I have stayed at the Holiday Inn Anaheim Resort. Staff is friendly, hotel is clean with comfy beds! Close freeway access and taking the ART to Disneyland saves on the parking headache and VERY convenient with a stop right there at the hotel! You won't regret staying here.
We stayed here Oct 2nd thru the 14th. We had such a nice room, one king bed. It was on the 6th floor and I could watch Disney's fireworks out the window. Beds were so comfy and the room was kept clean. Hotel is clean and inviting. We enjoyed the free breakfast. Very good. We actually changed our hotel that we were going to be staying at in November over to this one.
The rooms were very nice and so were the people! Great restaurant as well!
Great hotel near Disneyland!!!!
We've stayed at this hotel before but this time was even better. From the newly renovated rooms to the delicious restaurant (burger theory) we couldn't be happier and would definitely recommend this hotel to anyone!
Very comfy beds and pillows, very clean, loved the breakfast and coffee bar they offered for something quick. Loved our stay, everything went smooth and have no complaints.
Bridgette R. on 01/28/2016
We were one of the first families who got to stay in their new rooms, and they were so nice. We also ate at Burger Theory for dinner one night and it was awesome. Just pay attention to the restaurant hours, because they're not open all of the time. We also enjoyed the free breakfast. It's not a buffet, so you have to tip your server. You order from a small menu, but it was good and nice that it was free. I would stay here again.