Every vacation is more fun when it includes a theme park! We have a wide selection of great deals on attractions, dining, and tours.
Holiday Inn Express & Suites Anaheim Resort Area
Hotel within walking distance to DISNEYLAND®, free hot breakfast and more!
1411 South Manchester Avenue
Anaheim, CA 92802
This spacious new hotel features everything you need for a comfortable DISNEYLAND® vacation and it's close enough to walk to the parks! Each room comes with a mini fridge and microwave for convenience. You'll also love the free hot breakfast each morning including cheese omelets and their signature cinnamon rolls.
4.7 out of 5 Rating (5 Reviews)
100% of guests recommend this hotel
2 Queen, Sofa Bed 2 Queen Suite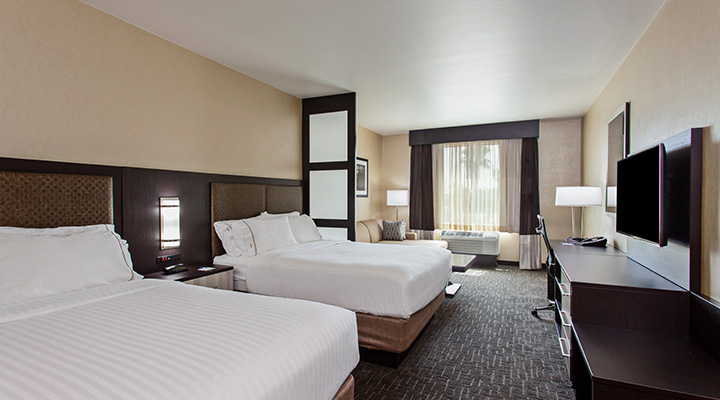 Maximum Occupancy: 6
Check-In Time: 3:00 PM
Check-Out Time: 11:00 AM
Shuttle: Available ($5.00)
Parking Fee: $15.00 per night
Microwave
Refrigerator
Outdoor Pool
Full Breakfast
---
Michelle G. on 07/29/2019
Quiet halls, very comfortable beds, everything was clean.
The customer service was amazing. The room was a decent size. The pool area was big.
Good Nights Rest and Even Better Breakfast!
I slept so well at this hotel, their beds were amazingly comfortable! It was so great to come back from the park and get a good nights sleep. My family and I also loved the Breakfast, the options were endless and we had something different each morning, we never left hungry! We will definitely be back here for our next Disney visit.
This hotel was very clean and had wonderful customer service. The valet service was quick and friendly, as well. The pool was small but clean and not crowded at all. Breakfast was good and there were plenty of tables to accommodate our family of 5 each morning. It was an easy 10 minute walk to Disneyland and very close to the interstate. The $15 per day parking was the only downside. We will definitely stay again!
Great Hotel! Worth the $$!
We loved the rooms. Very clean and roomy. Lots of variety at breakfast. Different foods so you can have a different combination everyday you stay. The only downside was the $15 day parking. So close to Disneyland to walk. We will definitely stay here again!!