Home2 Suites by Hilton Anaheim Resort Area
The Home2 Suites by Hilton Anaheim Resort is the perfect hotel for your next vacation. Enjoy a free hot breakfast daily, as well as spacious rooms, a splash pad, cabanas, and a poolside bar - all while being across the street from the DISNEYLAND® Resort.
1441 South Manchester Avenue
ANAHEIM, CA 92802
At the Home2 Suites by Hilton Anaheim Resort, you'll love the fresh, spacious guest rooms and suites that come equipped with a kitchenette. Whether you're looking to relax, or take a dip in the pool, there's plenty of fun to be had on-site. Enjoy a pool, splash pad, cabanas, in-house restaurant and more. 
4.5 out of 5 Rating (17 Reviews)
82% of guests recommend this hotel
Pricing and availability subject to change until booked.
Please enter travel dates to view pricing and availability
Please enter travel dates to view pricing and availability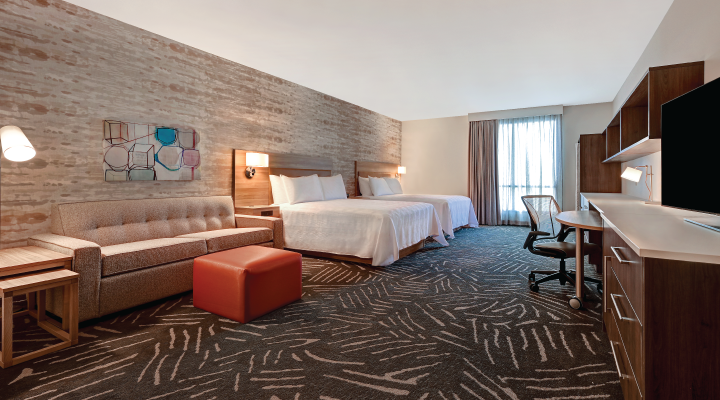 Maximum Occupancy: 6
Check-In Time: 4:00 PM
Check-Out Time: 11:00 AM
ART
Distance to DISNEYLAND® Resort (.6 mile(s))
Handicap Access
Parking Fee: $30.00 per night; payable to hotel at checkout
Crib (Upon Request)
Distance to Universal Studios Hollywood (36 mile(s))
Shuttle: Available ($6.00)
Distance to Knott's Berry Farm (7.3 mile(s))
Inside Room Access
Distance to LEGOLAND® (65.1 mile(s))
Distance to SeaWorld (91.3 mile(s))
Mini-Kitchen
Coffee Maker
Microwave
Refrigerator
Pets Allowed: $125.00
Free Full Breakfast
Outdoor Pool
In-Room Internet Access
Cable TV
Sofa Bed
Hot Tub
Exercise Room
Laundry
In-House Restaurant
Please enter travel dates to view pricing and availability
Please enter travel dates to view pricing and availability
---
Good stay, would like more breakfast options.
My only issue is I wish they had more variety for breakfast. Bacon and ham. And pancakes and French toast. Hash browns and potatoes would have we nice.
Short walk to the park, but won't stay here again.
The short walk to Disneyland was the reason we selected this hotel and the walk was easy and manageable for our young kids. The microwave and dishwasher in the room was great but the road noise was extreme and affected everyone's sleep. The staff also seemed short staffed, rushed and short with customers. I have asked for a invoice three times following leaving the hotel and have still not received it. I would not stay there again.
This hotel is our favorite we've stayed at when going to Disneyland. It's clean, staff is nice, breakfast is good and served early enough to make it to parks for rope-drop. It's also a 10 minute or less walk to parks. We loved staying here!
It's a great hotel. The only negative is the bathroom door is a sliding barn door style and it doesn't really close all the way or lock
Minor annoyances and wouldn't choose again
If you're a light sleeper, beware. We actually moved to the 6th floor because being on the 3rd floor directly above the gym (open 24 hours) made for minimal sleep the first night. We could also hear kids running around and doors slamming. Even the 6th floor was noisy. Breakfast was great.. lots of options and run well. Our outlets stopped working but they were reset pretty efficiently. Our last morning, my kids were sleeping in and housekeeping knocked at 9 (strange when checkout isn't until 11). Minor annoyances and wouldn't choose again.
I will not likely stay here again.
The hotel was very very noisy. We couldn't get enough rest to be at the parks as much as we wanted. The breakfast is limited, not basic allergy friendly, susceptible to cross contamination, and in a very noisy place. The room had maintenence issues such as the toilet lid coming off. I will not likely stay here again.
New, clean, breakfast is good, kid & Adult friendly
We will be staying here again. Close proximity to Disney Park. We learned to take a Uber towards the end of our stay though. It was maybe 10 (with tip) and worth it. The rooms are clean, we had a view of the fireworks and the pool was AMAZING. Having the capability to order drinks from the bar was nice the first day, but expensive. My kids loved EVERYTHING and actually spent a entire day at the pool/hotel. The one thing I would say is the breakfast could be better and open later. The options were slim for me as I am dairy free (allergen) but I did find some things dairy free. Oatmeal with sugar and toppings was my go-to breakfast. The front desk and service was AMAZING and we never ran into mean, annoyed, or rude workers! They were knowledgable about restaurants nearby and best options for lunch/dinners. Also where to go for different foods and drinks. I recommend this hotel to everyone and we'll be staying there time and time again!
My family loved the hotel
My family loved the hotel. My husband had no complaints. And he always finds something wrong. But he enjoyed his stay as well as my daughter. My only concern is the lack of variety choices for breakfast. I wish the hotel would've alternated with waffles, pancakes and French toast. As well as sausage, bacon and ham steak. There was only sausage and pancakes all 4 days. Boring and repetitive. It was all delicious tho and appreciated!
Our room was spacious and comfortable with nice amenities. We were near the freeway but never heard any traffic noise. We enjoyed the hot tub but the pool was too chilly. Breakfast was included and OK for a quick bite but I wish they served coffee. The Cafe in the lobby was convenient.
Would consider staying here again
The only issue I have with this hotel is that I don't feel our room was thoroughly cleaned before our arrival. There were hairs on bathroom floor and we found candy on carpet and someone's pills on carpet. This scared us because we have a 9month old who picks up everything and eats and so glad we found that before our baby did. We did let front desk know and they apologized and had someone clean room. Other than that we loved everything about this hotel and would consider staying here again.
This hotel is a comfortable under-eight-minute walk from the Disneyland park entrance. The room is spacious, hotel GM is top notch, and breakfast is decent.
Home2 Suites provided a pleasant stay. Park was about a 10 minute brisk walk for adult or older children with a single road crossing (across Harbor). We were on the 4th floor, and couldn't hear noise from the freeway nor the pool. The beds and sheets were comfortable (sheets were especially soft). There aren't many hotels that can sleep 5 to a room, and the sofa sleeper was fine according to my 19 year old son. The fridge was nice and big with a separate freezer (so your cooler packs actually freeze!). Breakfast was reasonable. Cook your own waffles, cereal, eggs, sausage, toast, bagels, yogurt, skim milk (wish they had an option for non-skim), 3 types of juice, oatmeal and plenty of toppings. There were laundry machines (4 washers + 4 dryers) and soap in the gift shop ($6). Wash and dry was $4 each, so $8 for a load. The mandatory valet parking was fine, and I liked not having to find a place to park. We never had to wait very long for our car, though you need to double check your parking rate. Getawaytoday said $22 on their site and it's in the notes, but they didn't automatically adjust the price (from $30). I had to ask. This was annoying. And the parking has a tax, so it's closer to $27 per night.
Great distance from the park!
Great distance from the park! Amenities provided were awesome too!
Outlets and USB Ports for Charging
Everything was very clean and I love when hotel rooms have a lot of outlets and USB ports for charging devices (which this one did). We were able to drop our bags off in the morning and go right to the parks. We returned later that night to check in and grab our bags. Easy walk to the parks. It was nice to have breakfast included but the area where the food was placed was a little small so it was chaotic.
Delicious breakfast, clean rooms, very friendly staff
Delicious breakfast, clean rooms, very friendly staff, comfy beds. Nice pool and hot tub. 5 min easy walk to Disneyland. Would definitely stay again.
My family loved this hotel, especially the pool and splash pad. We ate at the restaurant they have on property too and it was yummy. The distance to the park was the best part of the hotel, such an easy walk over. I wouldn't hesitate staying here again.
The kitchenette in our room was a lifesaver with my kids. It made it so easy to make snacks and sandwiches to bring into the parks so we didn't have to eat every meal there. Plus, it is so close to the parks that nap time was a breeze. My kids loved the splash pad too. We will absolutely be staying here on our next trip.