Every vacation is more fun when it includes a theme park! We have a wide selection of great deals on attractions, dining, and tours.
Homewood Suites by Hilton Anaheim Main Gate Area
Free hot breakfast daily. All suites are equipped with a full kitchen. Enhanced Covid-19 cleaning procedures.
12005 Harbor Blvd.
Garden Grove, CA 92840
Located two miles away from the DISNEYLAND® Resort, this all-suite property is perfect for family vacations. Each family-friendly suite comes with a separate living room area and is equipped with a full kitchen. Guests will also love the daily hot breakfast and complimentary evening socials on Wednesdays.
4.2 out of 5 Rating (14 Reviews)
79% of guests recommend this hotel
2 Queen, Sofa Bed One Bedroom Suite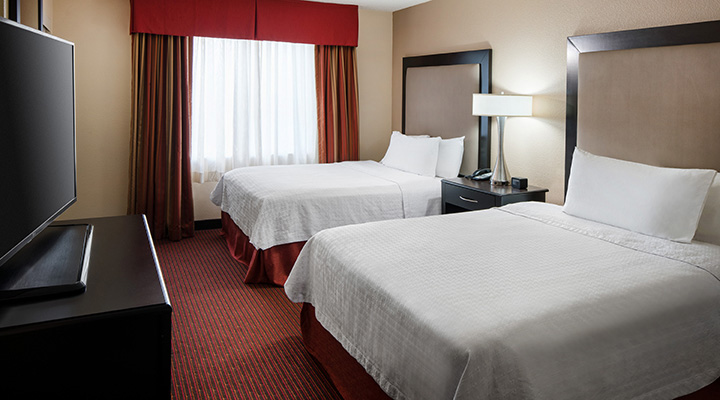 Maximum Occupancy: 6
Special: 4th Night Free (Subject to availability)
Check-In Time: 3:00 PM
Check-Out Time: 12:00 PM
Shuttle: Available ($5.00)
Parking Fee: $10.00 per night (a $10.00 per night savings)
Kitchen
Coffee Maker
Microwave
Refrigerator
Laundry
Outdoor Pool
Wading Pool
Hot tub
Exercise Room
In Room Internet Access included ($15.00 value per day)
Cable TV
Pay Per View
In Room Video Game
Full Breakfast
Hilton CleanStay with Lysol Protection program includes: using hospital-grade cleaning supplies and upgraded cleaning protocols, extra disinfection of high touch areas in guest rooms, sealing guest rooms after cleaning for next guest, increased clean
---
We booked our Disneyland hotel through Get Away Today and then they changed where we booked to this hotel. I wasn't to happy about it but when we showed up, I was pleasantly surprised at how great it was. Not only do you have a room with a bed and bathroom but you have another room that has a kitchen and sofa area. It was a large and comfortable room for a family to be in. The room was clean and comfy. Staff was so nice and helpful. The breakfast was great every morning. The Art bus picks you up very near by. You also have a Pizza place, Outback and Red Robin across the parking lot which was so convenient. I will absolutely make this our new go to hotel for Disneyland trips.
Convenient to shopping and great to have a full kitchen
Convenient to shopping and great to have a full kitchen, but this hotel was hard to find. There is a ART shuttle stop very close by which is convenient.
Room was nice, one issue was the shower never got warm and the faucet was broken. Breakfast was okay, standard hotel fare. The pool was amazing though. Overall great place.
The lobby was refurbished, but the rooms were a little run down. No fan in the bathroom made for a muggy room after every shower.
The hotel was very cozy and we felt right at home there. We slept amazingly and it had a convenient shuttle to the park. Would definitely stay again!
All the staff were extremely friendly and helpful!
The rooms were clean, the staff was friendly, the breakfast was great! The hotel is about a 15 minute walk to Disneyland. There aren't many restaurants nearby if you are on foot, so eating around the park is best.
Perfect value suite hotel
I stayed here with my husband, two kids, and MIL. It was the perfect hotel for our family. It had free breakfast each morning, and even light dinners on some of the nights. It also had a kitchen so we could make sandwiches and store our leftovers when we came back to the hotel for naps. We saved so much money in food alone here. We used the ART and it was simple. It seemed to run about every half our and we had no problems getting on it.
We just got back from a 4 night stay and loved every minute of it! The hotel was in a great location to make it easy to come and go as we pleased from Disneyland and back. The staff was so great and very accommodating. The front desk staff in particular was very very friendly each and every time we saw them which was multiple times a day. Our son's Disney light toy ran out of batteries after a few hours of use, and the front desk, without being asked, called down maintenance to unscrew the battery compartment and replaced them for us. I still can't believe it! We will totally recommend this hotel to our friends, and can't wait to stay there again! We will definitely be back!
Great bed, so-so breakfast
The bed itself was very comfortable. Even though I asked beforehand if the hotel used down pillows and I was assured they did not, when we got there, feather pillows covered the bed. We had to ask they be removed and replaced with foam. One reason we chose this hotel was closeness to Disneyland combined with free breakfast. With six in the party, that meant great value for the price of the overnight stay. The breakfast food was typical in selection but sub-par in quality. Breads and bagels were either stale or so "foamy" in consistency that on first bite it nearly disappeared in your mouth. Eggs were the usual powdered variety but overcooked, there was a gray stew labeled "gravy" and the sausage was a poultry-based tube that didn't taste like sausage. Forget the waffles, they are pre-made and for one person in the group, wouldn't stay down. The room itself was clean and quiet, but in need of caulking and tile repair in the bath. With the "conserve water" warning about hanging up your towels, it seems ridiculous that the shower, faucet, and toilet ran with double the normal amounts of water as if they had no flow restrictors at all. I thought California was in a drought? Also, while water temps in bathroom were great, the hot water did not reach the kitchenette. Luckily we weren't there to wash dishes, but some people might want to do that. There is a hide-a-bed in the living room, and the cushions over it were slabs covered with woven vinyl. I guess if you have kids in wet swimsuits or spewing babies ruining the furniture, that's the way to go, but it was definitely more "family of Neanderthals" friendly than suitable for a business traveler. The kitchenette was roomy enough for food prep, with a full size fridge. Two televisions, and a nice, quiet air conditioner. The elevators were busy, and therefore seemed slow. The staff was helpful and friendly, and most of them spoke English you can understand. The lobby was clean and roomy, but in the evenings was perfumed with really strong pine-y floor mop. Last word: A decent place to sleep, but eat breakfast elsewhere. There is a Coco's across the street for full breakfast and a Starbucks next door for coffee and muffins. Or, eat at Disneyland.
I'm glad we chose this hotel. The staff was fantastic! The room was great. I was pleasantly surprised to find that the kitchen was equipped with glasses, plates, bowls, etc. The free breakfast was good enough for us! The shuttle picked up at the hotel and at Disneyland right on time each time. It was quite a bit more expensive than driving and parking or riding the ART but it was so convenient that I hardly worried about it. We would stay there again.
Had a fabulous stay. Staff and Hotel were GREAT!! Shuttle to Disneyland and back was spot on. Great restaurant choices within walking distance. Breakfast and nightly reception were an added bonus. Nice size pools, even for the little ones.😊👍
Miss leading hotel through Getaway
My husband and I choose this hotel because on the Get A Way today website it states it serves dinner Mon-Thurs. And well we have a growing teenage boy and 2 younger ones we decided this hotel would be worth the money...Well the dinner should not be advertised as dinner when it's just soup and salad and thats what it was for 2 of our 3 nights. I was also disappointed that this big hotel only had 2 elevators in it and had to wait 10 min or longer to get on and off. Had my room not been on the 6th floor I wouldn't have mind the work out of going up 6 flights of stairs but when you have little ones it's a bit hard. The hotel is also not accommodating to little guest. My smaller children had a hard time brushing their teeth and washing their hands after using the restroom due to the sink being abnormally high off the ground. My daughter who is very independent for a 5 year old may have bruising on her chest from trying to jump up on the counter sink. After about a day of watching how painful it looked I called down to desk services and was told they had no step stools in all the hotel. They also asked she stopped jumping so she wouldn't hurt herself...not to mention the shuttle service is horrible when it came to timming. The hotel told us the shuttle leaves for Disneyland, 50 pass the hour. We would be waiting 45 pass the hour and wouldn't get on the shuttle until 10 pass the hour and wait 30 min because we missed it. The shuttle runs on their time not what the hotel tells you. Staff was friendly buts about all I have good to say about the hotel. Othwr then that I was very disappointed with my vacation and it started with the hotel. Needless to say I won't be staying here again nor will I ever ask my friends or family to either.
Our room was really comfortable for our family. You could tell the rooms were a little bit older, but they kept it really clean. We liked the living room and having the sofa bed separate from the bedroom. We were able to have the dinner at the hotel one night and were so impressed with the food. It felt like a really good deal.