Every vacation is more fun when it includes a theme park! We have a wide selection of great deals on attractions, dining, and tours.
Homewood Suites by Hilton Anaheim Resort Convention Center
Spacious suites, full kitchens, hot breakfast and close to DISNEYLAND®.
2010 South Harbor Blvd.
Anaheim, CA 92802
The Homewood Suites by Hilton Anaheim Resort Convention Center offers spacious suites with full kitchens for families vacationing in Anaheim. Plus, you'll enjoy free hot breakfast every morning and a close proximity to the DISNEYLAND® Resort.
4.9 out of 5 Rating (9 Reviews)
100% of guests recommend this hotel
2 Queen, Sofa Bed One Bedroom Queen/Queen Suite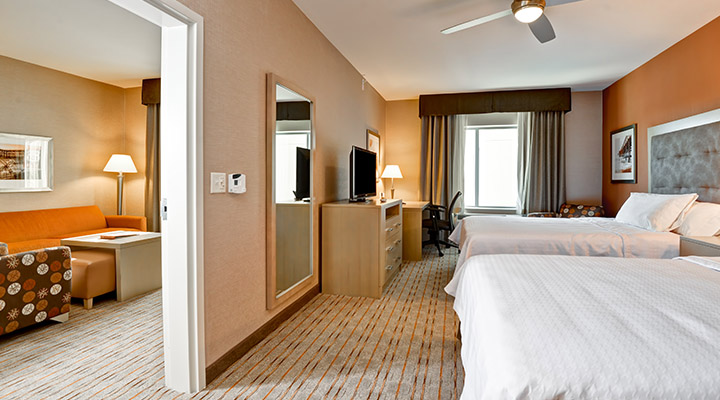 Maximum Occupancy: 6
Check-In Time: 4:00 PM
Check-Out Time: 11:00 AM
Shuttle: Available ($5.00)
Parking Fee: $20.00 per night
Kitchen
Coffee Maker
Microwave
Refrigerator
Laundry
Outdoor Pool
Wading Pool
Hot tub
Exercise Room
In Room Internet Access
Full Breakfast
1 King, Sofa Bed, Bunk Bed Family Suites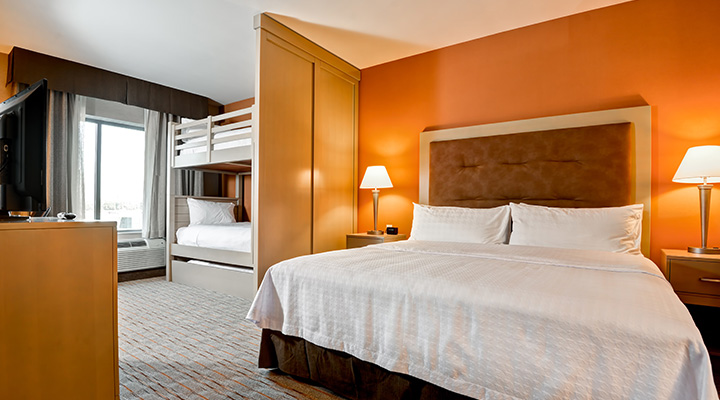 Maximum Occupancy: 6
Check-In Time: 4:00 PM
Check-Out Time: 11:00 AM
Shuttle: Available ($5.00)
Parking Fee: $20.00 per night
Kitchen
Coffee Maker
Microwave
Refrigerator
Laundry
Outdoor Pool
Wading Pool
Hot tub
Exercise Room
In Room Internet Access
Full Breakfast
---
We just returned from our stay at the Homewood Suites and I cannot emphasize more how much we loved this hotel. The value you get here far exceeds other hotels I've stayed at near Disneyland: the bunk beds and trundle accommodated the kids nicely, beds were beyond comfortable, breakfast was very nice and food options changed daily (great way to save on a meal each day), and the proximity to Disney parking was the cherry on top (a savings of $25 a day). All of the staff were helpful and understanding - the breakfast crew changed each day but every one of them had a smile on their face as they helped their guests. Also, unexpectedly, one of the kids got the stomach flu in the middle of the night (no fun!) and we did our best to clean up, but without a washing machine, that's a little difficult to do at a hotel! We called down the next morning and asked for new linens to replace the ones we had to rinse out the night before. They sent up the amazing Jenny to pick up the rinsed out sheets and drop off new bedding - but she insisted she stay to put new sheets on the bed and provided a little tidying up for us so we could tend to our sick child. She was friendly and kind, just what we needed after being up all night. We were so grateful for the care we received at the Homewood and would definitely stay here again, and we will recommend them to friends and family. Book this hotel - it's worth every penny!
I don't usually write a review but I felt it necessary after our stay. I loved this hotel. Rooms (the suite) were very spacious for our family (2 adults 3 children). The bunk beds and trundle bed pull out were what the kids slept on. Rooms were clean and had a kitchenette with cups and utensils for about 4 people. The breakfast was very good, with different options for what you want. In addition, they had dinner too. I'm not sure if that was for December only but it was a great bonus. The distance from the hotel to the Toy Story parking/bus transit was about a block or so (very close) and riding the Disney buses was free. Takes you right to the entrance of Disneyland/California Adventure. The staff at the hotel were very friendly and accommodating when we had some hyper active people or children above us. They moved use right into a different room that had all the same amenities. Overall I really enjoy this place. Better than any place I've stayed before around Disneyland. Highly recommended and we will definitely stay here again when we are in the Anaheim area.
Stop Searching and Book Here!
Christina W. on 10/03/2017
If you're a family going to Disneyland, this is the hotel for you!!! I spent hours and hours poring over hotel reviews on GAT, TripAdvisor, and Hotels.com and finally found this gem of a family hotel! Actually it's better than a "gem", as we feel like we really struck gold with the Homewood Suites Convention Center. First off, we arrived on a late flight and got to the hotel even later than expected. The first thing we saw when we came through the front entrance was the brightest smile from the front desk clerk. She greeted us immediately and had us all checked in within 5 minutes and ready to head up to our room. Walking through the hotel, we could see that it was exceptionally clean and we loved the friendly atmosphere right from the start. We stayed in a King suite with bunk beds for our two older boys (10 & 12), and there was a queen sofa bed for our 21-year-old daughter. The hotel supplied us with a pop-up crib (like a small pack-n-play) for our 18 month old son to sleep in. Everyone raved about how comfortable and cozy their beds were, and the boys loved the bunk bed set! It has a trundle underneath too, so if you have three older children, it's perfect! There is a full kitchen that is stocked with dishes, silverware, cups and glasses, and even Tupperware for leftovers--basically everything you could want or need. The breakfast was OUTSTANDING! The dining area was definitely full of hungry families in the mornings, but the staff did an amazing job of keeping the floors clean, the food well stocked, and wiping down tables when they became available. There's a waffle iron station if you want to make your own fresh Belgian waffles, and the center island holds all the other hot foods which they changed up from day to day. During our ten day stay, we enjoyed scrambled eggs, sausage patties, sausage links, bacon, cheese omelets, hash browns, and breakfast enchiladas. In addition to all of this, there were a variety of cold cereals, a hot oatmeal station with lots of toppings, a pastry counter with muffins, breads, bagels cream cheese, etc., a coffee station, and lastly a drink station that offered a cold coffee drink, two types of juices, and cold milk. We absolutely loved the breakfast!!! This hotel also offers a light dinner Monday through Thursday, though we only took advantage of it one day we were there. That night they served salad, "homemade" style chicken noodle soup, and build-your-own meatball subs. Free beer and/or wine for the adults was a nice touch! We filled up easily and everything was good! Disneyland's Toy Story parking lot is right next door, and it's a 5 minute walk to hop on their buses and ride for free to the front entrance of the parks, which will save you some money paying for Uber or the ART shuttle. Parking was $18 per night, which sounds steep but hear me out--their parking lots are SECURE. You have to swipe your room key or the parking key they give you to get in and out, and they have security to monitor the lots day and night. Your car will be quite safe, and it's nice not having to worry about it getting broken into. The hotel told us that we could get 50% off our parking fees if we paid just those fees in cash, and we took them up on that! So for $9 per night, it's definitely well worth the extra cost (plus you're not paying for the shuttles everyday so there's that). The grounds were beautiful and clean, and the pools and hot tub well maintained. There's also a BBQ grilling area (utensils available at front desk), a small putting green, and a basketball court. The front desk will check out basketballs and putting accessories. This hotel was also QUIET. Surprisingly so, considering how many families and kids there were in the building! I know how daunting a task it can be to settle on one of the MANY Disneyland area hotels and how time consuming it can be looking over amenities and all of that. I am taking the time to write this suuuuper long review for this hotel because it was absolutely perfect for our family, and I know it will be for yours too. So stop searching, take a deep breath, and book this hotel! Then go have yourself a cold one and rest easy knowing that you just booked an AWESOME hotel for your family vacation!! :)
So many things to love. The bunk beds were awesome. There is a trundle under the bunk bed too. The beds were very comfortable! The kitchen was great. There are burners for cooking. The freezer was nice to keep ice and our ice pack. Everything was clean. The cleaning people made the kids' bed with their stuffed animals which they loved! Breakfast was great!! Loved the variety. We had dinner there once and that was great too. Pool was fun. The Disneyland parking lot is right next store (and free) if you want to skip the ART tickets. If you have them the pick up is really close. The value for this hotel is awesome! We will definitely stay here again. We had three adults, three kids and a baby. It was quiet. Definitely five stars!
Great customer service. Rooms cleanliness was great as well. Complemintery breakfast was a plus. Will definitely stat here again.
Christopher Y. on 10/10/2016
Very clean. Did their best to accommodate our needs. Loved the free valet. Although they do not have a shuttle, we used uber which was so convenient. Went to and from the parks on our schedule for little more than a shuttle pass per day. Only bummer was we extended our stay 2 nights and they were put on 2 separate reservations and the hotel could not combine them so we had to renew our keys 2 times throughout our stay. Nothing huge. Staff is all so friendly and helpful.
Nice stay at newer Homewood Suites
Family of four (dad, mom, and two teens) stayed 3 nights at this hotel and it was very nice. The rooms were clean and had new furnishings and décor, as the hotel is only about a year old now. That is one of the reasons I booked it. The complimentary breakfast was very nice and included 3 different egg options, meat, potatoes, waffles, freshly cut fruit (not what you usually find), breads, juice, and much more. Kids loved the bunk beds (the Family Suite we got had a king sized bed, and a set of bunk beds that included a trundle so you could sleep five in the bedroom). There is a sofa sleeper in the living area. Pool area was great. Hotel service was very good. There isn't much room to put luggage unless you unpack (there are two dressers, and they both have TVs on top). The bathroom vanity area was small, as was the living room area...we found that it was nice having the separation, but all of us didn't fit as easy in the living room with the size of the room and the sofa/chair/ottoman/table. Parking spaces are very close together (very common at many hotels in Anaheim), and the charge is $16 per night. Overall, I would recommend this Homewood Suites...one bonus for Disney visitors is that there is Disney-owned parking right next to this hotel, to the north. You can walk over to it and get on the shuttle, and be taken do Disneyland for free. This helps me get over the $16 parking fee (most hotels within 3 or 4 miles of Disneyland do charge parking, though). I found our package on Getaway Today are a very good value in terms of price compared to other websites, and if you factor in the free breakfast, it makes it an extra good value, especially if you need beds for 5 or 6.
JENNIFER D. on 06/13/2016
We loved our stay! Clean and comfortable, fantastic breakfast, and m-th evening social food and drinks. The in-room kitchen, complimentary meals, and the outdoor grill make it unnecessary to eat in the park, saved us a lot of $. The putting green, basketball hoop, and swimming pool were a lot of fun!
Christina S. on 01/31/2016
We loved the new Homewood Suites. We stayed in a room with bunk beds and the kids LOVED them. The breakfast was really good. I highly recommend this hotel to anyone going to Disneyland.