Every vacation is more fun when it includes a theme park! We have a wide selection of great deals on attractions, dining, and tours.
Howard Johnson Anaheim Hotel & Water Playground
Walk to DISNEYLAND® and two outdoor pools with "Castaway Cove" pirate themed water play area.
1380 South Harbor Blvd.
Anaheim, CA 92802
Located a 1/2 mile from the DISNEYLAND® Resort, this hotel is on seven acres of lush grounds and is just a short walk to the DISNEYLAND® Resort. Their family friendly rooms offer plush bedding including pillow top mattresses and triple sheet bedding. The outdoor pool will keep you cool on hot days and kids love "Castaway Cove," a pirate themed water playground.
4.5 out of 5 Rating (7 Reviews)
100% of guests recommend this hotel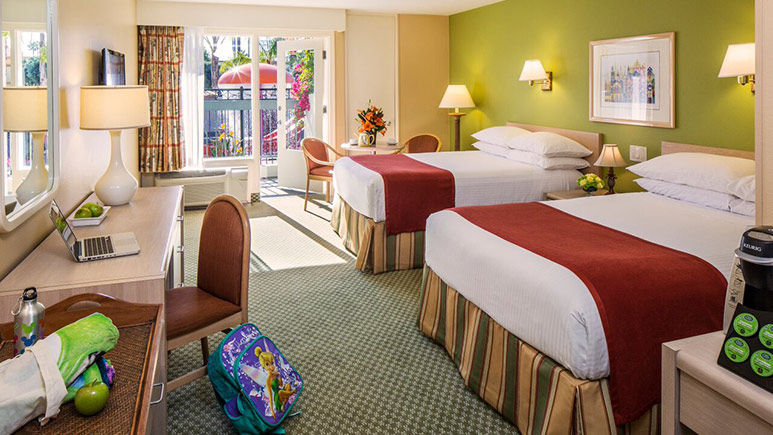 Maximum Occupancy: 5
Check-In Time: 4:00 PM
Check-Out Time: 12:00 PM
Shuttle: Available ($5.00)
Coffee Maker
Refrigerator
Laundry
Outdoor Pool
Wading Pool
Hot tub
In Room Internet Access
Cable TV
Pay Per View
Video Game Room
---
Okay, I guess the refrigerator was not quite cold enough, but that's the only negative I can think of. Price was good, location was plenty close to Disney and restaurants to walk. Room was very nice (thankful for top floor - it was very quiet). My grandkids are 10 and 11 but still enjoyed the small waterpark. Wish there were a continental breakfast to save money, but we made do. We were on the freeway side of the hotel and I am a light sleeper - but there was no distracting noise, I slept fine!
Beautiful Hotel not far at all from the Disney gates!
We loved this hotel!! The rooms were clean and fresh- the cleaning service was excellent the entire time we were there. You can tell the room has seen some wear (a few stains in the corner, bathrooms looked old) but it was all CLEAN. And let's face it, these hotels see a lot of use it so that didn't bother me at all. The beds were very comfortable and I felt the room was a decent size. The fridge/microwave in the hotel were a great addition. It was a short walk to Disney but the majority of the time we used the ART which picked up right in front of the hotel which got us there in two minutes! We would take route 7 on the way there and route 8 on the way back to be the first stop to get off across the street. My 7 year old son LOVED the Pirates Cove water playground. And I loved that the hot tub was right next to it which made for some much needed relaxing while he played. The gift shop was nice to have on site but be warned, it's pricey! You'll be paying top dollar for simple items like milk/soda/snacks. I always felt safe here which is a great perk since I am a single mom traveling alone with my child. We could see the fireworks from the pool which was a great perk. We had a pool view which I was excited about at first but then later on it became more of an annoyance. Trying to take a midday nap or go to bed early to get up early the next day for Disney proved tricky with the noise. We could have asked to switch but my son loved it. Next time though I'll probably request NOT to be facing the pool. Great landscaping on the hotel premises, it was beautiful to just walk around and take in the palm trees. Biggest con was the lack of breakfast/on site restaurant but there's many choices nearby. We ate in the parks most of the time which cost us a bit more but it was convenient. I'm already planning our trip for next summer to come back and I'm going to have a hard time finding a hotel that compares to this one, we loved it so much! Highly recommend it!
SHEIRA-LILIA H. on 03/21/2017
We stayed at the Howard Johnson for 4 nights and was very satisfied with everything. The people at the front desk were very friendly and helpful. We arrived early before check in time and we wanted to go straight to the park, it was nice of them to have a place to store our luggage, and give us our parking pass early so we could just walk to the park. The park is just about an 8 to 10 minute walk away. Not too far. The rooms were clean and nice. Bathroom was roomy and clean. Simple rooms to sleep in. They also have a guest laundry room which was a plus for me, so i could do everyones laundry before checking out the next day. I would recommend this hotel to family and friends.
It was great to have such a nice sized room. Having 2 sinks was great and made it easier to get multiple people ready at once. I wish we would have been able to have queen beds instead of full but that is what was available. Close to the park and very quiet.
This hotel was great! We had a party of 12 and asked if we could all be on the same floor. They were so accommodating, we were all right next door to each other, they even gave 2 of us adjoining rooms which was amazing for my 1 1/2 year old twins to run back and forth from our room to my parents room! The rooms were spacious and clean. We got there a few hours early and our rooms weren't ready but they still let us go to Castaway Cove and the Garden Pool while we waited. In the future all of our Disneyland trips will be spent at Howard Johnson!!
We were in building 2. 3rd floor. it was very quiet and my kids loved the pool. My kids are 7 and 10 so we didn't spend much time in the kids water play ground, It's more for toddlers to maybe 6 years old so my 10 year old was over it quickly. The hotel room had a fridge where we were able to store our waters and snacks in which was nice and other than one stain on the floor, the room seemed clean. I'm not that picky and this hotel delivered. I was comfy. We walked to Disneyland and it wasn't horrendously far but after a long day walking around Disneyland I did want a closer hotel, but we made it and the kids didn't think it was that far. They are much more resilient than I am. I do think that this is the nicest closest hotel there is for the best price. All around best value! Yes you can get a cheaper, closer hotel but it won't be as nice. And yes, you can get a nicer closer hotel but it won't be as cheap. Good Job HOJO!
We booked this hotel for two reasons: the splash pad/pool area for kids and the walk to Disneyland. It did not disappoint on either. The hotel was spread out and felt really private.