Howard Johnson Anaheim Hotel & Water Playground
Walk to DISNEYLAND® and two outdoor pools with "Castaway Cove" pirate themed water play area. IMPORTANT: Please note that the 2 Queen Rooms are located in buildings 1 & 2 and are newly renovated, while the 2 Double Rooms are NOT renovated and are located in buildings 3-6.
1380 South Harbor Blvd.
Anaheim, CA 92802
Located a 1/2 mile from the DISNEYLAND® Resort, this hotel is on seven acres of lush grounds and is just a short walk to the DISNEYLAND® Resort. Their family friendly rooms offer plush bedding including pillow top mattresses and triple sheet bedding. The outdoor pool will keep you cool on hot days and kids love "Castaway Cove," a pirate themed water playground. Reservations are no longer required to use their pool area, however, it is at a limited capacity and will be on a first come, first serve basis.
4.2 out of 5 Rating (48 Reviews)
83% of guests recommend this hotel
Pricing and availability subject to change until booked.
2 Queen Deluxe 2 Queen Room
Please enter travel dates to view pricing and availability
Please enter travel dates to view pricing and availability
Maximum Occupancy: 5
Check-In Time: 4:00 PM
Check-Out Time: 12:00 PM
Parking Fee: $25.00 per night; payable to hotel at checkout
Roll-Away Fee: $15.00 (For 5th person in room. Payable to hotel at check out.) (Available)
Shuttle: Available ($6.00)
Wading Pool
Cable TV
Coffee Maker
Crib (Upon Request)
Handicap Access
Hot Tub
In-Room Internet Access
Inside Room Access
Laundry
Refrigerator
Video Game Room
Distance to DISNEYLAND® Resort (.2 mile(s))
Distance to Knott's Berry Farm (6.1 mile(s))
Distance to LEGOLAND® (63.2 mile(s))
Distance to SeaWorld (91.5 mile(s))
Distance to Universal Studios Hollywood (35.7 mile(s))
Outdoor Activities (Free Face painting every Saturday from 8:30 am to 10:30 pm)
Outdoor Pool
Please enter travel dates to view pricing and availability
Please enter travel dates to view pricing and availability
2 Double Standard 2 Doubles Room
Please enter travel dates to view pricing and availability
Please enter travel dates to view pricing and availability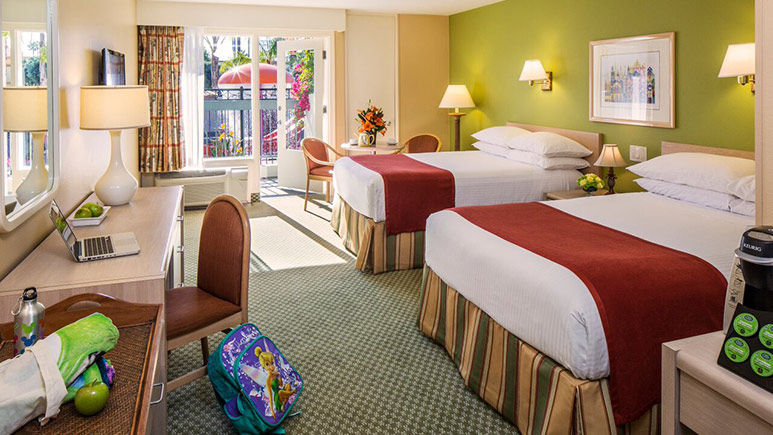 Maximum Occupancy: 5
Check-In Time: 4:00 PM
Check-Out Time: 12:00 PM
Parking Fee: $25.00 per night; payable to hotel at checkout
Roll-Away Fee: $15.00 (For 5th person in room. Payable to hotel at check out.) (Available)
Shuttle: Available ($6.00)
Wading Pool
Cable TV
Coffee Maker
Crib (Upon Request)
Handicap Access
Hot Tub
In-Room Internet Access
Inside Room Access
Laundry
Microwave
Refrigerator
Video Game Room
Distance to DISNEYLAND® Resort (.2 mile(s))
Distance to Knott's Berry Farm (6.1 mile(s))
Distance to LEGOLAND® (63.2 mile(s))
Distance to SeaWorld (91.5 mile(s))
Distance to Universal Studios Hollywood (35.7 mile(s))
Outdoor Activities (Free Face painting every Saturday from 8:30 am to 10:30 pm)
Outdoor Pool
Please enter travel dates to view pricing and availability
Please enter travel dates to view pricing and availability
---
Get into the newer buildings
Michelle A. on 04/27/2023
I booked Howard Johnson for a retreat I was attending . The hotel itself looked very nice from the outside and the pools were very inviting. Unfortunately I was placed in Building 3 which was not a renovated building. The inside was clean but older looking. There were doom windows that you couldn't shut out the light at night. That made it very hard to sleep and I had forgotten my sleep mask. I had asked the front if they had any and they were out. The hair dryer also did not work in the room and there was no "do not disturb" sign to hang. Luckily the time spent in the room was minimal since I was in the park most of the time. I would try it again if I could stay in a newer building.
We were very pleased with our stay. It was so convenient for going to and from Disneyland each day. The room was spacious and comfortable.
Stephanie L. on 12/29/2022
Lucy at the front desk was so sweet, professional and awesome! Nicole with reservations made the trip even more magical for my daughter's birthday card and balloons. I requested a first floor room and ended up being moved to tower two with the elevator which was a nice surprise. The room was clean, spacious, beds were so comfy, and property was well maintained.
Rude staff but good rooms
Really rude Front desk staff, but great location and comfortable beds!
Isabella N. on 11/06/2022
This hotel was close to the parks, took about 10 minutes of walking to get to the gates. The daily rate was good for the closeness to the parks. The rooms were a good size. The only unfortunate part is that they don't tell you that the hideaway bed is an extra charge if used.
Good but had an issue checking in
Collette C. on 10/29/2022
Let's start with the good: Checkout was awesome. Front desk people were very nice. Hotel is within walking distance to Disney and that's always a plus. Room was fine. Nothing to shout about but it was comfortable and mostly clean. Could really use some updating. Check in was not good. I reserved and paid for 2 rooms. Upon checking in, they told me one room had been cancelled. Um… I know I didn't cancel it. Apparently they canceled it?? Without saying anything to me?? And yet kept alllllll of my money?? Was NOT impressed with that. They did whatever moving around they needed to and got me the second room after a bit of a wait. That was a huge turn off. There are a lot of options for places to stay, and I've stayed in plenty of them. I don't know that if return here. No one needs that kind of stress when they're trying to have a fun vacation.
Family friendly, but noisy
This hotel is super close to the parks which was perfect for our 3 night stay at Disneyland! We stayed in a non updated room (building 3) and while the beds were very comfortable, there were 2 huge skylight windows in our room which let in a ton of light and made it impossible to sleep. There was also a LOT of noise from the freeway. Also: something to consider if you are child-free, there is only one hot tub and it's in the same area as the water park which made it difficult to relax. Again, this is a family friendly hotel and this is totally to be expected - so another hotel might be a better fit if you are looking for something a bit more relaxing or quiet. I really loved that there was a store on property. We forgot a few things and I lost my sunglasses, so it was really nice to have somewhere quick to go for what we needed!
Book an updated room or its not worth it
The walking distance to Disneyland and the castaway cove were the best part of staying at this hotel. The first night we had to switch rooms because our room was dirty and no one could sleep from our family because we had a skylight shinning through on each side of the room. The were very nice and switched us rooms the next day but to the exact same room without a skylight but instead we had earwings coming through a hole in the corner of the bathroom wall. If you're not in the upgraded rooms it's not worth staying here. I didn't realize when booking 8 months ago that there were any differences because it wasn't stated then. It's extremely outdated and wouldn't stay here again.
Didn't make us wnat to stay and play in the rooms
Unless you pay for the upgraded room with a view of the fireworks, your room will be run down and disappointing. We had a broken light that never got fixed, and the building smelled of pet urine. The shower is perfect if you are on the shorter side. Only good thing was the towels were soft. Sink and shower had opposite hot and cold. We only used the rooms to sleep and for that purpose they did the job. Didn't make us want to stay and play in the rooms though and we will not be staying there again.
Never disappointed when we stay here
Stephanie P. on 08/22/2022
This hotel is clean and close to Disney we have stayed their prior and have not been disappointed.
I have referred the Hotel to my Friends & Family
I have referred the Hotel to my Friends & Family
Okay overall, but wouldn't stay again. We arrived slightly early and checked to see if a room was ready. It wasn't yet, but they said we could go swim and they would text us by 4. We went to go swim and the pool was at capacity so we got turned away. Never received a text so we called around 4:30 and they said our room was ready at 4. Rooms were clean but small. We were in the "updated" building so I'd be interested in what non-updated means. We made water park reservations a month in advance and the morning of I was scrambling because I got an email saying our reservation was cancelled. 8 minute walk was honestly more like 20 with kids, so I'd stay somewhere closer with littles. Maybe for someone planning to use the water park daily, this is worth it. For us, it was a long walk and a mediocre room.
Definitely a great place to stay!
The HoJo was great! Staff is super friendly, the room was perfect for our needs. It's close to the parks, making it very easy to walk there. The kids loved the water park. Definitely a great place to stay!
I would absolutely stay here again.
This was a great pick for us. The room was beautifully decorated and oh so comfortable. Castaway Cove was a lot of fun and the store downstairs was wonderfully convenient. The front desk staff had amazing attitudes and helped with every little thing we needed. My one and only gripe is that it's not closer to Disneyland but at only 0.3 miles it's a quick and easy walk. We made it with ease even after 13 hours in the park. I would absolutely stay here again.
The rooms are clean and very large. Great for a family. The water park was fun even in the winter and the spa was great to warm up the littles.
nice place, great location
1st time staying off-site in a while [normally over-splurge to stay inside the bubble], so i was nervous about the walk, the service, and just about everything really. HoJo did not disappoint. the staff was friendly and helpful, the room was clean and spacious, and the walk was super easy [10 minutes exactly from my room door]. my only complaint is that the beds were not comfortable. granted, i have a bad back, so i'm a bit more sensitive about this than most, but this is my review so there it is. i had the double room, so i will probably go back and try a queen because i read they have pillow-top mattresses whereas the double does not. when i do, i'll post an update
Get refubished room if you can
The rooms in the main tower are refurbished and really nice. The rooms in the two story towers are very outdated. Very low water pressure in the shower. I liked the balconies facing the swimming pool. I wish they had free parking. Very nice hotel staff. Walking distance to Disneyland
Every staff member we encountered were very helpful & friendly. Even over the phone.
Such a comfortable hotel!
Wonderful, clean hotel with a very easy walk to Disneyland! Loved our stay and felt so comfortable. SUPER comfy beds! Would definitely stay again.
Impressive staff and rooms
Really amazing staff and awesome rooms. Wish they provided breakfast
Definitely would stay here again!
First time at this hotel. The rooms are so big! Loved having a microwave and a fridge. The quick walk to park is also why we chose to give this hotel a try. Definitely would stay here again!
The hotel was awesome all the way around. Me and my 4 kids were very happy with the room and pools. And staff was extremely helpful.
Clean premises and clean room. Water play are was fun and clean. Short walk to Disneyland and downtown Disney
The hotel overall was good. I think we just didn't get a good room. We had a big skylight, so the sun was hitting early in the morning. It was hard for the kids to take a nap during the day. Also our shower was clogged.
Staff was friendly, the room had a cool mid century vibe, dig the cool art throughout the hotel, and conveniently close to Disneyland!
Customer service was great on the phone but when you asked for something (ie more cups or towels) it never would show up. The room was missing it's remote. The beds were clean but the room needed cosmetic work for sure.
The staffs were all very friendly. The room was clean. Appreciated the room services. Great location. It was about 3 blocks from Disneyland.
The Howard Johnson Anaheim was the perfect place to stay for us. It was less than a 10 minute walk from our room to the gates at Disneyland, which was perfect for trips back to the hotel so our toddler could nap. There were many things to love about the hotel; free parking, secure buildings that lock after a certain time and can only be opened with your key card, the little freebies they give you at check in ( a chocolate coin for each guest , as well as "if lost call" temporary tattoos, balloon swords and paper pirate hats for the kiddos,) and the cute decor in the rooms, which were very clean and had comfortable beds. Then there's the Castaway Cove with splash pad, wading pool for your smaller littles, and water slides. The hot tub was also in this area, which allowed us to relax a bit while our 2 year old played in the water. Our daughter had the best time playing at the cove. We also lucked out and got a room where you could see the fireworks from our balcony, which was a wonderful surprise, and added a little magic to our non Disney days. I'd have to say that the only thing that we would have liked to see at the HoJo would be a continental breakfast. Otherwise, we couldn't have had a better time during our stay at the HoJo.
Valishia H. on 02/18/2020
We have always stayed at a neighboring hotel. We choose HOJO this time just randomly and we will be back! The room was amazing! my kids always have to check everything out when we arrive (who doesn't) they were so happy to have a rubber ducky waiting to take a bath with them! they are 4&5yrs old. As we arrived back to our hotel room we were hearing loud noises outside... we opened out balcony door to realize we could get an amazing view of the fireworks show happening for sweetheart night (Feb 12th) we had tickets for sweethearts night the following day but it was such an amazing magical night to see the fire works right out our door. Bldg 1, 7th floor. great updated room very comfortable beds! everything was great no complaints on anything from this hotel we will be returning guests for sure! parking was great. the walk was 10min to Disney. cant wait to return! Disney is our happy place and so glad HOJO helped make that experience amazing!
Great location with big savings
Clean and quiet. We stayed in Building 4 and it is outdated but the room was extremely clean and unusually quiet. The young man who helped get us checked in was so nice and courteous and helped us get our stay extended quickly, per my last minute request. We got a room with 2 double beds and there was a rollaway bed in the room. The bed was comfortable. The room we had was not updated: carpet, bathroom, curtains are all very old and there was a lingering smell of days of old but we were ok with all of this. I'd rather the room be clean and quiet over anything else and that's what this room was. Short 10 minute walk to the security walkthrough area just outside of the esplanade. We usually stay on property but the amount I saved staying at this HoJo means this hotel may become our new go-to spot to stay. We did not partake in breakfast or go to the onsite shop, this visit, but it was nice to know we had these options available to us. Great stay, we were very comfortable.
Cassandra K. on 11/14/2019
great hotel for families and quick access to and from park
Our stay could not have gone any better. The staff was amazing and so helpful. The room in their newly renovated tower was so clean, spacious and full of natural light. We all enjoy it ourselves and it's just a short walk away from Disneyland.
Walking distance to Disneyland
The hotel is ideally located for a Disneyland vacation! A quick 10 min walk to the park entrance is perfect for getting back and forth from the park. The castaway cove kid pool area and splash pad were awesome for our kids! They also enjoyed the poolside chess game, and the hot tub was great! The rooms were clean and simple, but all you really need for days spent at the park is a clean bed to roll into at night. The staff was helpful and friendly. We'll definitely stay again!
Pool was nice, but the room we stayed in was SO outdated!
The have stayed at this property three times. The past two times we've gotten in early and to our surprise they have a had a room ready for us. My daughter loves Cast Away Cove; which is one of the reasons we continue to stay at this hotel. The second reason we continue to visit is the location. Less than a 10 minute walk to Disneyland. The staff are always great and the newly renovated rooms are fantastic.
Maridawn W. on 09/30/2019
The hotel room was very clean, but there was a urine smell in the hallways. We bought some air fresheners for our room, which did help.
Will always be our favorite place to stay when we come back!
We really appreciated all of the employees and their helpfulness.
Howard Johnson Anaheim is within walking distance to the parks and is great for families. My kids loved the Castaway Cove water park and the pool. Beds were very comfortable and the front desk staff was extremely helpful. We stayed in building 2, which was not renovated. Rooms were dated and the premium charged for the renovated rooms in Building 1 did not seem worth the expense for us.
Virginia W. on 07/14/2017
We really enjoyed our stay here. It was so close to the park, which made it easy to come back and let our baby take a nap during the day without wasting too much time. Our room had a big window in the ceiling, and I loved waking up to the sun each morning! Everything here was so nice and we were well taken care of.
Great Location and Great Beds!
We've been going to Disneyland in March for three years now and this was the first time staying at the Hojo and we loved it. We previously stayed at the Comfort Inn and Suites which is just down Manchester a bit further and around the corner. We were happy enough there but we now much prefer the Hojo. The walk is so easy to Disneyland and the end of the day trek back to the hotel wasn't quite as painful and grueling as the past couple years. Parking was very easy, the spaces are generously sized and the lots are spacious as well. The lots are very close to the buildings as well so the walk to the room isn't too bad and luggage carts are usually found around the buildings. We stayed in Building 6, on the 2nd floor. There was no elevator, which was about the only thing that really dampened the experience. As such. we chose to leave our stroller at the car each night rather than try to lug it up the narrow stairs. This also made getting our luggage to and from the room a pain. On the plus side, the beds were veeerry comfortable!! Pillow tops. The pillows weren't exceptional but most were comfy enough. The room ( a double standard) was very spacious compared to what we're used to, there was ample counter space throughout the room with tons of places to set bags and luggage, a closet at the door with a shelf above it, and a walk-in closet at the end of the room! We were able to use a rollaway bed for my daughter and it was able to sit between the walk-in closet and the 2nd bed with ample room and not get in anyone's way. The toilet and shower were in a their own room with a door and sink, and a second sink with large mirror was outside the toilet area so that was a great convenience! Most hotels I've been to have the toilet separated but not many in my experience have a second sink so this was awesome. We had actually just stayed at a La Quinta in Chula Vista for the San Diego leg of our trip and that hotel had the toilet, sink, and shower all in the same room so getting multiple people ready there was challenging. When we got to the Hojo we were happy to see the bathroom layout. We experienced no issues with cleanliness or housekeeping services. The Keurig was a nice touch and made preparing a cup so simple and clean. The microwave worked well. The fridge, on the otherhand, was TINY. Like a mini mini-fridge. Much smaller than we had anticipated and the "freezer" section in it did not work very well. The front desk staff was always very pleasant and helpful. We used a stroller rental service (Cloud of Goods, which I also highly recommend) and they had no issues in having the stroller delivered prior to our arrival and storing it for us until we needed it. They also had no issue with us leaving the stroller with them in order for the rental company to pick it up. They even offered to let us bring the stroller to the lobby every night and store it till the morning so as to not take up space in the room but we opted to keep it in our car instead. Overall we were very very happy with the Hojo, We have looked at it in the past but the cost was always much higher than our "old" hotel. This time the price was excellent. So, we'll be looking to book here again for our next Disney trip!
Okay, I guess the refrigerator was not quite cold enough, but that's the only negative I can think of. Price was good, location was plenty close to Disney and restaurants to walk. Room was very nice (thankful for top floor - it was very quiet). My grandkids are 10 and 11 but still enjoyed the small waterpark. Wish there were a continental breakfast to save money, but we made do. We were on the freeway side of the hotel and I am a light sleeper - but there was no distracting noise, I slept fine!
Beautiful Hotel not far at all from the Disney gates!
We loved this hotel!! The rooms were clean and fresh- the cleaning service was excellent the entire time we were there. You can tell the room has seen some wear (a few stains in the corner, bathrooms looked old) but it was all CLEAN. And let's face it, these hotels see a lot of use it so that didn't bother me at all. The beds were very comfortable and I felt the room was a decent size. The fridge/microwave in the hotel were a great addition. It was a short walk to Disney but the majority of the time we used the ART which picked up right in front of the hotel which got us there in two minutes! We would take route 7 on the way there and route 8 on the way back to be the first stop to get off across the street. My 7 year old son LOVED the Pirates Cove water playground. And I loved that the hot tub was right next to it which made for some much needed relaxing while he played. The gift shop was nice to have on site but be warned, it's pricey! You'll be paying top dollar for simple items like milk/soda/snacks. I always felt safe here which is a great perk since I am a single mom traveling alone with my child. We could see the fireworks from the pool which was a great perk. We had a pool view which I was excited about at first but then later on it became more of an annoyance. Trying to take a midday nap or go to bed early to get up early the next day for Disney proved tricky with the noise. We could have asked to switch but my son loved it. Next time though I'll probably request NOT to be facing the pool. Great landscaping on the hotel premises, it was beautiful to just walk around and take in the palm trees. Biggest con was the lack of breakfast/on site restaurant but there's many choices nearby. We ate in the parks most of the time which cost us a bit more but it was convenient. I'm already planning our trip for next summer to come back and I'm going to have a hard time finding a hotel that compares to this one, we loved it so much! Highly recommend it!
SHEIRA-LILIA H. on 03/21/2017
We stayed at the Howard Johnson for 4 nights and was very satisfied with everything. The people at the front desk were very friendly and helpful. We arrived early before check in time and we wanted to go straight to the park, it was nice of them to have a place to store our luggage, and give us our parking pass early so we could just walk to the park. The park is just about an 8 to 10 minute walk away. Not too far. The rooms were clean and nice. Bathroom was roomy and clean. Simple rooms to sleep in. They also have a guest laundry room which was a plus for me, so i could do everyones laundry before checking out the next day. I would recommend this hotel to family and friends.
It was great to have such a nice sized room. Having 2 sinks was great and made it easier to get multiple people ready at once. I wish we would have been able to have queen beds instead of full but that is what was available. Close to the park and very quiet.
This hotel was great! We had a party of 12 and asked if we could all be on the same floor. They were so accommodating, we were all right next door to each other, they even gave 2 of us adjoining rooms which was amazing for my 1 1/2 year old twins to run back and forth from our room to my parents room! The rooms were spacious and clean. We got there a few hours early and our rooms weren't ready but they still let us go to Castaway Cove and the Garden Pool while we waited. In the future all of our Disneyland trips will be spent at Howard Johnson!!
We were in building 2. 3rd floor. it was very quiet and my kids loved the pool. My kids are 7 and 10 so we didn't spend much time in the kids water play ground, It's more for toddlers to maybe 6 years old so my 10 year old was over it quickly. The hotel room had a fridge where we were able to store our waters and snacks in which was nice and other than one stain on the floor, the room seemed clean. I'm not that picky and this hotel delivered. I was comfy. We walked to Disneyland and it wasn't horrendously far but after a long day walking around Disneyland I did want a closer hotel, but we made it and the kids didn't think it was that far. They are much more resilient than I am. I do think that this is the nicest closest hotel there is for the best price. All around best value! Yes you can get a cheaper, closer hotel but it won't be as nice. And yes, you can get a nicer closer hotel but it won't be as cheap. Good Job HOJO!
We booked this hotel for two reasons: the splash pad/pool area for kids and the walk to Disneyland. It did not disappoint on either. The hotel was spread out and felt really private.