Every vacation is more fun when it includes a theme park! We have a wide selection of great deals on attractions, dining, and tours.
Hyatt Place at Anaheim Resort (Closed Unitl April 30)
Spacious rooms with sofa bed, free breakfast, and in-room fridge. ¾ mile to DISNEYLAND®.
2035 S Harbor Blvd
Anaheim, CA 92802
The Hyatt Place at Anaheim Resort is located less than a mile from the DISNEYLAND® Resort. From oversized guestrooms with free WiFi and an in-room fridge, to a free hot breakfast each morning and a 24-hour gallery market, you have everything you need at the Hyatt Place.
4.7 out of 5 Rating (12 Reviews)
100% of guests recommend this hotel
2 Queen, Sofa Bed Standard - 2 Queen Bed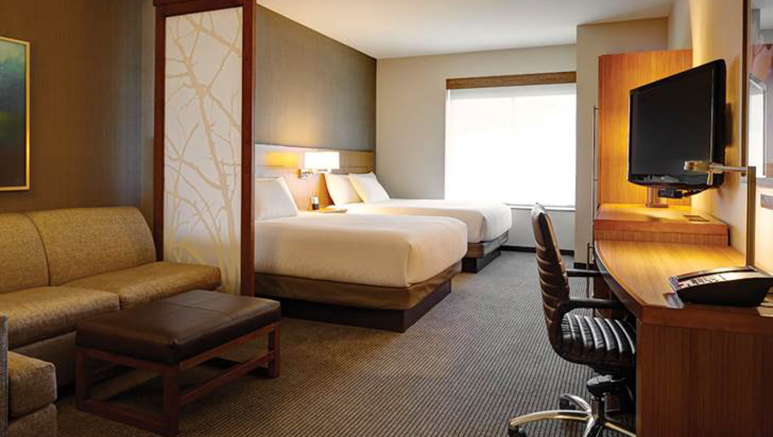 Maximum Occupancy: 5
Check-In Time: 3 PM
Check-Out Time: 12 PM
Shuttle: Available ($5.00)
Parking Fee: $22.00 per night
Coffee Maker
Refrigerator
Outdoor Pool
Hot tub
Exercise Room
In Room Internet Access
Full Breakfast
1 King, Sofa Bed, Bunk Bed Family Suite w/ Bunk Beds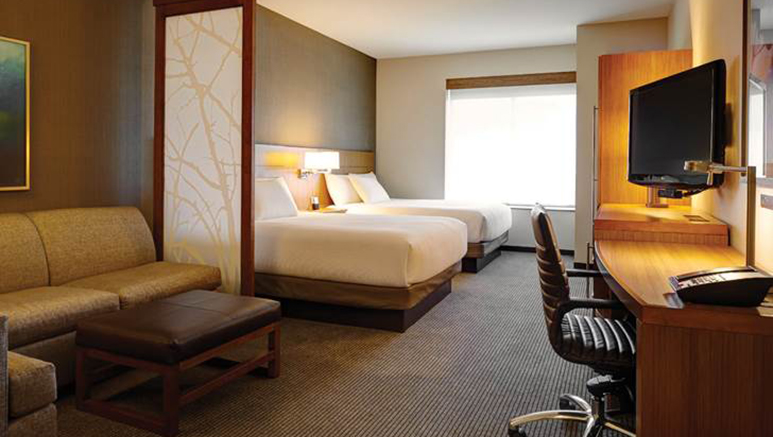 Maximum Occupancy: 6
Check-In Time: 3 PM
Check-Out Time: 12 PM
Shuttle: Available ($5.00)
Parking Fee: $22.00 per night
Coffee Maker
Refrigerator
Outdoor Pool
Hot tub
Exercise Room
In Room Internet Access
Full Breakfast
---
The staff was great and the breakfast provided was very good and high quality.
We loved the free breakfast here! We loved it even more when we realized that the free breakfast is offered only to Hyatt members, but since we booked through Get Away Today, we too got free breakfast! This hotel was incredible, from the breakfast to the amazing clean, and spacious rooms. We were very pleased staying here!
JENNIFER D. on 10/25/2018
Best breakfast. Inviting lobby. Little far to walk to disney. Oversized rooms. Small but nice pool. I always love Hyatt places. Seems like you're coming home.
This is a very nice hotel with great customer service. I only have two gripes, add some meat to the breakfast and change the shower heads. The hotel is not far but not close to Disney. Be sure to purchase the ART bus pass its a god saver when you've been walking at Disney all day.
Great Hotel - Okay Breakfast
We loved this hotel and it was very nice and clean. The staff were all great and we would stay again most likely! The pool was a good temperature for my small kiddos too! The room we stayed at had 2 queens and a sofa sleeper - the little sofa was like a little sectional sofa (L Shaped), so i was actually able to make a small bed on the L part for my toddler so she didn't roll off the sofa sleeper mattress. The breakfast was a little disappointing though! It was like any breakfast that you may get at any hotel that offers a free breakfast. We generally stay at the Embassy Suites South which has an amazing breakfast buffet. I was expecting something that was just a step down from that. Also, the ART does not pick up directly her, but right around the corner at the Clarion.
Incredible service, value, cleanliness, friendliness and amazing breakfast!
This was by far the best hotel for the money that we've stayed at. We've owned a 5 star Marriott timeshare for the past 15 years in Newport Coast, so we're used to well kept, clean amenities. The free breakfast every morning was incredible! Freaky brewed Seattle's Best coffee, eggs, sausage, bacon, fresh fruit, donuts and cereal, just wow! Free parking, close to D land, restaurants everywhere. Peter at the was front desk was very accommodating. We loved our room keeper Elena and all of the wait staff. The ladies are so friendly you just want to tip them. We will return for sure...
Really enjoyed this place
The hotel was nicer than most places I've stayed. The staff was friendly and helpful, the rooms were extremely clean, and the bunk beds are a genius touch that every hotel should offer. The breakfast was great too. It sucked to have to make my own breakfast again when I got home. The only weakness is the pool - it's small, the patio around it is small, and it has a short window of mid-day sun exposure. But we were there for Disneyland, not the pool, so the trade-off was worth it.
Loved the King family suite!
This is such a wonderful hotel. The King bed was so comfortable, not hard like usual hotel beds. We loved the bunk beds as well as the doors for privacy. The breakfast buffet was well stocked and had enough variety to please the whole family. To be absolutely perfect, we would have loved an in room microwave. But in spite of that, I am certain I will insist upon this hotel on our future California trips.
5-Star Best Neighbor Hotel
I am a frequenter of 5 star hotels in Park City (off season for affordability) and Hyatt Place Anaheim rates just as high as those places on my scale! We had a Queen with bunk beds and it was perfect for kids and privacy for adults. The breakfast was far above the standard free breakfast. More importantly, the professional staff that made you feel like a valued guest, meeting your every need, friendly with each interaction, and overall exceptional customer service is what makes this hotel stand out from the rest! The staff works so hard, from front desk to maids, I am utterly impressed!
Wonderful hotel!! Great stay!
We really enjoyed our stay. Great hotel. Great breakfast. Would've liked a microwave in the room but other than that it was great!
This is such an awesome hotel. Very clean and modern. Such a nice place to stay LOVE IT.
We loved the hotel! The ONLY thing was the adjacent room which housed the bunk beds was an ice box. Even with the heater on, we were still super cold. We are so glad booked at the hyatt place though.