Every vacation is more fun when it includes a theme park! We have a wide selection of great deals on attractions, dining, and tours.
Just a short ten-minute walk to DISNEYLAND® parks! Free parking for one vehicle. Our famous Family Suites sleep up to 6 and include fridge and microwave. ART Shuttle pick-up every 20 minutes on the hour. CVS Conveniently located next door.
1831 South Harbor Blvd.
Anaheim, CA 92802
Just a short ten-minute walk to DISNEYLAND® parks! Free parking for one vehicle. Our famous Family Suites sleep up to 6 and include fridge and microwave. ART Shuttle pick-up every 20 minutes on the hour. CVS Conveniently located next door.
3.5 out of 5 Rating (84 Reviews)
67% of guests recommend this hotel
1 King, Sofa Bed, Bunk Bed Family Suite
Maximum Occupancy: 6
Special: 4th Night Free (Subject to availability)
Check-In Time: 4:00 PM
Check-Out Time: 11:00 AM
Shuttle: Available ($6.00)
Resort Fee: $9.95 (Per night; payable to hotel at checkout; a $10.00 per night savings )
Coffee Maker
Microwave
Refrigerator
Laundry
Outdoor Pool
Hot tub
Exercise Room
Cable TV
Pay Per View
Video Game Room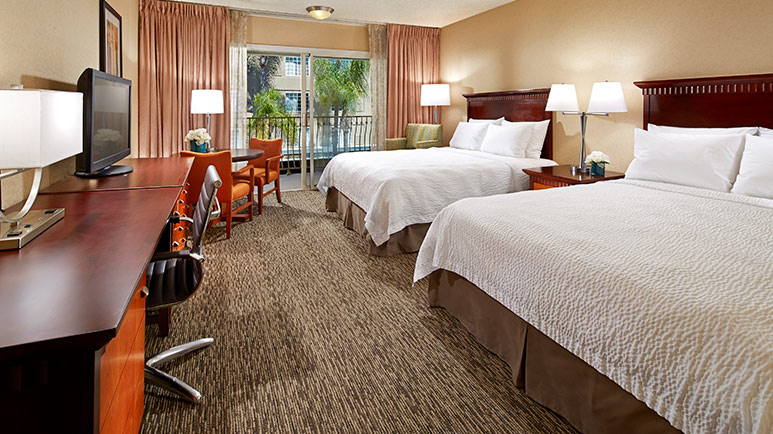 Maximum Occupancy: 4
Special: 4th Night Free (Subject to availability)
Check-In Time: 3:00 PM
Check-Out Time: 12:00 PM
Shuttle: Available ($6.00)
Resort Fee: $9.95 (Per night; payable to hotel at checkout; a $10.00 per night savings )
Coffee Maker
Refrigerator
Laundry
Outdoor Pool
Hot tub
Exercise Room
In Room Internet Access
Cable TV
Pay Per View
Video Game Room
---
Josephine C. on 04/28/2023
Outdated and needs upgraded rooms. Humid in the hallways. The pipes made a horrible sound while taking a shower. The pull out sofa bed need new mattress. The springs were all broken and was very uncomfortable. Coffee maker didn't work in my room. Dusty furniture. I called house keeping for towels which they forgot to put in the bathroom after cleaning and it took them almost 2 hours to get them to me. I wouldn't recommend or stay here again.
Tired - Housekeeping needs improvement
Jennifer W. on 01/24/2023
This hotel is 'tired'. It was a decent walk to the parks, which is a plus. Everything else was not great. We stayed a week, and had housekeeping just bring fresh towels and TP, and take out the garbage every other day. No cleaning or bed making needed. We had to 'remind' them every time that there were 5 'adults (two weee teenagers) staying there in the family suites, so we needed 5 towels and 5 washclothes. Also, had to go down for more TP because they left us with 1/2 a roll (again- 5 adults!). No fan in the bathroom and we had to get blankets and pillows … for 5 people! When we made the reservation, we let them know it was for 5. The shower also had mildew. I wouldn't stay there again or recommend it to anyone.
Patricia L. on 01/07/2023
Enjoyed our stay at Anaheim Portofino Inn & Suites . Staff friendly and helpful
I doubt I would stay here again.
This hotel had bugs that bit one of the members of our party during the night. They had bites on their ankles, hands and forearms. The hotel did move us to a different room. I doubt I would stay here again.
No frills hotel, but nice, clean and comfortable. The double queen room is adequate for 2 adults. It would be a little difficult getting ready with more than 2 adults as the sink area is tiny. The only mirror is at the sink. There is no house keeping during your stay, but I did not desire that anyway. If you want anything (more cups, towels, coffee), you have to go down to the front desk to ask. (Calling/asking downstairs did not work) I did not mind though. The people at the front desk are very friendly and willing to help. They were very accommodating, especially with parking! I would stay again!
Not luxury but great for a family
Short walk to the park. Hotel is ok. Not a luxury hotel but will do great if you have a family. Kids room is big and can accommodate a family of 5 easy. Definitely worth the money for that alone.
Parking wasn't immediately clear. I found out after having to go back in and talk with the registration clerk that the parking garage belonging to the neighboring hotel was open for us to use too. As I was going back out to my car, I ran into another family that was just a confused about that as I was. Sometimes when using the shower, the water made a growling or knocking noise. I think it might have been when someone in a nearby room was also using the water. Our room wasn't cleaned and towels were not restocked during our stay. Not sure if this was something we had to request. Proximity to the parks was good. It's not the closest hotel, but we were able to walk there and back comfortably.
The staff was extremely friendly and accommodating. Great location and short walk to Disney parks. The room was disappointing, outdated and musty smelling. Stained carpets and fixtures. We wiped everything down ourselves as it looked as though it was done with a dirty rag. The hallways weren't air conditioned and had odd odors. No daily housekeeping. Towels looked old and dingy and there weren't enough hand towels or washcloths for everyone. Soaps and bath products were tiny and no soap dishes. Beds were placed directly under A/C vents that spewed musty air and we all left congested. Fridge froze everything and vending machine beverages were warm. Unfortunately, we would not stay here again, at this price point I would expect much better accommodations.
Hotel was dirty and not updated with TV. They also didn't do daily cleaning.
ANGELINA S. on 02/17/2022
This is the second time we have stayed at the Portofino. The hotel is due for an update as some things are looking worn out but it was clean, staff was friendly and responsive to towel requests, beds were comfortable and proximity to the park entrance is easily walkable. There is also a large CVS store next door and a Walgreens across the street. We had the front desk arrange a car service to take us back to LAX but there were issues with the car service - not the hotel. I spoke with the manager about our issues so that he would be aware and possibly not use that company in the future. When making car service arrangements, make sure you know if the car is non-smoking - we had a very uncomfortable drive because the driver had been smoking in the vehicle before we got in. It might not be a big deal to some but it was for us. There were other issues as well but had nothing to do with the hotel.
Definitely will consider staying here again.
This was one of the quietest stays I have ever had in the DLR area. The walk to the parks each day was easy and the room was clean and well maintained. Staff was very friendly and helpful. Family suite is roomy. Definitely will consider staying here again.
It sleeps 6 but no room to do anything else. No chairs for the table so you eat on the floor or bed.
This was perfect for our family!
The kids suite was perfect for our family of 4 with 2 teenage girls. The bunk beds worked out great! All of the beds were comfortable and the room was very clean. The room was large with plenty of space for our stuff and it had both a refrigerator and microwave. Free parking is always a bonus in the Anaheim area. It was only about a 10 minute walk to Disneyland. Booking it through Get Away Today saved us a lot of money off the daily resort fee. The hotel staff was friendly and helpful. At one point our rental car had a flat tire and the desk called to let us know. The parking was difficult until we realized that we could park in the larger garage structure at the end of the hotel. The hallways could use some patchwork as they were a little rundown, but overall for the price and convenience it was perfect for our family.
Worked great for our family
Had the kid suite with bunk beds. Worked great with my three young kids (7,5,3). Hotel was about a 15 minute walk from Disneyland gates. Hotel is old but serviceable. Parking in the detached parking garage was good.
Perfect for what we needed!
This hotel was the perfect location! Easily walkable to Disney front gates. Great room for the kids -- plenty of space and sleeping spots with the bunk beds and pull out. Front desk was incredibly helpful and parking was actually easy because of the shared garage with the next hotel over. Plenty of food options close by and a CVS right next door in case you forgot anything! Perfect for what we needed!
Loved this hotel especially the location. Cvs right next door and target and restaurants down the street. Loved the privacy doors to the suite between kids beds and ours. Staff was helpful. Only asked for room service once and all thought it was 30 min before house keeping left for the day i returned from park to a clean room. Pool closed at 10 but maintenance guy was super nice and let us stay an extra hour. Just loved it and will be booking again
Outdated rooms. Poor accessible electric outlets. Great location though.
Clean and perfect accommodations for our family of six. The bunk bed was the most comfortable hotel bed I've ever slept on!
The room were very clean every day they would come and clean, locations was great 14 min walk, free parking! Small fee for resort $7.50 per day. overall i enjoy my stay! Stay inn you wont regret it!
Enjoyed that the hotel was in walking distance to Disneyland. The staff were so friendly too & they gave us an adjoining room with our family.
Very pleasant staff, great location, good size rooms. Not many amenities.
So convenient; we'll be returning.
We had a wonderful stay at this hotel in the kid's suite. We had 3 adults and two children fit comfortably in our room. The kids loved the bunk beds and the housekeeping placed their Disney plushies on their respective beds daily. We had plenty of towels and storage for our week long trip. The pool is great. Heated so we were swimming in cooler weather. The hot tub was great to relax our sore bodies from 3 days in theme parks. We loved having the fridge and microwave. Saved us a lot of eating out. There are plenty of food options, pharmacy/convenience stores, and souvenir shops right in walking distance. Disney was also a 15 minute walk max! Next family trip we will be staying again! The only complaint is a few select front desk people are rude and unhelpful. But most of them are kind and eager to help so it would deter me from coming back.
Portofino Inn & Suites worked perfectly for our family. The kid suite is a lifesaver. My advice would be to ask for the 5th floor- we will for sure! We will stay there again. Clean, easy walk to Disneyland, close to restaurants-great value.
The staff was great! The room was nice. Very close to Disneyland Parks!
Great for the price. Walking distance to Disneyland. Your basic hotel room. Will keep this hotel in mind when traveling again.
Loved the proximity of the hotel to the parks. The hotel was very clean and affordable. The only downside was some of the staff weren't very helpful. Probably due to the fact on their lack of knowledge if their maintenance workers had the capability to jump guests vehicles. We needed to jump our car and they kept telling my husband to check back at certain times of the day and night to speak with the maintenance worker, but he kept missing him. Finally he spoke with someone who knew for sure they didn't have the resources for that. But overall we had a great stay.
The hotel was a little dated. The door seemed to be too small for the door frame so a lot of light would shine through at night. The key cards took multiple tries to work. But the beds were comfy, it wasn't too noisy and it was a great place to just sleep.
This is our second time staying there in 6 months. Still back up my last review. Friendly staff and perfect distance to walk to and from park. Let us stay in the parking structure for free after we checked out so we could go to the park for the day. Heater pilot light had not been lit yet as the season is changing. (Summer to Fall.) Called front desk and maintenance arrived within 5 minutes of calling on a sold out night. Super friendly and fixed right away. Rooms are get what you pay for and rates are great so we're ok with aged room as long as it's clean. And as stated they're super quick about addressing any issues. Hope to stay there next trip as well!
Hotel & staff were awesome!! Not too far from Disneyland and just had an awesome overall experience!
The kids suites are perfect for families. Beds are comfortable. There's a coffee shop steps away from hotel.
Make sure key cards work. We had trouble with ours three different times. Make sure to call hotel to confirm your reservations as ours was lost when we got there. Although we received email from Getaway today confirming it.
There wasn't anything wrong with the hotel it just wasn't beyond any expectations. The age seemed to show the most as everyone in our family shared the same sentiments that it felt old
They didnt offer an early check in, the refrigerator in the room leaked. The light on the bunk bed didnt work, the refrigerator didnt always feel like it was working
Close and convenient to Disneyland Park. Front desk staff (Omar) were excellent.
The convenience of the hotel is great. Parking, pool, and shuttle were all so easy to get to. The hotel is "well worn". We had no hot water for showers one evening, problems with our key cards and locks, ice machine didn't work our last day there. We had no waste basket or shower curtain when we checked in and the luggage holder was broken. Three trips to the front desk got them all fixed. We couldn't call the "operator button" didn't work. Cost was in good but I would hesitate to stay again. They need to do some updating and repairs.
Clean, double sinks a big bonus!
Clean, helpful staff, beds for all three kids. LOVE the two sink areas, makes it helpful when getting all 5 of us ready. The king bed we had was hard though and tough to relax after 6 miles of walking at Disneyland.
Great walking distance to the park. Room was nice, had a musty smell but the sliding door to the balcony allowed fresh air to come in. Wish there was a microwave in the room.
This hotel left a lot to be desired. The room had a musty smell and felt like it hadn't been cleaned very well. We had the kids suite which held our 5 guests well, however, they did not leave enough pillows or blankets and we never received extra when asked for the pull out sofa. The fan in the bathroom did not work and it had black mold in it. We stayed for 6 nights but their room keys will only work for 5?? So we had to go re check into our room to get new room keys for our final night. The room keys were awful! They took forever to work, we would get the green light to open the door but it wouldn't open. Some nights we couldn't even get into the hotel until some other guest came along and opened it... if we went to guest services they would issue a new key but it wouldn't work?? Not what you want to deal with after a 11 hour day at Disney!! I will never stay there again and would not recommend to anyone. Only gave it 2 stars for the location.
I would stay here again but ONLY if I were guaranteed a room on the top floor, and other options weren't available. The walls are thin, you can hear everything your neighbors are doing, but perhaps worse than that, every time the people about you walk you hear their every step and I mean EVERY step. Then if they have kids they're probably going to jump off the top bunk to the floor a few times. I don't blame the kids, hotels are exciting, bunk beds are exciting. But you trying to sleep down below will hear everything. Oh and every time they flush the toilet, you're going to hear that too. Housekeeping vacuuming, yep you're going to hear that too. The front desk staff isn't overly friendly, but they aren't rude. More just there to do their job nothing more and go home, to be expected for the price paid. The pool was decent, spa has a capacity of 5 people and it rather small. The towels for the rooms and pool are old, dingy and tiny. Speaking of towels we did have housekeeping leave us no towels one day, but were quick to get is more when requested. Don't bother calling the front desk, I tried calling 3 separate times and no one ever picked up. The last time I called was because our smoke detector kept beeping (not alarming, but beeping like batteries needed to be changed). Frustrated but ready for bed, we took care of the issue ourselves. You aren't paying for the room, you're paying to be close to Disney, and it is close.
Walking Distance to Disney is Highlight
Our bathroom had mold, the walls and floor were dirty. The walls are the thinnest hotel walls I've ever experienced and we've traveled a lot. We weren't there to spend time in the hotel though and it's walking distance to Disneyland. It's sufficient for sleep. The staff was a little unpleasant.
Great staff, rooms and location!
Super friendly staff, walking distance to Disneyland, clean rooms.
Fairly close to Disneyland. Would prefer to stay closer in the future. No breakfast, but free parking and wifi were nice. Clean room.
The Portofino staff was very helpful and friendly. They allowed us to park our car at the hotel while we went to the parks even though we arrived before check-in time. Our room was clean and tidy and everything we expected.
As far as proximity to the park, it was great. The kids liked having their own space in the room, but it was by no means TWO separate rooms, just a divider (which was fine for us). They do NOT offer a continental breakfast but we knew that going in and planned accordingly. The parking lot is small and at busy times it WILL get full. They share a parking garage with the nearby Residence Inn, but they didn't give us the parking garage keycard when we checked in. Instead my husband had to circle the parking lot while I waited in line to talk to someone at the front desk about where to park. It wasn't a huge deal, just an inconvenience that could've been avoided if it was done at check in...so maybe ask about it if they don't offer it up front? The room, while clean, was very tired looking. One of the drawers didn't shut all the way, the cabinet that housed the mini fridge was broken, the finish around the bathroom mirror was peeling off, and the bed was pretty uncomfortable. I guess you get what you pay for - we wanted to be within walking distance to the park without spending an exorbitant amount of money. Even still, we'll look harder for an alternative before booking another stay.
The staff is so friendly and helpful! Our rooms were kept clean everyday and always stocked up on towels. We also love the distance to Disney. We've been staying here for quite a while and love it every time. It's not the newest hotel but we still fantastic. The staff goes above and beyond for those who stay at their hotel.
Plenty of dining and shopping nearby
Carlynne O. on 08/21/2019
The staff was SO friendly. It was the perfect hotel for our family of 6. The distance was nice too because we were able to walk to the Parks, which we loved. Plenty of dining and shopping nearby. We highly recommend!
We liked the walking distance to Disney
It was an ok hotel. Musty and older. The walking distance to Disney was attractive but there are other nicer options in the immediate area.
Our family loved this location. There was plenty of dining and shopping nearby, and the walk to the Park was close. The staff was very helpful with our car rentals and restaurant suggestions. Hot tub and pool were both nice and clean and same with the rooms. Housekeeping did a fantastic job keeping our room stocked and cleaned. We would definitely stay again!
Perfect for our little family of 4. Staff was considerate and friendly. It was nice to be able to walk to the Park. It did not disappoint!
Rooms could use some updating
Rooms could use some updating. Not enough plugs for charging phones. Had the kid suite with the sliding door between king bed area. Not sound proof and only sheer curtains on doors. Pull out couch was uncomfortable like most are. King bed needed to be replaced, sagged in the middle, not comfortable. We paid over $50 at checkout for extra hidden fees. Hallways and elevator had no a/c and our room would never get below 71 degrees. Had to call twice to get towels. Upside is we didn't spend much time there and there's a CVS pharmacy next door that had everything we needed. And Disneyland was only 2 blocks away.
While the room was spacious, there were other problems. The partition in the kid suite didn't fully close, had sheer curtains, the furniture was old, and the pull out couch was uncomfortable. Parking was difficult and it was inconvenient to get to the pool. It's close enough to walk, but also to far to walk. In other words, it was right on the cusp. We ended up lyfting a few days because after a full day in the park, it was just torturous to walk any longer.
We felt that everything was very comfortable. We checked in quickly, got to our room and hit the hay! The beds were comfortable and we were ready to hit the parks first thing in the morning. The staff was helpful in assisting us with directions and with park details. We loved our stay and had so much fun!
The location, and amenities were fantastic. We loved how close we were to the Park, The rooms were great, clean and comfortable. The staff was very kind and always very willing to assist us whenever we needed.
Fernando G. on 07/24/2019
Kimberly D. on 07/20/2019
Our room was in building 2 on the 5th floor. The room was fairly quiet and big enough to spread out and be comfortable in. There was plenty of room for 2 kids, and you could easily fit 3. The room and bathroom were clean, the fridge was cold (but tiny) and there was a weird little coffee maker so we went to the coffee shop a couple of minutes walk away. Parking was a bit of a pain but at least there's a parking garage close by that was included. There's also a small swimming pool next to building 1. Two things that could use improvement are the mattress on the bed and the dividing doors. The mattress was not very comfortable and had the tendency to transfer motion. The curtains on the French doors sucked. They should have been thicker and heavier to give everyone more privacy.
We loved staying here, the room set up was perfect for our family. The King bed is closer to the door, with a door in between the King and Bunk Bed. We loved knowing that the kids couldn't leave the room without us knowing, and the glass door make it easy to check on the kids.
After reading some reviews before booking I was hesitant due to the complaints regarding parking. After staying at many 3 star hotels/motels in the Disney area I have had my share of parking horrors. Many places there are literally no spots and management could care less. Portifino has a small lot, however they have an agreement with Residnece Inn's parking structure which is at the end of their small parking lot. They give you a keycard upon check in to use to enter the lot if needed. I would've had no idea that it wasn't their structure if it wasn't for the name on the key and building lol. Thankfully we found a spot right in the front and no issues. A local friend wanted to stop by and visit us one day of our stay. We figured she could probably pay an insane amount to park there, but when the concierge COMPED her parking for 24 hours we were very impressed! She did have to use the Residence Inn overflow lot and had no problems and did not feel inconvenienced parking there. The check in concierge was very polite and helpful, also giving us some Disney tips. We held for late check in and arrived around 11pm right when housekeeping was leaving for the night. I had called ahead to request a crib in the room but it had been overlooked. Luckily the concierge was able to catch housekeeping before they left. They asked if a pack n play would suffice and I said it would. They also asked if we wanted it set up or left in the room. It was late and I knew they wanted to get going so I said not to worry about it. This is my only complaint about the hotel because upon opening the pack n play it appeared very old and very overused and stained. Pretty gross. They gave us so much sheets and bedding for it that I was able to wrap the bottoms and sides pretty well though. One side of the pack n play's locking mechanism was not functioning properly and if weight was put on it, it would collapse the side. If it would've been earlier I would've asked for a replacement, but we were exhausted and figured housekeeping wouldn't be able to help until morning. For my 2 year old son this might have been an issue but he was so exhausted from all the travel and excitement, he feel asleep immediately every night, and we had to wake him up every morning, so we didn't bother switching it out. I let the concierge know upon check out and she was very apologetic and said they would take care of retiring it. The housekeeping staff were excellent and used my sons Lightning Mcqueen blankets and light up mater to decorate the second bed at night and my son was so excited about it when we came in. Other than that the hotel entry and lobby was way nicer and prettier than I expected it to be. The rooms were as expected for this level hotel. Bathrooms not too updated and not spotless but not gross either. Just seen in need of an update. I was also pleasantly surprised at the floor to ceiling windows/ patio door and a full walk out balcony with table and chairs. For the price, walking distance from Disneyland, ease of parking, (and FREE parking,) as well as the awesome staff we interacted with, Portifino will be our new go to for Disney trips in the future.
Great room with bunk beds
Samantha F. on 10/21/2018
My kids loved the bunk beds!! They've always wanted to stay in a room with bunk beds. Front staff was nice and check-in was easy. We weren't at the hotel much but it was a great place to call home at night after a long day at Disney!
We loved the size of the room, the ability to close out the kids so they could sleep while we cleaned up and such. The staff was always friendly and courteous. Having a small fridge and microwave helped us save some money by eating in the hotel. Overall the room was nice and worth the money. My only complaint was in the bathroom, the tile grout looked really bad in some places. I went to take a bath to try to soak away the pains of the day and especially under the soap dish, it was unsightly. The bottom of the bathroom door looked warped from water but it hadn't been replaced, just painted over. Other than that, we loved our stay. Conveniently located for both walking to the park and the ART bus system, the latter we used frequently. Limited parking available, but we didn't mind as we had come by train. IHOP across the street, a tiny convenience shop located downstairs and a CVS practically next door which made picking up cheap souvenirs or forgotten hygiene products way easy. We had several food deliveries and grocery deliveries which weren't a problem either. I'd say with a refurbishment of the bathroom, it would be perfect.
Perfect for family w kids!
Perfect setup for family w/ multiple kids. Visted Disneyland last week w. our 3 kids under 6 and couldn't have been a better situation. Bunk beds for the older kids, they had a pack n play setup for the baby. Rooms were clean and king bed was great for my wife and I. All within a half mile from front gate at Disneyland so we never had to get in our car once we got there. And for the rate you pay, can't even compare. This is our second time at Portofino and if/when we go back to Disneyland we will stay there again.
This hotel was a bit ran down. The first room we were in the air conditioner would not turn off. The water in the bathtub sprayed everywhere. I contracted the front office and they did put us in another room but the hotel needs to have some upgrades. On the positive side the swimming pool was heated and that was nice.
Stephanie J. on 09/25/2017
I chose this hotel based on a recommendation of a friend (who stayed there years ago) and its location relative to the park entrance. The pros are definitely the location, also the super wonderful air conditioning and the hot water at any time of day in the shower. The room also had the amenity of a working small refrigerator. However, the big con and the reason we won't stay again is the lack of comfort of the beds. We booked a room with two queen beds, both of us woke up every day more stiff and painful than the night before. The pillows are very small and they vary slightly between too full/firm and slightly less firm. Also, there was mold on the ceiling in our bathroom (as per most Southern California hotels there is no fan in the bathroom) and the ceiling creaked constantly with any movement from the people in the room above ours (they got up at 5:45am each morning of our stay and it sounded like the roof was going to collapse as they walked around). The parking lot is very small and similar to most other reviews we had to circle the lot to find a free spot, a couple of cars were double parked illegally or in areas clearly marked with No Parking Any Time signs. We were told following check in that we were allowed to park in the multi-floored parking structure located behind the hotel, however we'd need to get our parking validated to avoid being charged for use of the structure. Lastly, for those looking for beautiful room amenities, look elsewhere: the furniture is dated and scuffed up significantly, the walls have scuff marks, the drapes had stains on them, the towels were small and had hair from another person (someone with long dark hair) on them, the shower curtain was ripped at the top, the bathroom door frame appeared to have been repaired at some time (had the appearance of water damage that was patched, but unsure), there was a carcass of what I assume was a silverfish bug in the light fixture in the bathroom. There were two elevators we could use to access our rooms, the one that was closest to our room was quite slow and the doors made a strange noise upon closure (squealing as though rubbing inappropriately against internal structures) and made us nervous, we took the stairs for the entirety of the trip. This hotel is fantastic on location, the cleaning staff were efficient, but I think the hotel in general is in desperate need of an overhaul.
Keeping in mind this hotel would be considered a "Value" hotel, it had the same amenities, rooms, bedding, pool that you would expect for the price point. Let me go over the good points. It has a 15 minute walk to Disneyland, rooms have been updated in the last 5 years, in room fridge worked great, room had a balcony with chairs and sliding glass door, CVS is next door, staff was nice. Now the negative: I had to kill two cockroaches this is a first for me in a Disneyland area hotel. I know my wife will never stay here aging due to that. As with most hotels close to the park, Parking is an issue, we had to drive around the parking lot a few times just waiting for a spot to open up. To sum up, It's an OK "Value" hotel, don't expect the best but it's not the worst.
Courtnie M. on 09/16/2017
If I could give a 0 I would!!! We get to the hotel and the AC in the room we requested was broken (things happen I get that) so that meant no roll in shower for mom. We made due! BUT the fan in the bathroom didn't work and when we told the front desk all she said was "the fans in the bathroom are not good so it's ok". Then on one of the days we came back to our room our key was not working at ALL we couldn't get in our room! I was about to go down and get a new key when my husband pushed on the door and it just opened!!! The maid did not shut the door all the way!!! We are lucky nothing was stolen. The hotel just said we will talk to the maid and that the keys stop working early so that's why we couldn't get in!!! (Really they stop working!??) and then when I told them the maid never left us toilet paper or wash clothes I was told that was something I had to specify that we wanted!!! I am very unhappy with our we were treated! Also when they sent maintenance up to check the door all he did was use his key and said it works and walked away! If you want a cheap hotel stay here but you will be treated like crap so be prepared!
Good parts: This hotel is pretty close in walking distance- we stayed in the bunkbed suite. The doors to the bunk bed rooms are see through, we had to hang towels up so the kids couldn't see our lights on while they slept. The bunk bed room was pretty spacious with a pull out couch- CVS is right on the corner and convenient for last minute things Bummers: the shower didn't drain, stood in 2 inches of water while showering. Hair on the wall when we arrived and mold at the bottom of the shower curtain. - carpet was filthy, my kids were barefoot and looked like they had been playing outside Room was older and could use some updating. The hallways and elevators were stifling hot!!! I probably won't be staying here when we come in another year-expensive for what we got vs. we paid.
DeAndrea C. on 07/16/2017
I loved the hotel very clean and close to a lot of restaurants. I would of gave 5⭐️'S if they offered breakfast. Staff was very pleasant, I definitely recommend this hotel.
We showed up close to 5pm and there was no room available even though it should have by 4pm, we then waited an additional 25 minutes to get our room. We tried calling front desk once in but the button did not work to get thru, so we had to walk down to ask for more pillows which they were out of. We stayed here with a family of 6, enough space for us, could have used some more mirrors besides the bathroom for others to get ready. Room could use some new carpet and tanle/chairs. We ordered pizza and had to eat on the beds. Walking distance was about 2 blocks which wasn't bad at all. CVS & Walgreens at both corners. Pool was basic small pool but warm for the kids. Would have been nice if there was breakfast, that was a downside.
Nice and very affordable!!!
The room was nice, there were a couple of small spots on the window, but other than that, it was great. The kids had a great time in the heated pool and in the kids room with bunk beds. It was very close to Disneyland and very conveniently next to a huge CVS. Very happy with stay and with GAT for constantly making sure we were satisfied with out trip. We have a new choice hotel
The hotel was close to Disneyland. No free shuttle or contenital breakfast which was a huge let down. The room was dirty with hair in the bath tub GROSS, and left over garbage in between the bunk bed and wall. Parking was limited
Lots of beds in the suite. Door between kids and parents is see through. Overall it was a nice place.
Location is great!! The hotel room was small for my family of 5. No counter space at the vanities. Old and run down, definitely needs some updating. The lighting is horrible as well as the placement of any outlets. With a hot steamy shower the light in the bathroom would flicker, short out and then shut off so you would shower in the dark. If you were lucky you get it back on later in the day. Parking is a joke! I don't like to be a whiner but I have stayed at better places.
Great hotel for our family vacation
Jennifer W. on 02/24/2017
We had a great experience with this hotel and it was perfect for our family with the bunk beds in a room that we could close off with sliding doors after bed time. The location was great, everything was clean and the staff was very courteous. The only thing that wasn't awesome for me was that the mattress on the king bed was not great. I would definitely stay here again!
The best thing about the Portofino was the easy walk to Disneyland. The rooms need some updates and seemed dingy and used. The kids suite was average size but it did comfortably fit 5 of us just not the quality of room that we are used to. This hotel is now dwarfed by the newer Residence Inn and Hyatt Place across the street.
We stayed here last year and it worked perfect for me and my family of 5 at the time. This year it was a total of 8 of us and we stayed in the kid suite again so worked out great. There is a king size bed, pull out sofa not the comfiest but it works and then a set of bunk beds. I like that fact it has sliding doors to separate the living room from the room makes it nice. Loved how there is 2 sinks one in the bathroom and once outside of it. Parking not that great but you are allowed to park in the garage right next to it for free so wasn't an issue literally right next to the hotel. Loved how close the park is and best part so many stores. There's a CVS downstairs, Walgreens across the street and 7-eleven as well. Also a coffee shop down stairs behind the hotel and a pizza hut to. So many food places to walk and eat across the street. I really enjoyed our stay, only thing I would say is maybe a coffee table or end table just for extra counter space.
Dirty, run down, and no breakfast.
We got there and found out the shuttle cost money. 5)8/ wasn't to bad because it is at least close enough to walk without to much effort. It was really nice to have a kids suite but I was the curtains weren't covered in stains and the walls didn't have holes. The bed was clean though. The shower drain was broken and would fill up when you would shower. They told us they would bring a crib to our room and then never did. We had to call at night to remind them. The elevators are honestly a little scary. Overall it was Disneyland that made the vacation and the hotel we put up with.
Horrible Hotel/Suite Rating 1
Unfortunately our stay was less than enjoyable. Parking was horrendous, valet parking required that our car be parked off site, blocks away from our hotel so we had to wait forever to get our car before leaving the hotel. 1 person in our party was handicapped so this made it very hard on her. They have very limited parking on site may 18 total spots for their entire hotel. When we walked into the elevator the air conditioning wasnt on and it was extremely warm out this day. The hallways were muggy and hot as well as our room. We turned the a/c down to 70 degrees in our room but it took forever to cool down. It was this way everyday for our 3 day stay :(. If you are wanting a hotel with food on site ,this is not the place for you. They have no restaurant, nor do they even have a basic fruit bowl, pastries, etc. The pull out sofa was horrific you couldn't even sleep on it. The bunk beds and the king size bed were okay. There was no fan in the restroom which obviously is an issue. The room is a lot smaller than the pictures showed. I do not consider this to be a Suite Hotel. I would highly recommend that you stay somewhere else if you are expecting basic amenities. The cleaning staff were very sloppy and did not clean the rooms as they should have. I don't expect spotless, but at least expect for them to give us enough towels for our party staying in the room. They gave us 3 towels for 5 people. We also called and requested a few more pillows for our room, as the sofa couch did not have any. There was a total of 4 allowed. They did make an exception this one time as they advised. For the amount of money that we paid for this hotel, I would have expected more than a low end motel quality. We go to Disneyland frequently and will never stay at this hotel again. There were other hotels that were even cheaper, I wish I would have booked there instead. The photos are very misleading
Close to Disneyland but not functional
The hotel is located close to Disneyland which is the positive. Other than that, the pool was ok. It was stated that it was "heated" which it wasn't. There were no pool towels. After asking for some at the front desk, 20 minutes later we had to borrow some from the maid cart. There was a drain by the pool that was plugged and caused a huge puddle on one side of the pool. The room was clean, however, not functional for 6 guests. There was no room or counter space. The parking was horrible. I would not recommend this hotel. I will spend a little extra money next time and gaining more quality and a hotel that offers breakfast.
I do not recommend this hotel at all, I took my five year old grand daughter for her birthday. We checked in on June 1st and checked out on June 2nd, my grand daughter had bed bug bites all over her body from her face to her feet. They went in and inspected the room and took pictures to show me that they did not find any bugs??? When we arrived on the 1st she did not have any bites on her body but the next morning they were everywhere. I told them I could take pictures of the bites if they wanted but she was standing right in front of them and they could see three on her face?? The did try to accommodate us by moving us about two doors down on the same floor as the first room. I asked to be moved to their other tower and they did move us. I just was not comfortable however just knowing they had bugs in the buildings, so I called getaway today and they moved us to a different hotel. Portofino is in an excellent location from Disneyland itself, very short walk which was convenient but the bugs were just not worth that convince in my mind.I really would not recommend staying here, it was slightly cheaper than other properties, but spend the extra money to make sure you are getting quality. Getaway put us in a hotel called the Ayers Hotel, for very close to the same price as the Portofino Hotel and it is very new and very beautiful. You also get a breakfast in the morning which was a plus, the location is not close to the Disneyland Resort you must take a shuttle back and forth but very reasonable priced. Again be careful staying here, look into other properties.
PROS: The hotel was within walking distance to/from Disneyland. We were there for 8 days and had tickets for the ART (Anaheim Resort Transit) and only used it once - it was almost as fast to walk. The hotel is the first stop for the ART, making it a great option for leaving the park, but you are the first pickup when going to the park, so it's about a 20 minute ride. The room was clean and the maid service was great. There is a CVS right next door - very convenient. There is a coffee/tea shop right around the corner - also convenient. CONS: The parking situation is not great. They have a small parking garage in addition to a small parking lot, but there was never an open spot. They have made up for this issue by having a valet that takes your car to the Sheraton next door. BUT we found the valet hard to track down and when we requested our keys and wanted to get our car ourselves, we couldn't get out of the secure Sheraton parking lot. Parking was included with our vacation package, so it's either pay at another hotel for convenience or deal with a slow parking setup. The pool is great - hot tub was nice and hot. Pool was not huge, but it also wasn't very crowded. The downside is that there is a large parking structure going up right next to the pool (they almost share a fence). In addition to the jackhammers and constant construction noise, the height of the building has blocked a lot of the afternoon sun. Kind of a bummer, we just made adjustments to swim early if we wanted sunshine. There is NO restaurant in the hotel. No room service, no breakfast, no food. The rooms do have a microwave and small fridge, so we stocked up on snacks/cereal/popcorn at Target and knew we would have to eat elsewhere. They have a large gift shop and again, CVS is right next door. Overall, this was a great pick for our family (2 adults, 2 kids, ages 8 and 9). We had a family suite with the kids in bunk beds and adults sharing a king bed. The room basically has sliding doors in the middle, therefore, not sealing the kids off completely (they could hear our TV, talking, etc.). Would have preferred an actual door to shut, but we made it work. The pros definitely outweighed the cons and we would stay there again - for the location alone!
Very clean hotel. First time staying and loved it !
The hotel was good, but could have been cleaner. The layout in the family suite really isn't very logical. A refrigerator and microwave are in the room but there is no place to prepare the food. No working counter space. We used the ironing board with towels to make sandwiches for the kids. The vanities could have been larger as well. When you have a family you have alot of bathroom items. Most of the vanity space was taken up by the coffee pot and ice bucket. Again it has to do with working counter space. All though the rooms were cleaned everyday, on the last day the custodians spilled something on our bed. When we got back to the room our blankets, sheets and mattress was sopping wet. Although they brought up clean sheets, they didn't remake the bed, clean our blankets or explain what had happened. Very helpful and patient attendants. We arrived in 2 cars very early in the morning, and they took our luggage, parked one car for the day before we could check in. The place definitely needs more parking. Paying $20 a day for overflow isn't right. Over all we had a good time. Thank you for asking.
The beds were comfortable, the TV was good and they had working Wi-Fi which was a plus. The only thing was they had limited parking available. So they used valet parking where they parked my car in a whole other lot.
The nice thing about this hotel is that it has an extra sink outside of the bathroom. There is a sink inside the bathroom and one outside, this makes getting ready in the morning so much easier. We had two rooms and the hotel was generous and gave us an upgrade to a family suite at no charge so that our rooms were right next to each other...but they are not adjoining.