Every vacation is more fun when it includes a theme park! We have a wide selection of great deals on attractions, dining, and tours.
Just 2 miles away from the DISNEYLAND® Resort, the brand-new Radisson Blu Hotel is located in the heart of Anaheim. Whether you're in town for a family vacation or a business trip, the Radisson Blu Hotel has something for everyone!
1601 South Anaheim Blvd
Anaheim, CA 92805
The Radisson Blu is a brand-new hotel, conveniently located next to the DISNEYLAND® Resort, Anaheim GardenWalk and Angel Stadium. Choose between one of their bunk-bed rooms if you're traveling with a family, or a spacious suite for couples. Plus, as a Get Away Today guest, you'll be able to enjoy amenities like free WiFi, two outdoor heated swimming pools and more. No matter what you decide, the Radisson Blu is the perfect hotel for any vacation!
Maximum Occupancy: 2
Check-In Time: 4:00 PM
Check-Out Time: 11:00 AM
Shuttle: Available ($6.00)
Parking Fee: $15.00 per night (a $10.00 per night savings)
Coffee Maker
Refrigerator
Pets Allowed (Fee $100.00 per day payable to hotel at checkout)
Outdoor Pool
Hot tub
Exercise Room
In Room Internet Access
Cable TV
In House Restaurant
1 King, Bunk Bed King Bed w/Bunk Beds
Maximum Occupancy: 4
Check-In Time: 4:00 PM
Check-Out Time: 11:00 AM
Shuttle: Available ($6.00)
Parking Fee: $15.00 per night (a $10.00 per night savings)
Coffee Maker
Refrigerator
Pets Allowed (Fee $100.00 per day payable to hotel at checkout)
Outdoor Pool
Hot tub
Exercise Room
In Room Internet Access
In House Restaurant
2 Queen, Bunk Bed Queen/Queen w/Bunk Beds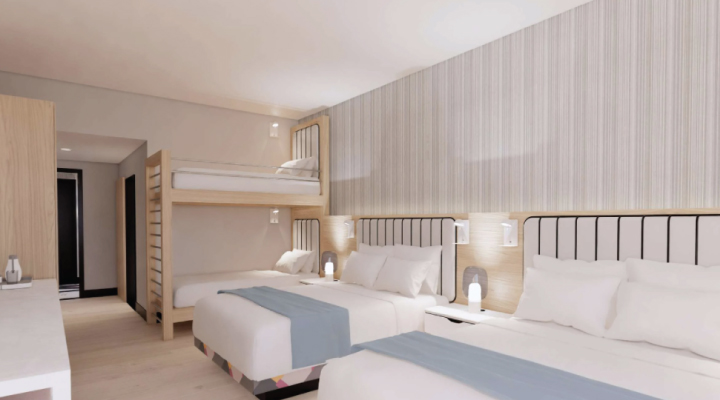 Maximum Occupancy: 6
Check-In Time: 4:00 PM
Check-Out Time: 11:00 AM
Shuttle: Available ($6.00)
Parking Fee: $15.00 per night (a $10.00 per night savings)
Coffee Maker
Refrigerator
Pets Allowed (Fee $100.00 per day payable to hotel at checkout)
Outdoor Pool
Wading Pool
Exercise Room
In Room Internet Access
In House Restaurant
---