Every vacation is more fun when it includes a theme park! We have a wide selection of great deals on attractions, dining, and tours.
Residence Inn Anaheim Resort Area
Free full breakfast and suites with full kitchen.
11931 Harbor Blvd.
Garden Grove, CA 92840
Located 1.5 miles from the DISNEYLAND® Resort, the Residence Inn Anaheim Resort offers all the comforts of home and more in their family friendly hotel! Each fabulous guestroom comes equipped with a full kitchen and free in-room high speed internet. Public areas available to guests include an amazing outdoor pool, BBQ area, a basketball court and more. Feast on a deluxe hot breakfast buffet each morning.
4.1 out of 5 Rating (43 Reviews)
79% of guests recommend this hotel
1 King, Sofa Bed One Bedroom King Suite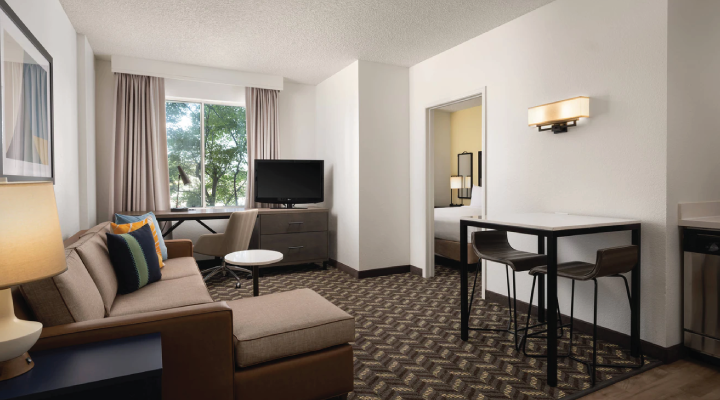 Maximum Occupancy: 4
Special: 4th Night Free (Subject to availability)
Check-In Time: 4:00 PM
Check-Out Time: 11:00 AM
Shuttle: Available ($6.00)
Parking Fee: $0.00 per night; payable to hotel at checkout (a $14.00 per night savings)
Kitchen
Coffee Maker
Microwave
Refrigerator
Laundry
Pets Allowed (Fee $150.00 per day payable to hotel at checkout)
Outdoor Pool
Wading Pool
Hot tub
Exercise Room
In Room Internet Access
Cable TV
Pay Per View
Full Breakfast
In House Restaurant
2 Queen, Sofa Bed One Bedroom Queen/Queen Suite
Maximum Occupancy: 6
Special: 4th Night Free (Subject to availability)
Check-In Time: 4:00 PM
Check-Out Time: 11:00 AM
Shuttle: Available ($6.00)
Parking Fee: $0.00 per night; payable to hotel at checkout (a $12.00 per night savings)
Kitchen
Coffee Maker
Microwave
Refrigerator
Laundry
Pets Allowed (Fee $150.00 per day payable to hotel at checkout)
Outdoor Pool
Wading Pool
Hot tub
Exercise Room
In Room Internet Access
Cable TV
Pay Per View
Full Breakfast
In House Restaurant
1 King, Sofa Bed, 2 Twin Two Bedroom/Two Bathroom Kids Suite with 2 twin beds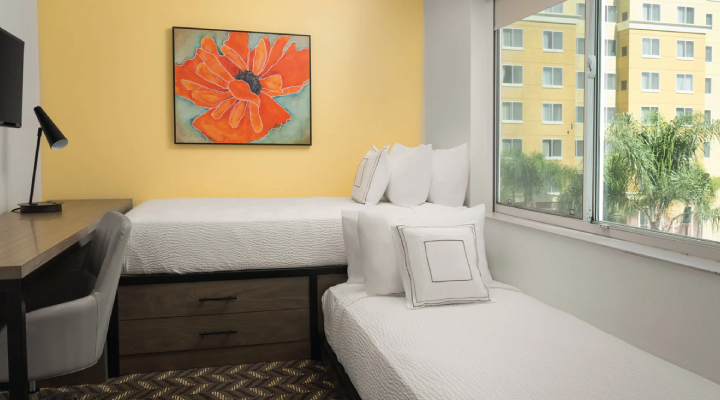 Maximum Occupancy: 6
Special: 4th Night Free (Subject to availability)
Check-In Time: 4:00 PM
Check-Out Time: 11:00 AM
Shuttle: Available ($6.00)
Parking Fee: $0.00 per night; payable to hotel at checkout (a $14.00 per night savings)
Kitchen
Coffee Maker
Microwave
Refrigerator
Laundry
Pets Allowed (Fee $150.00 per day payable to hotel at checkout)
Outdoor Pool
Wading Pool
Hot tub
Exercise Room
In Room Internet Access
Cable TV
Pay Per View
Full Breakfast
In House Restaurant
1 King, 2 Queen, Sofa Bed Two Bedroom Two Bathroom Family Suite
Maximum Occupancy: 8
Special: 4th Night Free (Subject to availability)
Check-In Time: 4:00 PM
Check-Out Time: 11:00 AM
Shuttle: Available ($6.00)
Parking Fee: $0.00 per night; payable to hotel at checkout (a $14.00 per night savings)
Kitchen
Coffee Maker
Microwave
Refrigerator
Laundry
Pets Allowed (Fee $150.00 per day payable to hotel at checkout)
Outdoor Pool
Wading Pool
Hot tub
Exercise Room
In Room Internet Access
Cable TV
Pay Per View
Full Breakfast
In House Restaurant
---
Loved our one bedroom king suite! The room was spacious and clean and exactly what we needed. The elevator had trouble the whole time we were there and occasionally had lines waiting to get on. One morning we had a late start of getting to the parks (10:30) and the cleaning lady was very annoyed that we were still in our room and rolled her eyes when we asked for ten more minutes
Super helpful staff! Sue gave my son a Donald duck toy and two umbrellas on a rainy day to use at the park.
catalina l. on 03/24/2023
Everything was great the staff were very helpful with whatever we needed and really friendly. the breakfast was good as well. the only issue I had was the elevator stopped at every floor even when someone wasn't there, one elevator was being worked on so made it harder for guest to have one working elevator.
Despite a few minor hiccups we'd stay here again.
The breakfast was great. The kids enjoyed getting their own breakfast each morning. Location was wonderful. We Uber to Disneyland for under $10 for a party of 5, which was less than taking are ART shuttle. We wish the pool and hot tub (warm bath water) was hotter. There was a lot of chemicals in it. The kids were very itchy when they got out. We lotion their skin and that seem to help. One of the elevators was out of service. They did have the service elevator they let the guest use. Despite a few minor hiccups we'd stay here again.
We will not stay here again.
We stayed in a 2 bed/2 bath suite, the living/kitchen area was a good size but the bedrooms were small, the dresser drawers and doors opened into the bed. The suit was not the cleanest. The couch was old and stained, floors old looking and turned the bottom of my white socks black. The beds are firm and uncomfortable if you are use to a pillow top mattress. The staff was not friendly at all(except the one older lady working the breakfast area). Breakfast was just okay, pretty much the same thing every day. When we arrived we requested a crib and waited a long time before we had to just give up and go get dinner. We stopped at the front desk to let them know we didn't have the crib yet and the staff replied oh they didn't bring it yet. It was finally there when we returned from dinner. We were going to use the pool/hot tub but the hot tub was broke the whole week we were there. Not happy about that at all. When we asked them to light the fire pit on the patio one night, they sent a guy who apparently didn't know how to do it and was cussing out of frustration at it in front of my kids. They turned off the water multiple times during our stay to do repairs. The worst part was one of the two elevators was broke. During our week stay we waited in lines to get on the elevator and waited nearly 30 minutes to get on with our luggage to check out. Very frustrating! This hotel is run down and the staff is not friendly or helpful. We will not stay here again.
Brittany C. on 01/11/2023
This hotel was a good value for what size/type of room for the price. It was a little farther from Disney than I would like for the future- walking wasn't really an option- even after walking 8-12 miles in Disney it just was too cold (when we went) and far when you're done for the day. A Uber/bus ride was needed. Great staff- front desk, night staff & security. Room fairly on the less clean side could use a deep clean :slightly older- but pool/hot tub/staff and breakfast were great.
Great customer service but the room was very dated even though they supposedly went through a remodel.
Great staff and breakfast, small rooms
SHONNELLE P. on 12/18/2022
Very nice people. Very good breakfast. Laundry room too small. No ATM. No cleaning service for rooms and not very nice.
The paint on the bedroom door was chipped w big pieces missing , the tub was dirty, dust on the door the fridge has ding in it . The sofa was dirty
Spacious rooms, Great for Families
This hotel is nice and mostly clean. The rooms are very spacious and the beds are comfortable. The kitchen and living room are nice. Water pressure in the showers is not great. The beds are very comfortable. The couch bed is OK. The elevator wasn't working on our trip so it Took a lot longer to get anywhere we were going. The front desk staff was very friendly. They had a complementary hot chocolate bar which was very nice when it was stocked. The breakfast is good. There were some places in the room that I think don't ever get cleaned I had candy wrappers and half eaten candy and dust and other things. Overall this is a good hotel to stay at while traveling on a family vacation.
Great breakfast and rooms
We usually choose this hotel because of the amazing Breakfast and spacious rooms for big families.
We had the 2 bedroom 2 bath room, which was perfect. Three tv's nice kitchen and very clean.
We had a king bed suite it was smaller than expected but functioned well for two people. Lots of USB outlets, full kitchen, 2 TV's,no issues finding parking at night, felt safe, lots of breakfast choices. Will stay here again.
We stayed for a week at RI in Garden Grove. When we arrived early afternoon, they had a room ready for free early check-in! We could settle in and use the pool at our leisure. They have fruit-infused ice water in the lobby which was refreshing and flavors changed daily. The palm trees at the pool were a nice treat, along with ping-pong, basketball/tennis court and Connect Four lawn game. The outdoor patio had a fire pit, couches and 2 bbq grills! Next door was Starbucks and we walked to Target for groceries to use in our kitchen suite. The free breakfast buffet was very nice and changed each day, offering scrambled eggs, potatoes and meat. Make your own waffles or toasted breads with lots of juices and coffee available! The hotel advertised which hours were more busy for breakfast so we could plan our morning but it was never too crowded or out of food! The rooms were spacious as advertised. Our first room smelled faintly of cigarettes so we asked for another room which they obliged even before our official check-in time.. We could see the tops of the fireworks from Disneyland from the 3rd floor.. The bar in the lobby was a nice option and we did laundry once which ended up free! Staff were pretty friendly and courteous. Our rideshare drivers knew where to find us and were prompt, but this hotel is also on the ART bus line if you don't want to walk 20min to Disney. I absolutely loved the family kitchen suite so we had 2 bedrooms with doors, own bathrooms, and sofa bed in the living room/kitchen area! It felt like home being able to stretch out during off-park time with 2 preteens, a couple and Grandma.
Perfect hotel for families.
Perfect hotel for families. Loved the 2 bedroom suite, really spacious. Good pool area. Friendly staff. Decent breakfast
Great hotel minus a few inconveniences
CHRISTINA C. on 08/06/2022
First room the ac stopped working 2 hrs after arrival. Had to move rooms. With no help!! I had just unloaded all the groceries into the room. Second room the master bathroom shower handle fell off. There was also no hot water in that shower as well. At this point we chose to just deal with it. Other than that it was a great hotel. Nice pool, bar and breakfast.
Amazing hotel, excellent rooms, very secure and safe. Excellent location to Disneyland and easy walk. The complimentary breakfast had a great variety and was excellent.
The larger family suite is perfect for a Disneyland stay!
The larger family suite is perfect for a Disneyland stay!
Overall great place to stay
Jennifer H. on 03/23/2022
Hotel was clean. Staff very friendly. Loved staying on the bottom floor, very quiet, didn't have to stand in line for the elevator! Pool needs to stay open later then 10 pm, we would have like to cool off after walking all day at Disneyland. Overall great place to stay. We had a 2 bedroom 2 bath suite for 8 of us, worked great and priced fairly through getaway today.
We last stayed here 2 years ago. Rooms have been updated. Much cleaner. Free breakfast and access to laundry is very convenient. Hotel staff and management were extremely friendly and helpful. Will stay here again.
The room was very spacious and had many accommodations! The Free Breakfast is awesome.
Older hotel yet the rooms are perfect with separate bedrooms in the suites with 2 bathrooms. The staff was excellent. This is the second time I stayed there and will do it again.
Everything was great but the pool was cold
Everything was great the only thing is that the website stated it was a heated pool and that was not the case the pool was really cold 😑
Great hotel, but be warned the guests are SLOBS!
Great hotel and staff! The room was superb! Clean from top to bottom. Since this was the end of COVID restrictions, they were still serving breakfast in containers, but you can get unlimited coffee, juices, milk, muffins and sides. We didn't any problems getting an elevator, but if you are trying to get one at breakfast, checkout or coming back after fireworks you will be waiting slightly so don't be surprised. Now, here is where I will turn my review from the hotel to the guests. Take note: There are some serious SLOBS that stay here! Each morning for breakfast I came out and saw pool towels all over the place by the pool. Hair ties, empty cans or cups and just trash. Some people even leave their breakfast stuff on the tables. Seriously, I don't care if you are on vacation or not....PICK UP AFTER YOURSELVES! This hotel crew works very very hard to keep this place clean and it's a shame to see guests think they can just trash this place because they are on vacation. I was also disappointed to find out that for three days the hot tub didn't get cleaned because some SLOB puked or peed in the hot tub thus ruining it for everyone else. I used to really love this hotel, but now I am going to try a different one next time I come to Disneyland. It's nothing against the staff, quality of the hotel or anything like that....its just the guests staying there for their Disney vacation just don't seem to care.
Room 129. 2 bedroom. 1 king bed/roll in shower. 2nd bedroom 2 queen beds tub/shower. Living room in between. Rooms are VERY dark. Kinda feels like a cave. Stayed Nov 21 thru the 28th. Only cleaned our room once. Beds were VERY comfortable. Nice towels and amenities. Lobby has nightly popcorn, hot cocoa. Nice little gift shop. Pool and spa VERY clean and warm. Spa is quite large. Both have lifts for disabled. Also have ping pong, gas grills, basketball court and outside games. Nice hot breakfast. Shuttle to Disneyland right outside hotel. Passes are sold by machine on site. Runs every 30 minutes or so. Rented wheelchair/electric scooter from Scooterbugs of Anaheim. Nice company. Delivered to hotel and picked up when requested. Pretty quiet. Spa can get noisy. Would stay here again. A bit dated but clean. Nice laundry room (24 hours) and game room for kids.
Our room was not cleaned the first day. When I called the front desk to inquire as to why I was told there was a Do Not Disturb sign on the door all day. This sign was taken down at 8:30am as we left for Disneyland and we did not return until 2pm to have a adult beverage which took 1 1/2 hours. No one came during this time and we once again left for Disneyland and returned at 8:30pm. Room still not clean. Called front desk to request trash at least be removed and was told someone would be right up. Again, nobody shows. Room was dirty, high dusting hasn't be done in months I'd imagine. Furniture was old and fading. Couch had holes in the cushions. Coffee was not replaced in room except on second day (we stayed 4 nights). Coffee maker not cleaned except on second day. For what we paid for a two bedroom 2 bath suite we expected a much nicer room and way better service. Spend your money elsewhere.
Looked good on outside, but hallway and rooms looked horrible, old and grimy looking.
Adilenne M. on 09/01/2019
The hotel was clean and the free breakfast was fine. It did not look like the pictures the website showed. The lobby and outside were very nice and modern, the rooms however, were very outdated. There were scratches on the furniture. The elevator was frightening. It made so much noise. The staff was excellent, very polite and professional.
Swimming pool was warm and large, the kids loved it! Beds were comfortable and the AC worked very well. The shuttle system was also very nice! Lastly we loved the thick walls and floor which made the hotel quiet and relaxing.
We loved our stay at this resort! Friendly staff and yummy breakfast! Super clean and huge rooms. Our experience her was above our expectations. We would definitely stay here again!
Great location and great staff!
Pool and Basketball Court Were Life Savers
The hotel was perfect for our family! The older kids were absolutely besides themselves when we informed them that we would need to go back to the hotel to let the youngest kids nap. The Pool and Basketball court were life savers! The hubby took the kids to the pool while I napped with the babies. The older kids almost didn't want to go back to Disneyland. Great hotel with great amenities, would book again!
This hotel was great! We found a room that fit our family perfectly and we were so well taken care of. We fit so perfectly, everyone has a spot to sleep and the kids loved having their own room. We loved having our own kitchen too, we have never stayed in a suite before and we will probably never stay anywhere without a kitchen. It was the best choice we could have made.
Catherine R. on 04/26/2018
We were well set at this hotel. The Kitchen was well stocked with all the dishes and appliances that we needed to feed our family. Our room was clean and made our stay easy and relaxing.
I love this Hotel, Customer service on point, rooms are comfortable and clean, Management is awesome, breakfast is great. Only down fall is the bus service, they should use Art instead of PCA, bus service was terrible
Great staff, great breakfast, great rooms, great prices thanks getawaytoday.com
Shavonne G. on 03/24/2017
Family of 5. We had a great stay and, really enjoyed returning too our nice clean room every day that we left to Disneyland. Stayed a total of 6 nights. Loved the breakfast and the hospitality. We will definitely be back.
I will never stay at this hotel again!
My suburban was robbed in the parking lot of this hotel just 30 feet from the entrance to the hotel. The entire 3rd row of seats were stolen along with some other belongings. There is no surveillance in the parking lot and the management acted terribly telling me that no car had ever been broken into before and Walter, the front office manager "guaranteed" it would never happen again. I told him that I wanted to move to a different hotel and he said "I don't blame you" but would not refund our money. I received no further communication from the management until after my stay when I complained in a guest satisfaction survey and Bill, the director of rooms contacted me to tell me that there was poor communication from his front office manager regarding the situation but he would not help us further. I am so disappointed in the lack of customer service from the management at this hotel. I am so disappointed that I was treated like the robbery was my fault and told that they did not care if I never returned to their hotel again. I expected more from a Marriott.
Great hotel, only two complaints
we have stayed here many times before and we love it. The rooms are great, the value is great, the breakfast is fantastic, we liked everything about the hotel except for 2 things: 1) the pool was not heated at all, In fact, it was literally colder than the ocean, and I am not sure how that is even possible. We stayed a couple extra days to swim and were disappointed that swimming was not even an option. 2) It is a pretty good distance from the park, totally walkable, but its a good distance.
I booked 7 rooms for a family reunion to disneyland, there were 33 of us and we had exceptional service from the time of check-in to the time of check-out! The breakfast and the mini meal at night was beyond wonderful, we have stayed at this hotel before but with only a few family members, everyone was delighted with our whole experience, we will definitely stay here again!!! Thank you Get Away Today for arranging everything from the rooms, the Disney tickets,and the hop on ,hop off bus passes, it was amazing!!!!!
Nice beds, good breakfast, Gluten Free Breakfast options, good choice!
This hotel has a great option of a two bedroom suite for larger groups. The beds were extremely comfortable which was so nice after long days at the park. Housekeeping won't come each day unless you request it, but they do a good job. Full kitchen in the suite so we were able to cook a few times, that helped a lot. The fridge is full sized too, so you could buy groceries ahead of time and keep in the freezer. Even just for holding more drinks it was nice. They have a basketball court, swimming pool and ping pong along with outdoor grills you can use if you want. Its clean, they are friendly and helpful, they have a light dinner Mon,Tue, Wed evenings for guests that is complimentary. Breakfast in the morning is busy but well done and there are lots of options for food allergies! The food is pretty good and they offer proteins and fresh fruits. The one big downside is distance from the park, but we got shuttle tickets so it wasn't bad for us. There are close shuttle stops (PCA is right outside the doors) so it works nicely. There is also a Starbucks at the Hyatt next door too. It was a great restful stay. Thanks!
This hotel was great!! We stayed in the 2 bed 2 bath room and it was spacious and clean. We took advantage of the full breakfast every morning and they had a great selection that went way beyond continental breakfast. We had several requests for the front desk and they helped us out each time and were friendly. I would definitely stay here again.