Residence Inn at Anaheim Resort Convention Center
Walk to Disnelyand Resort. All-suite hotel with full kitchens, free hot breakfast buffet daily, rooftop pool with SplashZone and so much more!
640 WEST KATELLA AVE
Anaheim, CA 92802
The Residence Inn at Anaheim Resort Convention Center is a perfect hotel for family vacations to the DISNEYLAND® Resort. Guests can enjoy a free hot breakfast buffet, spacious suites and use the free grocery shopping service to cook in their in-room kitchen, or the public BBQ area. Plus, guests can cool off each afternoon by the roof-top pool and children's splash area.
4.7 out of 5 Rating (52 Reviews)
98% of guests recommend this hotel
Pricing and availability subject to change until booked.
2 Queen, Sofa Bed One Bedroom Suite
Please enter travel dates to view pricing and availability
Please enter travel dates to view pricing and availability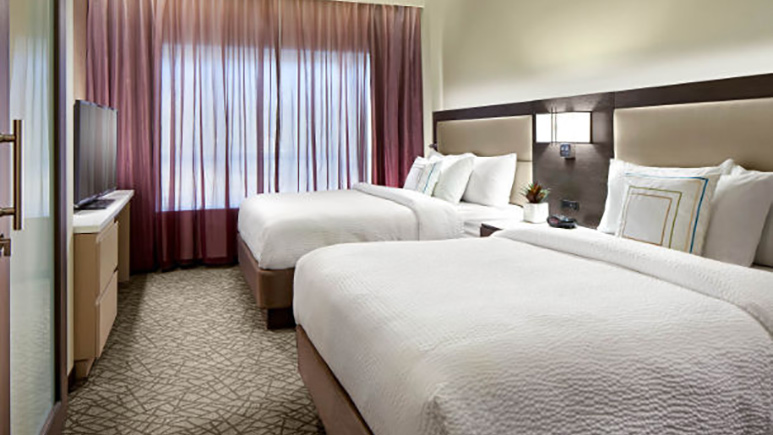 Maximum Occupancy: 6
Check-In Time: 4:00 PM
Check-Out Time: 11:00 AM
Free Full Breakfast
Parking Fee: $17.00 per night; payable to hotel at checkout (a $15.00 per night savings)
In-House Restaurant
Pets Allowed: $150.00
Shuttle: Available ($6.00)
Wading Pool
Cable TV
Coffee Maker
Crib (Upon Request)
Exercise Room
Handicap Access
Hot Tub
In-Room Internet Access
Inside Room Access
Kitchen
Laundry
Microwave
Refrigerator
ART: $6.00 (Available)
Distance to DISNEYLAND® Resort (.5 mile(s))
Distance to Knott's Berry Farm (7.4 mile(s))
Distance to LEGOLAND® (63.3 mile(s))
Distance to SeaWorld (91.4 mile(s))
Distance to Universal Studios Hollywood (36.9 mile(s))
Sofa Bed
Outdoor Pool
Please enter travel dates to view pricing and availability
Please enter travel dates to view pricing and availability
---
Our room was wonderful! The kitchenette was great to have and our beds were SO comfortable. The hot breakfast every morning helped us start our days right!
Beds were comfortable. Full kitchen is great if your not at the park til midnight. Very little storage space for a family of 6. Breakfast was good and convenient with lots of choices.
The Residence Inn by Marriott, Is a wonderful way to experience with a nice size family (6). We all enjoyed hot fresh breakfast every morning, Mickey waffles were the highlight for Asher. Being able to go up to level 6 and take the kids swimming and play on the cute splash pad!! The jacuzzi is a wonderful size, it looks great having a fire right by us as we dry off and get ready to watch fireworks. The housekeepers helped me find the carts for the luggage, just ask they are happy to help!! This Hotel is pretty close to Disney and California Adventure, within walking distance, it's a wonderful walkway, there's a CVS Store, on the corner. We found it's easier to just walk.Plus, if you need a charger, let's get this party whei
Pros: In room kitchen. Large room space. FREE BREAKFAST BUFFETT!!!!! Pool view from the rooftop. Very good AC unit. Cons: Hard... very hard beds (ours was broken) Elevators made a bit of scary noises. Asked for a room with a view... got a room with a view of a cement wall.
The entire facility was clean and updated. Breakfast was good. Easy walk to Disneyland every day. The rooftop pool and hot tub were great
Clean, comfortable, convenient location to Disneyland and Toy Story lot. Great breakfast, pool and close to CVS for forgotten necessities and lots of good restaurants
Very clean and comfortable
Very clean and comfortable hotel with amazing amenities! Included breakfast and kitchenettes in room were clutch!
The hotel was clean and spacious. The employees at the front desk were very helpful. And the walk to Disneyland was not more than 10-15 mins. Will stay here again .
Friendly Staff. They serviced all our inquiries very promptly when we asked for extra towels, toilet paper, room service etc.
We would absolutely stay at this hotel again.
We had a one bedroom suite which included a door between the room and living/kitchen area. Our room was clean, quiet, and comfortable. The room temperature was easily adjustable. The shower was warm. The staff was kind and professional. My only complaint is the bedroom door has glass that allows light to travel through. The light woke me up several mornings earlier than I wanted. Breakfast was perfect. It was well stocked daily. The Mickey waffles were the perfect touch. CVC located just right on the corner was super convenient. The walk to Disney is 15 minutes. The sidewalk is always well crowded. You can only walk as fast as the mass, but honestly the 15 minute time is a pretty normal pace. The time includes having to wait at two lights. The walk is flat and easy. There are several homeless people close to the hotel. They were a bit obnoxious, making late walking from the park slightly uncomfortable. All in all we had a wonderful experience and would absolutely stay at this hotel again.
Having a kitchen and a sofa bed / living area was awesome.
Wonderful location and comfortable rooms
Leinaala L. on 12/22/2021
The location from Disney was great. It was just a 10-12min walk to the park entrance. There were eateries nearby that were open ʻtil late with a Walgreens and CVS for necessities. The rooms were comfortable for our family of five that has three teenagers. The challenges we had with our room were that a few of the outlets and usb slots were not working and the thermostat kept fluctuating between cold and hot on its own. It would never stay at the temperature that we set it at. I woke up in the middle of the night to adjust the thermostat ʻcause it moved all the way up to 81 degrees and another night again ʻcause it dropped down to almost 69 degrees. The laundry room is quite small with only half the appliances working. The meat from the complimentary breakfast made us sick so we didnʻt eat that again. But the value and size of the room with the full kitchen for our family was on point.
Christine L. on 12/26/2021
The hotel itself was fine. Walking distance to Disneyland and room size was nice for a one bedroom suite. However, for the price we paid both both windows in our suite had a view of heating ducts and nothing else. I asked if we could change rooms and they said since we booked with Get Away Today we'd have to pay an additional $200 to change rooms. We had already paid for a bigger room with Get Away Today.
Hotel staff was amazing. They were every attentive and welcoming. Everywhere was clean. Our room was nice and we had plenty of room. We were able to set up our own housekeeping schedule. We used the pool area, it was also really nice and well kept, plenty of pool towels. Breakfast was good, we stayed for 7 days and it became a little repetitive. Everything was the same every day except they switched out the breakfast meat and potatoes. I wish there were things like muffins, pastries etc that we could grab. I was looking for timewise and it was hard to find an accurate walking time. It takes 18 min (google maps says 22) to walk to Disney. This is from the front of the hotel to the ticket line. You could do it faster but little legs can only go so fast.
The full breakfast was a great value. It saved us a lot of time and money. The staff was very accommodating and allowed us to leave our luggage at the hotel even after we checked out. The rooftop pool and jacuzzi were also great features. We would stay again.
Hotel was so nice and very clean! The breakfast each morning and the staff were great also. The only downside to staying here was the walk to Disneyland. It was a little farther than I expected.
Great rooms, breakfast and staff.
Catherine F. on 10/30/2021
The breakfast buffet was amazing. The staff were friendly and helpful. The floor was quiet. Rooms get cold from the AC so bring extra blankets.
We LOVED this hotel. We had a 1 bedroom 2 queen bed suite with a sofa bed. Allowed each of us to have our own bed with tons of space for all of our luggage. The full kitchen is a nice feature we did not take advantage of it but if I come again I plan to use it. Our only wish was that it had two bathrooms instead of one but it was not a huge deal nor did it make me feel the hotel deserved a lower rating. It was a 12 min - 18 min walk from the hotel to Disneyland (our fastest time and our slowest haha) Super convenient! The hotel itself was clean and the staff were super friendly and stowed our bags on checkout day. A very good breakfast in the mornings saved us a lot of money as we didn't need any at the parks. Overall a fantastic hotel and a great deal. We would stay here again!
Easy walk to park. Good on-site parking garage. Spacious lobby and breakfast room. Rooms not overly large but nice and efficient as well as comfortable. Slept well. Breakfast yummy, but not necessarily any better than standard fare at other hotels. Easy check in and check out. Would not be opposed to staying here again.
about a 15 minute walk to Disneyland
Lobby and rooms felt very upscale and clean. Kitchen had full size fridge/freezer, stove top, microwave, small sink with disposal, tiny dishwasher. I made spaghetti our first night and the colander and glass measuring cup still had labels on. There were 6 sets of dishes, glass bowls and some pots and pans. Nice shower, no tub. Pool area was pretty nice with a good size pool, hot tub and splash pad. There are also gas fire pits by the pool that were nice in the evening. The breakfast area was nice with plenty of seating. We would go down about 5 minutes before it opened and get the kids cereal and milk before it got busy. They handed out boxed hot breakfast that consisted of scrambled eggs, sausage and potatoes. They had 5-6 cereal options, coffee, hot chocolate, iced coffee, bananas, apples, oranges, juice, and milk plus the hot breakfast. The staff was all great. It took us about 15 minutes to walk to Disneyland security, which was great, but a little too far to want to take a midday break for us
KIMBERLY D. on 07/27/2021
Hotel was very nice. Having the kitchen in our room was very helpful.
The queen suite room had two beds in one room separated with a full wall with door to the living room which had a sofa bed. TVs for both rooms with netflix capabilities. The only thing the kitchen didn't have was an oven. Otherwise it had a stovetop, dishwasher, fridge (with ice maker), microwave, and came with dishes, utensils, cloths, pots/pans, knives. We went to Costco (like 3.5 miles away) the night before our first Disney Day and bought food to make meals in the hotel. We packed lunches and took them to the park, then walked back to the hotel for dinner and then walked back to the park. The hotel is 1/2 miles from the entrance (but like 200ft from the south end of CA adventures) and our kids are 7, 5, 2, and 9 months. We walked the distance 4x/day with a double stroller for 3 days and my 2 year old kept asking to get out and run. We are an active family so the distance didn't bother us to walk at all but I'd wear athletic shoes. We saved a ton of money having the ability to make and prep food at the hotel. The hotel complimentary breakfast was a bit repetitive (potatoes, eggs, sausage) everyday but that just might be because of Covid. It was an awesome place to stay and I'd definitely stay there again. The rooftop pool was really nice and kid friendly with TONS of chairs for all guests. We always had somewhere to sit which is nice.
Great location and service!
Loved the location to Disneyland! I also liked that there was a CVS within walking distance to get all our necessities during our stay. The pool areas and splash pad were above our expectations! The staff and services were amazing! The breakfast was ok. I did like that there were different options to choose from each morning. I will definitely book this hotel again in the future!
Will for sure stay again!
Great location with a short walk to Disneyland (10 mins), amazingly friendly and helpful staff! We loved that we got a room with a kitchen so we were able to prepare some meals and take along for our two year old twins. Breakfast was great even though due to Covid the buffet is not offered the staff gives you prepacked breakfast with eggs potatoes and meat. They also had yogurt, nutria grain bars and a variety of cereals! Only downside was the water pressure in our room was weak. Will for sure stay again!
Friendly staff. Overall the stay was great.
Very clean. Friendly staff. Walk to Disneyland was about 10-15 minutes.
Christina W. on 12/16/2019
Loved our family suite, the ability to cook in the kitchen, space to relax and unwind from the day at the parks. Breakfast was good, distance to Disney was a fairly easy walk.
Love this hotel! Excellent customer service and spacious rooms. Only 12 minute walk to the park. Plus ART shuttle in front of CVS. Wonderful! Will be staying here again for sure
The hot breakfast was great....lots of options. I love how the room had a full size fridge, too. The walk to the park is good...not too far, even when pushing a stroller. This is my family's favorite hotel to stay at.
Loved our room, breakfast was great. Loved the pool and splash pad at night. Great for walking to the park but my youngest is 7 so he did get tired after being at Disneyland all day. Parking wasn't explained and paid $60 to leave and then found out you just use the room key card if you leave. They said they would refund it so hopefully it works out.
They have large two bedroom suites with two bathrooms and a decent breakfast. Staff are friendly and the hotel is perfect for families.
Great hotel friendly staff
Good location to Disneyland
This was the perfect hotel for our family. It was easily within walking distance, even for our littles. The breakfast was amazing. The pool was wonderful. A rental car facility was nearby. My only recommendation for the hotel would be that the pool and hot tub stay open an hour longer.
We loved our stay here. Great amenities, 15 minute walk to the parks, great free breakfast, friendly staff- no complaints!
We had a two bedroom two bathroom suite. It was so nice to have all the space. The breakfast was amazing every morning. My kids loved the pool and splash pad.
Will Come Again and Again
Everything was so inconvenient, we got to the hotel before check in but wanted to get straight to Disneyland. They were so helpful and allowed us to store our luggage at the front desk. When we got back they were very quick to get us our luggage and we got to our room with ease. The rooms were so great! We couldn't have been happier to climb into the comfortable beds and waking up to the view of the Matter Horn was incredible! We will come back to this hotel again and again.
Every little detail of this hotel was incredible. I was amazed as I went through and found nothing that I could have possibly complained about, not that I wanted to complain, I was simply blow away by their perfection. Great Hotel, spacious rooms, friendly staff, would come again in a heartbeat.
Lot's of research paid off
I did a lot of research to find the perfect hotel for our family of 7 - 4 adults (age 60's & 30's) and 3 little kids. We stayed in a 2 bedroom/2 bathroom suite with kitchen. We walked to Disneyland each of the 5 days and the walk was only far the last night we stayed late - the kids were exhausted and the stroller was extra heavy. Other than that the distance was good for us - not too far to come back to the hotel for a few hours in the afternoon and return to Disneyland for evening festivities. The full breakfast in the morning was really great. The pool and hot tub on the roof were nice, except for 1 night the hot tub was cold - brrrr! The kids really liked the bunk suite with bathroom and we enjoyed having a separate room with bathroom for ourselves. The only thing that wasn't perfect was the view. It would have been nice to have been able to watch the fireworks from the room, but I wasn't willing to shell out the ridiculous amount of money the hotel wanted for a suite with a view.
Best family friendly hotel.
The rooms were set up well and the entire family felt comfortable whether we were in our rooms at breakfast or poolside.
We were thrilled with the Residence Inn. The breakfast had everything you would want, the rooms were spacious and clean, and the staff was very friendly.
This hotel has everything you need
I like how close the hotel is to Disneyland walking distance. The hotel is modern and looks new still. The room has everything you need and it was a great size for my ffamily of four. The free hot breakfast was superb and super convenient. The personnel was friendly. My only complaint is that the cleaning of the room could have been better. The first day we used the shower it was clogged but the next day it was working perfectly. I think the cleaning staff rushes thru the cleaning but our room got cleaned daily and that was nice. The bed and pillows were super comfy and sheets were clean. The pool was super nice and my kids enjoyed it. I would defiantly stay here again.
Michelle B. on 05/08/2017
Upon arrival we were disappointed with a couple of things, it didn't feel like the bathrooms had a very good cleaning after the previous guests, we had the bunkbed suite and were very disappointed that the bunkbed room didn't have a door, it is located right off of the kitchen so our plans of being able to get things ready for the next day after the kids were asleep didn't work. The entrances to both bathrooms are through the rooms, we hoped that at least one would be through the living area. The breakfast was nice as long as you get there early enough before it gets too crazy. Overall it was a nice hotel and a good place for families to stay, a 10 min walk to Disney, nice pool area. The parking situation does make unloading and reloading a bit of a pain - but everything is a bit of a pain when you take young kids to disneyland. I would recommend this hotel, we slept great in the beds, the sofa bed was very springy . . . so we ended up not using it. It is likely we will stay here again.
We had 3 adults and 4 children in the kids suite and it was awesome. The room never felt crammed, it was nice and updated. There were tv's in every room and two huge bathrooms, plus a kitchen. My kids loved the pool, hot tub, and splash pad. The walk to Disneyland was easy, we would come and go throughout the day and the walk was only 5-7 minutes away. The free breakfast was AMAZING. They had delicious belgian waffles and fresh fruit, bagels, sausage, eggs, oatmeal... all kinds of things and plenty of beverages to choose from. My whole family looked forward to going downstairs to eat everyday. We will definitely stay here again.
Hope you get the room you booked
We read several reviews that commented that they did not get the room that they had booked. To make sure that we got the roomed we booked, I called the hotel 2 days before we arrived. They indicated that could not guarantee your room until the day of our arrival. So I called that morning to confirm. Sure enough, when we got to the hotel, they were out of the rooms that we had booked. The staff was helpful but could not fix the situation. We ended up with a king bed and sofa instead of 2 queens and a sofa. Other than that, the rooms are small. With the sofa bed out, there was no room in the living area and it was difficult to go from the bedroom to the other room and the sofa bed blocked most of the door. The closet area and dressers were very small for more than 2 people. The hotel is new, clean and well located.
The beds were comfortable, room was clean, and they had a lot of food and drinks to choose from at breakfast. They also have a great pool with a big hot tub, splash pad and fire pits.
Our room was new and clean. There is construction on one side of the hotel but we never heard it; our room was very quiet. The only thing that we would have liked was more space for clothes and kid's "stuff".
Do NOT be fooled by an "upgrade"
We were so excited as we had read great reviews about this hotel. We traveled with our two daughters and two nieces. I called ahead the morning of arrival to notify them that our flight in was fairly late and to not give away our room. We had booked and paid for the kids suite. The gentleman said it would be no problem. We arrived about 11pm and were told that they had overbooked on that room and we had been "upgraded" to an executive suite. We then took the girls to get something to eat getting to bed after 1:30 am. We were woken up by 5:30 am by people exercising above us and if that were not difficult enough then the construction right outside the window was super noisy. Luckily the construction was not an issue for the next two days as it was then the wesekend. We discovered that the fitness room was right above us. You could hear people running on the treadmills and every time anyone set down the weights. We were so tired from playing at Disney all day and just wanted to be able to sleep. Every morning between 5-5:30 it was impossible! I had enough and called the front desk only to be told they had no where to move us and I would have to speak to a manager. The manager that came on was very nice but the best they could do was put us in separate regular rooms. This split us up and was inconvenient with our snacks etc. It was just disappointing and even more so because of how tired we all were. It was an exhausting vacation. The breakfast was nice but it is the same stuff every single day. Also one of the rooms we were moved to was dirty. There was sticky stuff spilled on the kitchen floor and something gross on the towel bar on the shower door. I really wanted to like this place but it was a letdown.
We had a fabulous stay and very much enjoyed our time at this hotel. Very clean and new. The beds were comfortable and the linens were soft and clean. They were also very generous with the towels. We made good use of the kitchen to save money on food. The free breakfast was also a great money saver. It is a quick walk to the park entrance (less than 15 minutes even after a long day in the park). The pool and hot tub were nice as well. I would highly recommend this hotel for a family Disney vacation.
This was a very nice hotel, my kids loved the bunk beds. The breakfast was a typically buffet but good. It is within walking distance to Disneyland or a $10.00 cab ride. Would definetely stay here again!
This hotel is clean, friendly, the pool is awesome, and the breakfast is great! This was the first time I have booked a hotel myself so I was a little nervous but it went flawlessly. It is super close to Disneyland so we walked all 3 days with no problem. I would definitely stay here again next time we go!
I really hate to give away a good secret!!
This was our first trip to Disney Land. We were traveling with two toddlers and were looking for an affordable motel within walking distance to the park that had a possible second bedroom for the kids. All of the motels exceeded our budget that had a second room option except for this one. With this being a newer motel with no reviews and the pics for the room were pretty basic I went on a whim and booked it. 2-Bedroom kids suite. After spending 8 hours traveling from Las Vegas in Holiday California traffic to make it here, it was a delight to say the least walking in the front doors. Lobby was very clean and the staff were great to work with. Once we got checked in and made it to the room we were amazed by the room set up. The kids had their own side of the room opposite of ours that had their bunk beds and own bathroom(which by the way on the other side of their wall was a storage room so we did not worry about them being too loud and making the neighbors mad). The kitchenette had every amenity you would need. Maid service was great as well. The pool area I would give a 20 out of a 1 thru 10 rating!! Has a large hot tub to soak your exhausted body in from walking around the park all day while the kids have a large pool and splash pad area to play in. Though you can't see the Disney fireworks from the pool level, it has a seating area with fire places that you can watch the light show at adventure land from a distance. The free breakfast was awesome, you have a CVS and Walgreens within a couple minutes' walk, a full service bar in the lobby, and your only a 15 minute walk from the park entrance. If I was to book to book this trip tomorrow, I would book this hotel again!!