Every vacation is more fun when it includes a theme park! We have a wide selection of great deals on attractions, dining, and tours.
Hotel caters to families, in-room mini-fridge, kids suites available.
2171 South Harbor Blvd.
Anaheim, CA 92802
Located less than a mile from the DISNEYLAND® Resort, the Stanford Inn & Suites is a non-smoking hotel that caters to families. With comfortable and clean hotel rooms and nearby restaurants, this is a true value during your DISNEYLAND® vacation! An in-room mini-refrigerator adds to your convenience. The hotel features a new fitness center and new 32" flat screen TVs.
3.9 out of 5 Rating (63 Reviews)
76% of guests recommend this hotel
Maximum Occupancy: 5
Check-In Time: 3:00 PM
Check-Out Time: 11:00 AM
Shuttle: Available ($6.00)
Coffee Maker
Microwave
Refrigerator
Laundry
Outdoor Pool
Hot tub
Exercise Room
In Room Internet Access
Cable TV
Continental Breakfast
2 Queen, Bunk Bed Kids Suite #1: 2 Bedrooms/1 bathroom
Maximum Occupancy: 6
Check-In Time: 3:00 PM
Check-Out Time: 11:00 AM
Shuttle: Available ($6.00)
Coffee Maker
Microwave
Refrigerator
Laundry
Outdoor Pool
Hot tub
Exercise Room
In Room Internet Access
Cable TV
Continental Breakfast
2 Queen, Bunk Bed Kids Suite #2: 2 bedrooms/2 bathrooms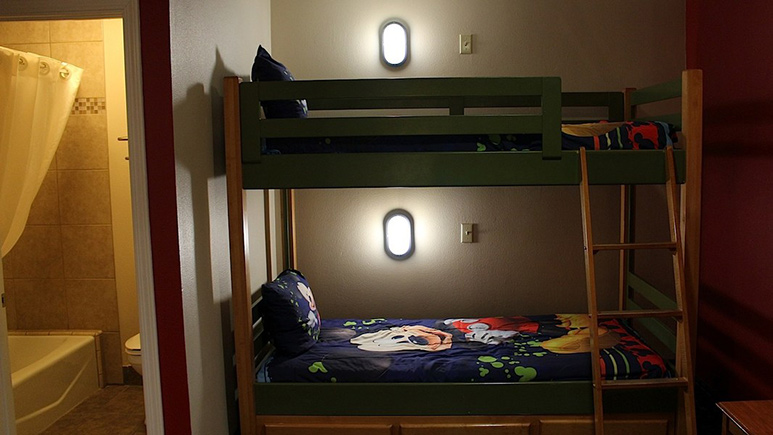 Maximum Occupancy: 6
Check-In Time: 3:00 PM
Check-Out Time: 11:00 AM
Shuttle: Available ($6.00)
Coffee Maker
Microwave
Refrigerator
Laundry
Outdoor Pool
Hot tub
Exercise Room
In Room Internet Access
Cable TV
Continental Breakfast
---
furniture was old beds were way to soft and pillows were super small, the eggs served at the breakfast smelled horrible and tasted sour, the potato's were just boiled no flavor or seasoning just a really bad!
Clean rooms, good breakfast, and new tiled floors (no more carpet)
The location is great, and the room, breakfast area, and pool area were well maintained. I read other reviews that mentioned that parking was limited, but we didn't have trouble finding a space. I'd stay here again.
We loved having a separate bunk room for the kids, and the breakfast was actually really good!
Danielle G. on 09/19/2022
The hotel was definitely in need of some upgrades. Our rooms did not have remote controls for the TV's and even after we asked, none were brought to us. Some outlets didn't work which made it difficult to charge phones and get ready. And the floors were very dirty.
This hotel was OK - nothing special. I'd probably wouldn't stay here again. I guess you get what you pay for - this hotel was cheaper than some of the others offered. We were on the back side of the hotel, which was really loud at night (big hangout area at night with lots of cars parked in the lot). The breakfast was OK, no elevators, and the room was pretty outdated/old. From the website, it looked like the rooms had been updated with fun Disney themes, but our's definately hadn't been updated for quite a while. Overall, this was and OK hotel but I'll find something better for my next trip.
We stayed here for 5 nights and it was OK - not my favorite. There are no elevators, breakfast was very basic, rooms are outdated and musty, and it's more of a motel feel. We were on the 2nd floor on the back side of the property, which was loud at nights (parking lot behind us was a big hangout spot with loud cars and people each night). Staff was very friendly and helpful, but the whole place was pretty run-down and needs to be updated. Like I said, it was OK but I don't think I'd stay there again. Also, the ART shuttle was very random on pickup times and not very relieable if you needed to get to the parks by a specific time.
We were really looking forward to this hotel, as the reviews were good and the pics looked great! We were so disappointed. The rooms were outdated and in need of repairs. The fan to the second bedroom was so loud it kept the kids up, but if we turned it off, it got too hot and stuffy in the room. One of our sinks smelled like rotten sewer, our soaps were never replenished the whole trip, and we asked for items from room service (blankets) and they were never delivered. There were other guests at the hotel who were using Marijuana, and we could smell it throughout the property. The breakfast was unsatisfactory, and everything tasted old and stale. The only positive was the two bathroom, two bedroom set up. It was convenient for our two families to be together but still have our own space.
We stayed here hoping it would be a close enough hotel to walk. It was just far enough to make it too far. The hotel was nice enough, but they had us in a room on the back side of the hotel. With doors that have outside access, we didn't feel as safe. This is more of a motel feel than a hotel feel.
Great price and friendly staff. Clean & comfortable.
Catherine R. on 04/14/2022
Great price and friendly staff. Clean & comfortable.
Stayed here for one night 3/4/2002 Booked a standard room because the description stated "maximum occupancy 5" which led us to believe that the room slept 5 people. Took a virtual tour of the standard room the day before we were to arrive & saw that it does NOT sleep 5. We asked the desk attendant why the description would say 5 when there are only 2 queen beds. She said, "I think they expect you to triple up." Hard to triple up when your child is easily as tall as the 4 adults. We were able to get a rollaway for $15 plus $100 deposit on the room :/ After rearranging the furniture to unfold the rollaway we could only open the door half way. There is also a $15 per night parking fee. The rooms are accessed from outside. We could hear cars going by & people outside. Front desk phones your room a few minutes after check in to see if everything is clean. We asked for an extra bath towel but did not receive it. Other than those cons the room was clean and comfortable. The carpet seemed new and we had no qualms about being barefoot. In room fridge was clean and functional. Although we didn't go down for breakfast, a hotel with breakfast included is always a plus! The weather was too cold for us to want to use the pool area but it looked tidy. Overall it was a good stay.
Clean hotel with two bathrooms. Joes Italian ice right next door for a great treat.
We really like this hotel, but had some issues this time
We have stayed here several times already and were happy to get a reservation again for our Disney stay. We found the rooms had been refloored and painted, and the Disney themes were cute. The 2nd room with bunk beds are so nice for our family with kids! This hotel has a great location right next to the bus stop too- very convenient. We did run into some issues though. We were disappointed in the cleanliness of the room this time - the kids room stunk and there was food from a previous stay in the mini fridge. Our bathroom fan was broken and they couldn't fix it without us changing rooms, so we just made it work. Every time someone took a shower, it made the whole place gross and humid. The worst part was that the toilet stopped flushing twice! The first time they fixed it in the morning while we were at breakfast, but then it stopped working again late that night. We didn't want anyone coming in while the kids were sleeping, so we had to just deal with it not flushing until we left the next day, and with no fan. It was gross. Also, the breakfast buffet has definitely been paired down to bare minimum. I'm guessing this is because of Covid. It was simple, but still good.
Clean hotel and great staff but have had better experiences here
We've stayed at this hotel before and had better experiences before. We were disappointed the complementary breakfast is so limited now, they don't serve sausage or bacon any longer and the other breakfast options are very limited. They also had no towels at the swimming pool. Clean hotel and quick response from staff when we needed something. The staff were friendly.
Deshauna L. on 10/08/2021
Excellent and spacious! Pillows are not the best but that's the only thing that I have somewhat negative to say. It is in walking distance to Disneyland and there are plenty of restaurants nearby to choose from! I will definitely stay again!
2 bedroom 2 bath was key for us! Breakfast was nice, and the room was never crowded. Got clean towels when we needed them. The pool was heated and hot tub nice and hot for tired bodies. All staff from check in to maintenance to maid service were ALL wonderful. Only down side - the carpet in our room was really dirty.
Very decent priced hotel for the week stay. Hotel is too far from Disney walking distance either, loved staying here.
We loved our room. The option of having 2 bathrooms was a god sent with 4 kids. The kids loved the bunk beds and themed rooms and everyone was very nice and helpful that worked there.
Kasandra K. on 01/31/2020
I love the service here. We have stayed here 5 years in a row now, and will keep coming back
We loved the themed room, and our kids loved the bunk beds. The beds were very comfortable, and the breakfast was great.
Overall it was a decent hotel. The only complaint was our room had musty smell when we checked in, as long as we had the fan on it didn't smell. I would stay here again.
Good staff and breakfast.
Staff was extremely helpful. Continental breakfast quite good. Clean and the great place for my kids to hang out in the 2nd Room. Comfortable furnishings. And close proximity to the Disney resort required only a Short ART ride.
The space was great for a family of 4 with teenage girls, having two bathrooms was helpful with getting ready in the morning. The beds for the kids were not as expected, the mattresses were hard foam and the sheet wasn't placed correctly, it was just folded at the top over the bedspread. The queen size beds were very comfortable, so everyone slept in that space. All in all it worked out great.
Friendly staff, clean rooms, ART stops at hotel, good breakfast with variety, didn't notice an elevator (only negative when traveling with elderly).
Clean room. Friendly staff. Breakfast was limited due to the remodeling, but was still good. This was my 3rd time staying here. Will stay here again.
The room was average, but over-priced. The shower had poor water pressure and was barely luke-warm. The ART shuttle service was very convenient.
We stayed here during our recent trip to Disneyland. The themed rooms were adorable, the beds were quite comfortable, and the staff was friendly. There are extra plugs and USB charging ports all over the room, and the flooring, breakfast was hot and had plenty of options, and bathroom tile looked like they have very recently been replaced. Overall, we enjoyed our stay here. The only issue we had was the distance from Disneyland. Walking daily meant adding miles to our already tired feet. It's not a bad walk... Unless you've been on your feet all day standing in lines and carrying your toddler.
Double check website details
They started charging for parking and the trolley didn't come by every 20 minutes. It was like 50 minutes.
Friendly staff, lots of room
The 2 room/2 bath suite was perfect my my kids, me and my parents to stay in! Beds were comfortable, hotel was quiet and we had everything we needed for a great time! Front Desk staff was also very friendly and helpful!
Friendly, but some construction
Friendly staff. The rooms are very dated and not very clean. The pool was under construction as well as the breakfast area. Also the breakfast didn't start till 7 which was inconvenient for those hoping to get to the park early.
Love everything but the carpet
Courtney D. on 09/30/2019
The hotel is fine, in a decent location and near a Target and a few fast food places. This is our third time staying here and every time, we have dirty carpet. The rest of the room is fine but the carpet always leave our feet black. We keep trying because the service is great but, won't stay again.
Brittany H. on 09/21/2019
The room was great. I think the a/c in the room made it smell damp. Which in turn made it smell a little moldy. But other than that everything was great!
This hotel was fantastic, the location was great! It really wasn't far and the walk was quick! We loved the breakfast, it was very convenient and delicious! We really enjoyed our stay and were able to relax and have so much fun.
Fun Themed rooms, Great for Everyone
We really enjoyed our stay here! The bunk beds were so fun for our kids, they loved every minute of it and thought it was the best day of their lives. The fact that they got to sleep on bunk beds with Mickey sheets absolutely thrilled them. My husband and I loved our stay as well, the rooms we spacious and beds were very comfortable.
Best Hotel For Your Extended Stay!
We just returned from a week long vacation in Disneyland. This is the second time we have stayed here and have been pleased both times. Your staff is always so kind, helpful from the front desk, ladies who run the breakfast service to the cleaning staff. The pool was warmed so that my children were able to swim even in the cool weather. One of the main draws to this hotel is the central location and the option of 2 bathrooms family suite. The extra room is a must when staying the whole week. Thanks for helping make the trip wonderful! We will be staying here next time.
Convenient and family friendly
Celestine H. on 07/20/2018
We have stayed here each time we've taken a trip to Disneyland. The rooms are spacious with a separate room for the children with bunk beds. My daughters always love their space. The bathrooms are nice but not glamorous. The breakfast is much better than most hotels and it's free. The floors are dirty and the walls are too thin but since we're never in the room for a long period of time, it definitely gets the job done.
Noisy, bugs, Dirty floor huge gap in door.
First off we have stayed here on multiple occasions in the past. Possibly if we got a different room we would have probably come back in the future. The cost is one of the reasons that kept us coming back. This time we had a room on the first floor right next to the weight room. Not sure if this is the reason for the issues or not but this room was by far the noisest we have ever got. The floors were filthy we had to wear socks to keep our feet from turning black. There was a huge gap in the door. The door was missing the door sweep so each night we had to shove towels under the door. I did tell the front desk on our first day and the lady told me she would have maintenance take a look but they never did. It was so loud it was like people were in our room with us and bugs were coming into the room from the outside. We did go to Target to buy a fan to try and drowned out the noise. It somewhat helped. I went back up to the front and told them again about the door this time maintenance came. He opened our door without even knocking. Luckily we were all dressed watching tv and he somewhat fixed the door he added a partial sweep to the inside of the door. It looked like one that was taken off a bigger door because it didn't quite fit but he said he was already off for the day so would be back the next day to fix it right. That was the last that we saw of him he never returned to fix it and because we had long busy days the next couple days I didn't make it back up to the front desk. When we checked out I did tell the front desk clerk our stay was horrible and filled out a paper about our stay. All that was said was sorry to hear that. I think if someone would have reached out to us or rectified the situation we would have returned again for our upcoming trip in November. I use to tell all my friends about this location and I will not be recommending them in the future.
We have 4 kids and we got the kids suite with hunkbeds. The kids thought it was so much fun and the additional room was a lifesaver at the end of a long day and everyone needed some space. The breakfast was very good with lots of choices for everyone. The staff was helpful and very positive. They allowed us to check-in early due to our flight arrival time. Unfortunately the hot tub was out of commission but the kids did use the pool. The ART bus stop is right outside the motel's office which is super convenient as well! Overall a great experience and I would recommend it to anyone!
Just got back from our Disney vacation. Loved the hotel and the friendly staff. Great place for the price. ART bus picks you up right out front of the hotel. Will be back!
Nice staff but thin walls, bugs and saggy beds
I loved the extra room with bunk beds for the kids and the beds for actually fairly comfortable. One of the queen beds sagged pretty bad. We were near a corner planter with lots of pretty plants and trees but it dropped fruit that was rotting and the smell was pretty bad. Not in the room just when we were going to the car. One night we killed a huge cockroach in the room and 3 earwigs (pincher bugs) then the next morning I killed a black widow in the bunk room after seeing it climb up the door. Thankfully it was our checkout day or we would not have been able to sleep at all the 4 nights we stayed. After being in Disneyland till closing it was frustrating to be woken up every morning by yelling and screaming kids next door to us at 5:30 in the morning. The walls and ceilings must not have much insulation because we could hear everything and the parents talking loudly didn't help. The kids upstairs must have been running and jumping on the beds too because that noise woke my kids up 2 of the mornings. Wish I could recommend the hotel as it was a good set up and I liked the vinyl floor choice instead of carpet. Felt cleaner but with the noise and bugs I will be staying somewhere different next time.
Motel. So don't expect something more.
This is a motel that has converted itself, wisely, to suites to accomodate families close to disneyland. It definitly caters to families as most of the cars in the parking lot were for bigger families. The breakfast is decent, eggs, cereal, juice, small waffles, and some sausages. Not healthy but the kids were happy, and it was nice not to spend that meal in the park. it is what it is, motel feel. The rooms were probably as clean as they could get, but i did spend the first hour there wiping things down. bunk beds and other surfaces, you could tell it isn't done often enough, which would be hard for the amount of turnover I am sure they have. i do think they try, but don't expect a high end feel, because its not. They did offer the lowest price, and do be fair it did save a few hundred dollars to spend in the park. but go with your eyes open.
Friendly and helpfull employees, great rooms for the price, didnt bother to eat brakefast walking distance to the parks, BEst value
lets start with the positives * Heated pool and hot tub (kids loved it) with shower and bathroom * located next to food and stores with in walking distance * 1 mile walk to Disneyland (Not Great) but do able * comfy room * not great but not bad continental breakfast. (Bagels, breads, eggs, sausage, juices, coffee, waffles, cereal. Lack of fruits ) * Good price The Bad * Dirty, if you walk barefoot in the room your feet will be black * little tv with a broken remote * thin walls can hear conversations from my neighbors * the shuttle isn't a hotel shuttle it's a city owned bus to disneyland that is over packed and never on time, we stayed till park closing time and couldn't fit on the over crowded shuttle so we waited another 20 minutes at 11pm till the next one, you would think they would have them lined up for the busy times.
Spent four nights at the Stanford Inn with my children and five grandchildren. We all had the two room suites with the bunk beds, mine also had the second bath. The rooms were SUPER CLEAN, in excellent condition, had great TV's and station selection, comfortable beds, freshly tiled baths with nice linens and fridges & microwaves. The staff continually goes way above what you'd expect to make you happy, they noticed by our reservations we all had the same zip code, they put all of our rooms side by side so we could stay together. The breakfast is amazing! Waffles, bagels, toast, danish, cereals, juices, scrambled eggs, sausage, hash browns, fresh fruit and excellent coffee!! I almost forgot to tell you how the Disney shuttle picks you up right out front all day for a nominal fee. I will definitely be back here again, it's a steal!!
Convenient with friendly staff
This is the second time we have stayed in this hotel. It will probably be our go-to every time we visit Disneyland. The family suites are great! We love them. The rooms are always clean. The staff is very helpful and friendly. The free breakfast is tasty and satisfying. I had to have some extra assistance from the front desk staff on this visit and they were very obliging and courteous! Thank you
Our whole family loved this room. The kids loved their extra bedroom with bunkbeds. The first thing I saw when opening the door was the giant Mickey decal on the wall - exciting. The beds were comfy. Lots of room. The dressers were new and clean. Bathroom was clean. Liked that the sink was outside the bathroom area so we could work on hair and makeup while another was showering. Swimming pool was fun after a long day at disneyland. Art Stop convenient right out front. Breakfast was great with indoor and outdoor seating. They had hot and cold items, something for everyone. Hotel was a lot nicer than I was expecting. Staff was very friendly and helpful.
We loved this place! They were immediately friendly, great breakfast. Cute rooms for families. And they made it super convenient to get to Disneyland by being a stop on the ART
Everything was fantastic until...
We stayed for four night and walked to and from Disneyland. They also sell the ART bus passes in the office. We liked the room and clean bathroom. The pool is open a little longer than most hotels which was nice after a long day at Disney. Housekeeping came daily. We really liked this hotel until my friend noticed she was being eaten alive by what we assumed were mosquitoes, until we found an adult bedbug on one of the beds as we were getting ready to check out. We informed the front desk and the lady said they would get someone to check it out. Other than that we did not interact with the staff. Probably will stay a little closer to the Disneyland next time.
Dirty Sheets, Dirty Floors
Samantha C. on 08/28/2016
We just got back from our trip to Disneyland and we stayed for four nights at the Stanford. We books a two room suite with two queen beds, two bathrooms, and a bunk bed. When we first walked in we were excited that the rooms were bigger than expected, however, I was not impressed by the musty smell of the room. Also, I always check the beds of hotels just to make sure that the sheets are clean, well, one of our beds had blood on the sheets, and the bunk beds had dirt and stains on one sheet and on the top bunk, the sheet was ripped all the way across. I immediately called the front desk and within 3 minutes I had four staff in our room. The cleaning staff came in and in Spanish stated that the blood had to be fresh and that she had cleaned the room. The lady assumed that we didn't understand Spanish and tried to tell her supervisor that we lied and the blood was from us. Anyway, they changed all the sheets and apologized about the inconvenience. I gave my kids a shower that night and (I should've known better) my kids started playing in the room and I noticed how dirty their feet were (DIRECTLY after their shower!). The carpets need to be steam cleaned more often if the floors are causing people to have black feet. Other than that, our stay was uneventful. The rooms are quiet, room, and housekeeping comes daily if you request it. The breakfast was decent and had long hours. The internet worked, but not consistently. The plus side is that the ART bus picks up and drops off right in front of the hotel, so you can hop on and off with ease. They also sell tickets for both the bus and Disneyland in their front office, if you should need it. Overall, not a terrible stay, but we would probably spend the extra 100-200 dollars to stay somewhere a little nicer and closer to the park.
Rude staff and musty rooms
We stayed for a week 8 months ago. I loved it then that's why I stayed again. They are under new ownership and you can tell the difference. Housekeeping never comes I had to speak to the manager twice. All I was asking for was clean towels and the trash to be taken out. The manger acted as though I got the room for free. The towels are very old and brownish. The room is poorly lit and smells of moldy wetness. The ac has a foul smell coming from it the manger just kept saying we are busy. I don't care I paid a lot to stay here for a week. I will never stay here. Don't waste your money or ruin your family vacation. Spend the few extra bucks to stay elsewhere.
Great hotel for the money!
This hotel was awesome! The staff are so friendly and they do everything to make sure your stay is excellent. The breakfast was surprisingly good, and had a huge variety. They are an outdoor style hotel with security cameras everywhere. I felt very safe there. They are very close to many food options, and are part for ART (Anaheim Resort Transit - http://rideart.org/) system that will shuttle you to and from disneyland and other locations in Anaheim. To me that was awesome because if I wanted to go to Red Robin that was a 1/2 mile away there was a shuttle to take me there, I didn't have to use my personal car. The biggest bonus is the shuttle drops you off right at the check in security station for Disneyland. This hotel got 5's on everything except room quality. I was a little frustrated with the lack of outlets on the walls. I travel with a CPAP and needed to plug it in. I had to move furniture and unplug a light to use it. Also people have so many portable devices that need to be charged, and there was no convenient place to do this. They do have a surge protector by the fridge that you can use, however it was a little inconvenient. The carpet and bathroom tile were a little dirty, when we walked barefoot on them our feet turned black. It didn't look like a mop with bleach had been used on the tile for awhile. However, with that being said I would not hesitate to stay here again. It is a hotel there is going to be dirt on the floor. The sheets, towels, beds, fridge, drawers, sink, closet were all very clean and well maintained. The beds and pillows are VERY comfortable. The pool and hot tub area is great, and did I mention how awesome the staff are? Yeah, that alone makes up for my critics on the cleanliness. Also, the room cleaners are amazing! They came in each day and made the beds, and brought fresh towels. The rooms are cute and have a great TV and some cable channel options. I was a little disappointed they didn't have more options for children programming (cartoons). However, after a day at Disneyland the kids can fall asleep to HGTV lol. The huge Mickey Mouse on the wall made my kids very happy and excited. The A/C unit was awesome and worked like a champ. Like I said I would stay here again, as I truly enjoyed my experience here. Also, do not hesitate to get the ART shuttle pass. I know what you're thinking....it's only 0.7 miles from Disneyland, not bad we can walk it. The walk is BRUTAL!, and then think about the long brutal walk after walking 30,000 steps in Disneyland. Your feet will thank you, buy the shuttle pass, it's very cheap for 3 days. I hope this review was helpful! Book this hotel I know you won't regret it.
GREAT value, good food, and VERY Friendly staff!
We got a great deal but we were nervous about the distance from the park before arriving. Took all of 2 minutes to check in and get settled. The room we stayed in was a 2 Queen and it was spacious for 2 adults and a toddler. We rented our stroller from www.disneylandscooterrentals.com and there was still plenty of walking and moving room inside. The beds are definitely more on the firm side and feel more like a "full" size bed rather than a "queen". The pool and hot tub are open late which is great to relieve sore legs and feet! The daily breakfast is very good, (waffles, pancakes, toast, bagels, eggs, sausage, potatoes, oatmeal, yogurt, cereal, fruit, juice, milk, coffee) but the dining areas are pretty small. The ART shuttles (route 1 and route 2) pick up/drop off directly outside the hotel and pick up/drop off close to the gates of Disneyland. All in all the positives are so much better than the negatives and I would hands down stay here again without any hesitation!
Christopher L. on 06/06/2016
Of all of the hotels we have stayed in when going to Disneyland, this was by far the BEST! Loved the two bedroom/two bathroom option, especially with teenagers. Drove into the park each day because the shuttle was more expensive. The breakfast could have had more options. However, if I were to book this vacation again, I would for sure stay here again!!!!!
christina y. on 04/01/2016
When I walked in. I was tooken by surprise, the room was so cute. The decor. The beds where clean, very spacious. The kids loved there own room with bunk beds and there own bathroom. I loved that it has fridge an microwave in the room. Free breakfest everyday was a delight. I will be back more often..
This is a great hotel if you have kids. Definitely the best thing ever. The kids loved the bunk Beds and it was so nice to have our own bathrooms. The vacation was a total success. The ART picks you up right out front drops you right in front of the gates...Couldn't have asked for a more enjoyable experience. oh and there is a Irish bar and grill right next door. DELICIOUS Grub.
I go to Disneyland ever year and have tried different hotels each time. This hotel so far has been my favorite. We stayed in the kids suite. Perfect for five or more people. The kids loved their bunk beds. The breakfast we did not use every day since there were only a few options, if you like waffles, bagels, cereal or toast you will be fine. I like that there was a Starbucks down the street and Disneyland wasn't too far, but the shuttle is needed which you have to pay for. Many convenient stores around Target, Walgreens, Taco Bell and jack in the box. Overall for the price it was a good hotel.
Great room and great price!
Brittany J. on 02/11/2016
We stayed in the kids suite #2 and it was great! Great price, free breakfast and plenty of space if you are sharing a room with children. The bunk beds in a separate room with its own bathroom was very handy when it came to getting ready! I loved the giant mirrors in each bathroom. The only complaints that I have are: The breakfast room gets uncomfortably jam packed, which is partially expected. Maybe expanding that area would help and then the parking in the main lot gets full pretty quick. There is a second parking lot on the back side but I had to look for it. Otherwise definitely a great room and super close to Disneyland!
Great room, scary electricity
We really enjoyed the room itself. It was roomy, comfortable, and quiet. My girls were able to get a bathroom and shower to themselves which helped keep arguments with their brother to a minimum. My only problem was with some of the electrical. The TV and cable box, as well as two permanent extension cords were plugged into what appeared to be a multi-outlet adapter in the wall. The two extension cords were plugged into a lamp on the desk, and a fridge and microwave respectively. This doesn't seem like much, but to a trained eye this was slightly scary as far as fire hazards are concerned. I left word with desk and hope they will try to fix it. The breakfast was a great plus. Loved not having to buy food for the morning.
The room was spacious and nicely updated, the beds were super comfy! . It was a great value especially since it included breakfast. The staff was very friendly, and they allowed us to leave our car in the parking lot after we checked out so we could enjoy Disney another day. We walked to the park with our 3 kids, but it was quite a trek. Also the block the hotel is on had a lot of shady people hanging out on the street after dark (more so than the hotels closer to the park) Target is also right down the street. If you need last minute items do not buy from the mini marts you pass on the way to the park! Make a trip to Target and save yourself a lot of money :)
great hotel and amazing price
Danielle B. on 02/07/2016
the hotel was great and the price we got was amazing as what we paid for 3 night was the normal price for one.(the person checking us in told us) we were able to get a room on the top floor, so we didn't get noise from someone being above us. the room was very clean and had a mickey mouse on the wall it was cute. they totally had a full breakfast that was good, just had to get there early as it was busy. I would definitely stay again.
Good deal for a Disney vacation
We liked staying at this hotel. It's super affordable and not very far from Disneyland. The free breakfast was pretty good and nice to help get us going for the day.
I highly recommend it! It was cute, our room was very clean and it's WAY CHEAP! They had cute Disney decals on the wall and I know they have some rooms with bunkbeds for families. It had a shuttle stop right out front that was pretty zippy and never full. It had free breakfast, free parking and a fridge in the room. Never used the pool so no idea on that. They have free wifi, an in room microwave and a laundry room. And their family rooms sleep up to 7 people! For a few extra bucks you can add a 2nd bathroom to get you to rope drop on time. Seriously, a great way for anyone to do Disneyland on the cheap.