Staybridge Suites Anaheim at the Park
Suites, free hot breakfast daily, full kitchens in every guest room.
1050 W. Ball Road
Anaheim, CA 92802
Enjoy homelike accommodations at one of the newest hotels by DISNEYLAND®. You'll love the free full breakfast served each morning. You'll also love the convenience of having a full kitchen and free WiFi in your room.
4.2 out of 5 Rating (17 Reviews)
88% of guests recommend this hotel
2 Queen, Sofa Bed Studio Queen/Queen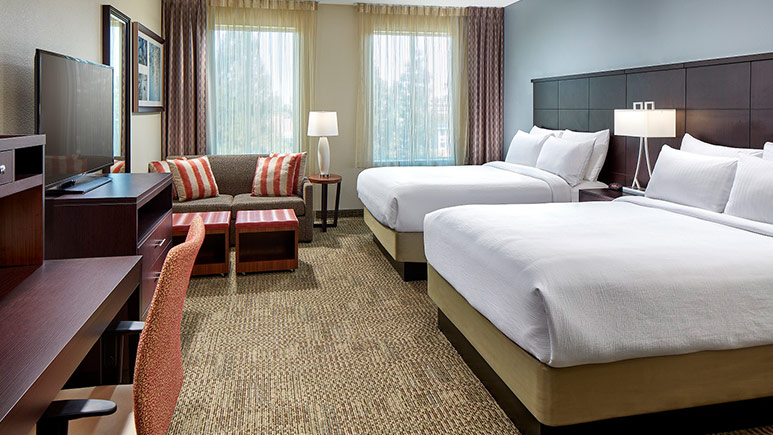 Maximum Occupancy: 6
Check-In Time: 3:00 PM
Check-Out Time: 11:00 AM
Shuttle: Available ($6.00)
Parking Fee: $10.00 per night (a $8.00 per night savings)
Kitchen
Coffee Maker
Microwave
Refrigerator
Laundry
Pets Allowed (Fee $150.00 per day payable to hotel at checkout)
Outdoor Pool
Exercise Room
In Room Internet Access
Cable TV
Full Breakfast
Sofa bed is the size of a full size mattress.
2 Queen, Sofa Bed One Bedroom Queen/Queen Suite
Maximum Occupancy: 6
Check-In Time: 3:00 PM
Check-Out Time: 11:00 AM
Shuttle: Available ($6.00)
Parking Fee: $10.00 per night (a $8.00 per night savings)
Kitchen
Coffee Maker
Microwave
Refrigerator
Laundry
Pets Allowed (Fee $150.00 per day payable to hotel at checkout)
Outdoor Pool
Exercise Room
In Room Internet Access
Cable TV
Full Breakfast
---
Great hotel, great rooms, friendly staff!
Stephanie G. on 12/25/2019
Quick walk to the park, spacious room.
Room is comfortable and spacious. The kitchen area was a lifesaver. The staff was amazing!
Good size and good free breakfast
The room was very nice. It was nice having two bathrooms for our family of six and also very nice to have refrigerator to store everybody's drinks they like. It was a little further away from the Disneyland park then I would've liked but we took the shuttle every day. The only drawback was the room cleaning. They cleaned after the first night but then never came back so when addition to having a messy room we were also short on towels, but that may be our fault for not looking into it for clarity on their process for this. The one thing that was very nice was having the full breakfast buffet every morning that was great the kids loved it!
ART pass is not necessary and rather odd as the stop is at the side of the road a block from the hotel anyways. Also the timing for this specific stop was ALWAYS late and seems to just show up whenever, however this might be because this particular route (11) stopped at like 8 other places.
Full breakfast was delicicous
Staybridge was amazing! Great customer service and housekeeping. We were very impressed with the breakfast. I expected it to be a continental, but it was a full breakfast with many options and different every day. Plus on Mon, Tues, and Wed night there was also complimentary dinner! We loved this resort! About a 15 min walk to Disney. My only complaint was the pool was small, dirty and freezing, and no hot tub. Overall a great hotel!
Great hotel and wonderful customer service. Would stay here again.
Very friendly, clean, and helpful!
The staff was all very friendly. The beds were very comfortable. The only thing I didn't like was the lack of available seating at breakfast.
Seriously the Best Option
We loved this hotel. We looked at so many different hotels, and this one stuck out to us. We booked it and were not disappointed. The rooms were impeccable as were the amenities that were offered. We loved the comfort we enjoyed and will be back again next time.
This hotel is phenomenal! It was so clean and so comfortable. The rooms we very spacious and had everything we needed. We loved having the extra space and the privacy between the main room and the main bedroom. Excellent hotel, with excellent guest service, loved everything about our stay.
Comfortable Stay That Fit Our Family
Our suite was incredible, it is difficult to find space that can comfortably fit our family. We loved having a fun kitchen and two separate rooms. It gave us space that allowed us to watch our own shows, and to get some good sleep for the next day. We never felt that we were on top of each other and felt comfortable and content.
Samantha B. on 04/02/2019
Despite the fact we did not get the larger room we booked, this is a great, clean hotel, rooms are spacious and kitchen is a huge plus. Other reviews have referenced the cold pool and the one slow elevator which I agree with and are definitely the negative points, along with the fact that there are no restaurants/fast food nearby just a gas station. Breakfast was good, but it would have been nice to have other hot food items besides sausage and eggs every morning. Good location, walk to the Mickey & Friends Parking Lot is about 10/15mins , then you can catch the tram to the main gate.
Comfy bed and great space
We had a great time here. The breakfast was great, the staff was attentive, and housekeeping made it so we came back to clean rooms. We stayed in the suite, so two queen beds and the sofa bed. We also had a baby in a crib. The crib was provided by the so we ended up not having to bring a pack n play; that was nice to have extra room in our car during travel days. The only thing was the pool was so so cold. My kids love to swim and it would've been nice to do that on our days off from Disneyland but it was way too cold.
Let's talk the 1 pro to this Hotel. It's right on Disney Drive, so you can walk(20 mins) down the bridge, right into downtown disney, and you're in the park. The Cons? 1. New hotel, ok. But 1 elevator? and, the slowest one I've ever seen. People were freaking out almost everyday. Especially being a DISNEY resort hotel, you need to accommodate guests, kids, and 1 hotel, didn't cut it. 2. The breakfast? or attempt at free breakfast, and dinners? Um.. nice try. The other hotels have you completely beat. And they have like 8? tables? 8. Absolutely no where to sit especially with kids, and the hundreds of other people there, trying to do the same thing. 3. NO HOT TUB!!! Just a small freezing cold pool. The BEST part about coming back to your hotel on a disney trip, is sitting in the hot tub.. and they don't even have one. 4. The fold out mattress is garbage.. those words are from an above review.. I totally agree. Kids hated it. 5. If you do want to take the shuttles, the pick up is on the street, where the traffic is, so bad. takes 30-45 minutes to get to the drop off, so you're better off doing the 20 minute walk down the bridge as stated above. 6. It's located on a really bad corner.. not anything close by like the main road of disney hotels, which give you 5 min walk to restaurants and stores. If I could book this trip again, I would pay a few extra bucks to not be at this hotel. The REDUCED RATES is probably because they are begging to have more customers.. not because it's "NEW" and trying to advertise.
Not awesome but was clean and new
Sharmila P. on 09/24/2017
We stayed here with our 5 kids for 6 nights. We got the room with a separate room, pull out sofa and two queen beds. The rooms were clean and nice and new. However it's a good thing our 4 yr old and 6 yr old slept on the pull out bed if that's what you would even call it. The mattress was garbage! Our 8 yr old didn't want to sleep on it because it was so uncomfortable. He only weighs 59lbs. If we had an adult with us that needed to sleep on it it would have been terrible!! We almost went out to buy a mattress topper to put on the bed we felt so bad for our little kids. After a few days at Disney we wanted a down day so we used the pool. It was freezing cold due to it getting no sun at all and it was 95 degrees outside. It was extremely disappointing. They need to have it heated. Nobody used the pool the whole time we were there. The breakfast was pretty good. Lots of choices to choose from. They need to have the breakfast later then 9:30 am though for sure and they need more seating. When it's busy it's crazy!! The bus is a short walk away but I did have to wonder why our hotel was the only one that didn't have a bus come to the hotel doors. You can sort of see the fire works from the hotel but they have trees blocking the view. Overall the hotel was just okay. Everuday we came back to our hotel we never knew what would be cleaned or if it would be at all. Its like they would choose which beds they would make everyday. Sometimes they would make all, some just 1 a day etc. It was strange. The breakfast was a bonus, the hotel had free WiFi and at least it was brand new. If you're not needing the pull out bed or if you don't plan on swimming then I would recommend this hotel.
The good: This hotel is family friendly. We stayed for five nights with a 4 and 1 year old in a one bedroom queen suite. Check in was quick. Rooms are clean. The hot breakfast is good, they have a decent selection of things to eat every morning. There is not a lot of seating during peak breakfast hours in the dining area, but you can bring you food back to your room, which if you have little ones, is very convenient. A crib was provided upon request for free. We walked to Disneyland every day. If you take Ball to Disneyland Drive it leads you to Downtown Disney. The walk to this point is about 10-15 minutes and then walking through Downtown Disney to the parks is about another 10. Keep in mind you have to go through security at Downtown Disney, so it was about 30 minutes. The kitchen was adequate, we used the full sized fridge and cooked once or twice. The beds are comfortable. The staff is attentive and friendly. The bad: there are only two elevators, and they are pretty slow. We took the stairs most of the time. Also the pool is in the middle of the buildings, so it is in the shade and not heated, so it's pretty cold. We dipped our toes in, but I wasn't going to swim in.