Olympic sized swimming pool, across the street from DISNEYLAND® and near the Anaheim Garden Walk.
1700 South Harbor Blvd.
Anaheim, CA 92802
Formerly the Anaheim Plaza Hotel, the Anaheim Hotel is located across the street from the DISNEYLAND® Resort and next to the Anaheim Garden Walk. Families will love the comfortable guest rooms equipped with a mini fridge. Many guest rooms at The Anaheim Hotel also come with a balcony or patio. Kids will love the Olympic sized swimming pool and exploring the nine acres of gardens.
4.1 out of 5 Rating (78 Reviews)
88% of guests recommend this hotel
Pricing and availability subject to change until booked.
Please enter travel dates to view pricing and availability
Please enter travel dates to view pricing and availability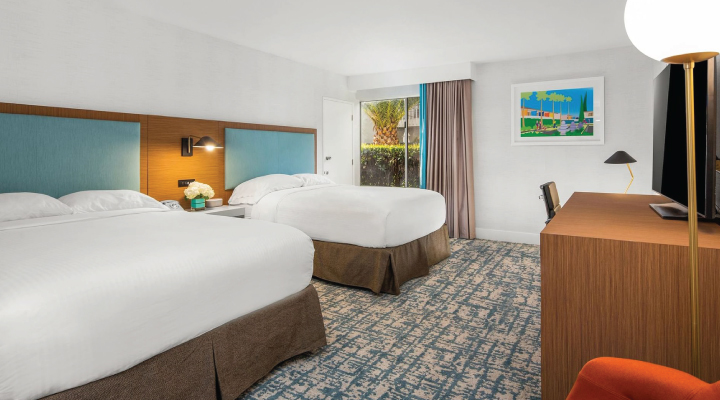 Maximum Occupancy: 4
Check-In Time: 4:00 PM
Check-Out Time: 11:00 AM
Parking Fee: $22.00 per night; payable to hotel at checkout
In-House Restaurant
Roll-Away Fee: $25.75 (Available)
Exercise Room
Distance to DISNEYLAND® Resort (.3 mile(s))
Distance to Knott's Berry Farm (7.7 mile(s))
Distance to LEGOLAND® (63.2 mile(s))
Distance to SeaWorld (92.1 mile(s))
Distance to Universal Studios Hollywood (36.8 mile(s))
2 King Beds
Outdoor Pool
Please enter travel dates to view pricing and availability
Please enter travel dates to view pricing and availability
Please enter travel dates to view pricing and availability
Please enter travel dates to view pricing and availability
Maximum Occupancy: 5
Check-In Time: 4:00 PM
Check-Out Time: 11:00 AM
Parking Fee: $22.00 per night; payable to hotel at checkout
In-House Restaurant
Pets Allowed: $50.00
Resort Fee: $8.00
Roll-Away Fee: $25.75 (Available)
Cable TV
Coffee Maker
Crib (Upon Request)
Exercise Room
Handicap Access
Hot Tub
In-Room Internet Access
Laundry
Outside Room Access
Refrigerator
Distance to DISNEYLAND® Resort (.3 mile(s))
Distance to Knott's Berry Farm (7.7 mile(s))
Distance to LEGOLAND® (63.2 mile(s))
Distance to SeaWorld (92.1 mile(s))
Distance to Universal Studios Hollywood (36.8 mile(s))
2 Queen
Outdoor Pool
Please enter travel dates to view pricing and availability
Please enter travel dates to view pricing and availability
---
Charming place with great views!
Kristine B. on 05/10/2023
Charming older hotel, excellent customer service, excellent pool, nice grounds away from the street so you feel relaxed. Walk to the park. 10 min for a fast walker. Some rooms with balconies have view of Disney fireworks.
Stayed many times here over the years. Quick walk to DL across the street is the main reason. Pizza place on site is great. Free coffee in lobby was way better than the awful stuff in the room. Really wish the room still had a microwave and maybe some tea bags. Hawaiian tropics shower dispensers (not individual bottles.) Usually pretty quiet here. The exterior got the makeover but inside the rooms still looks/feels the same. Games to play on the grass (yard size connect 4, chess, etc.) They'll hold your luggage if you're there early.. I didn't get the text my room was ready til almost 5pm!
Great hotel. Nothing fancy, but the rooms are updated and clean. The staff is extremely friendly and helpful.
The hotel was comfortable and has great proximity to the park. The staff deserves a 5 star out of 5 . On our last night stay there was a dog next door that barked for three ours straight. We called the front office and it was taken care of immediately.
Clean, Comfy, Close to the Park
This has become my favorite hotel in Anaheim. The staff are super friendly, hotel is clean, comfortable, and safe. I travel as a solo lady very frequently so safety is important. The 7 minute walk to the front gate of Disneyland can't be beat. The hotel is obviously older but well taken care of, and they've done updates. The beds and pillows are some of the most comfortable I've had, including in some of the top name brand hotel chains. The water pressure and temp are also always perfect. The grounds are pretty and I love the theming. Overall, it's a charming hotel that I really can't wait to return to!
Clean and quiet rooms. Has everything you need if your looking for a good priced hotel that is 7-10 minute walk. Love that it's right across the street and a lot cheaper then all the other hotels. Friendly staff, but has no perks. No free breakfast and parking is 18 a day.
Great location, rooms were lacking
Location was perfect, 7 mins walk to Disneyland. However the room was lack luster. Bed was awful. Sink had chips out of the plaster. Put us next to the vending machine and ice machine. Not an internal building all room doors are outside, hear every other guest walking by.
Wonderful MCM styled hotel with massive pool
I loved the huge outdoor heated pool. Also has a nice exercise room. I absolutely loved all the MCM decor. Staff were all very friendly also.
Clean, accommodating, and super close to DL.
Disappointed in the quality
We were disappointed in the Quailty of the hotel room. Many things in the room were in bad repair. The pillows were very worn and the AC was not sufficient.
We would stay there again
We stayed from August 21 to 28, 2022. We had two joining standard Queen rooms. The beds were comfortable but the pillows were a bit lumpy. I got a different pillow. There was plenty of room for the 7 of us. We got a microwave for breakfast items as well we bought a cheap toaster at Target and ate all our breakfasts in the room each morning. The pool was great and we spent at least a couple of hours there each afternoon. The staff were great, very friendly. It's not a fancy hotel but perfect if you want to be close to the gate. The walk was 7 minutes to Disney security. We would stay there again. (One negative - the coffee is gross, need to change to a Keurig so at least a client could get coffee pods).
Location is what really makes this hotel desirable. It took us 15 minutes to get from the hotel through security and into the park. The pool is amazing and is huge compared to other neighborhood hotels. The staff was very friendly and accommodating. The only downside is that the air conditioning sucks. When you want to relax after a hot day at the park and your room is humid and only slightly cool it sucks. Breakfast at the pizza lounge is way overpriced but overall I would stay again.
I enjoyed staying at The Anaheim Hotel. It was a short walk to the parks, very clean, the staff members were super friendly. This hotel also had many great qualities: a pool, bar, and gym. I also think it was a great value compared to other nearby hotels. I will be staying here again in the future.
This is my second visit. I love the charm
Kristine B. on 05/13/2022
This is my second visit. I love the charm of the grounds and the gardens, and the pool, with a movie, so fun. The staff is very friendly, the rooms with a balcony are a good value and my housekeeping was wonderful.
The staff was nice. A 5-10 min walk to the park
We had an updated room. The staff was nice. A 5-10 min walk to the park. Very close to convenient stores.Next to a super yummy pizza restaurant.The only thing I didn't like was the bathroom. I feel the tub is to snails and I was definitely grossed out when I turned the water on to shower and and hair came out of the drain. Happened multiple times even after I took hair out. Other than that it's a really nice place.
Not a 5 star hotel, but great for the location. The ease of walking a block and being at the park. The Pizza Press restaurant is yummy.
Margaret C. on 05/11/2022
Just a block from the park, and for a 'no-frills' hotel, there are a lot of frills, like two sinks in the bathroom! Staff are friendly, go above and beyond, all-around all-stars!
If your pillow comfort is a must, please bring your own.
The hotel was nice, the rooms are a little older but you can tell they have put effort into trying to update them. The walk to Disneyland was close and nice at the end of the day. Staff were all friendly and helpful.
This hotel was in a perfect location. The only downfall was there was not a microwave (I thought there was). The rooms were clean and staff was so friendly.
Jonathan S. on 01/13/2022
This was a great, convenient hotel to walk to Disneyland. The rooms had balconies and a nice swimming pool, plus a great puzzle restaurant. There was also a GardenWalk are nearby. Really enjoyed it.
Close and convenient hotel to the parks. Good place to stay for a park trip. Not necessarily the best place to stay for anything else. Outdated rooms with cosmetic fixes that are overlooked.
Great for a place to sleep
The room is great if you're just looking for a place to sleep. It's still in the process of being updated. The walk to Disneyland isn't bad at all. The AC/ heater was a window unit that was on the floor, facing the side of the bed. It wasn't great but ok. I think next time our family needs a little more.
Great location- 5 minute walk to the entrance of disney - not a luxurious room / shower didn't work properly
We truly enjoyed our time there it was great place to stay I'd you would like to go Disneyland.
Wonderful facilities. The only complaints, would be first not being able to check in till 4pm, when I had to check out by 11am. I miss the days could check in around noon, or earlier if room was available. The other was having the unexpected fee of having to pay $18.oo for parking, and having to use card to pay $100.oo deposit that the 18.oo came out of. For the room price, would have expected parking to be included.
So close to Disneyland. Love the 50's theming, big patio, and very comfy beds! Bathroom is very small, but doable.
Good hotel - have a copy of your reservation
Danielle E. on 08/27/2021
Please make sure you have a copy of your reservation, they couldn't find mine at first. They had my last name as my first name and my first name as my last name
Would definitely stay here again
Hotel was older and with very small bathroom otherwise it is a great value with super friendly staff. Would definitely stay here again
Better every time we stay!
I've stayed at the Anaheim Hotel a few times before and it only gets better each time. Please remember these are older buildings so noise transfers easily from upstairs to downstairs and through walls, especially ones with doors that connect from room to room. The staff is stellar. The rooms are spacious and clean. The grounds are well kept and patrolled. The beds are comfy enough for a restful sleep.
When you call the desk and are on hold the recording says the pool is heated, but my husband and I discovered that the water was freezing. Aside from that I cannot complain about the hotel or it's services. The people were friendly and amazing. The room was incredible.
Do not stay here if you have a hard time with noises and sleeping at night. The walls are paper thin and the doors slam. The lobby has a very strong perfume smell that was not enjoyable.
Great staff, wonderful security as well. Beds were just ok, but comfy enough after a long day at Disney. The bathroom was small and the hot water handle was stuck the whole time, and the balcony handle broke off when we barely touched it. Lol. But they did come fix the handle and we enjoyed the balcony view of the fireworks every evening. Clean and the housekeeping staff was excellent!
Brittany K. on 12/11/2019
Love this hotel. It's close to Disney. The rooms are clean. The staff are wonderful and helpful.
Great access to California Adventure
A nice hotel for the money paid. It is just across the street from the entrance to Disneyland and California Adventure which makes it nice to not worry about paying for parking. The staff was friendly even during the busy holiday season. There is also a nice pizza place right next door to the hotel which was great for a meal or late night snack.
Jennifer V. on 12/09/2019
The room was clean and well kept. The bar in the lobby had great pricing and really nice staff. The hotel staff was helpful and welcoming.
This hotel has a great lobby, restaurant, and pool. The rooms are older but decently clean. Parking is $15 a night which is outrageous for hotel guests. Parking should be free for at least one car. Overall we would probably not stay here again unless the price of the rooms decreased.
Very friendly staff, short walk to and from Disneyland Parks. Target was very close by. Very clean and overall fun feeling hotel. Loved the retro look and design. Awesome that the Pizza Press is located in the hotel lobby for a quick dinner on the way to our room!
This hotel was literally across the street. We could view the fireworks show from the pool area of the hotel. The hotel has gone through a nice remodel and the throw back 50's vibe is refreshing. All staff are courteous and most helpful. Rooms clean and beds comfy and they do offer room service at a very reasonable rate. Pool was outstanding and made for a nice relax day. They have an onsite eatery - Pizza Press that does offer breakfast which was WONDERFUL and at great prices.
The room we received did not look anything like the picture. It had Full beds not Queen, no microwave, the water pressure in the shower was not more than a trickle, the carpet was stained and there was no extra room for a rollaway bed.
This hotel gets a 10/10 for me! The location can't be beat, the rooms were clean and the staff were above and beyond the most friendly and helpful of any hotel I have stayed at in the area. The gift shop is well stocked and has a variety of cute, inexpensive souvenirs. With a mini fridge and microwave (you can request one at no charge), I didn't miss the fact that there wasn't a breakfast included. There are several eating options very close. The walk to the parks is quick and painless. There is a Walgreens and CVS pharmacy just a quick 5 minute walk away if you need more supplies. The pool and hot tub were well maintained. This is going to become my new go-to hotel!
It's a great hotel. Comes with a community feel. Great for families. Friendly staff. It was great!
The location was super nice, but it would be nice if there were some amenities such as free parking, or some sort of breakfast. Even just a continental, or coffee in the lobby
Stayed here by accident and was absolutely impressed. The rooms were a decent size and very clean. The hotel staff was very friendly. The pizza press had pretty good food!
Looks like they spent a lot remodeling the lobby, it's very nice. The rooms are average, a little small but clean.
This hotel had it all. Room service Huge pool Nice lobby Friendly staff Full bar Great pizza place And wonderful beds.
Pros...The rooms were clean and customer service was great. I loved the private patio area of out ground level room. Cons...The lobby was scented very heavily with a cologne/perfume scent. It gave me a headache. The layout of our two queen bed room was not ideal, the position of the air conditioner didn't do much to cool the room as it was about 6 inches from the side of the bed and the air either blew against the side of the bed or straight up into the curtains.
The hotel was a little bit older, but the location was ideal. The kids loved the olympic-sized pool and jacuzzi. The pizza restaurant on the premises was very good and open late.
We love this hotel we stay every time we go to Disneyland. It is always clean and having the pizza press downstairs is a great plus. The pool is great and large enough for everyone to have their own space. Check in is always easy and even upon early arrival we were able to check in early to get our vacation started.
Clean and close to the park
Close to the park. If you're just looking for a place to sleep it's just fine. The rooms aren't especially nice, but they are clean. Our main issues were: the shower never got warm and the AC didn't work.
Great pool, friendly staff and close to Disneyland. The beds were not great but everything else made it a great value.
I was very impressed with this hotel the room was great staff was so friendly and helpful the gift shop was LARGE and there is a hotel bar although the hours are confusing its nice to have one right there! Also there is a pizza restaurant attached we didnt eat there but will be doing so next time! Pool was large and clean and perfect walking distance!
Very nice, helpful staff! Very comfy beds and clean rooms! The pool was awesome!
We loved this hotel. It wasn't across the street, which allowed us to escape the business around the entrance gates. We didn't mind the walk, and still felt that we were included in all the fun. This hotel was great, we were taken care of every minute.
Cute Hotel Straight From the 70's
I loved the cute 70's theme throughout the hotel, the colorful lobby and courtyards were so enjoyable. We loved being so close to the park, it wasn't more than a 10 minute walk. The shuttle service was great, we used it the last day since our feet were extra tired. Great stay, and great value.
We just returned from staying at this hotel. We enjoyed staying here and would stay again. The only drawback we had was the cleaning service for our room was later in the afternoon when we were resting so our room didn't get cleaned.
We were very excited to stay at this hotel for their fun looking courtyards and very affordable pricing. The hotel was decent, the rooms were a little old and outdated, but met our needs. We were a little disappointed when we realized that the pool wasn't open the entire duration of our stay, but I'm sure if it were we would have loved it. We loved the Pizza Press, it was practically in the lobby and was extremely delicious!
Makenzie G. on 05/20/2019
We stayed here last week (May 2019) and my husband and I loved it! So close too Disney. The bar and pizza was amazing and had great hours for after the park. The beds are so comfy, the pool is amazing.
Great stay for Disney trip
My family and I stayed here for 4 nights for a Disneyland vacation. The price and location were unbeatable when we booked. We were able to check in on time. Our room was clean. No problems with hot water. We could even see the fireworks at Disneyland from our patio. It was literally across the street (5min walk) from the parks. Had breakfast and dinner at the Pizza Press, both good. Staff seemed friendly. We had to visit concierge 3 times because our room keys kept acting up. They would work one minute then stop working all of a sudden. Also, on our first night we got a call from the front desk. The people under us complained that we were making too much noise I guess. But, our kids are 2 and 4 and this was their first vacation so they were jumping all around the room with excitement. So,  my sympathy for the people under is was extremely scant. Overall, we will definitely stay here again on our next Disneyland trip.
We got a newly remodeled room on 2nd floor, which is their highest level. The shower water pressure was outstanding and the hot water was plentiful. Carpet was clean and vacuumed. The beds and pillows were extremely comfortable and we checked for bed-bugs. None! The room was quiet. We felt safe and secure. We did have a light bulb go out and the Maintenance was knocking within 2 minutes. We did complain that the scale wasn't working and needed new batteries, but no one ever showed up for that. I noticed several other rooms had actually set their scales outside of their doors. I do not know if the guests did that or housekeeping. Maybe my call generated maintenance to replace all of the batteries and get them working. What good is a scale if it doesn't work. The mini fridge was warm when we first arrived, but got cold after a day or so. Wish there was a tiny freezer in it. Overall, it was a wonderful hotel and we are glad we stayed there.
We tipped the front desk person $20 and were given an upgrade. Room # 746 is OUTSTANDING! Recently remodeled & upgraded! Two Queen Beds. Extra-strong water pressure, perfect hot water, new beds/mattresses, no bugs, quiet, second (highest) level. Housekeeping was fabulous! We felt safe and secure. We usually stay at Tropicana and this was LESS-THAN-HALF their price! The Anaheim is our new go-to hotel for Disneyland trips.
We have stayed here a few times now and look for this hotel every time we book a trip. So close to the parks and very nice friendly customer service.
The hotel was nice, beds are a little on the soft side, close proximity to the parks (few minutes walking), within walking distance to the Garden walk which has great options for dining. The customer service was great. When we arrived to the hotel, the gentleman outside informed me since we have a handicap placard the parking was free. He walked into the hotel with us to make sure the front desk was aware not to charge us for parking. The pizza press on site had really good pizza and was super fast. We also ordered room service one night from the front room bar. They did not answer their line so the front desk walked over to them and had them call our room for us to place our order. Two minor issues: water temperature was not consistant. It would go from a nice temp to either scolding hot or freezing cold (when bathing a child, would recommend constantly check temp). Reserved two standard queen beds but when we got to the room, we were given two double beds. We made it work, but when your spouse is 6 ft and you have your 5 year old sleeping in the bed with you, it was a little tight. Our 2 teens slept in the other bed just fine. Over all, nice place. Would stay there again.
Very nice and very convenient
Great hotel - super close to Disneyland, large rooms, and very clean. Hotel was quiet, and had a beautiful pool. Pizza restaurant on property was open late for midnight dinners after park closed. Staff was very nice and parking was convenient. Could not ask for anything else!
We stayed here a few years back before the renovation. It was a great deal at the time! The location is why we stayed again and a decent price through GetAwayToday. Rooms were updated, nothing fancy but comfortable and clean. All staff we encountered were friendly and helpful. My only complaint is the water temperature in the shower was incosistent, it kept fluctuating from hot to cold, but the pressure was ok. Expensive parking fee so we decided not to rent a car. We ate from the to-go breakfast menu and the breakfast burrito was fresh and delicious. We also ate at the Pizza Press one evening and everything was great. We knew we were basically paying for the proximity to the Disneyland gates and it was worth the short walk. We would definitely stay again.
Loved the retro theme of this original hotel. Felt like we walked into classic Disneyland. Thought the story was cool how they built an olympic sized swimming pool just in case Disneyland was a flop. The rooms are simple, we were on the ground level and had a walk out patio which added some nice space. The grounds were well manicured. The pizza shop in house was delicious and had a great family special. The walk was easy. Also, loved the Creamistry Ice Cream shop down the block. Would stay here again.
I love this hotel & the bartender.We have stayed at this hotel the last 2 times we have been to Disneyland and its my all time fave, nothing special but close to Disneyland you can even see the fireworks from the pool.The only thing that did suck was we did have people try to get in our room maybe they got confused? we scared them away. But like I said I loved this hotel.
This fantastic motel is easy walking distance to Disneyland. The grounds are large and lush and beautifully maintained. There are several two story buildings with exterior corridors - no elevators, but there are ramps to the second floor. The rooms are large and most seem to have either a patio or balcony. Our room was recently renovated and clean. It is still an older property with creaky floors, aluminum edged windows, and some noisy plumbing. Also, the water pressure is low, but the hot water plentiful. Our room had a mini coffee-maker, better than average hair dryer, mini-fridge, TV, clock radio, nightlight, etc. The toiletries were Hawaiian Tropic and included bars of soap, shampoo, condition, and shower gel but NO lotion. The beds were reasonably comfortable and the pillows full and adjustable. The staff were fantastic -friendly and helpful. When we needed extra blankets or a microwave, they were quickly delivered to our room. They also surprised me with a card and chocolate cookies for my birthday :-) We will stay here again!
The only good thing I can say about this hotel is that it's close to Disneyland. The staff is very rude, we were locked out of our room 3 times!! They're excuse was the sensor on the doors was out even after they claimed to fix it the first time. When we returned to our rooms they were not cleaned. I called the front desk for room service, after 2 hours had to call again since they weren't there yet. The microwave was dirty. I will NEVER stay here again.
Anastasia C. on 03/11/2018
Room was nice and clean with plenty of room for 5 of us and a roll away bed. Staff helped us with everything and went above and beyond in most cases. Room service was quick and spot on.All in all we stayed for 5 days and had a fantastic time.
Rooms were decent size and clean. Staff is the reason we will not stay here again. They overcharged my card multiple times and when we questioned it, the responses were curt and rude.
My husband, two young children, and I stayed at this hotel for 3 nights this past weekend. There were some good things and some not so good things about it. Pros: Mattresses and bedding are super comfortable Close to Disneyland Pizza Press, which is attached, is really good Pretty clean (our room hadn't been vacuumed, and the microwave was dirty, but everything else was pretty clean) Cons: You have to request a microwave. They don't just have them in there. The one they brought was SUPER old and junky. We had to go on a wild goose hunt to find an ice machine. The people at the front desk were unaware that there wasn't an ice machine in our building OR the building next to us. When we booked, GAT had either one king or two queens available. When we checked in, they booked us into a room with two doubles. I had to pull up my email to "prove" to them that I was supposed to get two queens. They did switch us to a room with two queens, but seemed irritated about it. When I was washing my kids' sippy cups, there was a huge pool of sudsy water at my feet. The sink was leaking underneath. We didn't notice this when we washed our hands or brushed our teeth- only when we used a little more than average water. The doorway wasn't wide enough to fit our double stroller through. We've stayed at several hotels and this is the first time we had that problem. The rooms are pretty small. We were used to staying at the Castle Inn & Suites (next door), which are MUCH roomier. Our remote control didn't work. I didn't tell them this until I checked out, and I'm sure they would have fixed it, but we didn't discover it until we were getting all packed up and ready to check out. We wanted to turn the tv on to entertain our kids while we cleaned up, but couldn't. We couldn't manually change the channels on the tv, either. When I mentioned to the front desk about some of the issues we had, they were totally unapologetic. I was very kind when I mentioned everything, thinking that possibly they might refund our parking charge, or something. Nope... the lady at the front desk didn't care at all about the issues. (I mentioned the puddle of water, non-working remote, lack of ice machine after being told to check two different places from the front desk, and the fact that our room hadn't been vacuumed before we got there). In fact, when I commented about the ice machines, nobody at the front desk knew that there weren't machines in either building I had looked in. So, nobody in the front seems to know where the ice machines are! It was a little strange. The lady said, "I'll tell maintenance about your concerns." Also, we checked out at about 8:30 a.m., but our flight didn't leave until the afternoon, so we wanted to keep our car parked there until about 1:00 pm. We were told that it had to be out of the parking lot by 11, or we could pay an extra $12 to park there for an extra 2 hours. After I mentioned our concerns, the lady reluctantly allowed me to keep our car there. So, I did get an extra two hours of parking for free in their lot for all our trouble! :) (And actually, that was only because I told her we were coming back to the Pizza Press for lunch!) Overall, we were not impressed. Luckily, we didn't plan to spend too much time at the hotel. The location was nice, but we will stay elsewhere next time (probably back at the Castle Inn & Suites).
My family and I loved this hotel, it's a five minute walk to Disneyland. The rooms were clean and updated, the beds were cozy, the pizza place was great! We definitely plan to stay here again!
This is a great place to stay. They have just done several renovations, the room was clean, spacious, and so close to the park. We had a standard queen suite which included a very nice enclosed patio section. Very useful for storing all the gear that accompanies a family of our size. We ate at the new Pizza Press restaurant that is in the hotel, and I loved it. Great Pizza great price. There was no breakfast included, but there was plenty of room on the patio for our morning meal. We have stayed here before, and it is easy to see the new owners are bringing the quality of the hotel up to higher standards. Once again. Can't beat the location, beds were great, Plenty of room, great patio on ground floor rooms, large pool, Very friendly and helpful staff. For a great price.
Our stay was great! We were a little wary because of some of the reviews. But we were very pleased with our stay. The staff was more then friendly and accommodating. The pizza press has great pizza and breakfast. Everything was very clean and comfortable! If there was anything negative to say it would be that there aren't microwaves in the room. Pretty small problem! We will be staying there next time we go to Disney. Super easy walk even with two small kids.
Lynnette N. on 10/16/2017
Nice hotell,staff was nice the price is great not too far a walk from Disneyland.
Friendly Staff/Close to Disneyland
We love staying at this hotel. The pricing is reasonable and it's walking distance to Disneyland. The staff is always friendly and helpful as well. They are currently updating the building since it is a little older, but we didn't hear any noise from the construction.
Upgraded Lobby but rooms are overdue!
Jennifer N. on 06/13/2017
The lobby was a hip place to hang around and thank goodness because we arrived early and our room wasn't ready for hours! I did the pre-check in and was promised they would call if our room was ready early. Four and a half hours later I went up to the courtesy desk to see if anything has changed and they said it was ready but they had no calling process to notify guests. Strike one. We arrive to our room and the AC unit is tucked between the sliding glass door to the patio and one of the beds. IN this location, it was impossible to circulate cool air in the room. In fact, it was difficult to get to just to turn on between the bed and the curtains for the door. Then when night came one guest in the bed closest was freezing while the other in the other bed was baking. Strike Two. Finally we end our stay and my son accidentally left behind his portable night light and two toys. I check their site and they have a lost and found system- fantastic! I enter in the information and wait to hear back via email or phone and get crickets. A week passes by so I email the hotel directly in case they no longer use this system. I wait a few more days and get a call finally saying yes we have your items sorry I was on vacation and no one else does that while I'm away! What's the point of a lost and found system if it isn't managed? Then she told me I've sent you an email on how to claim your items you can follow those instructions. She didn't give me any additional info over the phone. So I check my email and see to mail them back is a $20 fee! Okay not the hotel's fault but I work in a customer oriented business and know many hotels will eat the fee as good PR and after waiting about 2 weeks just to hear from someone, I kind of expected it. Strike Three! Between all these items, large cockroaches outside of the hotel rooms (literally as soon as we stepped out of door), a fairly large spider in our room and requesting a crib then receiving one (again with a nightly fee whereas any other hotel I've been at has not charged us) that looked to be as old as I am. I will say when we asked to have them take back the crib, they did so and reversed the charge. This happened at the same time someone was out to look at our cable that happened to be on the fritz as well. Surprise, surprise we will not be returning. I'm really rather disappointed as everywhere else I've stayed in the good neighbor hotels have been nothing but pleasant.