Every vacation is more fun when it includes a theme park! We have a wide selection of great deals on attractions, dining, and tours.
Across the street from DISNEYLAND® Resort. Includes in-room microwave and fridge.
1540 South Harbor Blvd.
Anaheim, CA 92802
Located across the street from the DISNEYLAND® Resort, the Tropicana Inn & Suites is a perfect hotel choice for your Anaheim area vacation. Family friendly hotel rooms include a microwave and refrigerator.
4.2 out of 5 Rating (100 Reviews)
89% of guests recommend this hotel
1 King, Sofa Bed Standard Room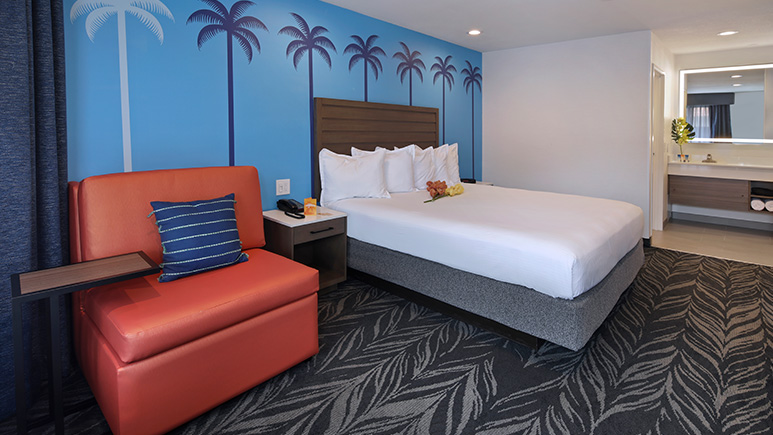 Maximum Occupancy: 5
Check-In Time: 4:00 PM
Check-Out Time: 11:00 AM
Parking Fee: $22.00 per night; payable to hotel at checkout
Coffee Maker
Microwave
Refrigerator
Laundry
Outdoor Pool
Hot tub
In Room Internet Access
Cable TV
Parking fee is $22 plus tax per night and $29 plus tax for 2nd vehicle.
Maximum Occupancy: 5
Check-In Time: 4:00 PM
Check-Out Time: 11:00 AM
Parking Fee: $22.00 per night; payable to hotel at checkout
Coffee Maker
Microwave
Refrigerator
Laundry
Outdoor Pool
Hot tub
In Room Internet Access
Cable TV
Parking fee is $22 plus tax per night and $29 plus tax for 2nd vehicle.
---
Hotel is great. Valet parking is disappointing.
Our hotel stay regarding the hotel was great. Room was clean. The walk to the Park is very close. My only disappointment was the company they use for the valet parking. I tried to go the night before I was leaving to get my car keys back as my car was only a few spaces from my door and I wanted to be able to load it up first thing. They refused to give me my keys back and told me I wasn't allowed to drive my car while it was vallet parked and since not self parking was available I could not have my keys. I would have to come the next morning get my key, go load up my car and then take them back the key and wait for them to bring my car around to the front. It was just very inconvenient when dealing with a special needs toddler who was already very cranky and tired. Honestly the whole parking situation would be better if there was no valet parking and everyone self parked and they just had a parking attendant to make sure everyone parking had a parking tag.
The hotel was the perfect location! Right outside the entrance to Disney. Loved being so close. The rooms were plenty accommodating considering we only used them to shower and sleep really. The staff was helpful and friendly. The rooms were very clean. We loved using the hot tub and the end of a long day of walking. Kids loved the pool in our down time. Super close to McDonald's and Panera Bread so that was nice. Also, the convenience store, The Cove, was super handy to grab an energy drink before heading to the happiest place on earth!
This hotel was a complete dive! The only thing it has going for it is that it's close to Disneyland. It is so dirty and the room was SO small and the a/c was horrible!!
Very close to the entrance to the parks
We loved how close this was to the parks! It fit our family of 4 comfortably & was very quiet.
Veronica R. on 04/29/2023
The hotel is clean and comfortable. It is an easy 5 minute walk across the street to Disneyland. We love staying close to the parks. It doesn't have a breakfast buffet or continental but there is a IHOP and a dennys right by as you go to the parks. I recommend it to all my family and friends.
Great service, prompt attention when needed. Thank you.
We love the location of this hotel. It's so close that it makes those midday rests easy! They don't clean your room at all when you are staying, they just change towels and empty trash cans. I wish they offered more hooks or towel bars. I would recommend bringing over-the-door hooks to hang towels to dry. The pool and hot tub areas are nice. Finding a parking spot close to your door may be difficult.
Average good neighbor hotel
HOLLEIGH J. on 04/09/2023
We usually stay at Sheraton Park, but they were fully booked this trip. We chose Tropicana because it came highly recommended from friends. The best part of this hotel is the proximity to the park. It was very nice to be able to just cross the street at the end of the day, no need to wait for a shuttle. Aside from that, it was average. Friendly staff, clean room, recently updated. All amenities were functioning. This is technically a large motel, all room doors face to the outside so you do hear voices and foot traffic. Also, the walls are a little thin, we could hear our neighbors on occasion but nothing excessive. We did not use the pool or hot tub, but it looked well maintained and other people were enjoying it. There are elevators in addition to stairs. One potential con: moisture. The room always felt damp. The windows had quite a bit of condensation. The bathroom vent/fan didn't work well enough to rid the room of moisture after showers. We did open the front window to help but it was drizzly outside so it didn't help much. This is likely less of an issue during the summer, we stayed in April. Overall if proximity is your number one need, stay here. Otherwise it's an average good neighbor motel. If you're willing to stay farther away you can get a nicer hotel for the price.
About as close as you can get to Disneyland. Very clean and updated. Extremely friendly and helpful staff
Can't beat the proximity to the park!!! Lower Level Room was very noisy. Linen and towels were clean but the carpet turned our feet and socks black. Parking fee at check in, parking spaces limited had to use Valet resulting in our car parked inconveniently far away from our room. Overall this hotel served its purpose with a short walk to the park but nothing to write home about.
Small room but best location!
I find the room a little small for four people. They only have two drawers for ÿour clothes if you wanted to unpack. But other than that the hotel is great. It's walking distance to (7-10 minutes) Disneyland. Plenty of restaurants nearby. I would stay here again if I come back to Disneyland.
Close to the park but small rooms.
It was clean and so close to Disney but if I had little kids I would not stay there. They did not provide breakfast and rooms were very small to have kids in with you.
Shower did not train proper, there was lot of fruit flies that appeared once shower did drain. Sheets didn't seem cleaned
Good location but outdated
The biggest perk was the proximity to the park. Otherwise, the room was small and the hotel is very outdated. It is very in need of a renovation.
Elizabeth L. on 02/25/2023
Wonderful hotel! This is our third time staying on property and the proximity to the parks cannot be beat! The front desk was wonderful and the on-property convienience store is great.
So close to Disneyland! We were able to check in early for our 2 Queen bed room. The beds and pillows were comfortable. The Hotel was nice and quiet at night. We received fresh towels daily. I wish the outside lights didn't shine inside the rooms. It was difficult to block the light out. We had to use extra pillows to push up against the drapes to try to block out the bright light. Next time we will bring eye masks ;) The room was spacious and it was great to have a place to lay our suitcases open without them being on the bed. The store downstairs was very convenient to purchase waters before going into the park for the day.
The Tropicana was a great value for a location that couldn't have been closer to the Disneyland entry gates. From stepping out of our hotel room door to going through the security line at the promenade was about a 5 minute walk. Plenty of spots to grab a quick bite within walking distance outside of the park. Room was small, and definitely not fancy, but it was clean with comfortable beds. We really only slept and showered in the room. Never used the pool because the weather was cooler while we were visiting.
The room was very clean and the beds were comfy. Conveniently located to Disneyland entrance and restaurants.
It was clean. Check in was easy, check out was even easier. The rooms are cute and they got us a room close to the front which was really nice. The beds were very firm. There was a fridge and a microwave. No table, but we didn't need one. So close to Disney.
Comfortable and close to Disneyland
Misty-Rayne F. on 12/21/2022
Rooms are comfortable and very close to the Disneyland entrance. I wish they had daily housekeeping service though, it would have made a bigger difference for our stay.
Loved our stay at the Tropicana Inn & Suites. Rooms were very clean, and updated. Staff was so nice, 24 hour parking lot security and not to mention right across the street from the entrance to Disneyland.
Rachelle L. on 12/04/2022
Loved the location, quite even with all the children staying. The room itself is big enough for 5 people and a baby! They also provide a crib for my toddler! The only down side is the house keeping. They only changed the trash cans and gave us new towels! They never vacuumed or provided turn down service. We were told that since we were staying a week that the sheets would be changed on the 3rd day. That never happened. They did the bare minimum when it can to cleaning the room. We could of said something but we opened and closed the parks and went straight to bed when we returned. However the location makes up for the lack of cleanliness. Overall 4/5 stars!
A room was ready for us when we arrived at 12:30 and we were thrilled that we would be able to change before going into the park.
Nice motel and very close to the entrance to Disneyland.
The room was fine for the 2 of us. My only complaint would be the carpet needed to be cleaned.
I will definitely be staying there again
So close to Disneyland - rooms were clean the pool and hot tub were extremely clean and the staff was wonderful I will definitely be staying there again and recommend it to others
Very conveniently located
The Tropicana is very conveniently located almost directly across from the crosswalk to Disneyland. It is also very close to multiple restaurants, making it an ideal location. The rooms were updated and clean, except for the carpet which still needs to be replaced. The staff was attentive. Everything was comfortable and worked well. I would stay here again.
The room is clean. Bed not very comfy. They don't do service on the rooms during your stay but will come in to do trash and provide new towels if you want. They won't service the room (make/change beds) even if you request it. The rooms are small but clean.
Will be staying here any chance I get to go to Disney
Hotel location is perfect for any Disney lover, just a basic room but kept more then clean. Staff was so nice no matter the time of day. Will be staying here any chance I get to go to Disney
Kristilyn F. on 10/10/2022
The hotel staff was slow to get our room ready but we only waited 30 min after normally check in. The rooms were clean, nicely updated bathroom, comfortable bed and pillows, older but nice new paint. Overall I give it 5 stars with the most convenient location across the street from Disneys main entrance.
Right across from Disneyland. It was very clean and the staff was great
Parking at the hotel has a fee, but is understandable
Parking at the hotel has a fee, but is understandable
Our room very nice, the motel is very clean and peaceful, the employees are wonderful. And you cannot have a better location.
Polite staff but not ideal stay
Unfortunately we started out on the wrong foot because they let other guests that arrived after us check in first. Same room. They said they would text me when it was ready but I had friends with the same room arrive 2 hours after us and they immediately got their room while we were still waiting in the 95 degree heat. Location is great. Parking situation is poor. I didn't like that they sold daily parking to guests not staying at the hotel. The lack of breakfast is a major issue and I would recommend another purely on that due to the equal cost of hotels with breakfast nearby. I appreciated the daily replacement of towels, removal of trash, and new soaps. All staff where very polite. The market on property is handy but lacking a lot.
Hotel was in a wonderful location and room, while not perfect, was fine. Only real irritation was noisy people walking by our room very early in the morning. We enjoyed the pool and hot tub.
Hotel room was clean the pool was small but enjoyable . The location was perfect to walk to Disneyland
Great location for mid-day breaks
It was so nice being right next to the park. I didn't think we'd take midday breaks but we did and it was so nice. Great hotel and location
Cristianna T. on 08/11/2022
This is a great hotel for walking to the park. No need to rent a car!
Used to be my favorite hotel
My favorite hotel but since Covid, housekeeping has changed. Fresh towels and garbage pick up only it was supposed to be daily but reminders are needed. Linens on bed have to be changed by you!
Great Value and Location!
Stephanie T. on 07/25/2022
Due to proximity to park I would stay there again.
Helpful friendly staff. It's a 5 minute walk from thr Park gates. Also love that this hotel offers to hold onto your luggage even after you check out so you don't have to try and get them into a locker at the park
Super close to the entrance, but the ac hardly worked and the bathroom fan did NOT work. It was very humid, but we were hardly there. Parking was more expensive than I would like.
Great experience. Perfect walking distance to and from the park. Staff was friendly. We would definitely stay here again.
Very clean room. For 2 people very doable but for a larger family might be somewhat tight.
A great stay overall. The only complaint I would have is the customer service the hotel. When I first entered no one offered to help me or even greeted me and they were also very short. That has not been my experience at other hotels especially since I travel alone with my two children.
Samantha W. on 05/17/2022
Shower pressure was amazing and the distance from the park is good. However the sink was taking forever to drain and also one day we didn't get any room service. The house keeper said we left a "Do Not Disturb" sign on the door. (It was by the TV the whole time). The hk seemed irritated that I asked her to take the garbages when she came to give us more new towels. (I called to the front desk to ask for all that too.) But all in all we had a good stay.
A great spot to stay at with young kids to avoid a long trek to the entrance. Bring right across the street was very helpful. The staff interactions were great.
Room was clean and perfect for our trip
Room was clean and perfect for our trip, pool was great and the staff were very friendly
This hotel was so close and convenient! Being able to walk to and from in the morning, midday for naps, and at night was so much easier than waiting for a bus or shuttle. We had a room with a kitchenette, and having the full-size fridge was so helpful for drinks and leftovers.
We will definitely be returning to this hotel!
This hotel was great! We loved being minutes away-walking distance-to Disneyland. The beds were not as comfortable as I would have liked but that can be overlooked with how close we were! The room was clean. Currently they do not offer daily cleaning services but do replace towels and empty trash every day. We used the pool once. It was well maintained and the area surrounding was clean. We will definitely be returning to this hotel!
Location is amazing. Walls are thin. Could hear a lot of talking outside our room. Housekeeping was hit and miss. They did tell us they would come in daily to take dirty towels and replace them and empty garbage cans. But over 7 nights they actually only came in once. I to request new towels and empty garbages.
Location Location Location
Location Location Location
It was great and seriously right across the street from the entrance to the park.
We will definitely stay here from now on when visiting Disneyland!
Hotel was close to park, clean, staff was very friendly and maintenance was right on top of things! We will definitely stay here from now on when visiting Disneyland!
Decent Room, Amazing Location
Nice, quite, family friendly, had to ask for towels twice in our 4 night stay, was gone all day visiting parks and not once was the room cleaned.
Hotel is clean and so close to the park. The best part, though, is that we heard no noise. The hotel was very quiet when we were in our room sleeping.
Cleanest hotel we've ever been in and comfortable.
Officially my favorite hotel!
Angelina G. on 08/24/2021
This hotel is officially my favorite and will become my new go-to for visiting the Disney Parks. The location is across the street but the price is incredible for the room you get. It was spacious, clean, and I love the mini store connected to the hotel. The location and other amenities were so convenient. The front desk workers were very friendly and answered any questions I had called for prior to my stay. I would definitely recommend this hotel to anyone visiting the park.
Great location to the parks
Jennifer L. on 08/14/2021
The hotel is a great location easy walking distance to parks. However their maid service was very lacking. We were informed when we checked in that there wouldn't be normal maid service (sheets, vaccuming) due to Covid, they would still come everyday and change out towels, trash, TP & tissues, cups and coffee/tea. However we were only given that service the next day after checking in. We had to go to the front desk and ask for TP on the 3rd day. We had a maid come into our room while we were still there, even though we answered her knock letting her know we were still there; when we left the room 45min later we stopped at the front desk to inform them the maid had tried to come and we were still there but that she could go in now because we were leaving~ she never came back that day or the remaining time we were there.
Quality beds and quiet rooms. The convenience of being across the street from Disneyland was awesome. I've never been that close before. No waiting for shuttles or trekking over a mile to get back to hotel. For the price I would stay here again.
Clean rooms. Very convenient with mini stores and restaurants close to the hotel. Most of all right across the street from Disneyland. Overall no complaints.
Great hotel, awesome location!
We stayed here for our honeymoon the last week of June and it was great. The location is PERFECT, the room was clean and the staff was friendly. The little market offers freshly made coffee and other caffeinated drinks as well has breakfast sandwiches and pastries. On one of the nights we were there Disney was doing a test run on the fireworks and we could see them perfectly from our room! The only small gripe I have was that none of the outlets didn't have USB ports in them which is so convenient, but again, not a big deal. I would definitely stay here again!
We would definitely stay here again!
The room was clean and ready when we got there early. Being right across the street from Disneyland was a definite plus and it was close to several restaurants. The pool and spa were well maintained and stocked with additional towels. We would definitely stay here again!
Excellent price and great location. Right across from Disneyland.
Across the street from Disney!
Clean, friendly staff, Valet service is awesome and your right across the street from the Happiest Place on Earth.
Across the street from the park. Clean rooms. Great check in service.
The room was clean as well as the beds. Only thing was the carpet was very dirty and had an odor that wasn't very pleasant. Maybe getting someone to professionally clean the carpets would be an amazing idea.
This hotel was so close to the park entrance. The rooms were a little small, but clean and the beds were comfy. Would definitely stay here again.
Priscilla C. on 11/13/2019
Front desk was more than accommodating. Rooms were beyond perfect. I've stayed at this hotel years ago and I'm totally loving all the upgrades they've done!
Great location! It was cramped for four of us in the room. We also had a room with an adjoining room door and you could hear every word, it was very loud
Severina t. on 11/06/2019
Right across the street from Disneyland, amazing service, clean and the most comfortable beds!
LaChelle T. on 10/21/2019
We have stayed at Tropicana at Anaheim twice and each time has been amazing! The rooms are so clean and it is obvious that they take care to prepare each room for its occupants. Would recommend this place over and over. We definitely plan to stay here again the next time we head back to DisneyLand.
Great hotel, clean and perfect location for Disneyland!
The lady at the front desk was very friendly and got us a hotel room right as we got there knowing we just had a really long flight. It was quick and easy. We would leave in the morning for Disney, which was like a 2 minute walk and when we got back our rooms were clean and beds made. Check out was easy as well.
Jennifer B. on 10/01/2019
Clean and staff was very helpful
The staff are super! The rooms were nice. Fun outdoor pool. Location for Disneyland is perfect! Just wish they did some kind of breakfast
The location of the hotel can't be beat. The service was so friendly! We arrived two hours before check in and they stored our bags until our rooms were ready. After we dropped our bags, the employee at the front desk notified housekeeping that we had already arrived and they got our room ready sooner than expected so we were allowed to check in an hour early for not extra charge. The rooms were clean and comfortable. The towels aren't the softest, but that would be my only criticism. The mini fridge and microwave were so convenient for quick breakfasts so we could get over to the parks! I would definitely stay here again.
Location was perfect. Rooms were a good size, super clean and look renovated. The front desk staff was very kind and the cove store downstairs is awesome.
Our stay at Tropicana was amazing, the housekeeper was great. Our Suite was perfect, it had all necessaties needed to cook in a kitchen. it was very comfortable. My bed was a bit lumpy, but everyone else said there's was very comfortable. Friendly Valet service took care of our van. We love that it was walking distance to Disneyland, IHOP, Denny and other restaurants next door. I would highly recommend this Hotel. I would love to see Complimentary breakfast served. The staff at the front office were very sweet, helpful and took care of us.
Loved staying here on our last trip. It was so nice to be so close after a long day at the park, and when our 1 year old needed back for a nap. The staff was friendly and the room was recently renovated, clean and very comfortable. It accommodated well for our big family of 8 ( 2 sets of parents, 2 young adults, an 11 year old and a 1 year old).
We really couldn't have gotten much closer to the park entrance then when we were at the Tropicana. It was such an easy walk with great accommodations! The rooms were noticeably fresh and updated! We stayed here a few years ago and loved it, but this freshened up remodel has really made everything that much more. We loved our stay and will come again and again.
Not only was this hotel directly across from the park, but the rooms were comfortable and relaxing as well. We were so happy to come back to the comfy mattresses, and spacious rooms. We have 3 children and the little pull out couch was absolutely perfect for us to stick our 3rd child at night. We loved our stay and have no complaints, we will be back!
Fantastic location, clean and friendly!
The location of this hotel is wonderful. We've stayed at several hotels along Harbor and this has been our favorite. We stayed 6 nights and were comfortable throughout. This was the quietest hotel we've stayed at so far near the park! Though there were children and people passing, once in the room, we didn't hear anything - especially with the fan blowing. The room was clean and didn't smell funny (a problem we had with another nearby hotel). The beds, towels etc are pretty standard for a mid-priced hotel, and the room was not fancy by any stretch, but we only slept there - so it was perfect! Note: PLEASE tip the housekeeping staff. They work hard. If you want something done that isn't part of the every day clean - ask or leave a note, they are more than accommodating.
Love being across the street from Disney
The rooms at the Tropicana are so cute! Obviously the best part is being right across the street from Disneyland. I love that convenience so much because I get stressed worrying about shuttles sometimes. It's also nice having a fridge/microwave in room so you can save a little bit of money on food.
There were gnats all over the room, the shower was really tiny. The bed was good and comfortable, and it was great that it was within walking distance to the park, I would have just expected a little more for what we paid. Overall me and my boyfriend wont be staying here again. We gave it a shot it just wasn't the hotel for us.
Great room great people friendly and upgrade is very nice
Very Nice Rooms! Location was amazing.
I loved this hotel. I stayed here with my boyfriend and our 2 kids 5 and 3 and the rooms were very nice! very clean and updated. I was actually pretty surprised because the reviews weren't all great but honestly your getting suite amenities in a regular hotel. My family paid more for a suite next door and our room had everything theirs had! Microwave, fridge, coffee maker, hair dryer, ironing station. These rooms seem newly renovated. the bathrooms are very big as is the tub, the vanity has a light around the mirror and that was definitely my favorite part. we also had a chair with a pull out bed that we didn't need but it was still very comfortable and we easily could have fit more. You cant get any better in location. You are right infront of the walk way to Disneyland. You couldn't get a shorter walk unless you were in one of the resorts and even then I think walkng thru downtown Disney from the Disneyland resort to disneylands gates is probably the same distance or very close to it from the Tropicana to the Disneyland gates. I love my experience here and plan to book again in January with Tropicana inn.
I brought my family here and we felt like our walk to the park was shorter than if we had stayed in a resort hotel. We appreciated the baggage check before and after our check in/out allowing us to enjoy the park much longer. While the beds were harder than I like, we all slept like rocks. The housekeepers took care to arrange my daughters stuffed animals on the made bed and the room was always clean by afternoon nap-time. There was a cafe downstairs and a denny's just on the other side of the best western so late or early food was right where we needed it. Walgreen's and CVS were within walking distance and perfect to grab a few less expensive Disney shirts. We were very happy with the value and the location. Every staff member we encountered was pleasant and happy to help or answer any questions. We will be staying here again.
the room was nice, housekeeping did make the beds and restocked the towels everyday. they did not restock the coffee or the soaps or shampoo and never cleaned the ice bucket i even put it on the floor they just picked it up and put by the sink.they did not clean the the coffee maker. we was in the room for 5 days
Cute hotel right across the street from Disneyland
I stayed here with two friends and we loved it! It's basically right across the street from the entrance to Disneyland. It was a good value, comfortable beds, enough space for us and a really cute room. The bathroom area was nice as well. There's not too much closet space but we were only there for one night so we didn't mind. Our room had a microwave and refrigerator, which was great. We didn't have a car so I can't speak on the parking but it looked like there were a decent amount of parking spots. I would definitely stay here again!
I love how close it is to Disneyland. The staff was very friendly and helpful. The rooms were clean and taken care of each day. I was expecting a freezer in the little fridge, but they are remodeling and the new fridges don't have freezers. We had adjoining rooms and both of the air conditioning units had a lot of condensation that had the carpets soaked by morning. The hot tub was out of service as well as the laundry facilities. They do have a sister hotel that we were able to take our laundry to, but it made for an even later night and a stroller ride for all of the laundry.
LOVED THE NEW RENOVATED ROOMS. WE STAY AT THIS HOTEL ALL THE TIME. MY FAMILY LIVES UP HERE BUT WE ALWAYS DECIDE TO BOOK A FEW NIGHTS BECAUSE OF THE LOCATION. CAN'T GET ANY CLOSER TO THE FRONT GATE. STAFF ARE VERY HELPFUL AND FRIENDLY. WE'LL SEE YOU AGAIN NEXT YEAR. ALOHA!!
Absolutely Fabulous location
You really can't get much closer to the front gate. The room was small and the hotel was low on frills, but it was clean and comfortable. We loved the short walk to the park and being able to see the fireworks from the balcony outside our front door.
While it is nice that you only have to walk across the street to Disneyland-that is the only perk about this hotel! They charge $12 plus taxes a day, on top of your $265 a day hotel rate, to park in the lot, but then they give all of the premium parking to valet guests going to Disneyland. My daughter just had hip surgery and we had to park quite a ways from our room. Most of the time the spots for guests were full-while the valet spots, which were right next to the rooms, were empty. Clean rooms. This is like Disneyland-nice employees but you pay $$$$ for it. I think next time we will try one of the other hotels in the area.
Overall I liked the rooms, the staff and the location. Our rooms were on the north side of the hotel on the 2nd floor. The elevators and ice machines are on the south side of the hotel. In order to get our bags to the rooms, we had to take the elevator and then walk around the whole east side of the hotel. The baggage cart barely fit by the cleaning carts. Every time we left the room we had to carry a stroller up and down the stairs. When we checked out there were no baggage carts available, so we had to carry our bags down the stairs also. I would not recommend this hotel.
The hotel was clean, everyone that works there that we encountered were very helpful and friendly. We would stay there again without hesitation. Lots of restaurants close to chose from.
Perfect location for Disneyland Vacation. It is a bit run down from our previous visit there a few years ago but still reasonable. They no longer do a continental breakfast which was a let down for us. But they do have a small store on site if you need anything. Just be prepared to spend resort prices on items.
Very Close to Disneyland!
This hotel is conveniently close and easy to check in. The staff were very friendly and made my toddler happy that it was his 1st time to visit Mickey. Rooms are always decent and housekeeping staff friendly. I even like the late check in...if needed. This is my go to place if available. :)
The most convenient hotel
We loved this hotel! It was so easy for us to take the kids back to the room to take naps. The parking is kind of limited, but we liked the convenience of being so close to Disneyland.