Every vacation is more fun when it includes a theme park! We have a wide selection of great deals on attractions, dining, and tours.
Gorgeous hotel, free hot breakfast buffet, in-room microwave and fridge. 2 miles from DISNEYLAND®.
200 N. The City Drive
Orange, CA 92868
Located next door to the ALO Hotel by Ayres, the Ayres Hotel Orange is less than two (2) miles from the DISNEYLAND® Resort. This gorgeous hotel offers every amenity you need. Their spacious studio suites give you extra room and are equipped with a microwave and mini-fridge. Start your vacation mornings off right with their complimentary hot breakfast buffet.
4.9 out of 5 Rating (23 Reviews)
100% of guests recommend this hotel
1 King, Sofa Bed Standard Studio Room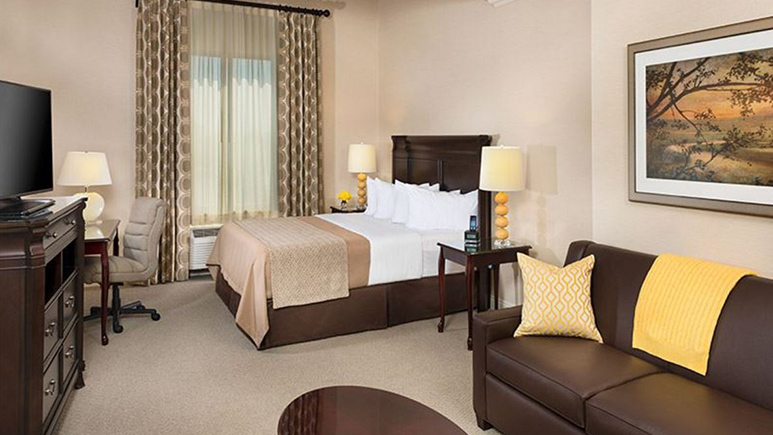 Maximum Occupancy: 5
Standard occupancy: 2 adults (extra adults are $15.00 each per night); 3 children (extra children are $0.00 each per night)
Special: 4th Night Free (Subject to availability)
Check-In Time: 3:00 PM
Check-Out Time: 12:00 PM
Shuttle: Available ($5.00)
Coffee Maker
Microwave
Refrigerator
Laundry
Outdoor Pool
Hot tub
Exercise Room
In Room Internet Access
Cable TV
Full Breakfast
2 Queen Standard Studio Room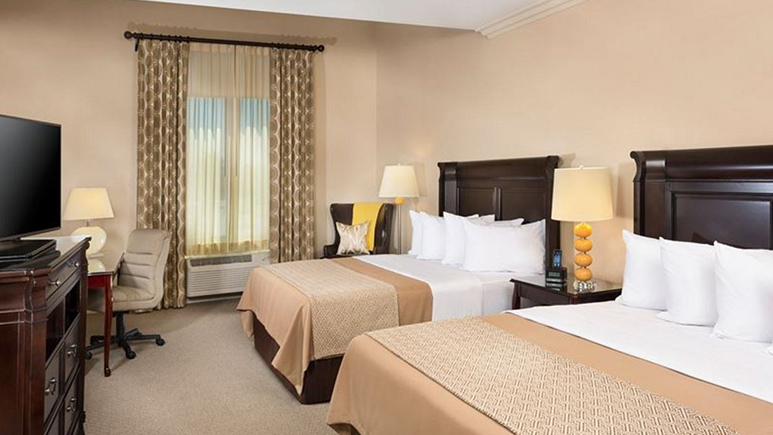 Maximum Occupancy: 5
Standard occupancy: 2 adults (extra adults are $15.00 each per night); 3 children (extra children are $0.00 each per night)
Special: 4th Night Free (Subject to availability)
Check-In Time: 3:00 PM
Check-Out Time: 12:00 PM
Shuttle: Available ($5.00)
Coffee Maker
Microwave
Refrigerator
Laundry
Outdoor Pool
Hot tub
Exercise Room
In Room Internet Access
Cable TV
Full Breakfast
---
This hotel is super clean. The room was spacious. The bathroom was VERY spacious. The free breakfast is great. I appreciate they did NOT charge extra resort fees or parking fees. For $6 per person per day, we were able to use the shuttle to/from Disneyland all day long. This is a great establishment.
The staff was very friendly. The rooms were very spacious and clean and the breakfast was perfect!
Great staff, great breakfast, great room. Great experience
Very clean and spacious room. Comfy beds.
This is a lovely hotel and I highly recommend it. It is so immaculately clean and the staff are so helpful and nice. It is quiet even though it is near the freeway and hospitals. We felt very safe here during our 5 day stay. The breakfast is wonderful with so many choices and freshly made each morning. We love the Ayres Hotel in Orange. This is our second stay at this hotel and we were not disappointed.
The only hotel we prefer!
The hotel is immaculately clean every day. The staff is friendly and helpful. The best hotel and the only one we prefer!. Highly recommend!
The room was spacious and clean. Beds were very comfortable and AC was so refreshing after days in the Parks. Bathroom was large and shower was perfect- good water pressure and room to help my youngest scrub clean each day. The breakfast each day was delicious and the pool/hot tub area was clean and shaded in the evenings. We had a great time at the hotel and appreciated having a mini fridge and microwave.
The hotel was very nice! It was modern and clean and the staff was very friendly.
No better value near Disney!! Management went out of their way to make our stay special! I will use Ayres anytime I am staying in an area they are in!
This hotel was absolutely incredible. Everything was very clean, up to date, and comfortable. We were so pleased with the amenities and quality of the hotel, we didn't mind being a little further from the park. The shuttle to and from was cheap (especially since we bought our tickets through Get Away Today) and very convenient.
Cristina C. on 05/17/2019
We selected this hotel based on the reviews and we are so glad we did!! It also checked many of the boxes of what we were looking for. Rooms were clean & comfortable, parking was free, breakfast buffet was great, onsite restaurant was SUPER convenient after long days at Disney, plus the ART shuttle was reasonably priced and allowed us to get to and from the park each day with ease. Pool area was also very quaint. Ayres Hotel Orange has become our new go-to hotel for Disney- highly recommend!!
Friendly staff, nice/clean rooms
We would stay here again. The free hot breakfast was very convenient for going to Disney early. The ART shuttle stop was just nextdoor. Pool isnt huge but kids loved it and we didn't have much time to swim anyway. Rooms are clean and room for our family of four and a convenient mini fridge. Parking was free for hotel guests when we were there. Some places charge.
Clean,Very Comfortable, Best Breakfast Ever!!
I absolutely loved this hotel, my husband and I stayed there for our honeymoon. It was very clean and super comfortable and at a great price. The breakfast was my favorite! I will definitely be back to stay there. It is also close to Disneyland and the freeway which is very convenient.
So glad that we chose this hotel. Being that we spent 5 nights in one bedroom with two beds was not the worse thing here. It had nice space, a great bath tub and I've read complaints about breakfast. Listen, if you dont like eggs, pancakes, hash browns, bacon, fresh fruit and a couple of choices between oatmeal/cereal then your too picky. Lovely hotel, good service which brought friendly faces from other guest. I will be back!
It was so relaxing after a long day at Disneyland. The beds were so nice. The staff was always so helpful and attentive. Yummy fresh breakfast. Very warm and inviting decor. Will definitely stay there again.
Hotel was clean. Rooms were pretty large with a lot of storage areas. Massive bathtub which was nice for bathing all the kids and soaking in after a long day. The breakfast was good especially with picky kids. The ART shuttle was always on time if not early. Longest ride was 8 mins to Disney and 15 back to the hotel with an average of 8 mins there and 10 back. You can buy a 3 day pass for $14 per adult. Our total was about $15 less for 3 days than parking at Disney would have been. It was worth every penny. The pillows at the hotel were nice. The roadway noise is minimal. The outdoor heated pool is very tiny. There is a small parking garage which is nice for coverage and at no charge. The hotel is very nice and we will stay again.
We loved this hotel. Everything was so easy and hassle free, from our late check in to our check out! Excellent staff and the rooms were cleaned very well every day. The location was great right by the freeway which my husband wanted, and extremely quiet we never heard any outside noise. The ART to Disneyland was great and the free breakfast was good. Close to good shopping, we will definitely stay here again.
Loved this hotel. The rooms were spacious enough for our family of four. Complimentary cookies and wine each night was awesome. Made one request for towels and expected it to take forever for them to arrive but they were there within a few minutes! Hot, daily, complimentary breakfast was the perfect start to each full day of theme parks. Staff was very nice, they were very thorough in answering all questions. Room felt like we were the first guest ever as it was so clean. Great location, great distance from Disneyland and was on ART shuttle line. Would definitely stay here again!
Very clean property, rooms very clean, I was extremely happy with our stay here.The staff is very professional and helpful
I really loved the hotel, and will stay on my next trip to Disneyland. Breakfast was wonderful,scrambled eggs bacon sausage, hash browns, toast. pancakes. cereal and much more. This really is a great hotel.
This was the best hotel we've stayed at. We go to California at least twice a year and are always looking for a nice hotel for the family at a decent rate. I loved this hotel! The staff, the cleanliness, the bed, the cocktail hour, the pool, breakfast, location, everything was GREAT! I will never stay at another hotel if I'm in the Anaheim area! Thank you GetAway staff for the recommendation!
This has been the best hotel we have ever stayed in. Big rooms and bathrooms, Big stand up shower. The free breakfast really helped in saving us money to spend it on Disneyland. It was quite to sleep, did not hear one outside or inside noise except for the sirens.The staff was very friendly. I would recommend this hotel and I will be coming back.
I was assured the Ayers Hotel (which is next to the freeway) would be quite inside. Our disabled room located on freeway side was noisy allowing only a couple hours of sleep. Since hotel was full, it was our only choice. The next day we requested a move to a room on quiet side (which was very quiet). We elected to take the quiet room. Unfortunately it wasn't a disabled room so no shower access for disabled person. A very nice hotel though, just an unfortunate original room location.
We were able to stay at this hotel in November and were SO impressed. The rooms were huge and the beds were super comfortable! We will definitely be staying here again.