Every vacation is more fun when it includes a theme park! We have a wide selection of great deals on attractions, dining, and tours.
Courtyard Anaheim Theme Park Entrance & Waterpark Resort
WALK TO DISNEYLAND®, with an exclusive waterpark, all rooms sleep six, all rooms have bunkbeds. Please note that you will need to make advance reservations in order to use the waterpark, pool and jacuzzi. Parking is valet only. *****Pool and Waterpark will be closed for annual maintenance January 18, 2022 to January 31, 2022*****
1420 South Harbor Blvd.
Anaheim, CA 92802
Stay at the Courtyard Anaheim Theme Park Entrance for the ultimate family friendly vacation experience. Minutes away from the DISNEYLAND® Resort, you are just a short walk away from all the magic. But the fun doesn't end at the parks! Cool off at their exclusive Surfside Waterpark complete with huge waterslides, drench bucket, swimming pools and more right on property. Enjoy the space of huge rooms with bunkbeds, plus free Wi-Fi and Netflix capability in every room. VALET PARKING ONLY.
4.8 out of 5 Rating (61 Reviews)
100% of guests recommend this hotel
2 Queen, Bunk Bed Standard View Queen Queen w/ Bunkbeds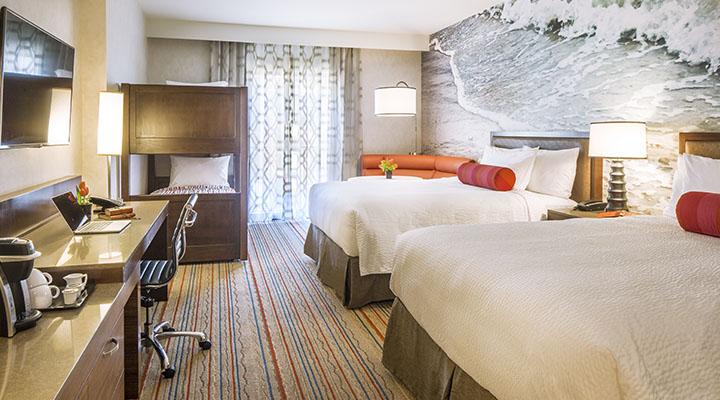 Maximum Occupancy: 6
Check-In Time: 4:00 PM
Check-Out Time: 11:00 AM
Parking Fee: $26.00 per night
Coffee Maker
Microwave
Refrigerator
Laundry
Outdoor Pool
Wading Pool
Hot tub
Exercise Room
In Room Internet Access
Cable TV
In House Restaurant
Marriott's Commitment to Clean includes: increased frequency of cleaning public spaces, providing hand sanitizer throughout hotel, placing signage encouraging social distancing in public spaces, placing partitions at check-in, using hospital-grade di
Valet Parking only - $26 + tax per night.
2 Queen, Bunk Bed Waterpark View Queen Queen w/ Bunkbeds
Maximum Occupancy: 6
Check-In Time: 4:00 PM
Check-Out Time: 11:00 AM
Parking Fee: $26.00 per night
Coffee Maker
Microwave
Refrigerator
Laundry
Outdoor Pool
Wading Pool
Hot tub
Exercise Room
In Room Internet Access
Cable TV
In House Restaurant
Marriott's Commitment to Clean includes: increased frequency of cleaning public spaces, providing hand sanitizer throughout hotel, placing signage encouraging social distancing in public spaces, placing partitions at check-in, using hospital-grade di
---
Amazing but be aware of parking fee
Going during Christmas the ambiance was amazing!! However, I was unaware that I was going to be charged $26 each night for valet services (we stayed 4 nights). Usually when I book with Get Away Today this charge is waived as one of their benefits. But other than that unexpected cost - it was a great hotel
Such an amazing stay for our trip
These rooms are amazingly large. We traveled with our daughter, son in law and 4 grand girls. Although we booked two rooms we'd gather for lunch in our room everyday and it was not crowded at all. The staff is so friendly and helpful. The best thing is it's location. It's honestly a quick 5-10 minute walk to the parks which was so nice after a long day. The water park is awesome and the kids has so much fun playing there for a little break every day. We will definitely book here again!
It was so close to Disney, clean, comfortable and everyone was super friendly. We will stay here again!
Very spacious rooms. Our kids loved the bunk beds. The two showers were a major bonus for the 5 of us!
Would definitely stay here agin
The rooms are large with corner table and banquet that make the room very comfortable. Bathroom has large shower as well as shower over bath making it easy for everyone to get ready. Bistro food was good and staff was available and very friendly. Would definitely stay here again.
Georgene R. on 11/18/2021
Awesome hotel! Convenient location. Will definitely use this one again. Highly recommend
Will definitely stay here again
The staff was very friendly and helpful the room was big and clean. Enjoyed the water park and the closeness to Disneyland. Will definitely stay here again
A great hotel to stay at!
A great hotel to stay at!
We would stay here every time!
This hotel was perfect for our family of four! Our boys loved that there were bunk beds, there was a table for eating meals or playing games, microwave and mini refrigerator abs a separate bathtub and shower. There's also a Starbucks and little bistro in the hotel and an awesome water park. We would stay here every time!
Great staff and AWESOME Water Park
The staff was helpful, friendly and very accommodating. I liked having 2 showers. The room was a little tight for 6 guests. Next time I will pay extra for more room. Water Park is AWESOME! The kids had a blast. Beds were very comfortable.
The hotel room was super spacious and clean. The waterpark was awesome
We loved staying at the Courtyard Anaheim.
Michelle M. on 09/03/2021
We loved staying at the Courtyard Anaheim. It was more expensive but worth the splurge. As a family of five, we had more than enough space with two queen beds and bunk beds. And the huge selling point for me was the TWO showers! After a long, hot day at the Disneyland, everyone was able to shower quickly. And the kids loved the water park! It had two large slides, an area for younger kids, splash pad, big hot tub, and a lap pool. It was great! We will definitely be back.
Amazing staff, rooms, and bistro!
The staff at this hotel could not have been more amazing. They were so friendly and ready to help with anything! It was so great having 2 showers. The bistro was great! Would stay here again!
Angelina O. on 07/18/2021
Our first stay to go to Disneyland it was perfect Plenty of space and the waterpark was amazing for us to cool down .
Best hotel we've stayed at
Josefine F. on 08/08/2021
It was clean, staff was friendly. We were grateful for the valet parking, and it was close to Disneyland. Walking distance. The rooms and bathrooms were spacious and perfect for a family. Some nit picking: No bottles of water to go along with the coffee station. Our travel agent forwarded a message that we were celebrating our first time to Disneyland, as we saw a video on YouTube that the manager liked to celebrate with guests. Nothing ever came about that. Otherwise, it was a great place to spend vacation! There is a water park on premises, a 24/7 snack shop, a gift shop, a bar, a bistro, and valet parking.
Very clean hotel, rooms are clean and have a lot of space hotel employees are very helpful. The only thing i would say i disliked is they don't have a big option for food from there restaurant. They do have two gift shops with small foods to buy
Room fit 6 people comfortably and even had a view of the fireworks at Disneyland. Kids loved the waterpark and when our 7 year old got hurt jumping in, they went above and beyond to make sure she was ok and it didn't ruin her stay.
Across the street from Disneyland, fun waterpark, excellent customer service, nice, clean rooms.
This hotel exceeded all my expectations. The beds were very comfortable, and the space in the room was awesome! The bathroom was perfect for getting multiple people ready at the same time with the two showers and sinks. The staff was so friendly, from the valets, to front desk, to housekeepers, to even the awesome lady at the Starbucks counter that got on the floor to teach my son how to play checkers! The walk to Disneyland is minutes away, and the water park was second to none. Anytime we go back to Disneyland, I'll never stay at another hotel. We had the best vacation!
Very friendly staff. Rooms are good sized and very clean. Large bathrooms are great for a bigger family.
Great location! Our room had 2 Queen beds and a bunk bed, as well as 2 showers. Perfect for our family. The staff was friendly and helpful. Would definitely return!
Very short walk to Disneyland. Very nice rooms, loved the dining area for a quick breakfast before the parks. Could see the fireworks from our room.
Brittany D. on 12/08/2019
Third year in a row that we have stayed at the Courtyard and we still love it as much as the first time! The rooms are the cleanest I've seen, they're spacious, and it's just a short walk to the park! This time around there was an issue with our room that the general manager was alerted to he called and upgraded us to a park view and even gave us a credit. Such amazing customer service from all the employees at this hotel! Can't wait for our next trip back to the courtyard!
Short walk to the Disneyland entrance. Staff was super helpful and friendly. The waterpark was a nice break from the theme park.
The hotel staff was friendly and helpful. The room was spacious and clean. We loved that the bathroom had two showers and that the room had bunk beds to accommodate our family of 6.
Beautiful and spacious rooms. 2 showers in the bathroom was a fantastic surprise!
Accommodating for a large group
The hotel staff were amazing--very attentive an anxious to see that we were served and happy. Great, kid-friendly rooms with a bunk bed and two separate bath areas. All 17 of our family enjoyed our experience.
Jennifer L. on 11/09/2019
The rooms were great, plenty of room for a family of 6. The location is only minutes walk away from the parks which is awesome. Several choices of restaurants within minutes. Would choose this hotel again.
No better value this close to Disneyland. This is only a short walk from Disneyland. Rooms are inside entrance and we heard very little noise from our neighboring rooms. Showers were great and it was nice to have a tub--we soaked our feet at the end of each day! (Too late for access to hot tub which closed at 11). Gift store onsite had better postcards (and stamps) than Disney!! Beds were very comfortable. Only complaint was that the bunkbed was not clean underneath. Overall the hotel is excellent quality.
Love the rooms and the water park
I love these room!! They are a little larger than standard rooms and have bunk beds and a small eating size table. My daughter is 2 so we still go back to the hotel for nap each day so it's nice to have the extra room and to have a contained area for her to have a snack. She also loved the water park. We went the day we had Oogie Boogie Bash tickets and didn't go to the park until later but it would also be a great activity for a travel day.
Perfect Setting for Disneyland Stay
We stayed here a year and a half ago on a week-long California trip. We had three of us in the room, my husband and I and our young daughter. There was more than enough bedding for all of us, and my daughter thought the bunk beds were so fun! The distance to Disneyland is why we booked the room, and it was the perfect walking distance. It allowed us to walk back to the hotel during the heat of the day for naptime and a quick shower. We also had the option to grab a quick cup of coffee before heading to the park and not have to wait in the long starbucks lines in the park. We loved being able to open the huge window/door thing and let fresh air in. Housekeeping was great, and the first day we were there they even made sure to make the room up a little extra special by setting up the Minnie and Donald dolls we had brought with us. Made our stay that much more special. We were able to log in to our own Netflix account which was great for late-night lounging and killing time during naps. Fridge came in handy for leftover food and also the snacks/drinks we had brought with us. The parking service, while rather expensive, was always prompt, and the guys were even helpful with directions and travel trips when we took a beach day! We never made it to the water park because we were too busy, but we walked to it to look at it and it looked like a lot of fun. The only negative I can think of is that the fireworks are quite loud late at night, but that's just because of the proximity, not the hotel's fault. There was one day we never got housekeeping, but that wasn't a big deal to us. Overall, we now can't bear the idea of staying in a lesser hotel, so we'll be staying here again this fall when we head back to Disneyland. Highly recommend, worth the extra cost!
Spacious and so close to Disneyland.
Richelle A. on 10/18/2019
The rooms had plenty of room and spacious for families, including a dining table. Disneyland is a 5 minute walk down the street. Whenever we wanted a break we would come back to the hotel and let the kids play in the water park and we would relax in the hot tub. There were many dining available places within walking distance, or you could order from the hotel. Their Cobb salad was delicious! We practically bought out their store located in the hotel with Disney charms, Disney shirts, all kinds of cute stuff. My daughter didn't want to leave the hotel.
This hotel is hands down the best place to stay when going to Disneyland. It's a short 5-7 minute walk from the park entrance, the on-premises waterpark is great for the kids, the rooms are spacious, and the staff is very accommodating . This is our go-to hotel in Anaheim and I can't recommend it enough to people.
Very efficient service from the moment you drive in. All employees very friendly, courteous and knowledgeable. Hotel was nicely designed and decorated for the season.
Definitely will stay here again!
This hotel was great for our family! The water park was a great place to cool off after a day in the park and the staff were friendly and helpful. We also ate at the bistro several times and found the food delicious and the prices reasonable. All this and a decent walking distance to the park! We will stay here again!
Very close walk to Disneyland and great location for proximity to other dining and exploring.
If you have kids they will absolutely love this hotel!
Staff was incredibly helpful and very friendly. Room was big enough, beds were comfortable and water park was nice when we needed a break from Disneyland. Close to the park and different food options.
FANTASTIC pool! SO many amenities!
It's a really short walk to the park, lots of amenities at the hotel and food options around the hotel. The pool was amazing along with the staff. The front desk staff was very knowledgeable and gave real insight rather than tell us the touristy stuff.
We will definitely stay here again!
Great hotel! Very clean and comfortable. Every staff member was friendly and helpful. My kids loved the water park and bunk beds. The bistro was surprisingly good and very convenient after long days at Disneyland. We actually preferred eating there over the park! The only downside was the expensive mandatory valet parking but we had no wait getting our car when we needed it. We will definitely stay there again!
Each of us had our OWN bed!
We were a party of 4 and usually, staying in one room, we share beds or have a pullout cot to sleep in. This hotel has BUNK BEDS! Each one of us had our own bed! Although we didn't spend much time in the room, we were able to see the resort fireworks from our balcony. And it was quiet. Great room! Great service! Excellent concierge...
Love love love this hotel
This hotel was fantastic. It was clean, large, and even had a welcome message displayed on the television screen which was a nice touch. The play area was amazing and the walk to Disney was under 10 minutes!!! I love, love this hotel!!!
Hit for my little ones and teenager!
Friendly and helpful staff. Great amenities. The water park was a hit for my little ones and my teenager. Bistro had great food. Walking to Disney and lots of other food choices you could walk to. Highly recommend it.
The hotel was very clean and all staff that we encountered were very kind. The waterpark was a huge bonus. The food was great and they have a Starbucks counter in the lobby. The only reason I gave it 4 stars is b/c the "theme park entrance" is not entirely accurate. There are a handful of other hotels that are closer to the theme park entrance. This hotel is near the end of the hotels on the street (closer to the freeway entrance). However, I would definitely stay here again.
Book it, you won't regret it!
We basically stay at this hotel every time we go to Disneyland and the times we haven't we've regretted it. The hotel is in such a convenient location, takes about 10 minutes to get to the park. Very convenient for breaks in the middle of the day. Also the whole pool/water park area is great. Getting to be able to go to Disney and then going back to the hotel and having something else to do really makes the hotel worth it. I would recommend this hotel to anybody and I do because it's that good. Love the hotel in general, great staff, great location, and great experiences every time. This will always be my first choice for a hotel every time I go to Disneyland.
Great location! Very helpful front desk personnel. Skip the "Bistro"--they consistently got order wrong; charged for food they did not have, and then after waiting for it for 15 min, let us know they were out and we had to reorder; one order never arrived. Huge disconnect between where orders are taken, and food that is brought out--plus, only one person walking food out from "back"--not efficient for the size of the hotel. Better off buying grab and go breakfast from other hotel "market" down the street, storing in room refrigerator. We did not utilize the water park.
Favorite Good Neighbor Hotel
Kimberly G. on 12/20/2018
This hotel is my favorite hotel in the Anaheim area. The room and bathroom are both very spacious and allows plenty of room for getting ready, and relaxing. I always felt that our family fit well and everyone was happy. We also loved the great view of the Fireworks, if we listened closely we could even hear the music from Main Street U.S.A.
We loved this hotel! Great room that was nice and clean. Our room had 2 showers, which was very convenient with 4 kids! Great location to the park, and friendly great staff! I can't say enough good things about this hotel!
Not a single complaint...
We loved everything about this hotel! It was very clean, well maintained, and the staff were always helpful and friendly. Our kids loved the bunk beds, and we loved the spacious bathroom that has a double sink and two showers. We enjoyed the outdoor pool/water park. It was chilly weather during our stay, but because the pool is heated and there is a large hot tub, we still enjoyed swimming there a few times. It was also nice to be within walking distance to the parks.
We got a "suite" which was barely larger than a regular room. The hotel itself is nice and fairly close for walking although I was led to believe it was closer. Staff was nice.
Convenient, Clean & Friendly Staff
I almost don't want to tell people how great this hotel is b/c I don't want it to get booked up if we go back! The staff was so friendly and helpful. The rooms were clean and I loved the fact that we had 2 showers in the bathroom which made getting ready & cleaning up SO helpful with kids. My kids loved the bunk beds. The small dinette in the room was great since we ate breakfast and dinner at the hotel. I also had groceries delivered to our room and the hotel staff was great about making sure our food got delivered to us. The hotel is a 5 minute walk to the Parks and there are plenty of restaurants along the way to the parks. We would definitely stay here again and I highly recommend it.
We love this hotel. This was our second stay here. Everyone is so friendly and helpful. The waterpark is a lot of fun and our view from our room was fantastic. They have excellent customer service all they way around from the bellhop to management. The rooms are very nice and spacious, kids loved the bunk beds and it is nice have the extra space. the location is even better you are so close to Disneyland/California Adventure, the walk there is a breeze. There is a McDonald's and Panera outside the hotel entrance which is very convenient. if you are looking for a place to stay this is it.
We were greeted by every staff member we came in contact with. They were helpful with every question we had. Beds were comfy! The kids loved the waterpark! One of our kids ended up in the hospital during our stay and they were very concerned and helpful, even calling our room to make sure we were okay because my husband was at the hospital while I stayed at the hotel with the other kids. We will definitely stay here next time we visit.
We are so impressed with this hotel. The customer service was amazing; everyone was so friendly. The rooms are spacious, with bunk beds and two showers. There is a Starbucks in the lobby, and a gift shop with reasonably priced Disney items. The valet was so accommodating when we needed to get our daughter's jacket out of the car. This is our new favorite place for Disney vacations.
Brittany D. on 10/15/2017
We were so excited to find our room was really clean upon check in. The location is great, the rooms are large, there is a lot of storage, and microwave/small refrigerator in the room. We were so excited to drive up and see the hotel was decorated so cute for Halloween inside and out it really got my 5 year old even more excited and my 8 month old loved seeing all of the decor as well! We didn't get to enjoy the pool area much because of the fire in Anaheim hills but it was really nice for the short time we spent out there! This is our new go to hotel for sure!
This is a very nice hotel. the rooms are really nice. just a short walk to Disneyland. The kids loved staying here. the staff was amazing and so helpful
This was a perfect hotel for my family. The rooms are great and the waterpark was lots of fun.
The staff was so friendly, the entire grounds clean, pool the right temperature and hot tub was hot! the beds were so comfortable and relaxing! The Bistro made great Latte's and The store was well stocked with souvenirs and snacks. The Bistro was not open all day but we were too busy to eat there. We would definitely stay here again. We were so tired after a long day that the11 minute slow walk back was not too bad for a close hotel with perfect Amenities! We would get back to the hotel and watch the fireworks from the pool or Back deck! We loved this hotel! They are very accommodating and let us swim after we checked out and waited for out flight!
We loved staying here. The staff was so friendly. The bistro staff was by far my favorite. The patio was a great place to relax, and check out the fireworks. The rooms, AMAZING! There was plenty of room for my family of 5. The beds were so comfortable, and the room was so quite, we slept in every moring. We have talked about it, and will definitely make thus or go to hotel.
Wonderful Hotel/Great Staff!
KIMBERLY A. on 06/02/2017
We could not have been more pleased with the hotel, its amenities and its staff. The room is great for families with the large space, two queen beds, bunk beds and two showers. The location to Disneyland was great with just a short walk. The staff was great including the General Manager. We normally stay at the Grand Disneyland hotel, however we felt that the hotel room was actually better than the Grand for a much better price. And actually the walking distance is about the same to Disneyland. We would highly recommend this hotel to anyone visiting Disneyland with their families. The only downside was the parking fees and no complimentary breakfast. But we do realize a lot of the other hotels around Disneyland do charge for parking and others do not offer breakfast.