Holiday Inn Express & Suites Anaheim Resort Area
Hotel within walking distance to DISNEYLAND®, free hot breakfast and more!
1411 South Manchester Avenue
Anaheim, CA 92802
Located 0.6 miles away from the DISNEYLAND® Resort, the Holiday Inn Express is a great hotel for guests looking to be close to the Parks. Each room comes with a mini fridge and microwave for convenience. Plus, guests will also love the free hot breakfast each morning, outdoor pool area and more.
4.5 out of 5 Rating (22 Reviews)
95% of guests recommend this hotel
Pricing and availability subject to change until booked.
2 Queen, Sofa Bed 2 Queen Suite
Please enter travel dates to view pricing and availability
Please enter travel dates to view pricing and availability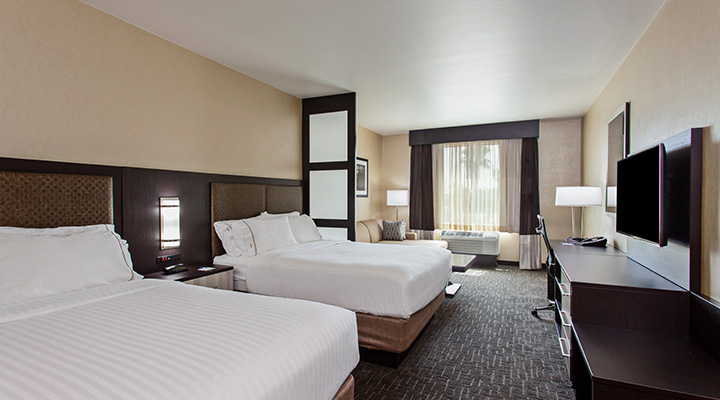 Maximum Occupancy: 6
Check-In Time: 3:00 PM
Check-Out Time: 11;00 AM
Free Full Breakfast
Parking Fee: $30.00 per night; payable to hotel at checkout
Shuttle: Available ($6.00)
Cable TV
Coffee Maker
Crib (Upon Request)
Exercise Room
Handicap Access
Hot Tub
In-Room Internet Access
Laundry
Microwave
Refrigerator
ART: $6.00 (Available)
Distance to DISNEYLAND® Resort (.4 mile(s))
Distance to Knott's Berry Farm (7.8 mile(s))
Distance to LEGOLAND® (64.4 mile(s))
Distance to SeaWorld (92.8 mile(s))
Distance to Universal Studios Hollywood (35.5 mile(s))
Sofa Bed
Outdoor Pool
Please enter travel dates to view pricing and availability
Please enter travel dates to view pricing and availability
---
Perfect walking distance to Disney! Staff was always very friendly. Wish breakfast was served at 6 not 6:30 but it many choices and was very good. Rooms do not have usb ports like many other hotels now days. We only brought one plug in usb which made it tricks to manage all our phone charging needs. The queen suite room was a great size for our family of 4. Our kids loved that there was always a Disney movie playing in the lobby.
Very clean and current facility. Room fit our family very well and the breakfast was plentiful each day.
Beds were very comfortable, hotel was clean, friendly staff and location to Disneyland was good
Repeat Guest because of the Beds
We stayed at this hotel for 6 nights, the check in was easy and the staff was always willing to answer any questions we had. The walk to/from the hotel is easy to navigate when going to Disneyland. It's about a 10-15 minute walk to downtown Disney, sometimes a little bit longer if your feet and body are tired after a long day of fun! Our room was clean, the beds were comfortable and we slept very well, the pillows were the only downside for us, they have firm and soft and both of these pillows flattened to almost nothing for support of your neck, but alas we managed with what we got! The daily breakfast was good and had a decent selection with some items switching every other day (it did get a little mundane after so long of a stay) but we made it work for us. We have stayed at this hotel many times as we know the beds are comfortable, not to far to walk to Disney, Hot breakfast provided, and bigger rooms (we stayed in a Queen suite)
Great hotel. Excellent service. We received extra towels in a timely manner, breakfast provided a great variety, valet parking was quick and easy to use, staff always friendly and greeted us.
The breakfast that was included was perfect for our family. They have pancakes, eggs, potatoes and a specialty item each day. The hotel is within walking distance to Disneyland. The only downside is that you have to pay for parking on the hotel property each night and you can't park your car. You have to use the Valet. However GetAwayToday did give us a discount on parking each night which was great!!
This hotel was very walkable to the park. The breakfast was good and the staff was always friendly and helpful. I would definitely stay here again.
Hotel was fine, lacking in customer service
Christine O. on 10/09/2021
This resort is not my first choice but I wouldn't say I wouldn't stay here again. The resort only does valet parking. They did not allow us to self park our vehicle which adds an additional $22/day onto the room. We were told the valet would only need a 15 heads up but both times we used it, they took 30+ minutes and it was very frustrating. The breakfast was good and always stocked. Rooms were clean and location is walking distance to Disneyland. I just wasn't happy with the customer service so I would give this hotel 3/5 and make this a hotel lower on my stay list.
Stephanie P. on 12/09/2019
Staff was great at both the hotel and restaurants. They were more than accommodating and answered everything we brought to them. The room and bathroom were clean, bed and pillows very comfortable. Loved that the bus was only for Holiday Inn guests and we didn't have to make multiple stops. The only downside with the bus was everyone trying to rush the bus when it pulled in. People who had been waiting for the longest were pushed back by others who had recently showed up.
Alexandra G. on 10/19/2019
We went with our family for our very first Disney vacation. The hotel was nice and clean when you walked in. Very friendly staff. Only down side is we requested a handicapped room for my disabled mother and the only one they had available was "under inspection from the state" so we had to settle for the next best thing. They accommodated us by lowering the bed for my mom since she cant jump or climb into a bed. After our first day at Disney that night they said the room was finally ready and if we'd like we can change we checked it out and asked for the same request to move the bed lower. What was not mentioned is that this one had a different bed frame so luckily my husband fell into bed first. He and the mattress went all the was down sinking only in the middle. Not good for a handicapped person. So we then switched back to our original room and went on with our week. Another thing is when we requested the shuttle they said to ask at least 1 hr earlier to make sure we get on first. Well there was a communication issue and we didnt get on the shuttle cause it was full. We had to wait a whole hr more just to get to the park. Over all the hotel was good. Friendly staff. House keeping could be a bit better.
Very friendly staff and hotel was very clean and very close walking distance to Disneyland.
Michelle D. on 10/02/2019
More of a variety of breakfast items would be nice and cleanliness of hotel rooms could improve a bit. Other than that it was fantastic.
Very clean and responsive. Good breakfast options. Close to Disneyland
Helpful and Accommodating
The hotel is right next to the freeway which I was concerned about when we checked in. I am a very light sleeper and was worried it would be too loud. However the hotel has white noise machines in all the rooms! I turned it on every night and slept well. We were treated great and were even able to check in 4 hours early after our morning flight into Anaheim. Overall, a great hotel within walking distance to Disneyland!
Overall our stay was good
I was disappointed that the hotel had stand up showers rather than a bathtub. I have a baby and it is not easy to bathe an infant in a stand up shower. I also wasn't too impressed with how the bathroom door and the door to the room are so close and you have to close one to open the other. It was nice that they had a lot of outlets near the bed. Everything else was pretty good and our stay was good.
Great location and breakfast
10 min.walk to Disneyland. Breakfast was good.
Michelle G. on 07/29/2019
Quiet halls, very comfortable beds, everything was clean.
The customer service was amazing. The room was a decent size. The pool area was big.
Good Nights Rest and Even Better Breakfast!
I slept so well at this hotel, their beds were amazingly comfortable! It was so great to come back from the park and get a good nights sleep. My family and I also loved the Breakfast, the options were endless and we had something different each morning, we never left hungry! We will definitely be back here for our next Disney visit.
This hotel was very clean and had wonderful customer service. The valet service was quick and friendly, as well. The pool was small but clean and not crowded at all. Breakfast was good and there were plenty of tables to accommodate our family of 5 each morning. It was an easy 10 minute walk to Disneyland and very close to the interstate. The $15 per day parking was the only downside. We will definitely stay again!
Great Hotel! Worth the $$!
We loved the rooms. Very clean and roomy. Lots of variety at breakfast. Different foods so you can have a different combination everyday you stay. The only downside was the $15 day parking. So close to Disneyland to walk. We will definitely stay here again!!