Every vacation is more fun when it includes a theme park! We have a wide selection of great deals on attractions, dining, and tours.
Hyatt House at the Anaheim Convention Center
Located a block away from the DISNEYLAND® Resort, you'll get spacious rooms, free breakfast, a full kitchen, complimentary amenities and so much more when you stay at The Hyatt House at Anaheim Resort Convention Center.
1800 S. Harbor Blvd.
Anaheim, CA 92802
Located 0.5 miles away from the DISNEYLAND® Resort, the Hyatt House at Anaheim Resort Convention Center is truly your home away from home. This modern property offers spacious studios and suites, all fully equipped with a kitchen. And best of all, you're just a block away from the DISNEYLAND® Resort. Enjoy the feel of home with free hot breakfast, complimentary WiFi, outdoor pool, grocery shopping service and more!
4.4 out of 5 Rating (29 Reviews)
90% of guests recommend this hotel
2 Queen, Sofa Bed Queen/Queen Studio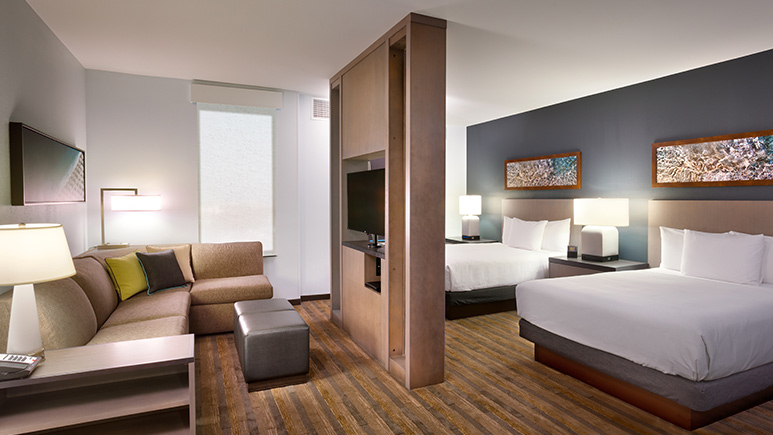 Maximum Occupancy: 6
Check-In Time: 4:00 PM
Check-Out Time: 12:00 PM
Shuttle: Available ($6.00)
Parking Fee: $28.00 per night; payable to hotel at checkout
Kitchen
Coffee Maker
Microwave
Refrigerator
Laundry
Outdoor Pool
Hot tub
Exercise Room
In Room Internet Access
Cable TV
Pay Per View
In Room Video Game
Full Breakfast
Hyatt's Global Care & Cleanliness Commitment includes: increased frequency of cleaning with hospital-grade disinfectants on all high-touch surfaces in guest rooms and public areas, providing hand sanitizer throughout property, and employing a Hygiene
2 Queen, Sofa Bed Queen/Queen Suite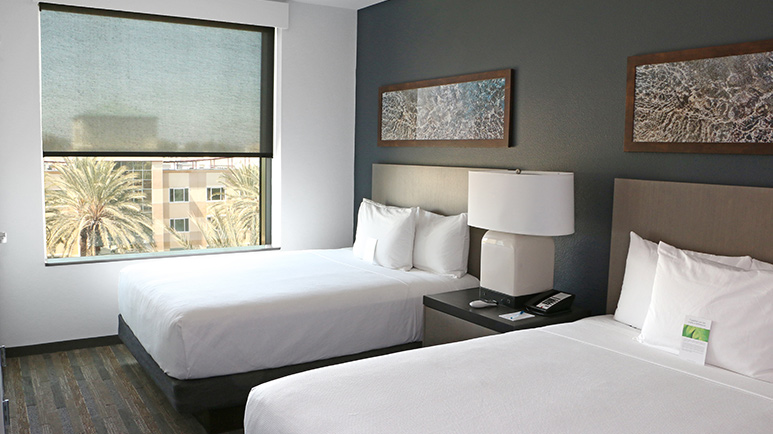 Maximum Occupancy: 6
Check-In Time: 4:00 PM
Check-Out Time: 12:00 PM
Shuttle: Available ($6.00)
Parking Fee: $28.00 per night; payable to hotel at checkout
Kitchen
Coffee Maker
Microwave
Refrigerator
Outdoor Pool
Hot tub
Exercise Room
In Room Internet Access
Cable TV
Pay Per View
In Room Video Game
Full Breakfast
Hyatt's Global Care & Cleanliness Commitment includes: increased frequency of cleaning with hospital-grade disinfectants on all high-touch surfaces in guest rooms and public areas, providing hand sanitizer throughout property, and employing a Hygiene
---
The staff were nice but they could NOT get it together when it came to getting turndown service. I'm not sure if it was the Front Desk's fault or Housekeeping's fault, but it was insane at how bad they were at doing this service. They told us that turndown service was only provided every other day upon request and that it needed to be requested by 10am, which was fine. We checked in Saturday. I requested Turndown service Monday morning when we went down to breakfast at 6:50am. When we got back to the hotel at 2pm, turndown service was never done. We spoke to the front desk, who said they could do it Tuesday and at least agreed to get someone to grab our trash. Tuesday was our rest day at the hotel, so I asked for them to come Wednesday instead, which the front desk agreed to. Instead, while we were sleeping Tuesday, housekeeping knocked and attempted to do Turndown service then, even though it was requested for Wednesday. They did agree to come back the next day. On Wednesday, they finally did Turndown service, which was awesome. On Friday, I again requested turndown service on our way to breakfast at 6:45am. When we arrived back to our room at 1:30pm, Turndown service again was NOT done. When we talked to the front desk, they said that housekeeping would be there until 5pm, so we asked for it to be done at 4pm. Instead of them again following a request we made just a little bit prior, Housekeeping showed up at 2:20pm, waking us all up from our nap. When we addressed this with the front desk, a different lady than we had previously spoken to said housekeeping was only there until 2pm (not sure how this is possible as they knocked at our door after this but whatever). All in all, this stay has soured me from staying with Hyatt House, and we'll be booking with Fairfield Anaheim for our next trip in December. Like I said, the staff were nice but unfortunately, they weren't competent enough to figure out a very basic service that every hotel offers, which is really unfortunate.
We loved staying at the Hyatt House it was within walking distance of Disneyland and provided our family with amble space. My only complaint is that the pull out sofa bed is not comfy at all (springs in your back not comfy) and my kids did not enjoy that, I wish that the mattress was better on that bed, all the other mattresses were great. Other than that it was very clean, the staff was friendly and attentive, and the buffet breakfast was amazing. We would stay here again.
The staff and breakfast were great
MARILYNN C. on 09/12/2022
The staff was great. The hot breakfast included many choices to suit everyone, and there was enough area to accommodate seating for their many guests
The hotel is a little older but good walking distance to Disney. Kiki at the front desk was great. Good value and pool was nice. Liked that they had black out curtains. Cons It was a little loud as we heard sirens constantly out front of our hotel.
The staff was great. The rooms were ok, but not great. And not the room layouts that were advertised Poor/cheap construction. Had a desk chair at the dining counter. Three chairs total so one of us always stood to eat. Pull out mattress was horrible. No ventilation in bathroom. Overlooked the pavement to drive thru/parking lot. View of absolutely nothing other than concrete and other hotels. Breakfast hours are way too early for weekdays. Ending at a sharp 0900!
Courtney F. on 08/08/2022
Clean rooms, great breakfast, close to Disneyland, very accommodating.
Stirling S. on 07/25/2022
Great hospitality, very friendly staff and excellent breakfast.
The hotel is functional & only 2 large blocks from Disney, so easy to walk to the parks. The rooms are tired & the service is lacklustre. We've previously had excellent visits at Hyatt House properties so we were left a little underwhelmed. I'd look at other properties in a similar location next visit.
A comfortable place and the staff was great
A comfortable place and the staff was great. Breakfast area was always clean, and people serving the food got people in and out quick. We got out the door quick to start walking to Disneyland
The rooms were perfect, Staff was super friendly and helpful, the breakfast was real good.
Absolutely amazing, from check in to check out. I will say that the young man at the front, Joey, made our stay so pleasant. He remembered our names. Like, who does that?? And how?? He was so pleasant, kind, and over the top helpful. He deserves a raise. Breakfast was delicious! My entire family enjoyed the eggs, sausage, french toast sticks, tater tots, and everything else! It's a quick 10 minute walk to the entrance of Disney so we never needed a shuttle. I also loved the private parking and the fact that there were restaurants, a Starbucks, and a Walgreens right downstairs. We will always stay here when we're in the area!
Good location - would stay there again
The hotel was within walking distance to Disneyland the main reason we selected this hotel which was very helpful. The rooms were nice, clean and big. The Continental breakfast was lack luster. It was probably the only negative of the hotel. But we would stay there again.
Pros: I would give 5/5 stars to the staff. They accommodated our late checkout request and all of them were super friendly at every interaction. Super close to Walgreens and Starbucks is on ground level of the building. Cons: The door to the room banged on the bathroom door. You couldn't keep both doors open at the same time. The door kept closing on its own and we needed something heavy to keep it open. The bathroom needs some sort of night light. Breakfast started at 7 on the weekends. We leave to the parks at that time and was unable to use that perk which is why we decided on this hotel. The room was clean— but we miss the room service!!!
Such a great hotel overall
Employees were very friendly. The hotel lobby itself was very clean as well as the rooms. Rooms were huge. Love that it had a kitchen and full sized refrigerator. They also had a great tv package! The best I've seen at a hotel. And great complimentary breakfast!
Very clean and the staff is very friendly and accommodating. Hotel isn't far from the park. We walked to and from all 5 days.
Great loacation, breakfast and kitchen
Close to Disneyland about 10-15 mins walk. Has full kitchen. Free breakfast. Close to toy story lot where shuttles are. What i didn't like rooms are small for 2 queens, sectional sofa couch and kitchen. Also we had tons of ants in the kitchen.
Close by Disneyland! One block away
Hotel was within walking distance to Disneyland's Harbor entrance, about 10 min walk. Normally, it comes with a breakfast buffet, but with covid the breakfast were packaged for people to grab. Hotel room was clean and spacious, we had the double Queen studio. I like the open layout with a kitchen, but it didn't have a full fridge (just a mini).
Nice hotel. Close to the park. Covid restrictions made this a bit different and not ideal.
Hotel was wonderful. Full kitchen which made it nice for cooking or heating up food. Breakfast was delicious and hot everyday. We will definitely stay again.
Full breakfast. Two blocks from main entrance. Clean. Convenient.
This hotel was great for our family trip to Disneyland! It was close to the park, well maintained, and very well set up. They took a lot of care to organize the room so you felt like you could unpack and have a lot of comforts of home. Their complimentary breakfast was good and helped off-set prices. Just be aware, that you will have to pay for parking if you plan to bring a vehicle.
This hotel was amazing!! We were early in checking in and because they didn't have our booked room ready, they upgraded us for free to a room with view of the fireworks. The room was clean and comfy. The free breakfast was top notch and we enjoyed it every morning. It was a breakfast with waffles, eggs, bacon, cereal, oatmeal, toast, pretty much every choice of drink, and fruit. Couldn't have asked for a better motel. It was about a 13 minute walk to Disneyland but since we bought the ART transit tickets it was a breeze getting to and from the resort. Will definitely stay here again when we go back to the Disneyland resort :)
I really did enjoy my stay very clean and friendly staff. I did have a few things I wasn't to crazy about. I requested a room for 6 and we did get an ok sized room 2 queen and a sofa couch the only thing that sucked was that there was a small wall that separated the couch from the beds and only ONE tv!! 6 people 1 tv really sucked. Also housekeeping is amazing but they have until 5 to clean your room so if you decide to go back to hotel to rest from Disneyland if its before 5 you may come back to an unkempt room. I found out you can request them to come early, so that's very nice! One more thing the dont have a shuttle like it says, you have to purchase ART passes and walk over to the hotel next door for pick ups, not bad at ALL but alittle misleading I felt. I know its seams like I complained alot but those "issues" weren't huge, I still would rate 5 out of 5, I will stay again next time, just wanted to give some heads up :)
Brittanie L. on 01/31/2017
Meet our needs perfectly for a family of 6! Loved having the store so close and within walking distance to Disney. The room was clean and loved having the sliding doors to the kids bunk house. Pool was excellent and staff very friendly! They saw us having a pizza party by the pool and brought out plates, utensils and cups for us to use. We come to Disney once a year and have stayed at many hotels in the area and this will be our new favorite!
Yolotzin H. on 10/26/2017
I work in the hotel industry and this is by far the best hotel I've stayed at and will continue to use when I travel back the amenities that come with your booking are normally extras that you would pay more money to have the free breakfast was amazing, onsite coin laundry was handy when traveling with kids and the location was a plus also so thank you to everyone at Hyatt House!!! And to Get Away Today!! Best trip ever!!!!
I don't like to be a needy guest, but when everyone got sick, we were able to rely on staff to help us out. They were extremely fast in responding to our requests. All staff was always friendly, whether you would ride with them in the elevator or pass them in the hallway. The room was comfy for my wife and I, along with our 4 kids. Great place to stay for 6 nights and I'd definitely stay there again.
The website says, "Convenient location in the Anaheim Resort District – Right across the street from Disneyland® and around the corner from the Anaheim Convention Center". Well, it kind of is "right across the street", but from the hotel it is over 1 mile from the hotel to the front gate of Disneyland, so this was very misleading. It took 20-25 minutes to walk, which seems VERY long at the end of a long day of walking. "Free amenities for your stay – Daily Morning Spread, hotel-wide Wi-Fi, 24-hour fitness center access, an outdoor pool and more" - There is a "Daily Morning Spread", but it is only available to 9:30 on weekdays. Our last day there, they ran out of forks and spoons, and bacon. They also start shutting everything down about 9:15. They had scrambled eggs, sausage, bacon (if you get there early), potatoes, fruit, yogurt, cottage cheese, oatmeal, toast and bagels. A good assortment, but VERY crowded and hard to find a seat. You HAVE to get there early. The front desk clerks were VERY nice, friendly, and helpful. They really seem to enjoy their jobs, and were excellent. We had a One-Bedroom Two Queen Bed Kitchen Suite with sofa bed. Room was nice. Full size frig and full kitchen. Bathroom was large. The only problem was the doors - the bathroom door and the door between the living area and the bedroom. They world not stay open. Also, if the bedroom door was open, the bathroom door would hit it. Very strange design. A little inconvenient to have to put something on the floor to keep the door open. Overall, it was good, but our next trip to Disneyland will be someplace closer.
The hotel had very comfortable beds. It was very clean and the staff were so helpful. We enjoyed our stay very much and will book with them again.