Every vacation is more fun when it includes a theme park! We have a wide selection of great deals on attractions, dining, and tours.
Walking distance to DISNEYLAND®, in-room microwave and mini-fridge.
515 West Katella Avenue
Anaheim, CA 92802
Located one (1) block from the DISNEYLAND® Resort, this award-winning hotel will definitely get applause from your family! With a great location, beautiful rooms, and a microwave and refrigerator in each room, the Wyndham Garden Hotel (formerly Ramada Plaza Hotel) can't be beat.
4.5 out of 5 Rating (12 Reviews)
100% of guests recommend this hotel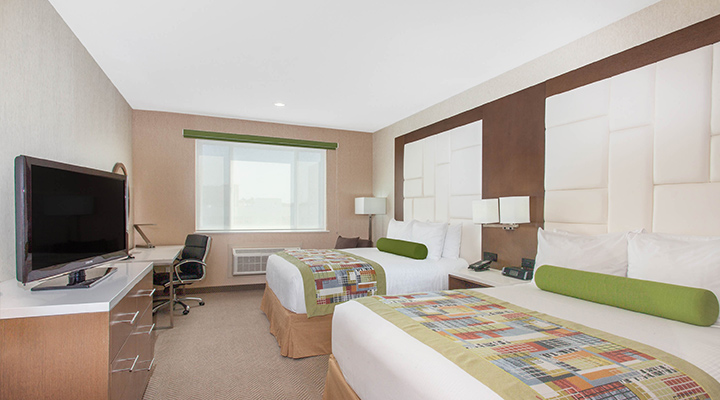 Maximum Occupancy: 5
Check-In Time: 3:00 PM
Check-Out Time: 11:00 AM
Coffee Maker
Microwave
Refrigerator
Laundry
Outdoor Pool
Hot tub
In Room Internet Access
In House Restaurant
2 Queen, Sofa Bed Mini Suite
Maximum Occupancy: 6
Check-In Time: 3:00 PM
Check-Out Time: 11:00 AM
Coffee Maker
Microwave
Refrigerator
Laundry
Outdoor Pool
Hot tub
In House Restaurant
---
Great location and amenities were amazing. Great staff, friendly and helpful. Really clean and organized place.
Excellent customer service and always makes sure you are good and happy
The staff was very friendly, polite and helpful. Anything we needed, they were on it. The room was very nice, clean and super comfy beds. Housekeeping did an amazing job. This is our new go to hotel for every Disney trip from now on.
Veronica B. on 07/23/2019
Everyone was kind and respectful. The hotel was very clean and we kept as well.
We really appreciated the quality of the room. The beds were comfortable, and bathrooms spacious. Everything was very clean and well taken care of. The location and price of the hotel was really just the icing on the cake. Loved every minute of our stay!
We were well taken care of during our stay here. Every staff member was kind and were more than willing to go above and beyond to make our stay perfect. We loved the location, the food, and our room. We will be back again!
We have gone to Disneyland many, many times and stayed at various hotels. This was our first time at the Wyndham Garden. We try to stick with a lower cost hotel because we are park open/closers and only in the room to sleep and shower, etc. We are a family of five so we look out for that sofa sleeper and this was included in our room. Upon arrival at the hotel we were greeted by Stacy the GM of who checked us in. She couldn't have been nicer. She told us we had a adjoining room and didn't want us to have to deal with that for our week stay and moved us rooms. It felt like an upgrade to us because she said those magic words, You will be able to see the fireworks. So on our non park days we would sit on the bed and enjoy the show. The room was perfect and fit us comfortably. The customer services was top notch. Someone always there to greet us or ask how our day was and if they could do anything to make the stay better. We stayed here for a week and had a 5 day park ticket and walked each day to the park. It wasn't a bad walk at all 10-15 minutes. There are various restaurants in the area. A short 3-5 minute walk to Bubba Gumps, Cheesecake Factory, etc. at the Garden Walk. We also stopped by a place called California Pizza Please and it was delicious. Overall this was a great stay and I would come back again. The only changes I would make is, include breakfast - there is an inhouse restaurant and it smelled so good each morning, also changed the sofa sleeper mattress to something thicker. It wasn't terrible but could improve.
Decent Hotel For the Price
This was the 5th hotel we've tried at Disneyland. I'd probably rate it near the top. We usually stay at a place that is fairly cheap. The room is about average size, the beds were pretty comfortable, the carpet was pretty clean, the bathroom was clean. It could get a little loud depending on guests in the hallways but was pretty normal sound volume for a hotel of this price. The staff is really nice. The walk to Disneyland was decent - you only have to stop at 2 lights. There were homeless crazy people screaming to themselves on the walk. There are some pretty convenient businesses around the hotel - Walgreens, a few good pizza places, Cheesecake Factory. I would stay here again.
Excellent place to stay for Disneyland
Alejandro A. on 12/30/2018
We just came back from an amazing stay at this hotel. Very clean hotel and rooms. Room service was amazing! front desk staff are all super friendly and welcoming. Walk was about 15 minutes to Disney. We will definitely be staying at this hotel again. Highly recommend it.
Excellent place to stay for your Disney trip!
MICHELLE W. on 10/16/2018
We just returned from a magical stay at the Wyndham Garden Hotel. The room was spacious and clean. The hotel staff was friendly and helpful. It took us about 15 minutes to walk to Disney. We will definitely stay here again.
We loved how close the hotel was, it made our walk really easy and fast! Even though the hotel was undergoing renovations while we were there the room was really nice and we enjoyed having a fridge and microwave to use. The staff was very helpful, The beds were super comfy and the bathroom was really nice. Offer a breakfast and it will be perfect!
Our favorite part about this hotel was how close it was to Disneyland. We were easily able to walk there in the morning and we weren't too tired to walk back at night. And then the staff was always friendly! We really enjoyed our stay.