Every vacation is more fun when it includes a theme park! We have a wide selection of great deals on attractions, dining, and tours.
Sonesta ES Suites Anaheim Resort Area
Full kitchen in each room and free hot breakfast buffet daily.
1855 South Manchester Avenue
Anaheim, CA 92802
Located one (1) mile from the DISNEYLAND® Resort, the Sonesta ES Suites Anaheim Resort Area offers the comfort and quality every family needs with four different suite options. Each hotel suite comes with convenient amenities and a full kitchen. The Sonesta ES Suites Anaheim Resort Area also has one of the largest pools in the area. You'll love the complimentary hot breakfast buffet each morning.
4.3 out of 5 Rating (80 Reviews)
90% of guests recommend this hotel
1 Queen, Sofa Bed Studio Suite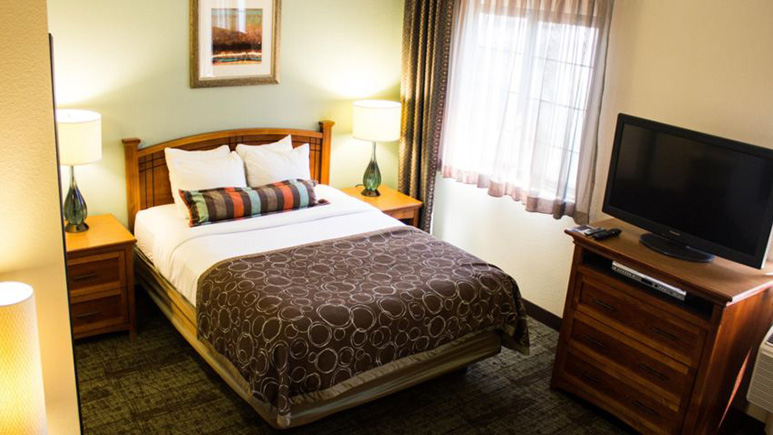 Maximum Occupancy: 4
Check-In Time: 4:00 PM
Check-Out Time: 11:00 AM
Shuttle: Available ($6.00)
Parking Fee: $0.00 per night; payable to hotel at checkout (a $12.00 per night savings)
Kitchen
Coffee Maker
Microwave
Refrigerator
Pets Allowed (Fee $15.00 per day payable to hotel at checkout)
Outdoor Pool
Hot tub
Exercise Room
In Room Internet Access
Cable TV
Pay Per View
Full Breakfast
Hotel doesn't offer room cleaning daily.
2 Queen, Sofa Bed One Bedroom Queen Suite
Maximum Occupancy: 6
Check-In Time: 4:00 PM
Check-Out Time: 11:00 AM
Shuttle: Available ($6.00)
Parking Fee: $0.00 per night; payable to hotel at checkout (a $12.00 per night savings)
Kitchen
Coffee Maker
Microwave
Refrigerator
Pets Allowed (Fee $15.00 per day payable to hotel at checkout)
Outdoor Pool
Hot tub
Exercise Room
In Room Internet Access
VCR
Cable TV
Full Breakfast
Hotel doesn't offer room cleaning daily.
1 King, 2 Queen, Sofa Bed Two Bedroom Suite
Maximum Occupancy: 8
Check-In Time: 4:00 PM
Check-Out Time: 11:00 AM
Shuttle: Available ($6.00)
Parking Fee: $0.00 per night; payable to hotel at checkout (a $12.00 per night savings)
Kitchen
Coffee Maker
Microwave
Refrigerator
Laundry
Pets Allowed (Fee $15.00 per day payable to hotel at checkout)
Outdoor Pool
Hot tub
Exercise Room
In Room Internet Access
Cable TV
Pay Per View
Full Breakfast
Hotel doesn't offer room cleaning daily.
---
We were so disappointed with this hotel especially since we have always stayed at others recommended by Get Away Today through their Good Neighbor packages and trust their recommendation. The room was dirty, one front desk hotel staff member was the rudest I have ever encountered, the breakfast had really limited choices, was pretty awful (cold "hot food" items), and wasn't open until 7:00 which meant we had to skip it entirely if we wanted to leave early enough for Disneyland park opening. I also chose this hotel for free parking because we would have two cars for our two bedroom suite, and ended up being charged $75.00 because they only gave free parking to one vehicle which I did not know until check-in. There is no ice or water machine in the hotel, and the kitchen in our suite for 8 people had dishes and utensils for 4 and one pot so we were unable to use it to prepare any food. After having great experiences at many other Get Away Today Good Neighbor hotels over the years, we were incredibly disappointed with this hotel choice for our Disneyland vacation. :(
We had a great experience during our trip. Everything was accessible and convenient.
We weren't going to stay here because of other reviews saying that the hotel is dirty. I am glad we decided to stay here. We had a great experience. The hotel was clean, good location.
Good fit for large family!
Sonesta ES Suites was a good fit for a large group. We got a two bedroom suite that fit all of us comfortably. The furniture and carpets had some bare spots, but we didn't spend a whole lot of time in the rooms, so it really wasn't a big deal.
No as good the second time around.
If you're looking for a inexpensive place to sleep, this place was ok to stay. Booked the 1 bedroom family suite for 4 adults and 2 children. The suite was a little small but we made it work. The beds weren't bad but the room was very tight. Bed was up against the wall so I had to climb over my wife to get out of bed. The bathrooms are small, the app says the hotel offers full breakfast but they only have continental, eggs,potatoes and sausage links, toast and cereal every day with no changes. The staff was very nice and helpful. Most likely will find a hotel closer and in walking distance. The shuttle busses stop running a half hour after the parks close so you have no time to go to downtown disney at night.
We have been staying at this hotel for about 6 years. This year our party had 3 different rooms. In my room the fridge didn't work and the couch was so worn that it was uncomfortable to even sit in and the cushions looked like they were literally hanging on by a thread. In one of the other rooms the AC went out twice and they ended up having to change rooms. The staff was very nice but the hotel rooms themselves need to be upgraded. We probably won't be back.
Great staff, knowledgeable, excellent breakfasts!
Small rooms, good breakfast
The rooms were very small and not very clean. Breakfast was filling.
Love this place. Staff are great. the kitchenette are wonderful. while no really a 5 star hotel, I think it's a great home away from home
We really enjoyed this hotel. First off, it was clean and that's number one of importance. The staff was friendly, the beds were comfortable and there were ample pillows! The full size fridge was great and with our two bedroom suite we had two bathrooms which you can never complain about. The breakfast was your basic potatoes, eggs and sausage everyday. There was nothing new during our 6 night stay. It wasn't great however, it was free with your stay so night as well head to the parks with a full belly. I'd recommend this hotel, especially those with larger families.
Small but comfortable rooms
The room was a little small but comfy beds and good breakfast and nice pool and outdoor area
Lots of space and decent breakfast buffet
Lots of space and decent breakfast buffet. The room aesthetic was ok. Carpet was stained and shower door was broke. Ran out towels early and there wasn't housekeeping for the 3 nights we were there. We had to put our garbage out in the hallway. If you're spending most of your time out of the hotel room, this place is good for the $$s
The Sonesta ES Suites are a great hotel for big families. Lots of amenities and the rooms are big and make you feel right at home. The free breakfast is great, but not like it used to be pre Covid, before they had a bigger selection of breakfast foods, but it's still nice to have. Only complaint is the new ART bus system, which has nothing to do with the hotel, but guests should know before hand how time consuming the apps are to get a bus ticket and schedule for a bus. Yes you have to use two different apps and request a bus for your trip to and from Disneyland. For the most part it was ok, but sometimes it's inconvenient on the pickup and drop off times and you can end up on a bus for up to 30 min. The drivers for the most part are very nice and understanding of how difficult the apps are but every so often you get a driver who is not and it can be frustrating. Love this hotel, we have stayed here 3 times now, but because of the ART bus changes we will pay the extra to stay across from the park to just walk instead.
Decent, but rooms aren't great
Kristina M. on 03/06/2022
This was a decent hotel except for the quality of the room. The furniture was outdated and dressers looked like they were broken at one point and then repaired. There were baseboards loose and some were falling off the wall. The bed skirts were worn (slightly tearing) and faded from the sun. The overall room was clean but we did find old raisins when we pulled out the sofa bed and a small toy. We did not use this bed. The table is small with only 2 chairs for a 2 bedroom suite. The area facing the back parking lot is poorly lit. There were a lot of lighting fixtures but they were not on. If you're looking for a decent place to sleep, the beds are comfortable and the shower is hot and powerful. They also offer free breakfast. They need more toasters but other than that it's ok. With Get Away Today, you will not have to pay for parking! Duane at the front desk is awesome, provides great customer service and very helpful.
Jennifer O. on 02/23/2022
The front desk staff were very friendly. We were fortunate and received a room upgrade, which started our stay on a delightful note. The room was clean and spacious. We had a room on the freeway side of the building and could hear freeway traffic, but it was not too disruptive. The breakfast was simple and the same each day. The public areas in/around the hotel were clean and the Disney decor was fun. The only not-perfect part of our stay was the shower had very little water pressure and took a while for the water to heat up. A minor annoyance, but would not prevent me from staying again. The ART (Anaheim Resort Transportation) bus picked up right at the hotel and the staff was happy to assist in getting you set up to request transportation. Overall we had a wonderful stay.
The hotel was great and close to Disneyland. It had a great breakfast everyday that made it nice to just get ready and go eat before we left for the park. The suite we stayed in we great for my family, very roomy and had what we needed.
The suite was nice, with 2 bedrooms, 2 bathrooms, and a kitchen and worked well for our large group. The pool and hot tub were nice, and there is a fitness room. The staff were friendly and helpful. There are not many supplies in the kitchen (1 sauce pan and 1 skillet, and only 1 kitchen towel, only 4 forks, spoons, knives), but we didn't cook much, so it didn't matter. If you plan to use the kitchen a lot and need more items be sure to bring your own. Breakfast was the same every day. The kids got a little tired of the same few choices for 5 days in a row, but it was nice to have that taken care of so we could focus on getting to Disneyland without having to worry about it. The Anaheim Resort Transit system takes some getting used to, and if it's a busy time of day you will end up waiting 20-45 minutes for your ride. When it's less busy the wait time is 5-10 minutes. You will need to download 2 apps to use it (one to purchase tickets and 1 to request rides.)
Martianne A. on 11/07/2021
Staff was very helpful to take of any problems we had in the room. Being there a week things definitely came up but they always took care of them right away so it wasn't a problem. They were also very friendly. Clean rooms just a little outdated. Good hot breakfast everyday. Huge nice dining area. If shuttle system gets fixed I would stay here again. But until then I would definitely spend more to be able with to walk so to avoid the headaches of trying to get a reliable shuttle especially at the end of the day it's just too far to walk.
Staff was amazing and always helpful.
Hotel was a little cramped with 6 people and luggage for a week. The bathroom vanity area was very small. Hotel was clean but never had maid service for 7 days. Had to ask for towels everydays, toliet paper,garbage bags. At breakfast they wouldnt let you take any extra to your sleeping kids upstairs. ART shuttle pick up was right next door. Great value and hotel was clean
Before my vacation, I saw a few negative reviews of the Sonesta ES Hotel, but I have to say that there was not one negative experience that we had. The employees were happy to send blankets, sheets, towels, whatever was needed. The room was quiet and clean. Perfect for our family of 7. The added bonus (besides the kitchen) was a really nice hot or cold breakfast which was very adequate and filling. The ART transit shuttle worked perfect for us as we didn't have to wait for it once. I have stayed at Sonesta in the past and would stay again in the future.
I loved the suits, beds were comfortable , the ladies at reception are great very willing to help you with anything
Amazing service - will stay here again!
Amazing service from check-in to check-out… Spacious rooms for big families of 5+… We had a leak with the AC system that wet the luggage and all the clothes in it. They had maintenance in within 10 minutes and right away asked if we wanted to wash and dry the clothes that got wet! Amazingly nice, courteous and respectful people. Will stay here again!
Perfect room for our family of 8
Wonderful size and location for our family of 8. It had everything we need for our stay at Disney. The staff was very helpful and pleasant to work with.
The hotel was comfortable. The first thing when arriving the toilet didn't work. I believe they are short staffed due to it took a long time to get towels and wash clothes when we needed them. The breakfast you can't just go eat like normal they put it in a bag for you kinda different. The parking is a little hard. And if you don't want to freeze ask for extra blankets.
The staff was friendly and the hotel was clean. I would suggest more towels, blankets and pillows in the suites. There were not enough for someone to sleep on the sofa bed. Other than that everything was good.
Breakfast was good. Pool is shared with hotel next door so it's crowded. Nighttime quiet time in effect for the benefit of all guests. The walk to Disney was bit too long for our party, so we drove instead. Best to take Manchester/Disney Way to avoid the homeless at bus stops. Not many restaurants open after 9 pm in the area.
Rakaisha H. on 07/16/2021
VIRGINIA P. on 09/09/2020
very clean, nice, good breakfast for not being able to have the normal buffet
I recently stayed in a 2 Bedroom Suite with my family of 7. We had a great time, the Suite was large enough to accommodate all of us, and with having to bathrooms and 2 showers it really helped out with time. The suite does have a full kitchen, full size refrigerator and microwave and is fully stocked with utensils. The complimentary morning breakfast is Outstanding with lots of options and something for everyone. If you have a large family, this is the place for you! I will be staying here we I revisit. Also, the facility is equipped with a full laundry as well. I was able to do laundry 🙂 YaY! The staff is very nice, accommodating and fast! I HIGHLY RECOMMEND STAYBRIDGE SUITES! Thanks for the memories!!!!
Hotel was great. It was clean and it was nice to have breakfast provided Each morning before we headed to Disneyland.
Request a room away from the street.
The window in the one bedroom had a bad seal and let a lot of road noise in.
Our family has stayed at this hotel several times over the years and we are always happy with the experience. Very helpful and friendly staff, the breakfast is wonderful and we like to take advantage of the evening kids activities and meal offered some week nights after our drive to California and before we head to the parks the next day. Highly recommend the Staybridge!
Everything was great and fit our large family.
The hotel was clean, convenient and comfortable. The rooms were quiet and the continental breakfast was fabulous. Perfect place for families.
We stayed 6 nights in a king suite during our Disneyland vacation. The room was an appropriate size and we really enjoyed having the kitchen for making snacks for our time at the park. Breakfast every morning was enough food to keep us going until lunchtime. It included eggs, waffles and pancakes every morning. We used the pool and hot tub multiple days and nights and could even see the Disneyland fireworks from there. Gym and laundry room were both nice amenities to have and we were able to utilize doing laundry after getting wet while riding rides. The shuttle to the parks was nice to have available and we did use it a couple of times and the fee was minimal. The staff was always very friendly and eager to help with any questions we had. We would stay here again.
Such a great place overall—space, location, quality, value and good breakfast! We will totally stay here next time we come to Disneyland!!
We had an overall great vacation at Staybridge. The full kitchen was so nice. The room was good just a little cozy trying to get to the bathroom, it would have been nice if it was a bit bigger and updated. But overall it was a great stay and all the staff was super nice and friendly. The breakfast was a buffet with lots of options from cold cereal to eggs bacon and potatoes plus pancakes and waffles. The manager reception was also nice in the evenings for a light dinner. The Anaheim resort shuttle picks you up in front of the Holiday Inn which is right next to the hotel and it only has one stop after that so it is a 10 minute ride to Disneyland.
Angelina A. on 11/11/2019
We loved staying at the Staybridge suites. The room was more than we expected with a nice bed, couch and kitchenette with most everything we needed. It felt clean and we had no problems during our stay. Breakfast was always great with lots of options and we loved that we could borrow from their selection of dvds. Also, very convenient that the ART buses would come by every 30 minutes and we could catch a ride to the park. Excellent experience and would highly recommend it to anyone.
Cassandra T. on 10/24/2019
We loved the free breakfast and on certain nights they provided free drinks and snacks. The pool was large as well as the jacuzzi, nice to take a break poolside. Pretty much a full size kitchen but only one bathroom located inside the bedroom, and no fan in the bathroom. Overall nice place to stay and close to Disneyland.
I was not happy when I checked in BUT with the help of the amazing female staff members and Pam it was the best vacation by far. Clean spacious suits and amazing breakfast. Super quiet and the ART bus is right outside. We will be staying here for our first anniversary. Thank you Pam for being super sweet and personable.
Our family of 7 spent 8 nights here at Staybridge. It's not our usual hotel, but our usual was completely booked. We were really worried about a new place with our big crew. We stayed in the 2 bedroom/2 bath suite. As soon as we entered, I fell completely in love with the space! The rooms are large (and then some), living area , kitchen space, dinner table, work desk ... really made it feel just like home for us. The breakfast is FREE and filling. No complaints there. Hotel staff were really helpful and quick to assist. If we needed anything, they always called to follow up and make sure it was received. This was our first stay with Staybridge .. but will now be our new usual. We will stay here for all our future California vacations. Thank you Staybridge for making our family vacation stay so much more meorable! Many Alohas - The Barltey-Toilolo Ohana
We have used getaway since 2004. We have used several hotels and finally found the right one. This location is amazing we had enough room for our large family. Free breakfast that is fresh and even dinner mon to wed .beds super comfy and the front desk acts fast. Finally found our go to for our disney trips. 2 bedroom suite is the way to go. Shuttle outside is a plus
We had a room next to someone who had dogs in their room. We knew the hotel knew this because a let sign was marked on the door. The dogs barked at different hours of the day. We could also hear other guests late into the night. There was also very little housekeeping unless you stayed longer than 7 days.
We enjoyed our stay. Loved the hot breakfast in the mornings. Staff was nice
Very nice hotel. Rooms were great! Loved the kitchenette. I like the breakfasts and the staff was kind and polite!
Do not stay at this hotel. Stay anywhere but here. Terrible, terrible, terrible!
Awesome pool and hot tub. The room needs to be remodeled especially the bathroom. Overall it was great to have free Breakfast and parking.
Loved the large rooms and pool!
Christina Z. on 09/26/2019
The front desk attendance were very courteous and extremely helpful. The room was very clean and a little bigger than anticipated. The pool was very big and clean, the kids really enjoyed it.
This hotel is clean, well maintained, has a good breakfast and three nights a week provides a light dinner. Staff are very friendly and helpful.
Loved the staff and breakfast options
Staff was very friendly!! I think it's time for a whole hotel update. The bathrooms had a few maintenance problems... like dirty grouts and side paneling falling apart. The morning breakfast was very good though and the hotel was in a very convenient location.
Was very happy with our room.. Breakfast was awesome and Tuesday and Wednesday we enjoyed the social hour. We would definitely stay there again
Loved the breakfast and dinner
I love this hotel! I love the breakfast in the morning and the "dinner" in the evening. It worked out perfect for the first night we got there. We didn't have to leave to find food so it saved us time!
We loved the larger room with our older children. Having two bathrooms was great. It really made getting ready to go so much easier. The kitchen was also really nice to have. This hotel was amazing and we will be staying again.
This hotel is great. I planned a Disneyland trip for my family which includes a 10 yo, 2 yo and a 7 mo old and this hotel was great for our family. Having a full kitchen came in handy for the times we decided to come back from all the excitement to rest-we were able to save money by cooking our own meals at times. The rooms were spacious and clean and the beds were comfortable. The free breakfast was a nice perk-being able to wake up and walk downstairs to coffee and juice and pastries was very nice. I recommend this hotel for families and we are definitely going to stay here next year again!
Perfect for a Disney Visit
Exceeded my expectations! Our experience was great. Loved the spacious rooms. Great, free breakfast and distance to Disney. The kids loved the hotel as well, especially the Mickey Mouse ear shaped pool. We would definitely come back!
Great breakfast, pool and shuttle service
Staff was very nice. Plenty of parking. There was a complimentary breakfast of eggs, sausage or bacon, cereals, pastries, oatmeal, waffles, pancakes, coffee , juices. There was also afternoon snacks everyday in their eating area around 5 pm. The first day they had pulled pork sandwiches and salad and drinks. The next day they had nachos with all the toppings, salads and drinks. Nice pool area. We booked a 2 bedroom suite. It was very spacious. The beds were comfortable. Nice fridge, small stove and fully stocked plates, cups, pots/ pans. Their was a Disneyland shuttle just a few steps away in the adjacent parking lot. We did have to pay for the shuttle 6 dollars for adults for the whole day and around 2-4 dollars for kids. (I cant remember) The shuttle dropped us off right inside the park. A few steps away from the admissions booth which was great! The only complaint was the elevator in the hotel was down during our stay. There was only one working elevator and the line at the elevator was always huge. It would take a while to get an elevator which wasn't good when your trying to take your luggage up and down the floors. Hopefully that was fixed by now. Other than that everything else was great.
Michelle T. on 08/12/2019
This has become our "go to" place now. They have really nice rooms, a great breakfast included and an ART shuttle right outside the door. We definitely recommend it!
I would definitely stay here again!
Michelle R. on 07/30/2019
We loved the hotel's complimentary breakfast buffet! The rooms were spacious, the staff was friendly and we enjoyed having a full kitchen in our room. We recommend this hotel for the location. It was great!
We really enjoyed the kitchen in the room and Tuesday's snacks with beer, wine and soda. The elevators were a little slow but overall the staff was friendly and the location was great.
They dont clean rooms and one working elevator for 7 floors and you will wait 40 min before you can go up or down on elevator
Geniveve K. on 06/30/2019
We had a great experience at this hotel. The rooms were very nicely decorated and cleaned each morning. There was a large body mirror which I feel is rare in hotel rooms. We loved everything about our stay here, will recommend it to everyone.
Great value with the kitchen, free breakfast and free evening social. Just wish the food was a little more quality but it was good enough.
Fantastic Amenities for All
Our family really enjoyed our stay here. The free Breakfast was incredible, the area was spacious and we had plenty of options to choose from. We also loved the pool and the BBQ area, it was first come first serve and we loved being able to come back and have a nice picnic/BBQ each night. It allowed us to save money and to take a rest from a busy day in the park.
Great Value/Great Service
The employees were super friendly and accomodating and very helpful. The hotel room was great, clean & comfortable. We had the 2 BDR 1 King, 2 Queen beds. The breakfast was good.
Great Stay for Our Extended Family
We love staying there each year with our extended family, the room types, location, free breakfast, and fun swimming pool are all great reasons why we stay here. We also love the restaurant next door, they have the best burgers, we make sure to go at least one night on our trip.
I love this HOTEL! I will be staying here for all my future vacations to California. Family friendly and cozy. The breakfast was hot and delicious. The best part is that we get to bring the food up to our room which is convenient since we have toddler twins. We were able to be comfortable, and have breakfast in bed while they ran around the room. I would've gave it a 5 star however everynight we returned from the park late there were no parking, and if there were it was so tight that we couldn't even fit a car because people would park so close to one another.
The double beds seemed like queen beds. The kitchen/living area is nice and spacious. It's nice to have two bathrooms for a big family. I highly recommend.
We will be staying here again for sure!
Our 8 day 7 night stay at Staybridge was amazing! By far my favorite hotel I've ever stayed at! After getting into town earlier than anticipated we were able to check in early. The room was spacious and well equipped. The daily breakfast was hot and fresh. All the staff was kind, helpful and friendly. The social reception is a very nice feature and was very much appreciated! Getting to and from the park is pretty easy and I know it seems like a small thing but I loved how quick the elevators were after a long day at Disneyland! The pool was awesome, the hot tub was a Godsend and we all enjoyed it!
Great place to stay. Everything was clean and well maintained. Breakfast was good and had a good selection to choose from. Staff was very knowledgeable and extremely helpful.
Great Breakfast & Nice Pool Area
There were some things about our stay that left us a little unhappy: the fridge/freezer in our first room didn't work, our 3rd day there we had to move rooms due to a water leak that happened in the room above ours, (which we totally understood that the leak was not their fault, but the inconvenience of packing up and changing rooms after returning from a long day at Disneyland wasn't the funnest), in our new room the ice maker in the freezer didn't work, and the soap dispenser on the dishwasher wouldn't open during the wash cycle, so the dishes didn't get clean. There were also issues with there being no towels at the pool one of the days we went swimming. In the end, we were given compensation because of all that had happened during our stay, and that really meant a lot. I understand that sometimes things can just go wrong, and having the hotel and Get Away Today care about the quality of our stay enough to compensate us for the inconvenience, made up for the less than desirable experience. On a positive note, the breakfast is great! Lots of different options that kept our kids happy, and helped us in our effort not to spend so much on food in the Disney parks. The pool and hot tub area are very nice as well. The shuttle service to the park was really convenient, and the restaurant "Burger Theory" next to the hotel had delicious food.
Charisma P. on 11/23/2017
We arrived about an hour before check in, but they had a room ready for us and let us get settled in early. We had the 2 bedroom/2 bath suite, it was awesome! Plenty of space for all 5 of us. I loved the full breakfast. They had a good variety and plenty of hot coffee. Such a nice start to a full day a Disneyland, and a great value especially for big families. We will definitely stay here again.
Jennifer B. on 06/15/2017
We had a great stay at this hotel. We got a 2 bedroom suite for 6 of us and it was perfect. The room was clean and well maintained. Even though it was near a freeway there was very little noise. The kitchen was well equipped. The breakfast was great. A lot of options and variety. One of the best parts of this hotel was the shuttle...it only came to and from this location. No multiple stops. It is worth the daily price. We've stayed at other hotels that make 3 or 4 stops and run out of seats. The pool area is great there are bbq's, a bar and plenty of lounge chairs and towels. The only thing I would say was not excellent was the vanity space in the bathrooms. For sleeping 8 people, there really wasn't much counter space or room. But there was storage under the sink and drawers. We'll be staying here every time we go to Disney!
My family loved this hotel. Great customer service from Jimmy @ front desk. Very good breakfast and the nightly manager's receptions were also good. The room was very clean and we enjoyed having a full size refrigerator along with the stove top and microwave oven. We would stay here again!
Excellent base for exploring!
Staybridge exceeded our expectations. The rooms were very comfortable, and roomy. Beds were so nice. Full kitchen a bonus. A/C was well working and needed. This staff is so kind and helpful, immediately made our day on check-in. Helpful finding new places to eat too. Loved the pool, great setting. Thank you so much!
comfortable and family oriented
Danielle E. on 08/29/2016
This was by far was the best hotel my family and I have stayed in. We were instantly welcomed by front desk staff. Mon - Wed they have a social hour in eve's which were great and we met a lot of other families from all over. Jimmy made us feel very welcome and helped answer any questions we had. He was very personable and my husband and him carried on a conversation like they were old friends. Even their breakfast times worked for all of us heading out for our exploring and very social as well. ALL the hotel staff were very pleasant and would ask how we were doing. The only thing that could be upgraded is there toilets as a couple of times they got clogged and the shower took a good 15-20 min to get warm. But honestly that was nothing since when we were ready to coming back to the hotel we joked about going "home". Honestly it was home away from home and we thank everyone at Staybridge for making this vacation very memorable!
The rooms were nice but our car was broken into overnight. They don't have security cameras in the parking lot. The water heater went out one night and we didn't have hot water for showers in the morning. I went to use the workout room and it was closed.
Our family loved staying at this hotel! We had decided to go to Disneyland again and a few other family members and their families decided they wanted to go too! We ended up needing 6 rooms. We of course all wanted to stay in the same hotel, but with some families having just 2 adults and then other families with 8 people, we weren't sure where to go that would accommodate the bigger families, while not killing everyone's budget. We called in and a few of the agents suggested this property that met our different needs. With everything they offer we couldn't believe how affordable they still are! Free parking! Free delicious breakfast! The rooms also have a FULL KITCHEN! Having that kitchen helped our family vacation budget. We were able to the Target nearby and pick up the groceries we needed so we could pack lunches and take them to the park also even have some of our dinners in the room.