Every vacation is more fun when it includes a theme park! We have a wide selection of great deals on attractions, dining, and tours.
Located on Mission Bay, 2 miles from SeaWorld, in-room fridge, studio and bay view suites available.
998 West Mission Bay Drive
San Diego, CA 92109
Located just 2 miles from SeaWorld San Diego and directly on Mission Bay, this is the only hotel in San Diego where you'll be welcomed by three harbor seals. Relax at the Moroccan inspired pool. The Bahia Resort Hotel is a vacation experience your family will treasure.
4.3 out of 5 Rating (22 Reviews)
86% of guests recommend this hotel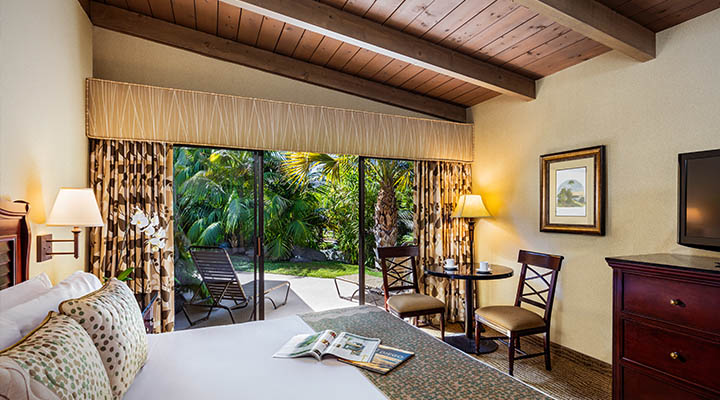 Maximum Occupancy: 4
Standard occupancy: 2 adults (extra adults are $25.00 each per night); 2 children (extra children are $0.00 each per night)
Check-In Time: 4:00 PM
Check-Out Time: 11:00 AM
Coffee Maker
Refrigerator
Laundry
Outdoor Pool
Hot tub
Cable TV
Video Game Room
Kids Eat Free (2 per paying adult) included ($20.00 value per day)
1 King, Sofa Bed Studio w/Kitchenette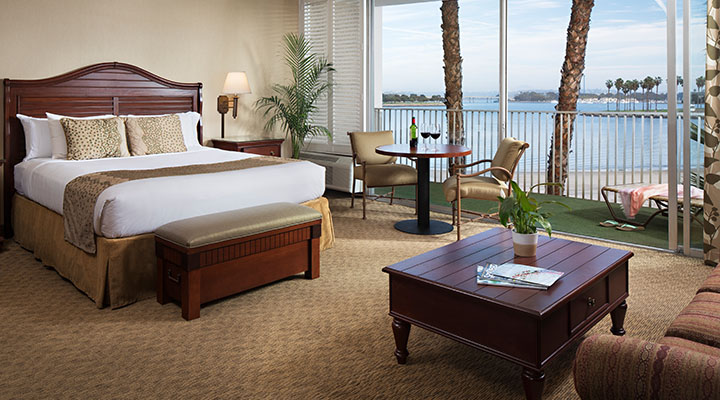 Maximum Occupancy: 6
Standard occupancy: 2 adults (extra adults are $25.00 each per night); 4 children (extra children are $0.00 each per night)
Check-In Time: 4:00 PM
Check-Out Time: 11:00 AM
Kitchen
Coffee Maker
Refrigerator
Laundry
Outdoor Pool
Hot tub
Exercise Room
Cable TV
Video Game Room
2 Double, Sofa Bed Studio w/Kitchenette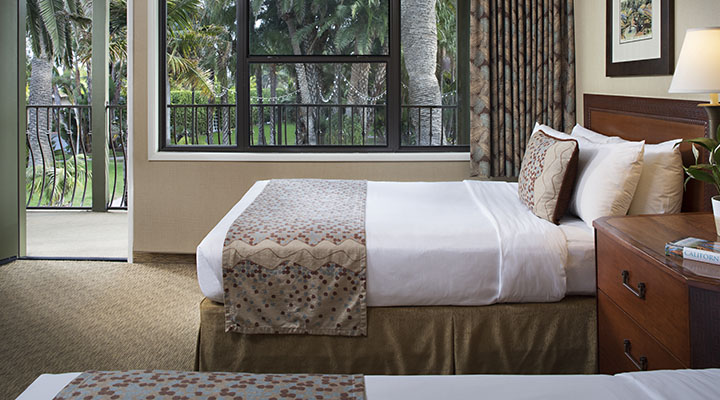 Maximum Occupancy: 6
Standard occupancy: 2 adults (extra adults are $25.00 each per night); 4 children (extra children are $0.00 each per night)
Check-In Time: 4:00 PM
Check-Out Time: 11:00 AM
Kitchen
Coffee Maker
Refrigerator
Laundry
Outdoor Pool
Hot tub
Exercise Room
Cable TV
Video Game Room
Maximum Occupancy: 6
Standard occupancy: 2 adults (extra adults are $25.00 each per night); 4 children (extra children are $0.00 each per night)
Check-In Time: 4:00 PM
Check-Out Time: 11:00 AM
Coffee Maker
Microwave
Refrigerator
Outdoor Pool
Hot tub
Exercise Room
Cable TV
Video Game Room
---
Stephanie L. on 12/26/2022
This hotel was great! Such a family friendly place that had a resort feel. The front desk staff was SO friendly, we had the pleasure of checking in with Benjamin and he was amazing! We loved it so much, we upgraded our stay too! The seals and little Airstream are some amazing things that definitely stick out and the whole experience as a whole will have us as return guests!
Samantha C. on 06/15/2022
Booking with you guys got us a better deal than booking on their website. Resort was beautiful. Room was clean. The sofa bed was even comfortable. Loved having the ocean so close by.
Great staff ! Close to downtown and Sea World!
The front desk was amazing! Everyone was friendly and efficient!
Great resort and amenities
Great resort and amenities. Close to the beach. Good customer service.
The Bahia Hotel was a great stay, are room had a balcony which the kiddos enjoyed very much! The pool was heated so that made it nice when the kiddos wanted to swim and the beach was only a few blocks away too. And there was a very fun park only a block away.
Comfy beds, Pretty Location
Overall, enjoyed our stay! I booked a garden view with two queens. They upgraded us to a room with a kitchenette, which was unexpected but appreciated the extra room! Not a garden view but I'm not complaining (palm trees instead)! Room had a bit of a musty-ness only my husband noticed. Otherwise, was happy with the room. Due to COVID, there is no housekeeping for your room during your stay. If you need items replenished, you just call and let them know and they will bring whatever you need (towels, toilet paper, etc). Pool and beach were wonderful! We swam in the bay a little, but spent most of the time in the pool. There's a bar with food and drinks, and a free ice cream social on Friday and Sunday. Drinks and meals are a bit spendy but expected that being at a resort. The only major downside for us was location. We didn't rent a car (too spendy right now) and depended on Uber. That proved really expensive! We wanted to sight-see a little but to get anywhere with Uber into the city was expensive so we decided to stay close the last couple days. Not a deal breaker but will make me stop and think next time about our itinerary while in San Diego and what we plan to do. I'd probably stay closer to where we can go to places within walking distance. All in all, definitely a great family spot!
The hotel was in a very good location service was great room was great would highly recommended again is it all ages
Great and convenient stay
The Bahia Resort Hotel is located in such a beautiful area of Mission Bay. It is conveniently located to the Belmont and Mission beaches, easy to walk. It is also very close to SeaWorld San Diego. The staff is very friendly here. The best part of this stay was the ability to text the front desk for any questions, request items to get delivered, and get help with anything regarding my stay. The room was very nice, clean.
A great place to relax with the family. Could use a little updating in decor although a little outdated feeling the resort was well kept and clean. Loved that the beach was walking distance if not right outside your door. After enjoying an outdoor dinner at the Bahia Cafe we walked to the sand and enjoyed a movie night on the beach which they have on Saturday night's. Rented paddle boards and enjoyed a Sunday morning on the water. Lots to do all in one place. Would definitely visit again family loved it.
Bahia was a fun place to stay. The private beach is awesome, and being able to sit on our balcony looking out at the bay was very relaxing. The room was great, but service was low due to COVID restrictions. Some things outside the room took a long time to get cleaned up. The pool was very clean and fun, the restaurant was great, and the employees were very helpful and friendly. Two thumbs up!
Convenient, but under construction (Dec)
The rooms and quite dated and ours faced the parking lot with a perk view of the bay. We stayed in a kitchenette room and there weren't spoons. There was a ton of noise from events happening in our building and we were two floors away. The hotel was under construction (December 2019) and we did not know this. The lobby was the only real impact we could tell. The pool, seals, game room were nice. Location was great with parking included, though it was a strange set up. Very close to Belmont Park and Mission Beach. Sea World very close, too.
Bahia resort is awesome! Clean, grounds are beautiful and everyone was so helpful and professional!
Loved the customer service
The first room we had, had just been remodeled and had a new carpet smell. It bothered me a bit. The play ground outside was okay until I realized there were still kids on holiday. I dont mind kids at all, I have 7 grandkids of my own but I was there to get away. So I called the office and they moved us and actually upgraded us! Needless to say it was awesome had suite and a view. Great customer service!
Extraordinary Tropical Getaway
The views, pools, and beach access were all incredible assets to this hotel. We loved being able to walk out of our room and onto the sand. We had such a relaxing vacation, we spent hours on the cabanas, all of which were free (great bonus!). There are also 3 Harbor Seals in the front of the resort ready to greet you when you arrive, it was so fun and very unique.
Location and Customer Service are outstanding
Our initial room was not up to our standards and they were more than happy to accommodate us. We were moved to a room on the bay with a little kitchenette. While is was still a little aged it was a drastic improvement from our first room. The staff was very friendly and helpful. The pool is large but a bit chilly, hot tub is also large and a good temp. There is a small arcade that my son enjoyed and the Bahia Belle was so much fun! Walking distance to the ocean and lots of restaurants. We would definitely stay again.
Great location-perfect for a family vacation!!!
Kimberly L. on 06/05/2018
My daughter and I loved it there. It is an older hotel but the rooms were extremely comfortable. Could they use some updating???? Sure, but it wouldn't stop me from staying there again. They upgraded our room free of charge, plus gave me vouchers for my daughter to eat breakfast for free at the cafe- so that was a great way to start our 4 day vacation. The pool area was spacious and the hot tub was great because you could fit more than 10 people in at a time. There was a fitness room and an arcade, but we didn't use those at all. The seals that live on property in their own pool are pretty cool to see. The private beach is great for just general relaxing, but I can see why it's even better for families with small kids. You get the ocean feel without the actual ocean and waves. The first night we were there they had a movie on the beach, (Moana.) I love the fact that it's around the corner from Sea World. The zoo was a 15 minute drive away. Yes you are near public parks , but we didn't have any issues with that. I didn't realize we would be so close to the beach and to Belmont Park and the boardwalk. Great restaurants to pick from. Great views from Mission Beach which is 1/4 mile away, at best. This was a great stay and I will be definitely checking them out again.
I did my research before booking this hotel. I looked at pictures and reviews. I checked in an felt duped. My hotel room did not look like the pictures online. The kitchen was old and one of the doors over the fridge had to be yanked open over the fridge to get it to open. The plates were up there, so every time I opened it, I felt I was breaking it even more. The bathroom had little counter space and no working fan. The grout around the bathtub and on the floor was grimy. The beds were nice and the view was spectacular. The amenities looked great, but we didn't go to this hotel for the amenities. I was so disappointed and will make sure not to recommend this hotel to anyone I know going to San Diego.
This hotel is right next to a public beach / bay. I couldn't sleep for 4 nights of our 7 night stay because of extremely loud music at the public beach area. The Bahia parking lot is shared with the public beach area. On our last night, somebody on the public beach played loud base music until 5 am. There was a homeless family living in the park on the public beach. The actual "private" part of the Bahia beach had a lot of gross foam in it. The hotel's beach is part of an inner bay that is fairly gross. The walk to the real ocean beach is fairly gross. Homeless people asking for money are part of the experience. Mission beach is ok but fairly dirty. The boardwalk area is like a dirty carnival. The hotel room was large but old and smelled. The staff was fairly friendly. The pool is clean and decent. The garden was the only really nice part of the hotel. It's very nice.
JENNIFER J. on 05/11/2017
The views from this hotel were beautiful. Room was clean, and the kitchenette was a surprise. We did need to use the sofa bed which was uncomfortable and had been around for awhile. The regular beds were comfortable. I do feel that food and drink pricing was a little high, $15 for a mixed drink is a bit much. The pool was great and I loved the ocean smell.
We loved our stay at Bahia Resort and would definitely stay there again. It was perfectly located next to Seaworld, Belmont Park, several beaches including the private hotel beach, and parks for our kids. Even the food at the restaurant was the best we had on our trip! Loved it.
Perfect hotel for a beach vacation with kids
They have such beautiful grounds and it's so spacious. We liked having easy access to the water to play with the kids! We love the beach, but like the fact that because this hotel is on the bay the water is calmer and I don't have to worry about the kiddos as much. Their pool area is beautiful though too, which we used a lot too, since it's a little warmer than the bay water. Our family also liked riding the Bahia Bell across the bay. We also liked being not far from SeaWorld and the Zoo as well as downtown.