Every vacation is more fun when it includes a theme park! We have a wide selection of great deals on attractions, dining, and tours.
Resort style hotel with exclusive free full breakfast, free local shuttle, in-room mini fridge and more.
950 Hotel Circle North
San Diego, CA 92108
The Handlery Hotel offers a resort style property in the heart of Hotel Circle in San Diego for convenient access to the best attractions. Enjoy an exclusive hot breakfast daily, lounge at the heated pool and take advantage of complimentary shuttle service within five miles of the hotel. Families will love the convenience of an in-room mini fridge and on-site restaurant.
4.7 out of 5 Rating (1 Reviews)
100% of guests recommend this hotel
Maximum Occupancy: 4
Check-In Time: 3:00 PM
Check-Out Time: 11:00 AM
Shuttle: Available ($0.00)
Parking Fee: $0.00 per night (a $14.00 per night savings)
Coffee Maker
Refrigerator
Laundry
Pets Allowed (Fee $25.00 per day payable to hotel at checkout)
Outdoor Pool
Hot tub
Exercise Room
In Room Internet Access
Cable TV
Full Breakfast
In House Restaurant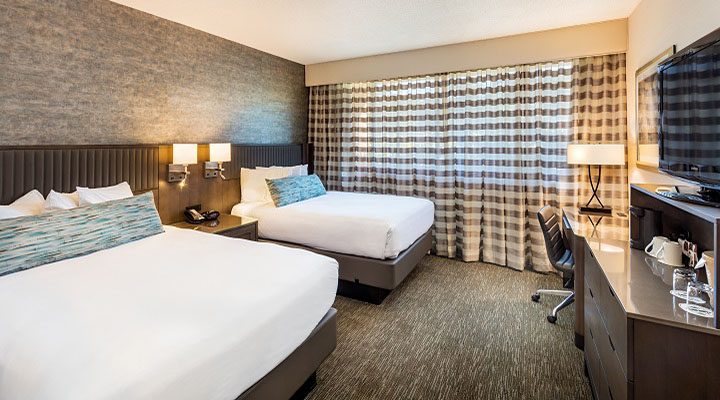 Maximum Occupancy: 4
Check-In Time: 3:00 PM
Check-Out Time: 11:00 AM
Shuttle: Available ($0.00)
Parking Fee: $0.00 per night (a $14.00 per night savings)
Coffee Maker
Refrigerator
Laundry
Pets Allowed (Fee $25.00 per day payable to hotel at checkout)
Outdoor Pool
Hot tub
Exercise Room
In Room Internet Access
Cable TV
Full Breakfast
In House Restaurant
---
Great location/beautiful pool
This hotel was really close to Sea World, Ocean Beach and Fashion Valley Mall and nice restaurants. We chose it because of the free parking and full breakfast in their restaurant. The breakfast was huge and service was great and fast, and tax and gratuity were included. There were 3 breakfast choices -a yogurt/fruit dish, 3 large pancakes, or an American breakfast that came with hashbrowns, eggs and choice of bacon,sausage or ham. Each breakfast also came with a drink. The pool area was beautiful, but pool hours are only 9am-9pm. They have a large heated pool that went up to 10 feet deep, and large hot tub. The hotel room was a bit small, but clean. Pillows were small and flat, but the bed was comfortable enough. The hotel offers a free shuttle for up to 5 miles. We didn't use it, but it was recommended that you schedule the shuttle in advance, and Sea World is within 5 miles if you want to avoid the $22 parking fee. I was surprised to find out when we arrived that they would be charging $50 a night to my debit card for incidentals, then it would be refunded within 5 days of our stay. However, the deduction never appeared in my checking account. The staff was friendly and helpful. Funny story, when walking to our room, a skunk walked right past us and wandered around the pool grounds for a bit before escaping under a fence 🤣