Every vacation is more fun when it includes a theme park! We have a wide selection of great deals on attractions, dining, and tours.
Recently renovated hotel that features a private beach, on-site restaurant, adults-only pool, spacious rooms, Tiki Bar and more!
1551 Shelter Island Drive
San Diego, CA 92106
The Kona Kai Resort & Spa is the perfect hotel for the ultimate San Diego vacation. Enjoy all-new, spacious rooms with an oversized balcony, adults-only pool, on-site restaurant, private beach and Tiki Bar. Located in the heart of Mission Bay, you'll have easy access to everything that San Diego has to offer.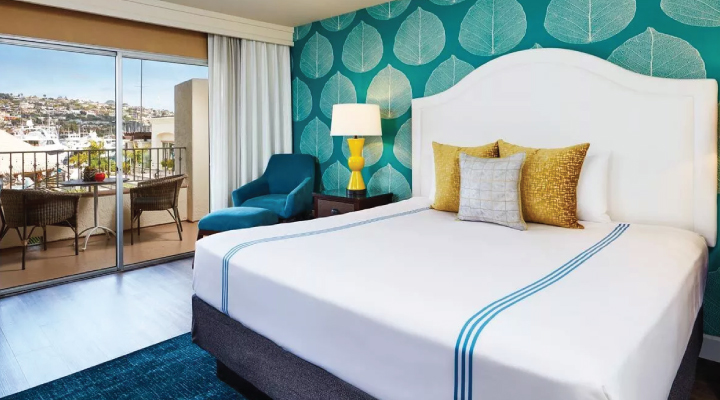 Maximum Occupancy: 2
Check-In Time: 4:00 PM
Check-Out Time: 12:00 PM
Parking Fee: $42.00 per night
Resort Fee: $47.37 (Per night; payable to hotel at checkout)
Coffee Maker
Refrigerator
Pets Allowed (Fee $150.00 per day payable to hotel at checkout)
Outdoor Pool
Wading Pool
Hot tub
Exercise Room
In Room Internet Access
Cable TV
In House Restaurant
Maximum Occupancy: 5
Check-In Time: 4:00 PM
Check-Out Time: 12:00 PM
Parking Fee: $42.00 per night
Resort Fee: $47.37 (Per night; payable to hotel at checkout)
Coffee Maker
Refrigerator
Pets Allowed (Fee $150.00 per day payable to hotel at checkout)
Outdoor Pool
Wading Pool
Hot tub
Exercise Room
In Room Internet Access
Cable TV
In House Restaurant
Maximum Occupancy: 4
Standard occupancy: 2 adults (extra adults are $23.00 each per night)
Check-In Time: 4:00 PM
Check-Out Time: 12:00 PM
Parking Fee: $42.00 per night
Resort Fee: $47.37 (Per night; payable to hotel at checkout)
Coffee Maker
Refrigerator
Pets Allowed (Fee $150.00 per day payable to hotel at checkout)
Outdoor Pool
Wading Pool
Hot tub
Exercise Room
In Room Internet Access
Cable TV
In House Restaurant
2 Queen Deluxe Queen/Queen
Maximum Occupancy: 4
Standard occupancy: 2 adults (extra adults are $23.00 each per night)
Check-In Time: 4:00 PM
Check-Out Time: 12:00 PM
Parking Fee: $42.00 per night
Resort Fee: $47.37 (Per night; payable to hotel at checkout)
Coffee Maker
Refrigerator
Pets Allowed (Fee $150.00 per day payable to hotel at checkout)
Outdoor Pool
Wading Pool
Hot tub
Exercise Room
In Room Internet Access
Cable TV
In House Restaurant
1 King, Sofa Bed Waterview Junior Suite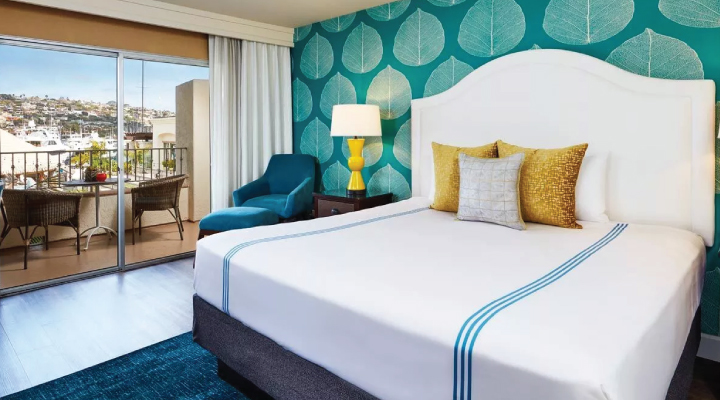 Maximum Occupancy: 4
Standard occupancy: 2 adults (extra adults are $23.00 each per night)
Check-In Time: 4:00 PM
Check-Out Time: 12:00 PM
Parking Fee: $42.00 per night
Resort Fee: $47.37 (Per night; payable to hotel at checkout)
Coffee Maker
Refrigerator
Pets Allowed (Fee $150.00 per day payable to hotel at checkout)
Outdoor Pool
Wading Pool
Hot tub
Exercise Room
In Room Internet Access
Cable TV
In House Restaurant
2 Queen Waterview Junior Suite
Maximum Occupancy: 4
Standard occupancy: 2 adults (extra adults are $23.00 each per night)
Check-In Time: 4:00 PM
Check-Out Time: 12:00 PM
Parking Fee: $42.00 per night
Resort Fee: $47.37 (Per night; payable to hotel at checkout)
Coffee Maker
Refrigerator
Pets Allowed (Fee $150.00 per day payable to hotel at checkout)
Outdoor Pool
Wading Pool
Hot tub
Exercise Room
In Room Internet Access
Cable TV
In House Restaurant
---