Every vacation is more fun when it includes a theme park! We have a wide selection of great deals on attractions, dining, and tours.
San Diego Mission Bay Resort
Fully renovated hotel located in Mission Bay. Enjoy spacious rooms, a waterfront pool, on-site restaurants, beach access, poolside cabana rentals and more!
1775 E Mission Bay Drive
San Diego, CA 92109
Located in the heart of Mission Bay, the San Diego Mission Bay Resort has everything you need for your next San Diego vacation. This newly renovated hotel offers spacious rooms and access to their waterfront pool, multiple on-site restaurants, access to the beach and more. Whether you're looking to relax, go downtown, or head to one of San Diego's theme parks, you'll be located next to everything you need.
Maximum Occupancy: 2
Check-In Time: 4:00 PM
Check-Out Time: 11:00 AM
Parking Fee: $42.00 per night
Resort Fee: $40.57 (Per night; payable to hotel at checkout)
Coffee Maker
Refrigerator
Pets Allowed (Fee $100.00 per day payable to hotel at checkout)
Outdoor Pool
Wading Pool
Hot tub
Exercise Room
In Room Internet Access
Cable TV
In House Restaurant
2 Queen Traditional Queen/Queen
Maximum Occupancy: 4
Check-In Time: 4:00 PM
Check-Out Time: 11:00 AM
Parking Fee: $42.00 per night
Resort Fee: $40.57 (Per night; payable to hotel at checkout)
Microwave
Refrigerator
Pets Allowed (Fee $100.00 per day payable to hotel at checkout)
Outdoor Pool
Wading Pool
Hot tub
Exercise Room
In Room Internet Access
Cable TV
In House Restaurant
2 Queen Traditional Waterview Queen/Queen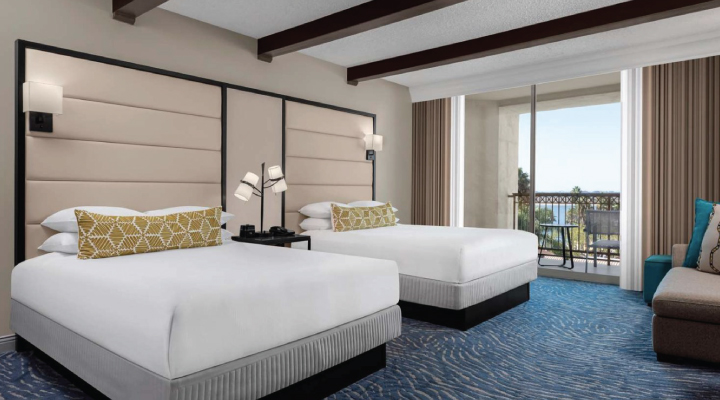 Maximum Occupancy: 4
Check-In Time: 4:00 PM
Check-Out Time: 11:00 AM
Parking Fee: $42.00 per night
Resort Fee: $40.57 (Per night; payable to hotel at checkout)
Coffee Maker
Microwave
Refrigerator
Pets Allowed (Fee $100.00 per day payable to hotel at checkout)
Outdoor Pool
Wading Pool
Hot tub
Exercise Room
In Room Internet Access
Cable TV
In House Restaurant
---