Every vacation is more fun when it includes a theme park! We have a wide selection of great deals on attractions, dining, and tours.
Holiday Inn Express San Diego Hotel Circle
Spacious rooms, free hot breakfast buffet and great pool area with cabanas and a fire pit.
635 Hotel Circle South
San Diego, CA 92108
The Holiday Inn Express San Diego Hotel Circle is sleek, modern and perfect for your family vacation! The hotel is conveniently located near San Diego's biggest attractions, serves a hot breakfast buffet each morning and has a fantastic pool area complete with cabanas, a fire pit and a large entertainment area.
4.9 out of 5 Rating (11 Reviews)
100% of guests recommend this hotel
2 Queen Standard 2 Queen Room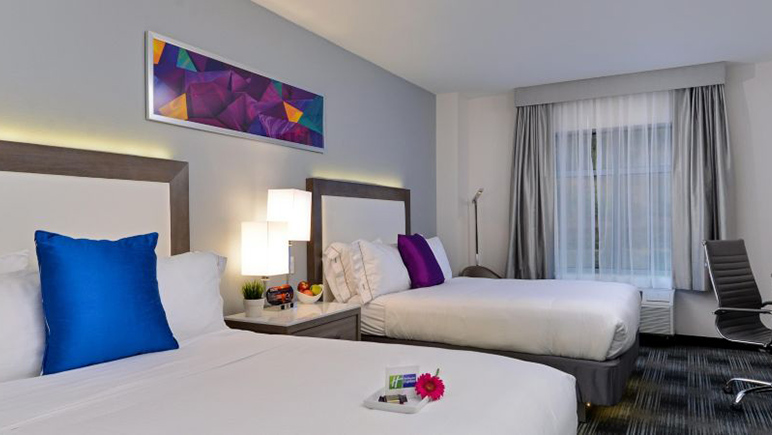 Maximum Occupancy: 4
Standard occupancy: 2 adults (extra adults are $10.00 each per night); 2 children (extra children are $0.00 each per night)
Check-In Time: 3:00 PM
Check-Out Time: 12:00 PM
Parking Fee: $0.00 per night (a $20.00 per night savings)
Coffee Maker
Microwave
Refrigerator
Laundry
Outdoor Pool
Hot tub
Exercise Room
In Room Internet Access
Cable TV
Pay Per View
Full Breakfast
2 Queen, Sofa Bed 2 Queen Studio Suite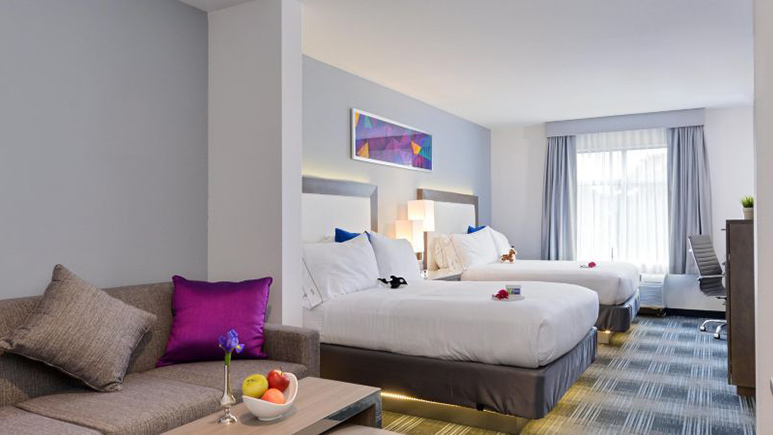 Maximum Occupancy: 6
Check-In Time: 3:00 PM
Check-Out Time: 11:00 AM
Parking Fee: $0.00 per night (a $20.00 per night savings)
Coffee Maker
Microwave
Refrigerator
Laundry
Outdoor Pool
Hot tub
Exercise Room
In Room Internet Access
Cable TV
Pay Per View
Full Breakfast
---
Amazing space and breakfast
This hotel was perfect for our family, me, my husband and 3 kids. We got the queen suite and it included 2 queen beds and a couch with a pull out bed, there were two tv's and had more than enough space for all 5 of us. The room was clean, and the hotel is new so everything was updated and fresh. The free breakfast was great and always something I look for in a hotel, it included Cinnabon cinnamon rolls, cereal, bagels, toast, eggs, omelets, sausage, yogurt, bacon,pancakes, and biscuits and gravy. Plenty to choose from. It was centrally located to everything and sea world and San Diego zoo were both about 10 minutes away. The staff was extremely friendly and hospitable. I would recommend this hotel to anyone planning a vacation in San Diego.
Stephanie A. on 10/07/2019
We enjoyed our stay! Loved that breakfast was included in the cost and it was a great location. Parking was easy and the staff was very nice.
Hotel was very nice and updated! Large tv in room with good tv selection and room had all the amenities! Yummy full breakfast buffet! Loved the outdoor sitting area and pool and hot tub! Perfect location. Will be our go to every time we visit San Diego!
I LOVE this hotel!! It is SO clean, modern and awesome! I love the style of the rooms, delicious cinnamon rolls for breakfast, and the friendly and accommodating staff! They were so kind and helped our stay be even better. The pool was a little smaller but I loved the glass fire pit area next to it along with the outdoor dining area - it was so fun to relax there. I also loved how centrally located it was - everything we did (and we did a LOT) was only about 10 minutes away whichever direction we went - it was awesome! I loved this hotel so much I recommended it to one of my best friends for their honeymoon and they LOVED it too! Great hotel choice. :)
Christine C. on 06/02/2017
We loved our stay! All of the staff we encountered were very friendly and helpful. I also loved that booking through Get Away Today removed an 18 dollar a day parking fee that others had to pay for. Breakfast was good too, especially the cinnamon rolls. Close to Balboa park, and Sea World. We will definitely look at staying here again!
We really liked the pool. The fireplace was so nice on the cool march night we spent out there. The rooms are clean and nice. No complaints, except for the San Diego roadways! But I guess the hotel staff can't help that. We were really happy with this hotel.
Holiday Inn on Hotel Circle was great! From the rooms, staff, and the awesome breakfast, we have no complaints. Thank you Holiday Inn San Diego for a great week!
STEPHANIE R. on 08/17/2016
We booked this property and were so happy that we did. Check-in was flawless and we appreciated that the elevators required a key pass to go anywhere. The hotel was modern, our room was clean, and the pool area was nice and enjoyed by our kids. Breakfast was very good and lived up to my expectations for HI Express. The beds were comfortable and the hotel was quiet. We would definitely stay here anytime we are visiting San Diego. It is also a short drive to Sea World.
New modern, clean hotel. Great location for everything you will want to do. Get Away Today has the best rates. Everything was included in price. Checked in and checked out with no other payment due.Best is included parking fees.Otherwise its $18.00 per day.Very clean, beds are great (better then my "Temperpedic" beds at home.One recommend for fun, go ride on the "Flagship Patriot Speed Boat" ride near the Midway museum downtown. FUN FUN FUN
Great location to get to both SeaWorld and the zoo. Very modern and great atmosphere. The free breakfast is all you need to get your day off to a great start. There is a family dining cafe next door (walking distance) that also has great food and reasonable prices. Great experience!
This hotel is awesome!! It's a newer hotel with a modern feel. Our family loved the fun beach feel and summer theme. It was a reminder that we were in San Diego. We also enjoyed the free breakfast and free parking.