Every vacation is more fun when it includes a theme park! We have a wide selection of great deals on attractions, dining, and tours.
4 star beachfront hotel, in-room fridge, 42" flat screen TV and private patio or balcony in each room.
610 Diamond Street
San Diego, CA 92109
Indulge in sumptuous surroundings and ocean front relaxation at the Pacific Terrace Hotel, the only 4 star beachfront hotel in San Diego! This centerally located luxury hotel's "Tommy Bahama" motif creates a sophisticated tropical island feel. Plush room amenities include bath robes, a refrigerator, a 42" flat screen plasma TV and a private patio or balcony in each hotel room.
4.1 out of 5 Rating (5 Reviews)
100% of guests recommend this hotel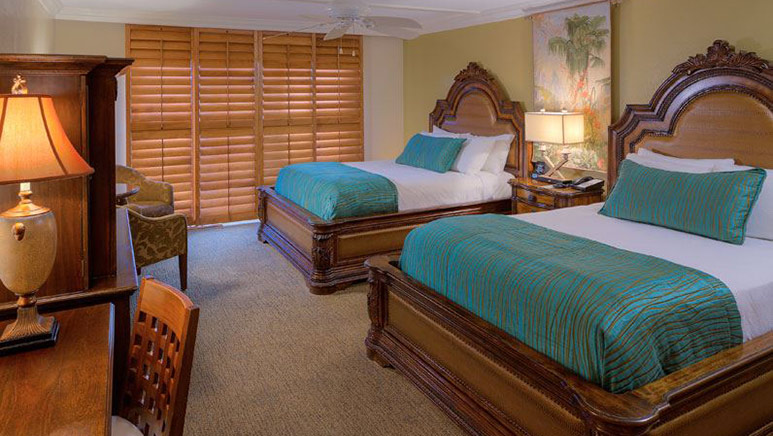 Maximum Occupancy: 4
Special: 3rd Night Free (Subject to availability)
Check-In Time: 4 PM
Check-Out Time: 11 AM
Parking Fee: $28.00 per night
Resort Fee: $18.00 (Per night; payable to hotel at checkout)
Coffee Maker
Refrigerator
Outdoor Pool
Hot tub
Exercise Room
In Room Internet Access
Cable TV
Pay Per View
---
We loved the Boogie Boards and the Bikes! It was so fun to really get outside and enjoy the ocean. It was also really close to come of our favorite restaurants and many others that were new to us! Great fun, great location!
Chandler P. on 05/31/2019
This hotel was fantastic, the rooms were very comfortable and very clean. We loved everything about this hotel, the cozy rooms, and fantastic views were only the icing on the cake. The staff was fantastic as well. They were incredibly nice and very helpful. We loved our stay here and would recommend to family and friends!
Everything about this hotel and its location was great! We loved that we were right on the beach, and a short stroll away from shopping, surfing, and many delicious restaurants.
Every room here offered an ocean view, when booking we didn't have to worry about not getting a view. We loved our stay, being right on the beach was the most wonderful thing we could have asked for, it was a quick walk to the beach. The fire pit tables were a big hit for our family too, we made s'mores everynight and loved it!
Best hotel right on the beach
This was the nicest hotel. Our room was beautiful and we loved being right on the beach. We will be back!