Every vacation is more fun when it includes a theme park! We have a wide selection of great deals on attractions, dining, and tours.
Paradise Point Resort & Spa
Bungalows on 44-acre private island located in Mission Bay, 5 swimming pools, fine dining and much more.
1404 West Vacation Road
San Diego, CA 92109
Experience a slice of paradise at this Four-Diamond resort located across the street from SeaWorld and minutes from downtown San Diego. As San Diego's iconic island resort for over 50 years, Paradise Point offers luxurious bungalow-style guestrooms amidst lush, tropical gardens, meandering lagoons and one mile of sandy beach within its 44 acres. Take a dip at one of five swimming pools, enjoy waterfront dining at the legendary Barefoot Bar & Grill, learn to hang ten at the Paradise Surf Academy, roast s'mores over a beach bonfire or unwind with an exotic treatment at The Spa.
4.3 out of 5 Rating (6 Reviews)
83% of guests recommend this hotel
1 King Lanai Garden King Room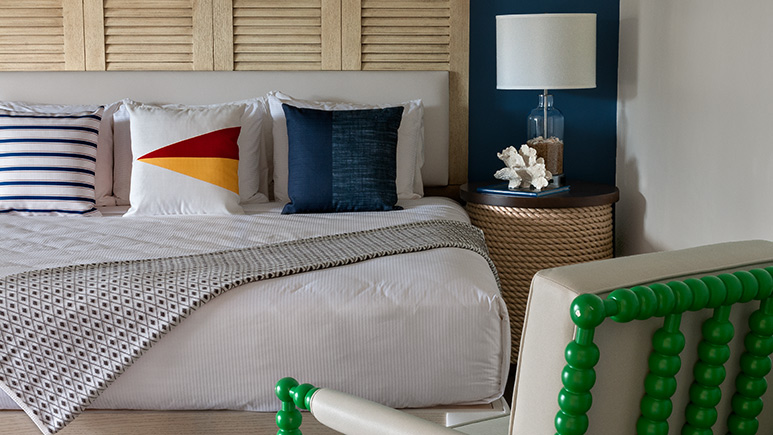 Maximum Occupancy: 4
Standard occupancy: 2 adults (extra adults are $29.00 each per night); 2 children (extra children are $0.00 each per night)
Check-In Time: 4:00 PM
Check-Out Time: 12:00 PM
Parking Fee: $38.00 per night
Resort Fee: $28.00 (Per night; payable to hotel at checkout)
Coffee Maker
Microwave (Fee $20.00 per day payable to hotel at checkout)
Refrigerator
Outdoor Pool
Hot tub
Exercise Room
In Room Internet Access
Cable TV
In House Restaurant
---
Family friendly but also an adult pool and adult beverages. Very quiet, and the staff is friendly. Restaurant prices are a bit high but they have great views.
The fire on the beach was so much fun for us! We loved being able to sit and enjoy the warm breeze. We really loved being able to enjoy the beach and then to come back to our nice hotel room, we loved every part of our room and our stay. It was an incredible stay and we would love to come back here every San Diego trip we have.
This resort was incredible, we loved staying here. We were in a great location, easy to get to San Diego and other attractions around the area, although we easily could have stayed on the resort the entire time. There was so much to do at the resort like, tennis courts, marina with sailboats, kayak, surf lessons, bonfire pits, and so much more! Loved this place, we will definitely be back again!
Our stay here was everything we could have hoped for. It was a gorgeous resort, our room was immaculate, and the resort fee that we paid to the hotel was 100% worth it! The amenities and activities that were offered were incredible. We loved going out and making s'mores every night or went biking on the beach, and participating so many other fun activities!
The price I paid didn't meet my expectations, especially for a resort
I had requested a room near the shore of Paradise Point resort. I would have even settled for a view of a lagoon or some water feature, but our room was the farthest we could possibly be with a view of the freeway. I know room preferences aren't guanteed, but it was extremely disappointing to be so far from the beach, not to mention lugging a 5-year throughout the day and night back and forth. In my reservation, I mentioned we were celebrating my daughters 5th birthday and was hoping she would receive some sort of welcome to San Diego and happy birthday greeting especially with this being a resort, but no attention was given to her after choosing to celebrate a milestone birthday. We also found out upon arrival that the water taxi to sea world wasn't running, which was another big part in choosing this resort. Pretty much what appealed to us for our family trip to California, not one request was honored, and I felt they weren't even reviewed or considered. The room was open and appeared clean. The floor was a dark wood tile which was nice. The couch pulled out into a bed which was nice even though we didn't use it. The bed had 3 layers of sheets which was odd and the pillows were small. I was grossed with the shampoo and conditioner. They both smelled bad and made my hair feel worse. I figured with it being a resort and spa I didn't need to pack shampoo or conditioner. when I was climbing into bed I noticed the bottom of feet were dirty, it was disgustingly amusing that we kept a pair of socks on the night stand to put on when we walked around the room. Lastly our mini fridge didn't work, we found out in the morning when we were packing snacks and water for sea world day. All the water, cheese and cracker snacks and beer were warm/room temp. I did like the ALICE app, I used it to make reservations for a taxi, Tidal and Barefoot Bar and Grill.
It really does feel like Paradise
I loved how the rooms were set up. It felt like we had our own little bungalow on a private island. The bay is gorgeous, they had beautiful grounds, and I really liked the swimming pools too. The parking and resort fees were a little expensive, but I would definitely stay here again.