Every vacation is more fun when it includes a theme park! We have a wide selection of great deals on attractions, dining, and tours.
Holiday Inn Express North Hollywood - Burbank Area
Free hot breakfast buffet, complimentary WiFi, in-room microwave and mini-fridge. 3 miles from Hollywood Burbank Airport.
11350 Burbank Blvd
North Hollywood, CA 91601
Nestled next to the Hollywood Burbank Airport, this hotel will offer you a comfortable stay while visiting attractions, dining and entertainment throughout Hollywood. With a free hot breakfast buffet, WiFi, complimentary fitness center and heated outdoor pool, this hotel is a perfect choice for everyone who visits.
3.5 mi from Universal Studios Hollywood
4.3 out of 5 Rating (8 Reviews)
100% of guests recommend this hotel
1 King Standard Room - 1 King
Maximum Occupancy: 2
Check-In Time: 3 pm
Check-Out Time: 11 am
Parking Fee: $9.00 per night
Microwave
Refrigerator
Outdoor Pool
Exercise Room
In Room Internet Access
Full Breakfast
Kids Eat Free
2 Queen Standard Room - 2 Queen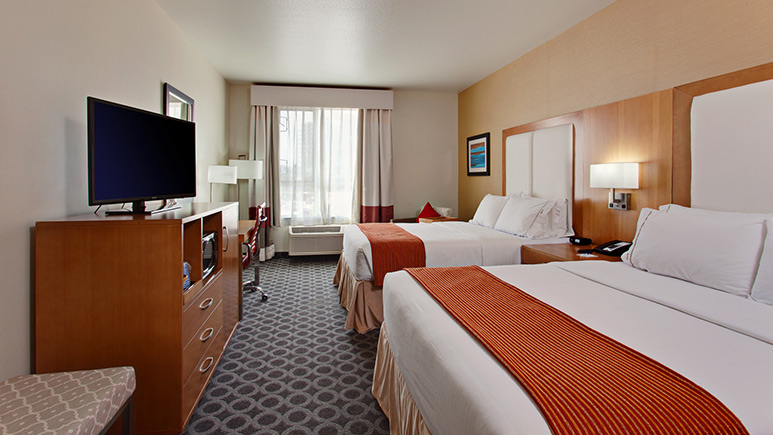 Maximum Occupancy: 4
Parking Fee: $9.00 per night
Microwave
Refrigerator
Outdoor Pool
Exercise Room
In Room Internet Access
Full Breakfast
Kids Eat Free
---
The hotel and staff are great. The area where the hotel is less than desired! I wouldn't plan on going out much from this hotel on foot.
Hotel was clean and staff was friendly
Hotel and Included breakfast were Great :0) Underground train a couple blocks away to Universal and Walk of Stars was Super Convenient.
Not as close to the Parks
Had to pay for parking, not a great neighborhood, the hotel had many safety precautions, farther away than I would've liked from theme park
Great option for families
A great, lower cost option for families. The hot breakfast was perfect, kids enjoyed the pool and our room was comfortable. Staff was very pleasant.
Best Hotel Breakfast Buffet
Nice room, clean, and comfortable. The breakfast was one of the best hotel buffets I have had. Also, the coffee was not weak! I had a great experience there!
We were so excited for our vacation but worried about staying in Hollywood. This hotel was great, we felt safe and comfortable and never had to worry! The pool was fantastic and the room very clean and spacious. We will stay at this hotel again during our next visit to Hollywood!
Safe and Comfortable Hotel, Great for the Family!
My family really enjoyed this hotel! The Kids loved the pool as well as the great free breakfast each morning! The hotels parking lot is well lit and the elevator requires a room key to go up to the rooms, we felt safe and comfortable. The transportation to Universal Studios was a quick walk to the train, it was convienent and didn't take long to get to the park. Overall we enjoyed our stay, we will come back to the Holiday Inn on our next trip to Universal Studios.