Every vacation is more fun when it includes a theme park! We have a wide selection of great deals on attractions, dining, and tours.
Historic Mission Style hotel on 7 acres, free shuttle to Universal Studios Hollywood and all rooms have a balcony.
4222 Vineland Avenue
North Hollywood, CA 91602
Discover Retro-Cool at The Garland near Universal Studios Hollywood. An urban oasis located in Los Angeles, The Garland offers a welcoming vibe and modern amenities. Perfectly situated 1 mile from Universal Studios Hollywood, 2.5 miles from Warner Bros Studios, 4.5 miles from Hollywood's Walk of Fame and many other of L.A.'s best attractions.
1.3 mi from Universal Studios Hollywood
4.4 out of 5 Rating (8 Reviews)
88% of guests recommend this hotel
2 Queen Standard Room - 2 Queen Beds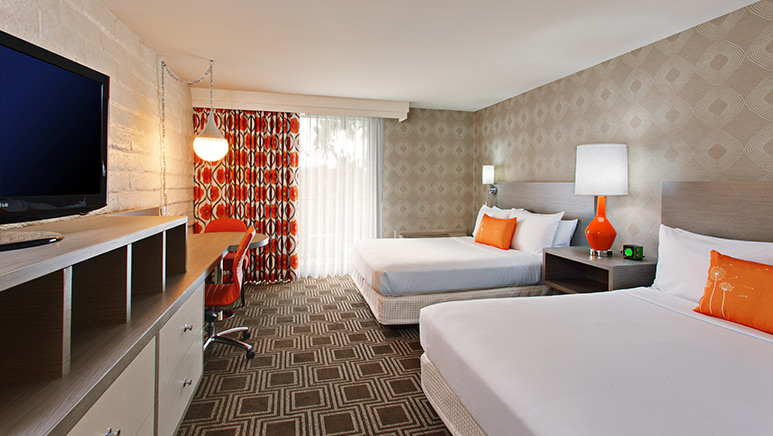 Maximum Occupancy: 4
Standard occupancy: 2 adults (extra adults are $25.00 each per night); 2 children (extra children are $0.00 each per night)
Check-In Time: 3:00 PM
Check-Out Time: 12:00 PM
Parking Fee: $29.00 per night
Coffee Maker
Refrigerator
Laundry
Outdoor Pool
Wading Pool
Exercise Room
In Room Internet Access
Cable TV
Pay Per View
In Room Video Game
In House Restaurant
---
Loved this hotel! Clean rooms, cozy beds, fantastic staff!! Food and food service is top notch.
Great boutique hotel. Have stayed here before and this visit was just as enjoyable as last. Great hotel with great amenities.
The free shuttle was so nice, it saved us money and stress! We also loved having a balcony, it was so relaxing to come home after a busy day to relax and soak in some moon light. Our rooms were very clean and fresh, we enjoyed every minute.
Wonderful Place to Come back to
After a fun filled and exhausting day at Universal Studios we were so happy to come back to The Garland. The welcoming fireplace in the lobby was absolutely incredible. We loved warming up each night after a chilly evening spent outside mid-December. We loved every minute of our stay here.
What a gem! Tucked in to a great location with Trolley bus service to Universal Studios. Rooms were clean and service was friendly. Loved the poolside bar!!
Large comfortable rooms and nicest staff ever
Rooms were large with plenty of space to store luggage. Beds were fantastic. Showers were a little too trendy for me, but did the job :) Nice little balcony overlooking the Hollywood hills. But, the shining star of this hotel is the staff. Extremely helpful, always smiling, and wonderfully kind.
The room size was a little small and the decor was not my taste, but overall the room was comfy. When you opened the closet you were greeted by wallpaper of people taking pics of you LOL! You're in Hollywood ;) The only issue that I really did not like was when we came back to our room for our second night, there was mysterious little round poop like droppings on the floor by the bed. They definitely were not there when we left for the day...it was pretty gross to say the least. I think when we come back to Universal we will choose a different location to stay. They do put a $200 hold on your acct for incidentals...just so you are aware. We didn't know that until we arrived.
Loved staying at this hotel, will stay again the next time we travel to the area.