7-Night Eastern Caribbean - Princess Cruise February 2 - 9, 2020
This week-long cruise will be packed with activities, adventure and, of course, PICKLEBALL! Sail away to Pickleball in Paradise aboard Princess's Regal cruise ship which offers panoramic views and features SeaWalk, a see-through walkway that reaches 28 feet out to sea. On board, you'll find adults-only leisure areas, entertainment such as the Princess WaterColor Fantasy show and so much more.
We will be traveling with a local! Over the course of our 7 night itinerary our IPTPA and PPR certified Pickleball Pro, Byron Freso, will lead us in fun pickleball games, ladder play, round robin competitive play and pro clinics. Born and raised in the Caribbean, Byron will introduce us to his friends as we interact with the local pickleball community at the different ports.
The 7-night itinerary includes the following ports:
Day -1 Embark from Fort Lauderdale, Florida Day - 2 Princess Cays, Bahamas Day - 3 At Sea Day - 4 St Thomas Day - 5 St Maarten, Leeward Islands Day - 6 At Sea Day - 7 At Sea Day - 8 Disembark in Fort Lauderdale, Florida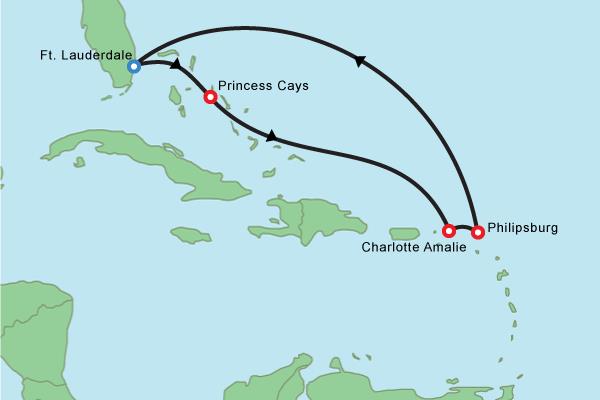 This is a perfect getaway for couples or friends who are looking to improve their skills and have a great time doing it!
Pricing starts at $1,200 per person* Pickleball package included** Final payment due November 4th Promotions or discounts at the time of booking may apply
*all pricing includes taxes & port fees. Airfare to/from Fort Lauderdale (FLL) not included. **Pickleball Package: Reserved pickleball courts (10:00 am-12:00 daily), t-shirt, water bottle, swag bag, pickleball at ports, round robin competitive play, clinics with the pros, & awards/prizes.
To book, please contact Jill Muirbrook: Office: 801-475-9525 Cell: 801-648-9044 Email: [email protected]
Learn more about our Pickleball Pro, Byron Freso
Full-Time RVer in Anywhere, USA
USAPA Certified Referee
USAPA Certified Referee Evaluator
IPTPA Level II Certified Instructor
PPR Certified Professional
5.0+ Senior Pro
Byron Freso is an IPTPA and PPR Certified Pickleball Instructor and Senior Pro Pickleball Player. He has been playing pickleball for six years and has won many medals at the national and local levels. Prior to playing and teaching pickleball, Byron was an Open level racquetball player. He is also an outstanding volleyball and table tennis player. Byron was also a college volleyball coach and taught racquetball and table tennis.
He has a love for this game that is second to none and is a strong advocate for growing sport in all parts of the US and around the world. As a full-time RVer, Byron has traveled and played in 49 states since he was introduced to the game in 2012. Byron and his wife Marsha spend their winters in Surprise, AZ, where they enjoy playing in many tournaments during the pickleball season. In addition, he teaches and evaluates instructors who would like to become certified IPTPA instructors.
Over the years, Byron has won over fifty gold medals, numerous silver and bronze medals in the following tournaments:
USAPA Nationals
US Open
National Senior Games
State Games of America
Huntsman World Senior Games
Grand Canyon Games
Many Other Tournaments
Byron brings a wealth of knowledge and understanding in the art of teaching the game of pickleball. His goal when teaching is to have each student maximize their capability to learn, have lots of fun doing it and to grow from the experience.