There is nothing quite like a Disney Cruise. It is something that every family should make a goal to be able to go on one together - no matter the ages of your kids. Disney Cruise Line currently has four ships; the Disney Wonder, Disney Magic, Disney Dream and Disney Fantasy. Most sailings are out of Port Canaveral in Florida, but there are also itineraries throughout Europe, Alaska, out of Texas and occasionally Southern California. Because a Disney Cruise is so different from any other cruise line or experience, we've put together 10 Disney Cruise tips to help you make the most of your Disney Cruise, no matter which ship or itinerary you choose.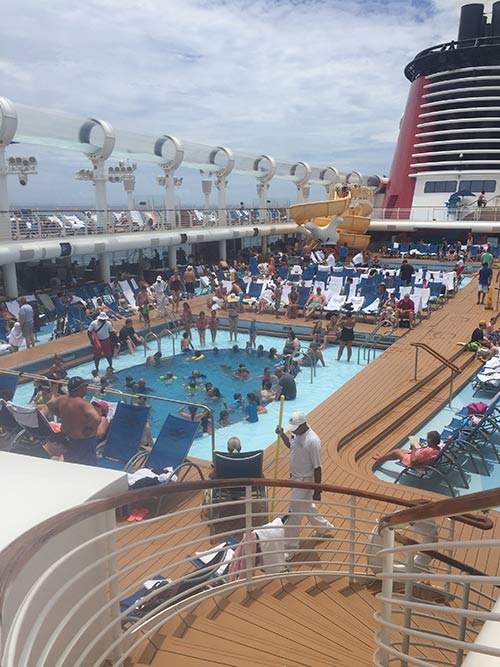 10 Disney Cruise Tips
1. Book early. Unlike some other cruise lines, Disney Cruise Line is always in demand and you're highly unlikely to get a good deal at the last minute. Disney Cruise Line sells their staterooms similarly to the way airlines sell their seats. A certain amount of staterooms will be available at one price, and once those are sold, the same type of stateroom will bump up to the next pricing level. By booking early not only will you have the most selection of staterooms, you'll have the lowest pricing tier. Plus, you'll have longer to pay for your cruise. Most Disney Cruise sailings require final payment approximately 90 days prior to sailing, so the farther out your cruise is, the more you can spread out your payments.
2. Know the different cabin types. Like other cruise lines, Disney offers inside, ocean view and verandah staterooms. Interestingly, the inside staterooms on the Disney Dream and Disney Fantasy tend to go faster or can even cost more than an ocean view. Why? Because the "Magical Portholes" in the inside staterooms are super popular. There is actual live footage of what the ship is passing, but unlike a regular porthole, Disney characters will pop by the magical porthole to say hello! The magical porthole is sensitive to motion, so characters are more likely to make an appearance when you're actually in the room. It's a smart thing to check all of the stateroom types and prices when pricing your Disney cruise. You never know what great deal you might find, or how affordable an "upgrade" to an ocean view or verandah may be.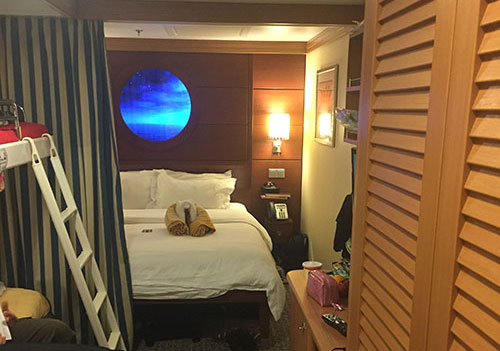 3. Make your onboard activity reservations ahead of time. There is always something going on on a Disney Cruise and some of these expreriences require a reservation. And, the most popular experiences sell out. The good news is that you can book a lot of these before your cruise instead of waiting until you're onboard. No one wants to spend precious vacation time waiting in line to make a reservation! One of the newest additions is that you can now pre-book two character meet-n-greets! If your cruise is 7-nights or longer and has two days at sea, you can also pre-book a special character breakfast before you go. Another popular experience is the Bibbidi Bobbidi Boutique, and these reservations do sell out, especially on Pirates Night. Dinner reservations for Palo and Remy, spa treatments and more call all be booked ahead of time. When you book in advance not only are you guaranteed to be able to get into everything you want to do, it will make you even more excited for your Disney Cruise!
4. Book your shore excursions early. The most popular excursions almost always sell out, and chances are, you're not going to make it back to your port anytime soon if you miss out on what you really wanted to do. You can book your excursions online directly through Disney Cruise Line, or you can purchase in advance with Shore Trips, our recommended partner. One thing you do NOT want to do is wait until you get to your port to make your plans. You could get in trouble with a less than reputable company, miss your ship, or just miss out all together on something great!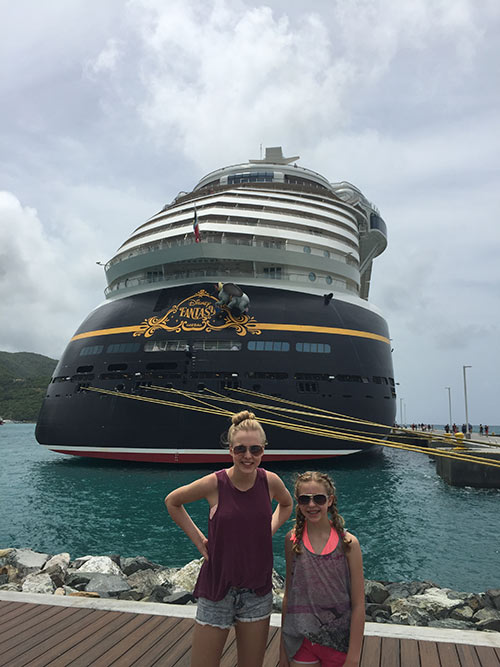 5. Get into the themed nights. One of the funnest things about a Disney Cruise is their unique rotational dining and themed nights. Instead of going to one dining area each night, you'll experience a different themed restaurant and your wait staff follows you around. Depending on the ship you're on, you could be dining at anything from a royal hall to a working art studio. Each Disney Cruise also features a themed Pirates Night and there's nothing quite like a pirate party at sea! You'll have the best time if you really embrace the themes and get into it.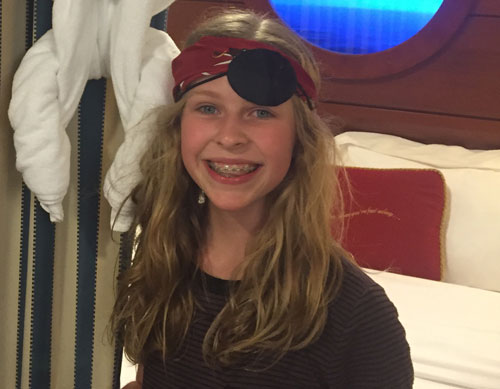 6. Don't overpack. This may seem a little counterintuitive to what I just said, but remember, you're going to be in a small stateroom with your family. You won't have the space for everyone to bring an entire wardrobe, toys, etc. Each 7-night Disney Cruise generally has one formal night, one semi-formal night, one pirate theme night, and four "cruise attire" nights. Cruise attire means regular clothes, no swim suits. It may seem like you have to pack a LOT, but remember most days you'll probably be in your swim suit or play clothes for most of the day. Bring things that coordinate, rewear bottoms and consider even doing laundry on the ship. You'll appreciate not having too much stuff.
7. Check your Personal Navigator and make a plan for each day. Each night you'll receive a special delivery in your room of your Personal Navigator, a breakdown of exactly what is taking place each hour in each area of the ship. This will tell you what's going on in the different kids camps, family activities, movie theaters, adult only areas and more on an hour by hour breakdown. Take a little time each night and make a plan for each day based on what you want to do the most.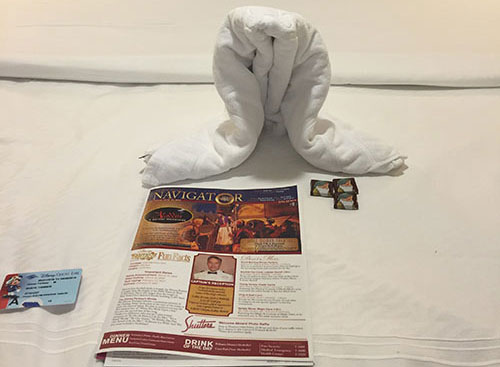 8. Bring a refillable bottle for your beverages. This is another one of our Disney Cruise tips that is uniquely Disney. Most cruise lines charge extra for soft drinks with or without a meal. Disney Cruise Line includes soft drinks and juices with all meals, and has a 24-hour beverage station that guests can use included with their cruise fare. Small paper cups are provided at the beverage station, but if you're a big soda or water drinker, you'll want to have something a little larger. By bringing your own container, you won't have to make as many trips to the drink station, plus think of all of the paper cups you'll save!
9. Use the kids camps. Disney Cruise Line has some of the most immersive and fun kids camps at sea. The camps are broken out by age with activities and play spaces created specifically for them. Your kids will LOVE them. Everyone from pre-schoolers to teenagers have their own space. If you're traveling with kids under three, there's even a nursery available for a small fee. But, all of the kids camps and activities are 100% included.
10. Make your dining time reservation early. As I mentioned eariler, Disney Cruise Line's rotational dining is incredible and will be a highlight of your cruise. There are two dining services offered, a first and second dining rotation. In addition to dinner, there is a major production each night for the entire family. The first dinner seating is normally around 5:30 or 6:00pm, which means you'll catch the second show which normally begins at 7:30 or 8:00pm. The second seating is the reverse, meaning you'll go to the show first, around 5:30 or 6:00pm and then dine at 7:30 or 8:00pm. Many families prefer the first seating, so those spots tend to get filled first. However, I prefer the second seating because I'm more alert for the show, and I enjoy a leisurely dinner with nowhere I have to be after. Also, the second seating offers a kids club pick-up service, where a counselor will come about an hour into the meal and let any restless kids come with them back to the kids club for evening activities.
These Disney Cruise tips are just a few of the many, many reasons we love a Disney Cruise! If you've been thinking about one for a while, now is your time to book. Call our cruise experts at 877-510-2929 to book yours today!
Check out these other great articles: