It's the most wonderful time of the year! There is Christmas magic in the air and it is mixed with beautiful flurries of snow. Elsa must be busy. It's certainly beginning to look a lot like Christmas everywhere you go, especially at the Disney Parks! The halls have been decked with twinkling lights, fancy ribbons and colorful bows. Mickey Mouse knows how to throw a
holiday party. This year,
Holidays at the Disneyland Resort
officially start tomorrow, November 13th and continue through January 6, 2016. What could be better than celebrating the happiest of holidays at the Happiest Place on Earth? Getting your family excited about a Disneyland holiday vacation with your
Elf on the Shelf
!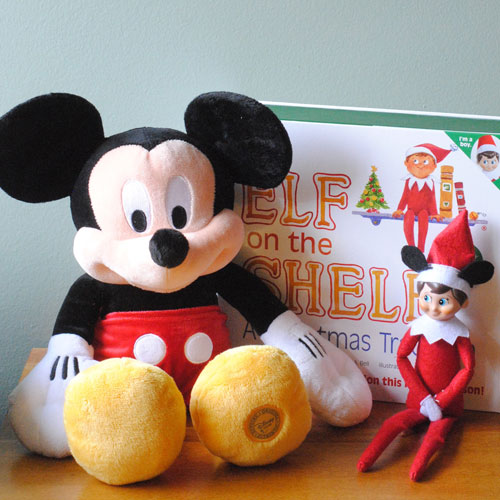 As you know, Elf travels to the North Pole each night to report to Santa Clause on your family's behavior. His presence in the house reminds everyone to be a good little boy or girl. The best part about Elf is that he is magic - and you know how much we love magic! Each night he comes alive for his trip North, then returns and finds a new spot to freeze for the following day. He has a sense of humor and is often found in comical situations. Each morning children run to find the Elf and discover what he has been up to that night.
Give your Elf a Disney makeover this season. Your Disney theme can be a hint of what is to come - a Disney Vacation! Or, it can be a way to add extra childhood fun to your traditional Elf on the Shelf activity. You could even use this year round before your vacation if you really wanted to! Feel free to share your Disney Elf ideas with us as well in the comments below.
To make it even easier for you, I've put together a list with links to where you can get our free downloads or buy any supplies that you may not already have:
Elf on a Shelf
Black felt
Floral wire
Food writer edible markers
Yellow yarn
Monopoly
Small mermaid tail
Olaf plush
Sven plush
Mini bows
Jake and the Never Land Pirates ship
Gold Doubloons
Wanted poster download
Buzz Lightyear wing download
Get your Elf in character with these quick and easy Mickey Mouse ears. I made these with black felt and floral wire. Cut two ears from the felt. Sew the ears onto floral wire using a zig-zag stitch on the sewing machine. Try them on the elf to get the placement right.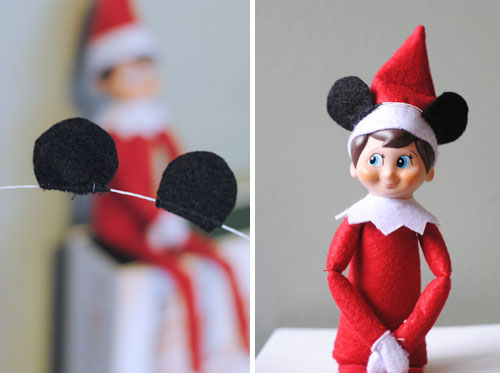 Then twist the wire together in the back to hold them in place. It's that easy!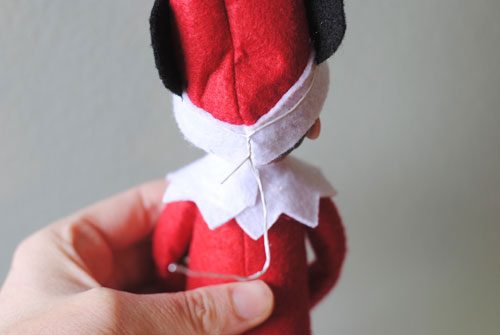 Now your Elf is ready to have some Disney Fun!
"Snow" Many Snowgies
Elf and Olaf had a busy night watching all of Elsa's Snowgies. They seem to multiply by the second. Someone needs to get Elsa some cough medicine!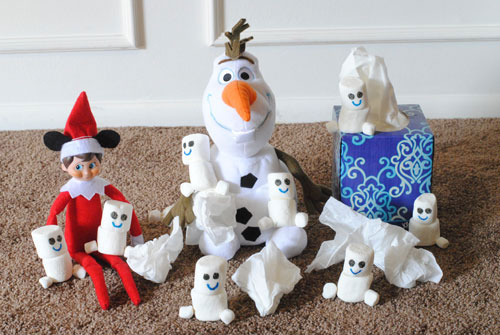 To make Elsa's cute snowy sneeze babies, put two regular marshmallows together with a toothpick. Then, add mini marshmallow feet with a toothpick cut in half. Draw the happy face with frosting markers.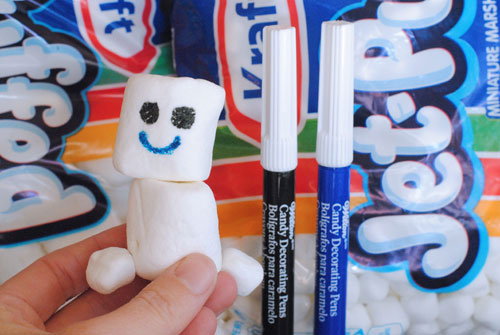 Disney Movie Marathon
After last night's babysitting, Elf needed some down time. He found a few of his best Disney pals and had a Disney movie marathon.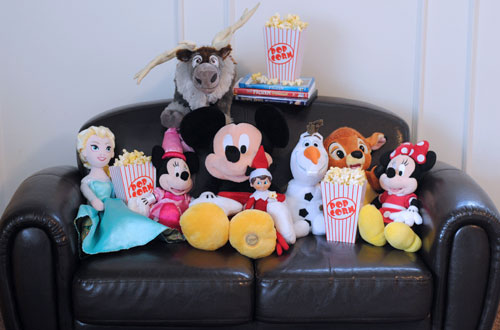 Tangled Up
Climbing the tower to visit Rapunzel isn't quite as easy as Flynn makes it look in the movies. Elf got a little bit Tangled.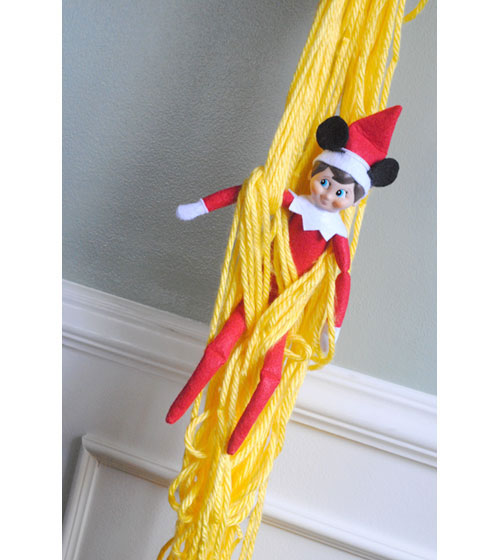 Reindeer Games
It is a well known fact that reindeer like to play games. Sven is no exception. Sven let the Elf join in his reindeer games... like Monopoly!
You can make your Elf some simple reindeer antlers with brown pipe cleaner. Shape it into a nice rack and then attach it to the elf with the wire.
Selfie with Mickey
When you take a selfie with a mouse, you have to remember to, "Say Cheese!" Mickey and Elf left a digital surprise on the phone. You "mustache" them what they were up to all night long!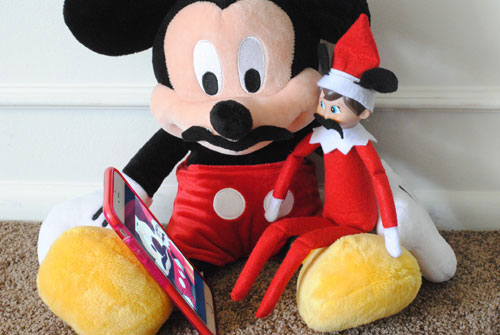 Part of Your World
Even little Elves dream of being part of your world sometimes. Luckily, Elf didn't have to visit Ursula to get a chance to swim under the sea with his Little Mermaid friends. He has a little Christmas magic of his own.
A Visit to Minnie's BowTique
Elf never looked so good! He spent the night getting a makeover at the famous Minnie's BowTique. He better be careful, or someone might mistake him for a present.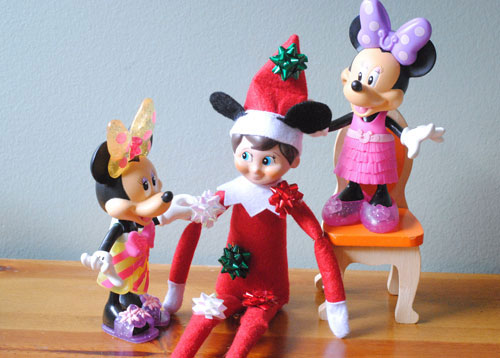 Pirate Adventures
Elf must have solved plenty of "pirate problems" during the night with his buddy Jake from the Never Land Pirates, because they have a whole slew of Gold Doubloons to share with the kids. I hope Captain Hook doesn't try one of his sneaky tricks.
Wanted!
It isn't easy to be a wanted man. No one knows that better than Flynn Rider. Especially, when the kingdom just can't get your nose right. Elf is wanted for spying. Do you think he can convince the people that he really is a good guy on the inside like Flynn? Draw in your own crazy nose before hanging this poster up!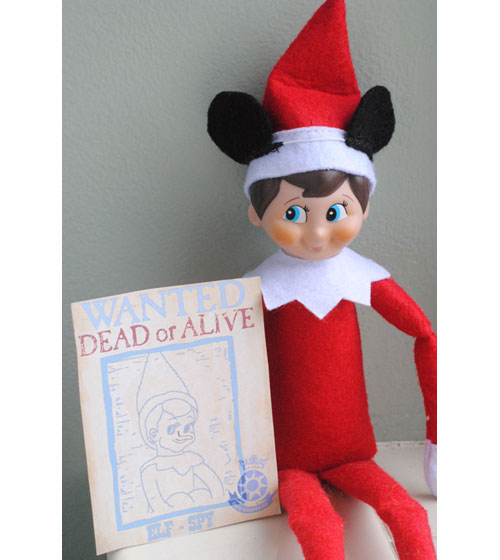 To Infinity and Beyond
Elf has had a chance to fly in Santa's sleigh, but now he gets to try out his own wings as well! Strap on a set of Buzz Lightyear wings and watch him fly to infinity and beyond. Is Elf flying, or falling with style?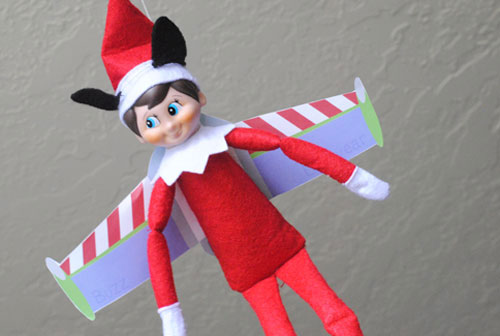 To give Elf his wings, print the wings template. Cut it out and pin it onto his back with straight pins. Hang him from the ceiling with fishing line or string.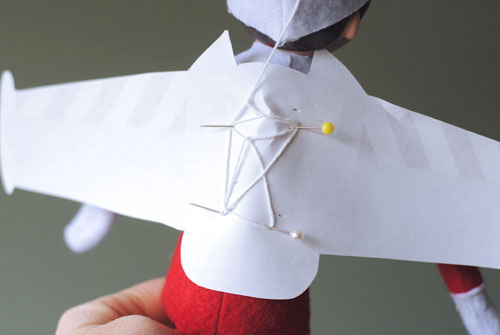 I hope you have fun with these Disney Elf on the Shelf inspiration and that the magic of Christmas at your home can last all year long. If you haven't booked your holiday Disneyland vacation, there's still time! Book now and you'll get an extra day free with any 4-day Park Hopper ticket purchased! You can book any of our
Disneyland packages
online, or call our Disney Experts at 855-GET-AWAY.
Check out these other great articles:
13 Reasons to Visit During Holidays at the Disneyland Resort
25 Tips to Celebrate the Diamond Celebration
3 Easy Ways to Wrap a Disneyland Vacation Surprise