Disneyland is full of adventure, hidden secrets and amazing things to learn, see and do. The following list is designed to help you enjoy your adventure, wherever you may be within the park. Take a few moments on your next Disney trip to pay attention to a history lesson, a hint of the future or details that the Disney novice may miss. Lucky for you, this article will help you on your quest to be a Disneyland secret aficionado.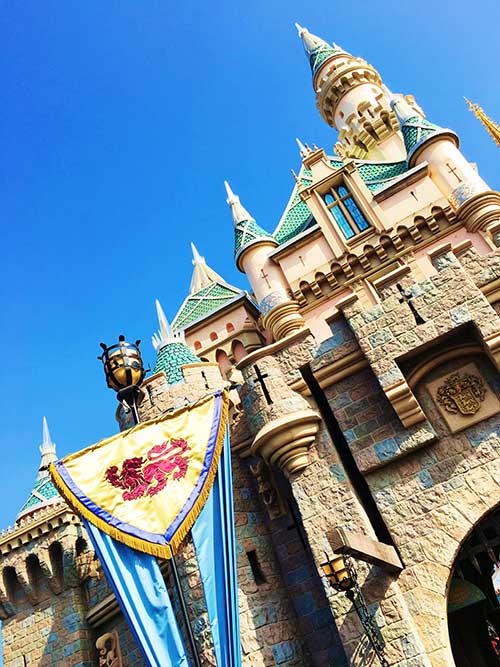 There are surprises around every corner at Disneyland. No stone is left unturned for an amazing easter egg or historical secret. But we have got you covered - get ready for 10 Disneyland Secrets you never knew:
1. Where is true adventure: Walt Disney created Disneyland as if were a "living movie". He hated the fact that once his movies were finished, he couldn't go back and change anything. Disneyland was created to be changed, updated and improved. Walt once said, "Disneyland will never be finished as long as there is imagination left in the world."
Once you enter the park, the adventure starts in 19th century Main Street U.S.A. The industrial revolution is underway and there is excitement about a growing economy and changing technology. Guests then make their way to "the hub" where they can choose the kind of adventure they would want to star in. Perhaps it's a western in Frontierland, a science fiction adventure in Tomorrowland, a Disney classic in Fantasyland or a an exciting adventure in Adventureland. Walt created an icon that eventually became known as an attraction that would encourage guests to enter each given land.
Fantasyland provided the castle, which begged for exploration on what might be ahead. Rocket ships at the front of Tomorrowland provided a promise of the future and the Mark Twain River Boat is clearly seen from the hub and beckons for an adventure in the wilds of the American frontier. However, the Adventureland sign is visible from the hub, but there is no visible icon. Why? Because true adventure is always found around the next corner!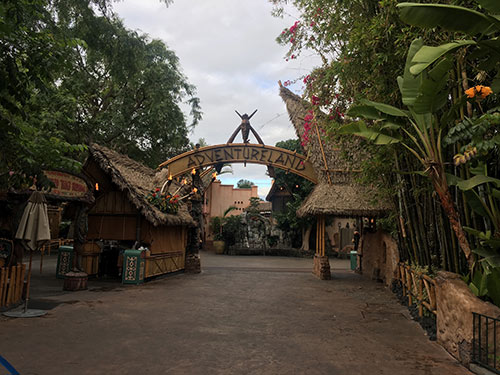 2. A secret Avengers doorway: While looking at the Collector's Fortress in Disney's California Adventure, guests prepare to experience the all-new Guardians of the Galaxy Mission: BREAKOUT attraction. However, hidden in a flower bed to the south of the Fortress is a cover to a secret doorway. Many Disney fans think that this might be a sign of new things to come to Disney's California Adventure. Stay tuned Marvel fans, there could be a big Avengers secret coming soon.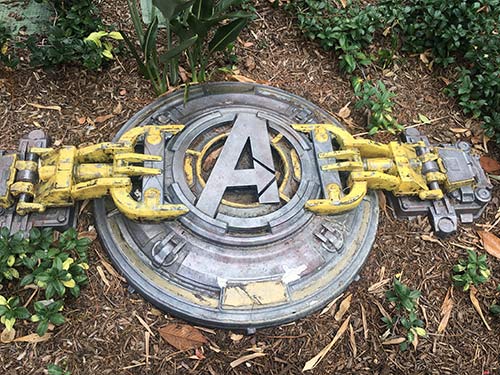 3. A "Knick Knack" on Route 66: Pixar short films are part of the fun that comes along with a Pixar feature film. In 1989, Pixar released "Knick Knack", a short film about a snow globe snowman, name Knick, who wants to escape and join friends having fun in the sun. Knick and the snow globe, along with some of his friends can be found in Radiator Springs Curios, on a shelf on Route 66 in Cars Land.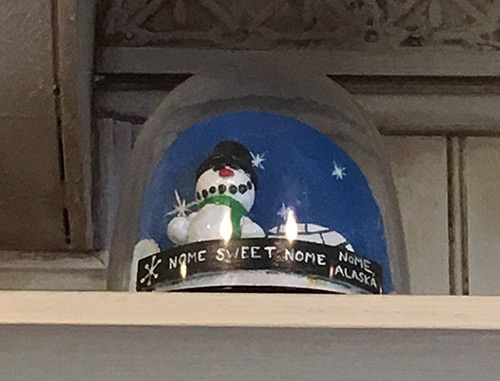 4. Send a letter from Disneyland: Several years ago, sending a post card to your loved ones while on vacation was the thing to do. Now, social media and other digital communications have made vacation updates much easier. However, working post office boxes can still found throughout the park. Next time you're there, find a post card and send it home. This is a fun way to experience memories of the past!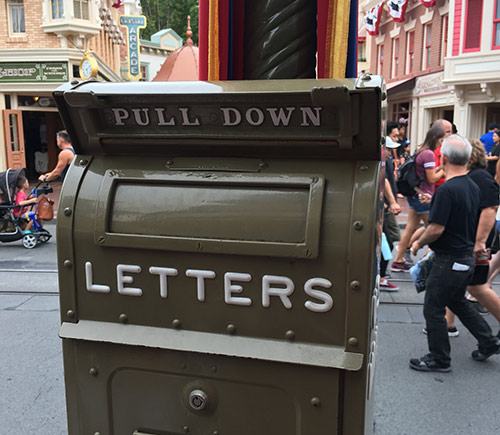 5. The original author of the Little Mermaid makes an appearance in Ariel's Undersea Adventure: Prior to Ursula the Sea Witch and Sebastian the crab, Hans Christian Anderson wrote the Little Mermaid in 1837. The beloved story is about a young mermaid that is willing to give up her life in the sea to gain a human soul. Because of this, Ariel's story is based upon Hans Christian Anderson's work. As part of honoring the author, the author's and the mermaid's likeness can be found near the end of Arial's Undersea Adventure attraction. They can be found on the front doors of the cabinets before your sea shell makes the final corner.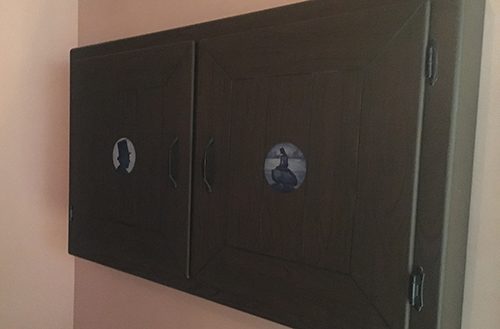 6. A Disneyland Speed Limit: Look close! Disneyland has posted speed limit signs on property. The speed limit is 14 miles per hour. Certainly a unique velocity!
7. An earthquake in an ice cream shop: The Pacific Wharf area of California Adventure Park is inspired by the amazing things that can be found in the San Francisco area of California. Sour Dough Bread can be found in Boudin's Sour Dough Bread Factory and chocolate in the Ghirardelli Chocolate factory. Be sure to stop in to the ice cream shop to get a free square of chocolate. But also to stick around for a few minutes and pay attention to the San Francisco scenes on the walls. You might be able to see one of the infamous San Francisco earthquakes shake the scenes on the wall.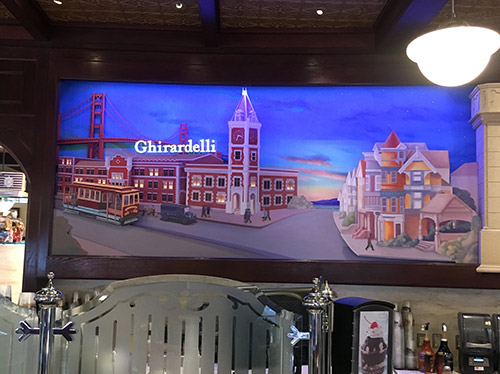 8. The Mariachi Divas! An all female mariachi band entertains guests in the food court near the Pacific Wharf area. Not only do they play traditional Spanish and Mexican songs, but they will occassionally play popular tunes too. They bring some extra flavor to your dining experience, so be sure to check park maps for performance times. Jump in and sing some songs or dance along for a fun and festive fiesta!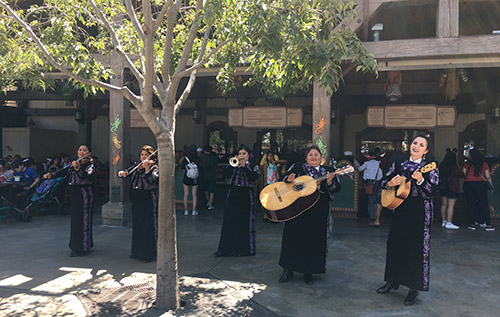 9. A phone conversation in 1890: In the early days of telephones, family used to share a "party line." Several families could split the cost of the new device and could use the phone as communication when needed. Phones hanging on the walls on Main Street, U.S.A contain conversations that may have happened over 100 years ago. Stop and listen in for a few minutes to hear pieces of history.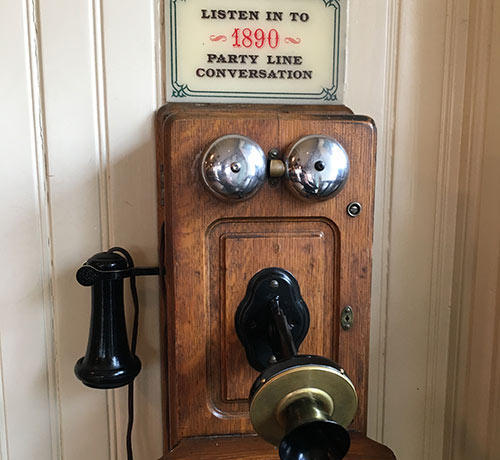 10. Romeo Poles: Found deep in New Orleans Square, this area celebrates everything that is unique and quaint about the the French Quarter. However in the early days of New Orleans, young men would try and visit the daughters of area merchants by climbing the poles that held porches on the second floor. Soon, concerned fathers placed spikes on the poles to keep young men from trying to climb the poles.Look close and you might be able to see the witch from the early Pirates of the Caribbean films. She'll be casting spells on those below. The "point" is to stay on the ground where you should be!
Bonus item: Walt Disney's Window! The windows on Main Street U.S.A and throughout the park celebrate the men and women who helped to build Disneyland. Once guests find out that the windows are like movie credits, they simply cannot find a window that celebrates Walt Disney. However, hidden on a window in Toon Town is Walt Disney's window. This window displays his very first business, Laugh O Gram, formed in Kansas City, Missouri.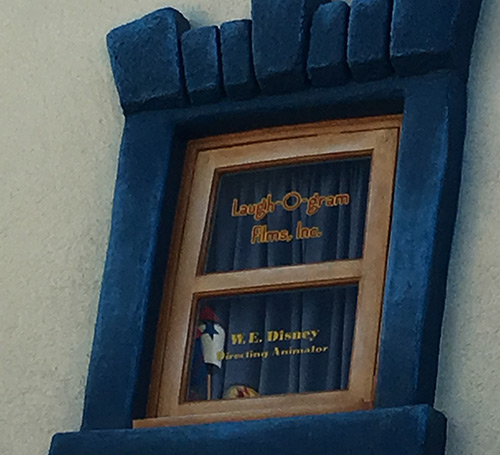 Get Away Today provides your family with every detail to choose a fun adventure. Not only are they Disneyland experts, but they'll also help you with every detail of your vacation to ensure it's a magical one. To book your next Disneyland vacation, call 855-GET-AWAY or book online!

Chris Dallin is a Disneyland fanatic. He travels to Disney parks several times a year and continues to find hidden gems, adventure, joy, and magic in the Happiest Place on Earth. Tune into future blogs for additional ways to experience the magic of Disney Parks.
Check out these other great articles: