A stay at Aulani, a Disney Resort and Spa, is the perfect destination for families of all ages. We have gathered our best Aulani tips so you can make the most out of your Hawaiian vacation!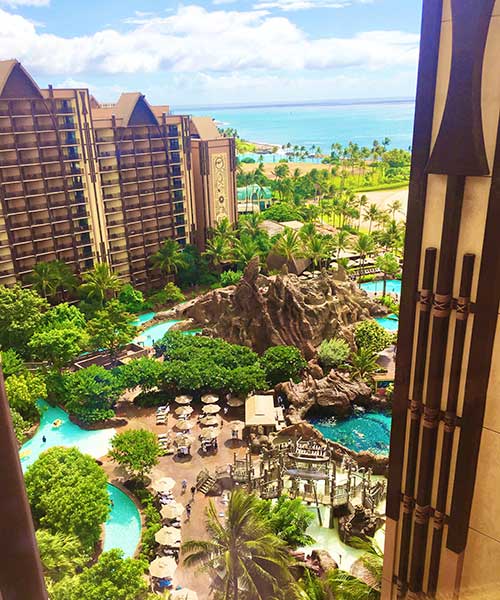 Aulani, a Disney Resort and Spa, celebrated their fifth year anniversary earlier this year. For being such a newer resort, they have already won countless awards. They've been named for being a top family resort as well as romantic resort, and overall top hotel in Oahu.
It is located on the beach of Ko'Olina on the west shoreline of Oahu, Hawaii. The resort is only about an hour from the Honolulu airport, as well as an hour from the Polynesian Cultural Center and North Shore. It is a top recommendation for families and we have some of the best Aulani tips so you can get the most out of your vacation!
Entertainment Aulani Tips
The best part about Aulani is that so much is included in your package price, especially all the family entertainment. The daily Shake-A-Shaka Pool Party is one of the most fun experiences. It involves several Disney characters dancing off and playing games at the family pool. It is a great opportunity for your little ones to get up close to the characters - make sure to bring a camera!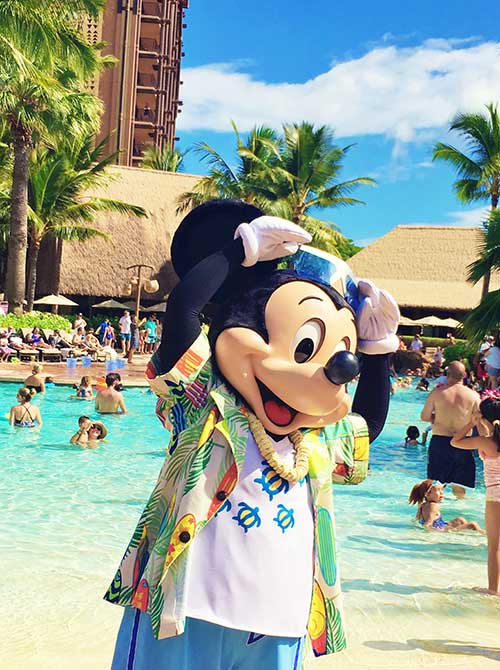 If Disney characters are going to be the highlight of your trip, make sure to stop by the character meet and greets. These are held daily at differing times depending on the character. Check with the front desk for the daily character schedule so you can grab a picture and autrograph from your favorites. Some of the best Aulani tips for character experiences are to arrive 30 minutes early and bring an autograph books. Lines fill up quickly and some characters have time restrictions.
Another favorite is the Mo'Olelo Fire Pit Storytelling with Uncle that takes place several times each night at The Circle of 'Alea 'Ula. You can gather round the fire pit while Uncle shares the legends of Hawaii. It's a fun way to end the night and teaches your family more about the Hawaiian culture. While the little ones might be ready for bed, you can send any wide awake teens to Aunty's Beach House for a teens-only beach party to finish the night. They will love being able to stay out late and you won't have to worry.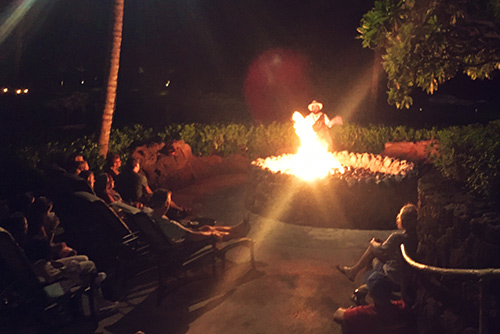 Aunty's Beach House Tips
Aunty's Beach House is a dream come true for parents. The children's center focuses on caring for children (ages 3-12) daily with plenty of activities to keep them busy. The Beach House offers crafts, Surf's Up! with Chip n' Dale, Disney character play dates, shows, games and other activities from 9:30 AM – 9 PM. Reservations are required, but the service is included with your package price. This is a HUGE savings since most resorts in Hawaii charge $100-$150 per child per day!
Parents can drop their kids off in the morning, spend a relaxing day at the spa or beach, then pick them up in the evening without having to worry. Two of our best Aulani tips concerning Aunty's Beach House are to make reservations ahead of time and to pre-register your children at least 48 hours before you check-in. That will make the check-in process at Aunty's Beach House quicker and means you can be sure your little one has a spot for your specific date.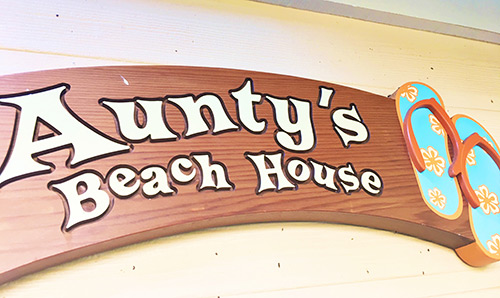 Laniwai Spa Aulani Tips
The Laniwai Spa is the only Disney-run spa on any Disney property. They are proud of that and share that pride the amazing experiences offered. The spa offers a relaxation area that can be enjoyed by guests up to a full hour before their service with access to soaking tubs and massage showers. They offer the usual spa services as well as salon services. Your teens can enjoy spa services as well since Laniwai also offers a teen-only spa called Painted Sky. Both spas guarantee a great experience.
One of our favorite Aulani tips is to take advantage of the relaxation area mentioned above. The spa lets you stay in the relaxation area as long as you want. You are even able to order lunch or dinner to be delivered so that you can enjoy the soaking tubs and lounge chairs the entire day. Laniwai Spa does not offer in and out privileges, so be sure you are completely relaxed before you decide to leave.
Pau Hana Room Aulani Tips
The family fun doesn't stop with the entertainment at Aulani. Crafts and lessons are offered around the clock for every age at the Pau Hana Room. Making leis, racing canoes, and learning how to draw from a Disney animator are some of the highlights of this recreational room. They also offer hula and ukulele lessons for the family each week – make sure to take both home so you can wow your friends and family.
Tablets loaded with the Menehune Adventure Trail game can be found in the Pau Hana Room. The Adventure Trail is an interactive game that takes your family throughout the resort to find as many mischievous legendary little people as you can. Disney DVDs are available to rent if you're hoping for a family movie night as well. One of our insider Aulani tips is that you make sure to visit the canoe racing with Uncle - Moana will be joining him to help make those canoes on November 15th. This will be a new character experience that is sure to become a family favorite!
Celebration Buttons & Pins Aulani Tips
Don't forget your Disney pins when packing for your Aulani vacation! A lot of Aulani tips are well-known, but this one isn't. All of the shops and many of the resort cast members have pins available for trading. The best part is that since many people don't know about this, they have a ton of unique pins that you might not find in the parks.
Make sure to stop by the front desk and alert them to any celebrations going on as well. You will get a button for every member in your party to help you celebrate. These are similar to the buttons available at the Disney theme parks, but personalized to the Aulani resort. All the cast members will make sure to congratulate you and it's a free souvenir!
PhotoPass Aulani Tips
The popular photo system found in Disneyland and Disney World can be found at Aulani too! You can leave the cameras in your room and focus on being present with your family because Disney photographers are there to catch the memories for you. One of the most amazing Aulani tips is to visit the beach during the sunset. The Disney photographers can capture that perfect family portrait with the sun setting on the beach behind you. Before you check out, stop by the PhotoPass desk to view your pictures and find out what deals are being offered.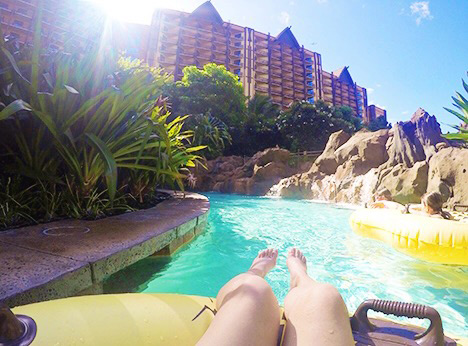 Car Rental Aulani Tips
Aulani is centrally located between Honolulu and North Shore. Honolulu includes some great sites like Pearl Harbor while North Shore has some great food trucks and beaches. If you are looking to explore, you won't have to go far for a car rental. Aulani has an Alamo on-site with all sizes of cars available. The best part is, once you are ready to return, you just take the car to the valet and they finish up the return for you. It is one of the smoothest and easiest car rental processes ever! Out of all the Aulani tips concerning going off-site, the best is to book when they are offering the rental car for free – this special is held almost every year and one of their most popular.
Ko'Olina Station & Center Aulani Tips
The best part of staying in the villas at Aulani is that there is a full kitchen for your family. You don't have to go far for groceries because the Ko'Olina Station & Center is right across the street from Aulani. This center includes a small grocery store, coffee shop, multiple restaurants and a few souvenir shops as well. Two of our Aulani tips are to stop at Target or another major store on your way in for the basics and then visit the Ko'Olina grocery store for any additional food you need during your stay. Plus, stop by the Ko'Olina Island Station Coffee Bar to try the coconut peanut butter, mango and honey sandwich. It sounds strange, but is a local favorite!
Daily 'IWA Aulani Tips
There are more than enough things at Aulani to fill up a seven night stay, let alone a three or five night one. To make the most of the experience, the resort offers a Daily 'IWA at the front desk. This is the daily newspaper that highlights the timeline of events and shows taking place each day. One of the most important Aulani tips is to grab this each evening so you can plan out activities for the next day. Don't worry if you don't want to plan – you're more than likely to run into an activity or two while spending your day relaxing on the beach or in any of the amazing pools!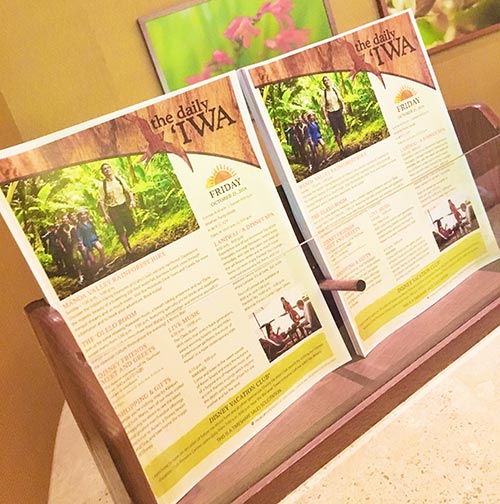 Luana Lounge Aulani Tips
You won't want to leave when your vacation comes to an end at Aulani. Luckily, they let you enjoy the resort as long as possible with the Luana Lounge. The lounge includes lockers and showers so you can soak in the pools and beach just a little longer while waiting for your flight. Aulani also offers this lounge to guests who arrive before check-in so your vacation can begin as soon as possible. Try to plan your flights so that you arrive early and leave as late as possible to get even more out of your Aulani stay.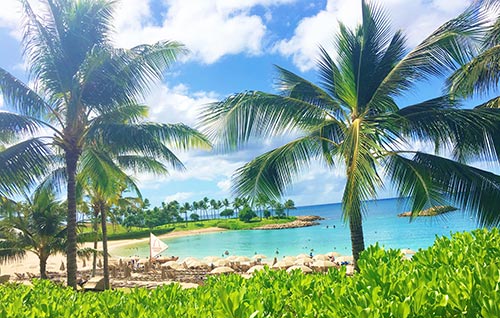 Oahu, Hawaii is a stunning destination for family vacations and Aulani will add the magic of Disney to the beauty of the island. Make sure to use our Aulani tips when planning your next Hawaii vacation. You can book a stay at Aulani on our website or call our travel experts at 855-GET-AWAY for personalized help.

Check out these other great articles: