Disneyland is filled with history, fun and adventure. With preparation and a little bit of luck, you can enrich your vacation and experience a completely different getaway than ever before.
Walt Disney, by all accounts, is the most decorated movie maker of all time. Using his movie making knowledge, he created Disneyland; he loved the idea that he could constantly change the park, unlike his movies that were complete upon release. He said, "Disneyland will never be complete as long as there is imagination left in the world." Use your imagination and immerse yourself into Disneyland as Walt meant for you to experience it.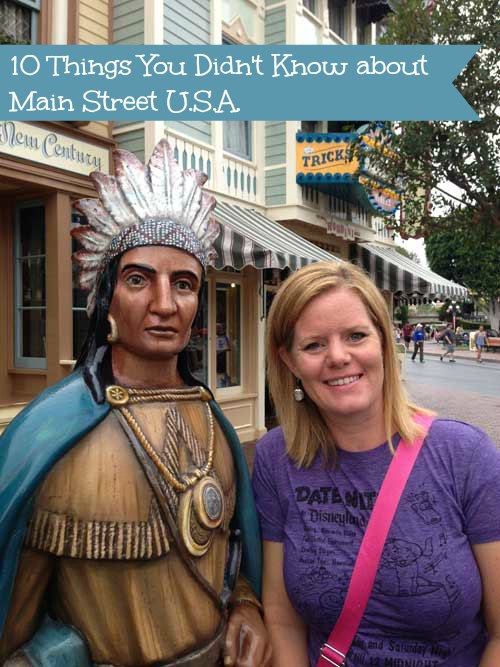 Upon arrival, you'll notice that the pathways are painted red to signify that you are arriving at a red carpet movie premiere and you are the star! (Don't forget your autograph book, because you will certainly run into one of your favorite movie stars.) As you enter through the turn styles and walk past Mickey's likeness in flowers, you'll notice the tunnel that is labeled, "Here you leave today and enter the world of Yesterday, Tomorrow, and Fantasy." Cinematic posters announcing "coming attractions" beckon you to make time to experience them. Near the end of the tunnel, the magic is complete and you are now in your "own movie", you get to direct and star in your own theatrical adventure within the different lands- complete with soundtrack.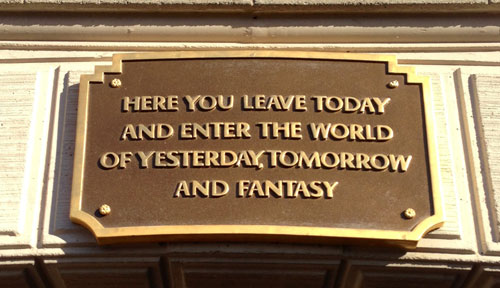 You find yourself on Main Street USA in the year 1901 (the year of Walt Disney's birth). Patterned after Walt's boyhood town, Marceline, Missouri, the streets are filled with "rideable" horse drawn carriages, and street cars. It is an exciting time in America. The industrial revolution is in full swing. As you walk down the venerable street, you'll notice that the gas lamps change to electric lights, symbolically recognizing progress in America. You can see the sites and hear the sounds of a bustling new town at the turn of the last century.
While on Main Street USA take the time to find these 10 secrets and adventures in the nooks and crannies of the most popular street in America.
1. Visit The Main Street staples: Walt Disney's July 17, 1955 opening day speech is memorialized at the flag pole. Town Hall features Disney experts, ask a cast member for a pin to celebrate your special day. If it's your birthday, you may even get a phone call from Mickey, Donald, Goofy, or Minnie.
2. Ride in the Disneyland Railroad's steam engine: If you arrive early and with a little luck, ask the conductor for the opportunity to ride "tender" and you will see a steam locomotive from the driver's seat, it's fun, educational and a peak into how the steam railroad changed the world. Besides there is something magical about ringing the same bell that Walt did.
3. See Walt Disney's "eternal light" above the Fire Station: Walt Disney created an apartment to be closer to the park to ensure his exact instructions were followed. Whenever he would visit, he would turn on a light to let cast members know he was "on the park". After his death, Walt's influence would always be at the park and since that time, the light is always burning to honor Walt. Ask your Get Away Today expert about the "Walk in Walt's footsteps" tour, you might get to see the inside of the apartment.
4. Experience an exhibit from the 1964 World's Fair and Walt Disney's favorite president: Great Moments with Mr. Lincoln. At the time, there was rumor that the animatronic president walked around the audience and talked with the guests.
5. See an original "Mickey Short": Mickey Mouse is Walt Disney's third cartoon character. Julius the Cat and Oswald the Lucky Rabbit came before, but, Walt made it big with the premiere of Steamboat Willie in New York City, December, 1928, featuring Mickey Mouse. Jump in the Main Street Theatre to see what the audience of the time might have experienced.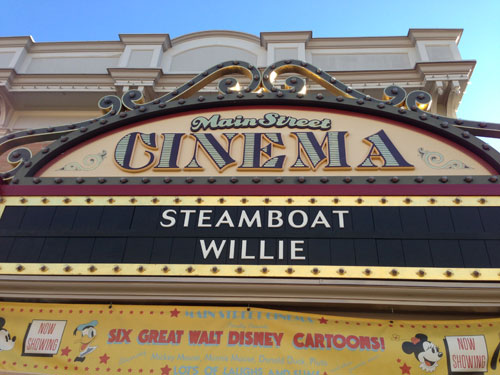 6. Meet a Disneyland legend: Those that were significant in building Disneyland are honored with a mention on a Main Street Window, similar to movie credits. Oscar Martinez was hired to work at the Carnation Café' in 1956 and is still going strong. Oscar typically works on week days and loves to talk to guests. He will tell you about Walt Disney's favorite meal. But hurry, you never know how long he will be serving. Ask Oscar about his window on Main Street.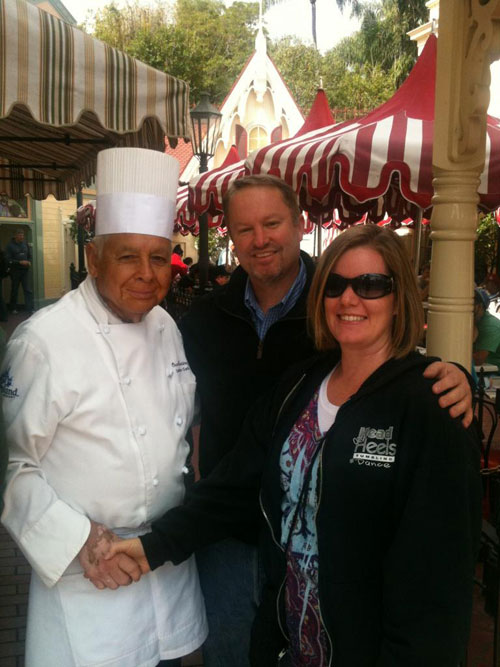 7. Experience the sounds and smells of Main Street USA – The aroma of vanilla scents are pumped into the air near the Gibson Girl ice cream shop to add to the sensory experience of the park. Walk down Center Street and you'll hear city life as it was in the early 1900's. Dash into the Penny Arcade to hear the Welte Orchestrion machine, it will dazzle you with its sound and inventive complexity. Say hi to the magician in the magic shop, the very place that Steve Martin had his first job.
8. Play a game of magical chairs with Alice and the Mad Hatter. The game is different every time, depending on the whims of the Mad Hatter. If the hatter chooses, you can play almost every day at approx. 2:30 PM at Coke Corner, near the end of Main Street.
9. See the Dapper Dans. Check park listings for some great barber shop quartet tunes.
10. Honor America and armed services members: Because every day is a special day at Disneyland, America and those that have served the United States armed services are honored at the Flag Retreat Ceremony. Complete with live music and surprises, it is a great way to honor and instill a sense of patriotism in your adventure.
Let us roll out the Red Carpet for you and your family on your next Disneyland vacation! Book any of our
Disneyland packages
online or call our Disney Experts at 855-GET-AWAY.

Check out these other great articles:
15 Ways to Reduce Wait Times at Disneyland
20 Things to Make the Most of a Summer Day at Disneyland
Eating Out on the Cheap
Chris Dallin is a Disneyland fanatic. He travels to Disney parks several times a year and continues to find hidden gems, joy, and magic in the Happiest Place on Earth. Tune into future blogs for additional ways to experience the Disneyland Resort.