The Disneyland Resort is known for hiding fun secrets throughout the parks. Today, we have 11 Buena Vista Street Disneyland secrets. Find out even more about this special place located inside Disney California Adventure Park.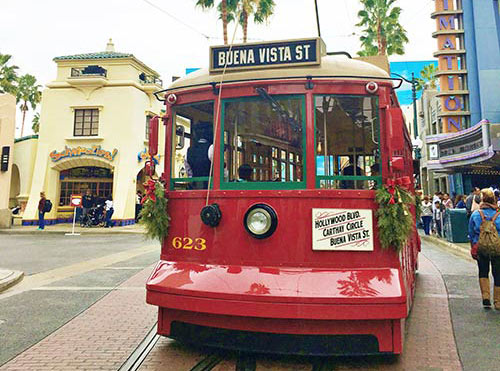 Buena Vista Street in Disney California Adventure Park is similar to Main Street, U.S.A. in Disneyland. This themed area transports guests to 1920's Los Angeles, when Walt Disney arrived from Kansas City, Missouri. We thought it would be fun to put together a list of the most interesting Buena Vista Street Disneyland secrets and tips that created the foundation for the Disney Company on Buena Vista Street! Have fun traveling back in time with these Buena Vista Street Disneyland secrets:
1. Storyteller's Statue: Similar to the Partners Statue at the hub in Disneyland. The Storyteller's Statue on Buena Vista Street in California Adventure Park is an image of Walt traveling to California with a vision of what could be… Walt said of his trip to California, "I came to Hollywood and arrived here in August 1923 with forty dollars in my pocket and a coat and a pair of trousers that didn't match. And one half of my suitcase had my shirts and underwear and things and the other half had my drawing materials."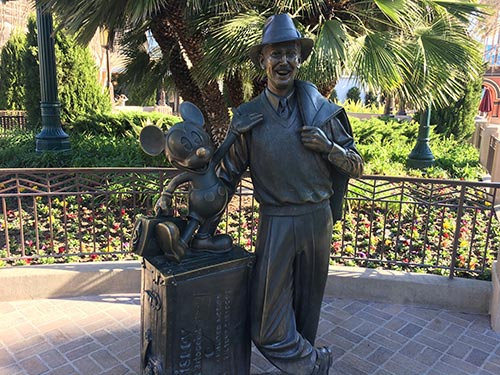 There is Disney history hidden in the Storyteller's Statue. Combined these make one of our 11 Buena Vista Street Disneyland secrets:
Walt was born in Chicago, IL, moved to Marceline, MO and then Kansas City where he started his first business. He traveled from Kansas City to try his luck in Hollywood, a luggage tag on the statue memorializes the move.
Walt, his brother, Roy, and friend, Ub IWerks, created Laugh-O-Gram Studios. Here they created their first cartoons, the Alice Comedies, in Kansas City, Missouri.
Laugh-O-Gram Studios, located on 1127 31st Street in Kansas City, Missouri was Walt's first office. The building is still standing. Walt told a reporter about his time at the Laugh-O-Gram Studios and commented about a tame mouse he would play with that became the inspiration for Mickey. He is quoted as saying, "I grew particularly fond of one brown house mouse. He was a timid little guy. By tapping him on the nose with my pencil, I trained him to run inside a black circle I drew on my drawing board. When I left Kansas to try my luck at Hollywood, I hated to leave him behind. So I carefully carried him into the backyard, and the tame little fellow scampered to freedom." Walt iconically said later of the Disney Company, "I hope that we don't lose sight of one thing, that it all started with a mouse."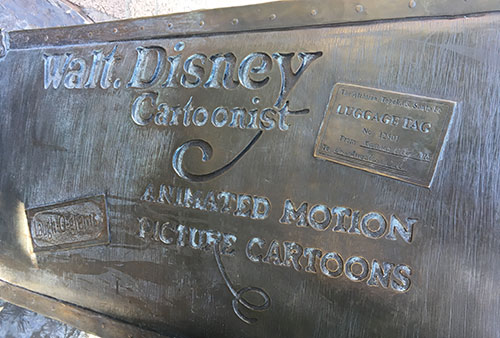 The Laugh-O-Gram studio in Kansas City, MO is still standing. A local group is hoping to renovate the building and is fund raising under the name of "Thank you Walt Disney." Walt's original self-made Laugh-O-Gram business card image is the logo for the building and the lettering is memorialized on the side of Walt's suit case in the Storyteller's Statue.
2. Julius Katz and Sons: Julius the Cat was Walt Disney's first cartoon character. Created in 1922 in Kansas City, Julius made his debut in the Alice Comedies. The store on Buena Vista Street is an homage to this very first Disney cartoon character.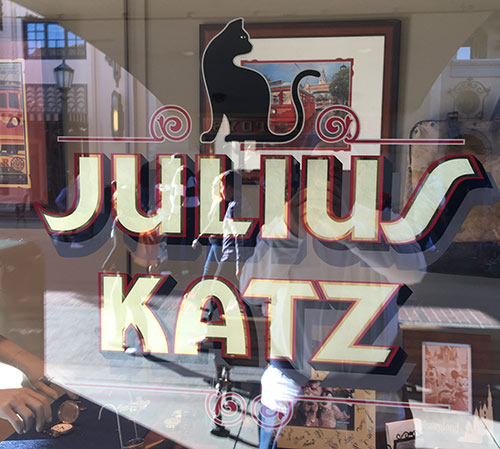 3. Oswald's Tires: This store front is a shout out to Walt Disney's second cartoon character created in 1927, Oswald the Lucky Rabbit! Walt and his team created Oswald cartoon shorts for Universal Studios. Soon after Oswald's success, Universal exercised its rights to keep Oswald and offered Walt lower wages to keep producing the shorts. He declined and created Mickey Mouse soon thereafter to compete with Universal Studios. In February of 2006, the Disney Company, which now owns ESPN, employed Al Michaels for sports broadcasting. Al had a desire to switch to NBC, which is owned by Universal. Contract negotiations included the trade of Oswald the Lucky Rabbit back to the Disney Company. Nearly 80 years after his creation, Oswald came back home to Disney. Many Disney fans are still celebrating his return! You can often grab your photo with this lucky rabbit, which is just a bonus of our Buena Vista Street Disneyland secrets.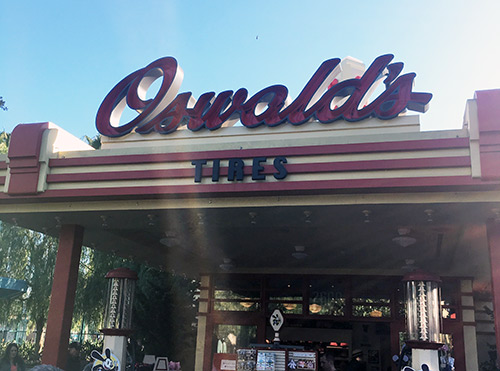 4. Mortimer's Market: After losing the rights to Oswald the Lucky Rabbit, Walt and his wife Lillian were traveling across the county. Walt sketched a mouse and thought he might be able to create a cartoon success. He suggested the name Mortimer Mouse. Lillian did not like the name and thought that Mickey might be a more fitting option. Mortimer's name was later used for another character that became Mickey's arch nemesis as Minnie's ex-boyfriend.
5. Buena Vista Street Mailboxes: The mailboxes on Buena Vista Street indicate that the residents living on the street are part of Disney history. Eddie Valient from 'Who Framed Roger Rabbit,' Theodore Ogelivie from 'The Apple Dumpling Gang,' and P. Peabody, the mechanic from 'The Rocketeer' all have mailboxes here.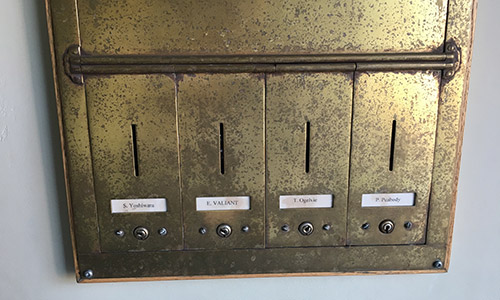 6. The Atwater School of Art and Animation: The Atwater area of Los Angeles was a favorite haunt of Walt Disney. Much of the early success at the Disney company was credited to nine different animators, called the "Nine Old Men." A sign on the Atwater Paint and Ink window recognizes their contributions. They are:
Les Clark –Mickey Mouse
Marc Davis –Snow White, Bambi, Sleeping Beauty, 101 Dalmatians, Pirates of the Caribbean and the Haunted Mansion
Milt Kahl – Pinocchio, Winnie the Pooh, Peter Pan, The Jungle Book, The Rescuers and The Aristocats
Ollie Johnston – Peter Pan, Robin Hood, and The Adventures of Ichabod and Mr. Toad.
Ward Kimball – Pinocchio, Cinderella, Alice in Wonderland. A train at Disneyland is also named after him.
Eric Larson – Lady and the Tramp, The Jungle Book and Song of the South
John Lounsbery – Pinocchio, Fantasia, Peter Pan, Lady and the Tramp, Sleep Beauty, and more!
Wolfgang Reitherman – Produced all of the animated Disney films after Walt's death.
Frank Thomas – Cinderella, Alice in Wonderland, Peter Pan, and more!
7. The Red Car Trolley: A Red Trolley system operated in Los Angeles until 1961 where many of the residents relied upon it to travel from town to town. Look for the street car numbers: #717, #623 and #23. Can you guess what they represent? Trolley 717 indicates the opening day of Disneyland on July 17. Number 623 represents the 600 series for the trolleys in Hollywood. And Trolley 23 pays homage to the year that the Disney Brother's cartoon studio opened, 1923.
8. Carthay Circle Theatre: This was a movie palace in back early Hollywood. The theatre opened in 1926 and was home to many famous movie premieres including Gone with the Wind, Snow White and the Seven Dwarfs, Disney's Fantasia and many other Hollywood movies. Similar to a Disney Castle, the Carthay Circle Theatre stands as a memorial to the birth of the feature length animated movies right on Buena Vista Street. Inside you can find a wonderful restaurant and club that features photos, awards and moments that have been a Disney / Pixar tradition. One of our favorite Buena Vista Street Disneyland secrets as to do with the restaurant here. Guests can get reservations for dining packages with premiere viewing areas to see the World of Color nighttime show or Frozen - LIVE at the Hyperion. Reservations can be made up to 60 days in advance, and we recommend making them early.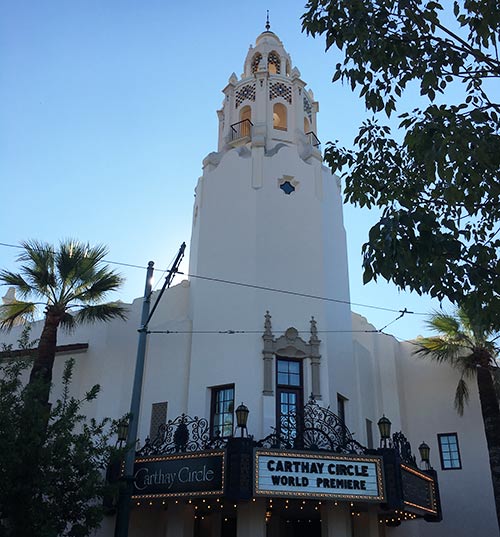 9. Residents of Buena Vista Street: These characters are always dressed in roarin' 20's and 30's garb they are constantly ready for fun! Take some time to interact with these folks for a memorable experience.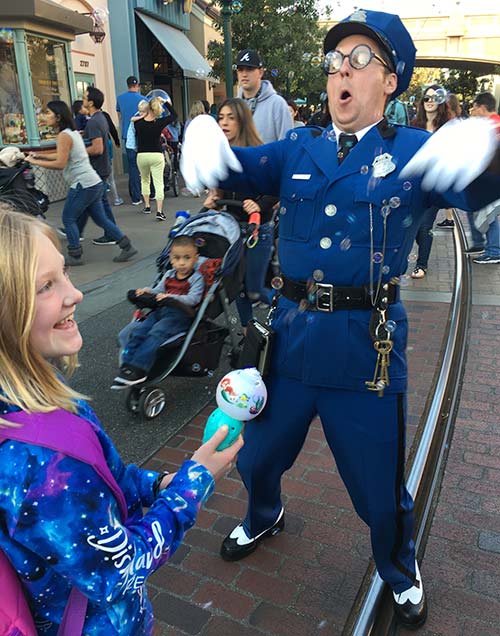 10. Fiddler, Fifer and Practical Café: The café features the famous Silver Lake Sisters. Disney fans know the "sisters" are fictional and pay homage to the 'Three Little Pigs,' one of Disney's early animated successes. The real story is about Practical Pig, Fiddler Pig and Fifer Pig, three brothers who build their own houses with bricks, sticks and straw. Shortly before the Hollywood Tower Hotel permantaley closed its doors, the Silver Lake Sisters made their park debut and farewell by performing in its lobby.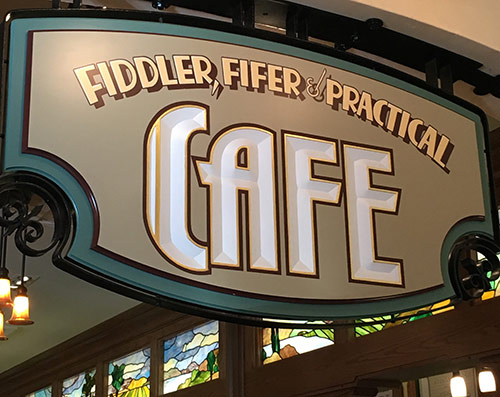 11. The Windows: The glass on Buena Vista Street is home to a number of Buena Vista Street Disneyland secrets. The windows feature many amazing historical pieces, as well as facts about America, the Disney Company and the people who made Walt's dream a reality. Here is a brief checklist of some of the things that you can see in the windows as you go back in time to 1920's Los Angeles:
Fiddler, Fifer & Practical Café bullet board: A flyer for singing lessons advertises "Singing lessons with Adriana." Adriana Caselotti was the original singing voice for Snow White in Disney's first feature length animated film – Snow White and the Seven Dwarfs.
Clarabelle's Ice Cream: Clarabelle Cow was an early animated character created by the Disney company. Inside the window is a model of the Big Rock Candy Mountain. The Big Rock Candy Mountain was a song originally recorded and very popular in 1928. Later, Burl Ives, a folk singer and Disney actor (Sam the Eagle on America Sings and star of So Dear to my Heart) re-made the song to make it even more popular. Look close for the model of the Red Car Trolley riding the rails through the mountain. Also, look inside Clarabelle's for amazing examples of art deco design in the lamps, stained glass, and furnishings, a design style that was popular in the 1920's
Los Feliz Five and Dime. Los Feliz is a residential area in Los Angeles near Griffin Park where Walt Disney came up with the idea for Disneyland. Look in the window for a 1920's American Flag. It only has 48 stars because in the 1920's Hawaii and Alaska were not yet states just yet.
Elias and Company: Elias Disney was Walt Disney's father. The store front shop pays homage to the early department stores in the 20's. Look on the inside balcony for a mannequin that features a replica of Walt Disney's attire for the opening premiere of Snow White and the Seven Dwarfs.
Nine Old Men art work: Many of the windows feature art work from Walt Disney's most trusted animators and artists. Look for examples of early Mickey cartoons, as well as art and cells from early animations like Melodie Time and Fantasia.
We hope you learned a little something new with our Buena Vista Street Disneyland Secrets. Buena Vista Street is a great way for all members of the family to learn where a dream started. And perhaps more importantly, how it was fostered and became a wonderful reality through tenacity, hard work, a few failures and perhaps a little bit of pixie dust.
Get Away Today can guide you to a creative vacation fit for every member of your family. We can help with everything from
discount Disneyland tickets
, the most affordable hotel acommodations, and even secrets to make your trip special. Book any of our
Disneyland packages
online or call our travel experts at 855-GET-AWAY.

Chris Dallin is a Disneyland fanatic. He travels to Disney parks several times a year and continues to find hidden gems, adventure, joy, and magic in the Happiest Place on Earth. Tune into future blogs for additional ways to experience the magic of Disney Parks.
Check out these other great articles: