We love Disneyland history and looking back at memories over the years. This article is no longer being updated, but is a great way to look back and see what was happening at Disneyland when this was originally published.
One of Disneyland's most beloved attractions is Splash Mountain. Today we share 11 things you didn't know about Splash Mountain at Disneyland.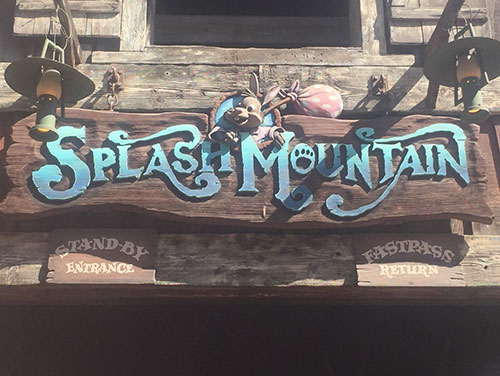 Looking for a laughing place, eh? You've found it! Disneyland's Splash Mountain will provide all that you need for a Zip A Dee Do Dah Day! Splash Mountain debuted at Disneyland on July 17, 1989 was a great way to celebrate the park's 34th birthday. Although Splash Mountain is a favorite attraction of many who visit the park, it hold many secrets. Today we're excited to share 11 things you didn't know about Splash Mountain:
1. Splash Mountain is a re-telling of the classic Disney movie, "Song of the South." Song of the South features the character Uncle Remus and his stories of hope and bravery to young children in the South. Told through the journey of the movie's hero, Brer Rabbit, the adventure is about using clever thinking and wit to avoid difficult issues. In Brer Rabbit's case, that means to avoid being eaten by Brer Fox and Brer Bear. Just when he is about to be eaten by Brer Fox, Brer Rabbit has an idea about his childhood home and laughin' place, the briar patch! Come along as we experience an amazing adventure with the critters of Splash Mountain.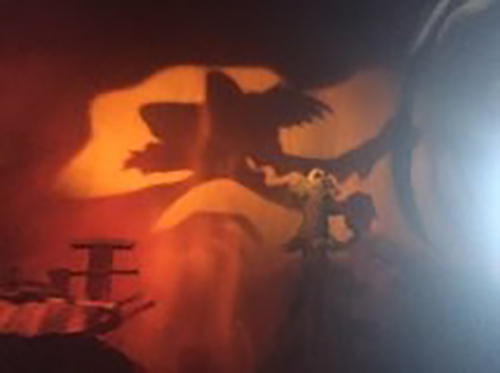 2. Happiness is a decision that you make… Having a bright outlook on life can create positive opportunities. Zip A Dee Do Dah, is still a popular song, made famous from Song of the South. Brer Rabbit certainly found reasons to be happy. The song Zip A Dee Do Dah was awarded an Academy Award in 1945 for the best movie song. While there is always a reason to be sad, there is certainly always a reason to be happy! "Zip-a-dee-doo-dah, zip-a-dee-ay my, oh my, what a wonderful day, plenty of sunshine headin' my way"… are some of the lyrics of the song that have placed the words in the American lexicon to mean that there is a positive outlook and a great way to live life. See if you can find all of fun references to find happiness on Splash Mountain!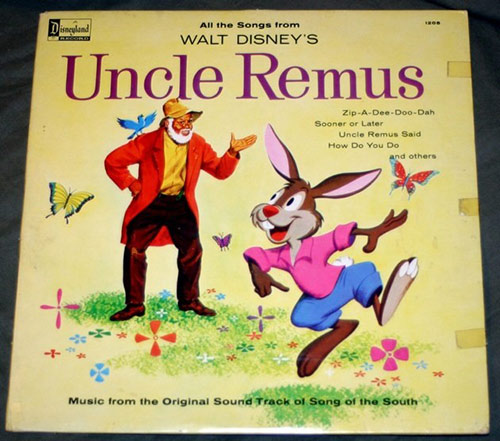 3. Splash Mountain was originally called Zip A Dee Do Dah River Run. But, Michael Eisner, Disney's CEO at the time, was a movie promoter and wanted to promote Disney's live action movie "Splash" starring Tom Hanks and Daryl Hannah. The attraction was renamed Splash Mountain. Ironically, Disney has recently announced a new Splash movie starring Channing Tatum as the "Mermaid" that will be coming to theatres in the next few years.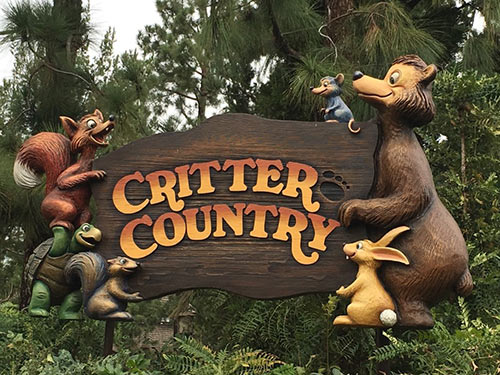 4. A snoring bear has been welcoming guests to the area since Disneyland's early days. Disneyland originally featured a mule ride and Indian Village in the Splash Mountain area. Then, in 1972, the area was rethemed to Bear Country. Bear Country featured the Country Bear Jamboree, Indian Trading Post and other fun references to an adventure in the high wilderness. The entrance sign welcomed visitors: "A honey of a place since '72, No permit necessary for feeding bears." Disneyland noticed that guests were not visiting Bear County and the area needed a change. Chief Imagineer Tony Baxter proposed Splash Mountain. The idea was accepted and the Country Bears moved to Florida. Meanwhile, many other critters moved into Splash Mountain and the Winnie the Pooh attraction replaced the previous attractions while the area was renamed Critter Country.
Cast members suggest that a snoring bear was once part of the mule train adventure, then the bear's name switched to Rufus the Bear from the Country Bears in which he welcome guests to Bear County. As an honor to the past, the same "snoring bear" can be heard on Splash Mountain, now in Brer Bear's cave. It is one of the oldest recorded sounds at Disneyland; see if you can find it on your Splash Mountain adventure.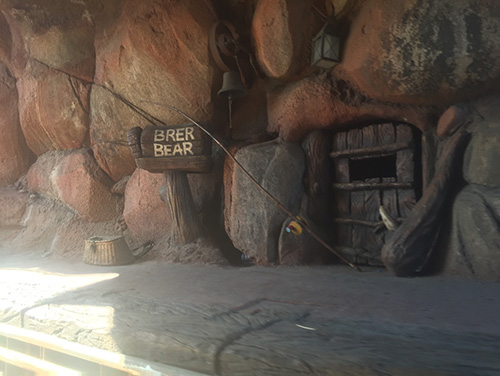 5. The Splash Mountain critters moved from Tomorrowland to Critter Country! The 1964 World's Fair hit and the Carousel of Progress was replaced by America Sings. The show was a patriotic presentation by animatronic animals about the history of America through song. Hosted by Sam the Eagle (not of Muppets fame), who was voiced by the great Burl Ives (a famous folk singer and Disney star), the show was a fun way to celebrate America. Before becoming Innoventions and a place to meet and greet first Marvel and now Star Wars heroes, the Disney Imagineers moved and repurposed many of the animals from America Sings. Many of the main characters from the show now appear in Splash Mountain on the Zip A Dee Lady River Boat. Splash Mountain features over 100 animotronic critters; see if you can see them all!
6. Make something scary, fun! Splash Mountain is a classic log flume attraction that has been Disney themed. At the time of opening, Splash Mountain had one of the highest log flume plunges in the world. The plunge from Chick-A-Pin hill into the briar patch is over five stories tall, over a 50-foot plunge and can run as fast as 40 miles per hour. The plunge can be a little scary! The plunge features a camera that has captured thousands of people experiencing a scary moment and has become one of the most popular photo spots in the park. The Internet is full of fans posing in funny and entertaining ways. Everything from a man shaving, a family playing monopoly and the famous "angry splash mountain lady" have found themselves all over social media. What was once scary is now one of the most anticipated parts of Splash Mountain. How will you pose your briar patch photo?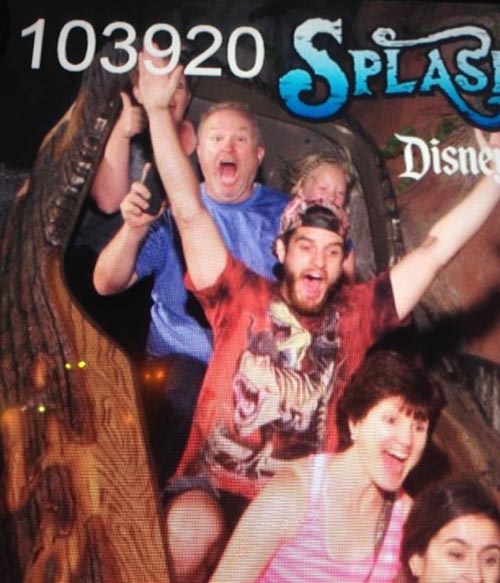 7. Prepare to get wet! Splash Mountain is a combination log flume and roller coaster. Some people get splashed while other people get soaked… If you are worried about getting wet, bring a poncho with you. Either way, don't miss Splash Mountain. It is an amazing adventure with classic Disney flare. Make it fun and it will certainly become one of your family's favorite laughing places.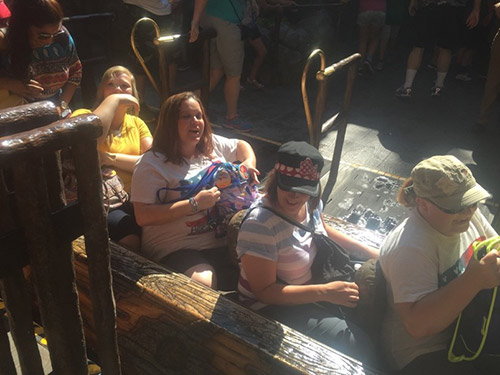 8. Get great advice! The Splash Mountain barn is filled with quotes and sayings from Uncle Remus. The original Disney movie, Song of the South was filled with life lessons to be kind, be clever, make the decision to be happy and to face your fears. Take the time to look for the words of wisdom and the farm antiques throughout the barn.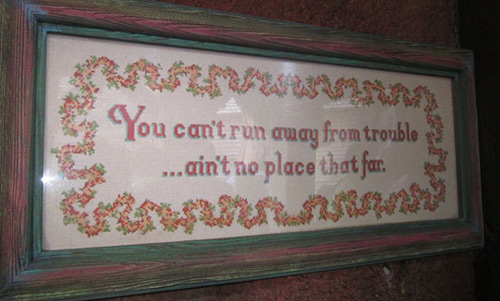 9. There is more than one way to get to the front of the line. Splash Mountain is certainly busy during warm times of the day, but with good planning there is more than one way to speed up your wait. Splash Mountain offers Disney's Fastpass Service which will take your family to the front of the line. Or, because there is an odd number of seats in the ride vehicle, there is a single rider entrance that takes single riders nearly every departure. Ask the cast member near the entrance where to access the single rider line. It is usually a quick way to get on the ride, if you don't mind riding with another group. It can be fun to experience the ride with a group riding it for the very first time. If you're traveling with smaller kids who aren't tall enough to ride Splash Mountain, use the Rider Switch option which allows the adult who stayed behind and up to two guests to the front of the line. It is also really fun to see all of the details the old fashion way, through the stand by entrance as well.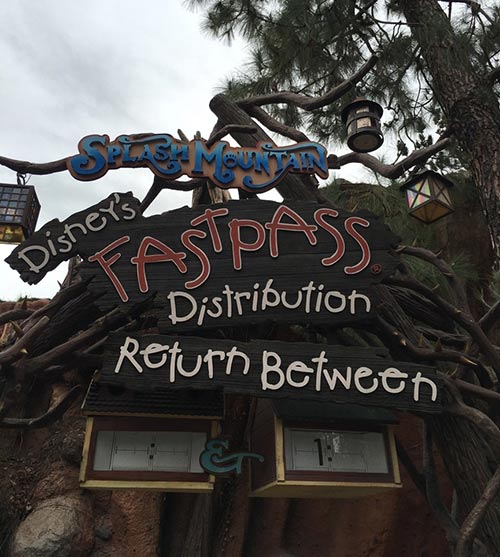 10. Hidden Mickey! Sometimes what you are looking for is closer that you think! Look for the Splash Mountain hidden Mickey near the entrance on the height requirement sign.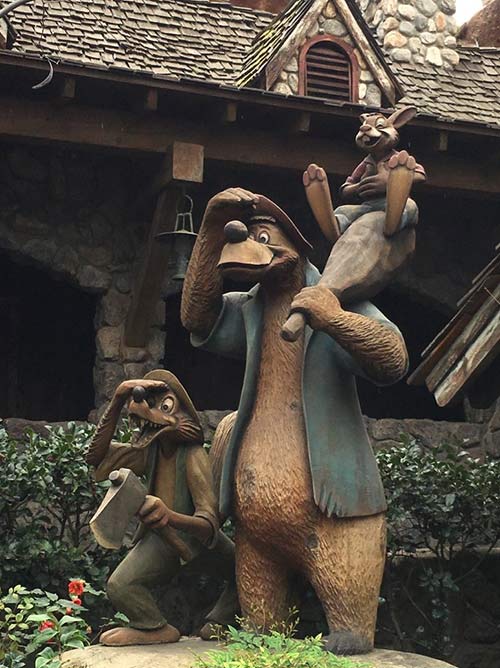 11. You can still visit the classic remnants from Bear Country! Disney Imagineers leave reminders from attractions of the past whenever they are replaced. Look for the hosts of the Country Bear Jamboree, (Buff, Melvin and Max) hidden in the Winnie the Pooh attraction.
And finally, if all of this talk of Splash Mountain and adventure has you hungry, stop by the Hungry Bear Restaurant for fun sandwiches and treats. Notice the classic signs on the restrooms are themed as the dressing rooms of Trixie and Rufus from the Country Bear's show. Either way, it is fun place to relax and watch the Mark Twain River Boat and Davy Crocket canoes glide by on their adventure down the Rivers of America, which will reopen summer of 2017.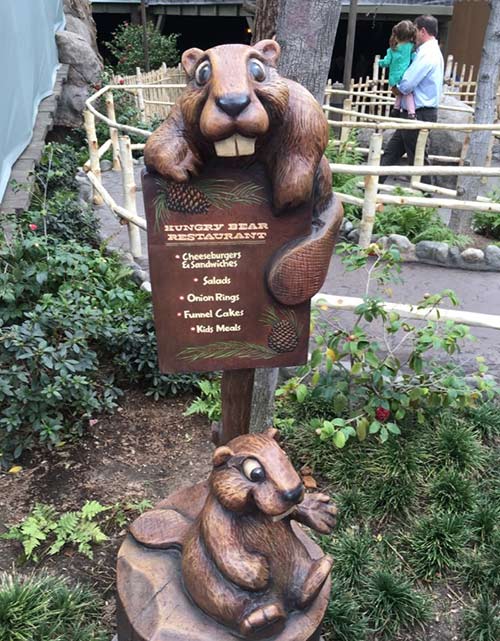 When you're ready to make a splash with your family and friends, let Get Away Today help. Our discount Disneyland packages help you save on everything from park tickets to hotel stays. Save the most when you combine our extra night free hotel specials with our ticket offers. All of our Disneyland packages can be found online or, call our Disney Experts at 855-GET-AWAY.

Check out these other great articles:
Chris Dallin is a Disneyland fanatic. He travels to Disney parks several times a year and continues to find hidden gems, adventure, joy, and magic in the Happiest Place on Earth. Tune into future blogs for additional ways to experience the magic of Disney Parks.