With Season of the Force now open at the Disneyland Resort, and Star Wars Land Disneyland in 2019, there has never been a better time to be a Star Wars fan. There is so much to see and do! You could try to cram it all into one day, but to really enjoy and embrace everything that is available as part of the limited time Season of the Force, we recommend spreading it out over three days. Think of it like watching the films as they came out as the saga... that way you can savor all of the galactic goodness.

Of course, if you're lucky enough to be visiting Season of the Force while The Force Awakens is still in theaters, we recommend catching a viewing at the theater in Downtown Disney. This would be a great way to kick off your trip if you arrive the day before you plan on going to the parks. Or, you could always watch it from home before your trip to get even more excited for your upcoming Disney vacation. Either way, there's no such thing as too much Star Wars for the true fan.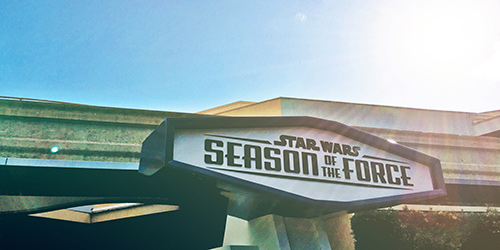 Please keep in mind that times, hours and attraction availability is always subject to change, so use the following as a guide only. Oh, and watch out for Stormtroopers. They could be anywhere. Here is what we recommend for your Star Wars ultimate experience as part of your Disneyland vacation: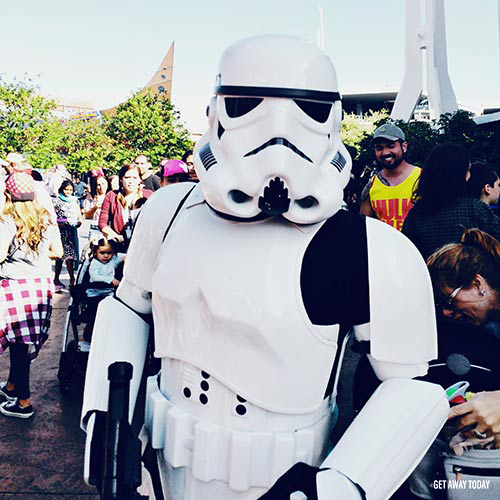 Day One:
Begin the your first day of Season of the Force at Disneyland by registering any of your kids ages 4 to 12 for Jedi Academy: Trials of the Temple. This is done on a first come, first serve basis and is an experience you and your kids will not forget. Young Padawans have the opportunity to train to become Jedi Knights and then participate in an ultimate battle against the Dark Side.
There are a limited amount of spots available for up to six shows each day, so we recommend that you get there as early in the morning on your very first day for your best chance to get a spot. This way, if for some reason you are able to get registered on the first day, do you have a couple other chances to try. If you don't have kids, the show is still lots of fun to watch, and we recommend fitting it into the first day of your itinerary. Learn all about how to register for Jedi Training: Trials of the Temple by clicking here.
After you've registered your Jedi Knights, get a FastPass for Star Tours: The Adventures Continue. There are so many possibilities for this attraction, that we recommend riding it once each day of your three day itinerary. Because of all of the different scenarios, it is highly improbable that you will get the same experience twice. Will you visit Hoth or Naboo? Will you encounter Darth Vader? Will you be the rebel spy? The possible combinations are endless! OK, not endless, but there are well over 50 possible combinations, so it's close enough. As an added bonus, each ride experience during Season of the Force will include one clip from The Force Awakens.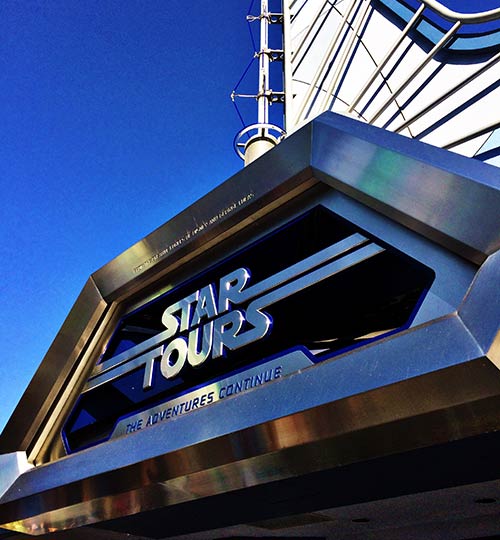 Then, go and enjoy the rest of your day until you need to be back to use your FastPass and your showtime for the Jedi Training Trials of the Temple show. If it's around lunchtime, which is highly probable, make plans to get lunch at the Galactic Grill. This restaurant is only available during the special occasion and it's the only place in the park that you can get a Han Solo Carbonite lunchbox with delicious Star Wars themed sandwiches. How cool is that?
Here are our top recommendations to enjoy in the morning before your Trials of the Temple, Galactic Grill lunch and Star Tours experiences:
Experience Autopia, Buzz Lightyear Astroblasters and Finding Nemo Submarine Journey which are all nearby.
Then, in the afternoon, spend your time here:
Adventureland, Frontierland, New Orleans Square and Critter Country are calling your name for hours of fun. Pirates of the Caribbean, the Haunted Mansion, Splash Mountain, Big Thunder Mountain Railroad, and the Indiana Jones Adventure are all musts for any Disneyland vacation.
Be sure to catch Paint the Night Parade, and stick around after the show is over to enjoy Disneyland Forever, the new fireworks show for the Disneyland Diamond Celebration.
Day Two:
If you did not get it registered in time for Jedi Training: Trials of the Temple try again today. Then, either way, make sure your first FastPass of the day is for Hyperspace Mountain. This temporary overlay has brought a whole new experience to the beloved classic roller coaster complete with Rebel fighters.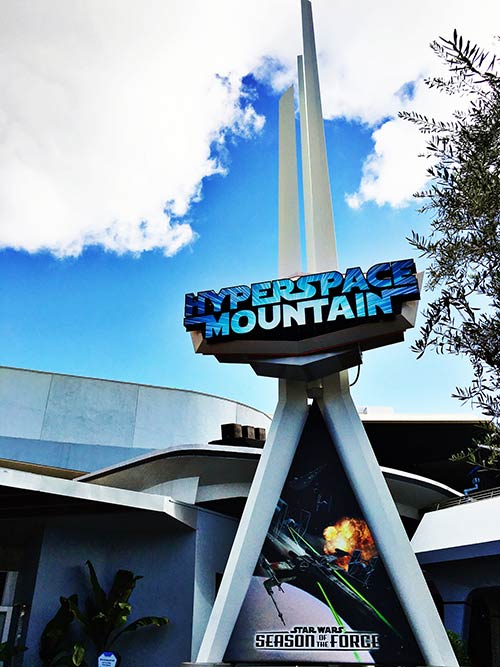 After getting your FastPass, go immediately to the Star Wars Launch Bay. Choose the Dark Side, and meet either Darth Vader or Kylo Ren from the Force Awakens who will be making appearances beginning in February. He is bad news. Or, choose the Light Side and meet Chewbacca! You'll want to spend some time exploring the Star Wars Launch Bay where you can see actual costumes and props used in the films.
Next, use your FastPass for Hyperspace Mountain and then get your next one for Star Tours. You'll attract each day to make sure that you get the full experience.
Your last Star Wars activity for the day is a treat. Literally. Head over to the Galactic Grill, but this time just for dessert. Enjoy the Pastry Menace, the Darth by Chocolate parfait, or the BB-8 Droid crisped rice treat.
As for the remainder of your day, we recommend the following:
Head over to Mickey's Toontown for some real characters.
Then, plan on spending the rest of your day over at Disney California Adventure Park. You'll want to explore the newly reimagined Grizzly Peak, see stars in Hollywood Land, and have a blast at Paradise Pier. Some attractions you won't want to miss include Soarin' Over California, the Tower of Terror, California Screamin', For the First Time in Forever; a Frozen Sing-a-long Celebration, The Little Mermaid - Ariel's Undersea Adventure, Toy Story: Midway Mania, and Goofy's Sky School.
Tonight is the night to watch World of Color - Celebrate! which includes a special segment for Star Wars fans. We recommend making a reservation for one of three World of Color Dining packages. Choose between Ariel's Grotto, Wine Country Trattoria or Carthay Circle Restaurant, each offering a three course prix fixe meal and preferred viewing for the night's show.
To end your night, head over to the Mad T Party inspired by Tim Burton's Alice in Wonderland.
Day Three:
For your final day of Season of the Force, we recommend a nighttime experience, which means you'll start your day with a non-Star Wars experience. We recommend the following:
Start your day in Disney California Adventure Park and race to Cars Land first thing and get a FastPass for Radiator Springs Racers. You'll also want to take a spin on Mater's Junkyard Jamboree, and check out the new Luigi's Rollickin' Roadsters, which will open sometime early this year. You'll also want to spend some time enjoying Buena Vista Street and "a bug's land." Grab lunch at Flo's V8 Cafe or any of the delicious restaurants at the Pacific Wharf.
In late afternoon, head back over to Disneyland and if there are still FastPasses available, get one for Star Tours and/or Hyperspace Mountain for one last ride.
For your final evening, you will definitely want to see Season of the Force all lit up in Tomorrowland. Tonight you should take in a screening of Path of the Jedi, a 4D collection of the first three films.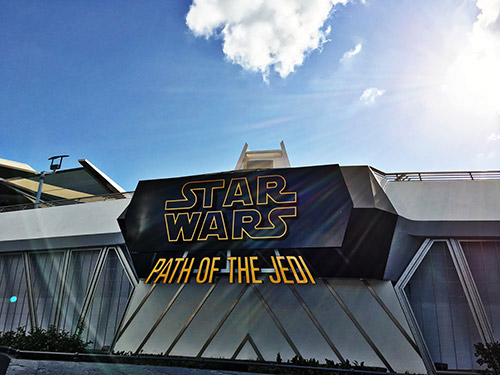 We also recommend eating dinner at the Pizza Port where you will find a limited time menu featuring Star Wars themed items. There's a Darkside curry chicken pizza, an Endor inspired veggie pasta, and Naboo salad. For dessert, you'll want to try the Chewbacca cheesecake.
Before the night is through, you'll want to grab all of those souvenirs you've been eyeing at the Star Trader, because this is one Disneyland vacation you won't want to forget.
If you haven't booked your Disneyland vacation yet, we're here to help. We don't know how long these limited time Star Wars experiences will be available at Disneyland, so we recommend booking ASAP. Choose from any of our hotel specials and discount tickets for the most savings. Book any of our Disneyland vacation packages online or call our agents at 855-GET-AWAY.

Check out these other great articles and ideas:
Season of the Force is NOW Open
How to be Chosen for Jedi Training: Trials of the Temple
Star Wars Disney Vacation Countdown with Free Printables
Star Wars Water Bottle Labels - Free Printable