UPDATED JULY 2023. Love is on the menu at the five most romantic
Disneyland Resort
restaurants. Take your sweetheart out for a night they'll remember forever at one of these five romantic Disneyland restaurants. Romance may not be the first thing that comes to mind when you think of Disneyland, but with how many
Happily Ever Afters that begin at Disneyland
, it's truly a romantic getaway especially if you know how to prep in advance. If you're looking to wow that special someone and have a truly memorable dining experience, we've put together what we consider the top romantic Disneyland restaurants.
Romantic Disneyland Restaurant Napa Rose
Napa Rose is an award-winning restaurant that easily tops the list of not just one of the most romantic Disneyland restaurants, but also one of the most romantic restaurants in Southern California. Possibly best of all, you won't need a theme park ticket to enjoy a meal here. It's tucked away in a cozy corner of
Disney's Grand Californian Hotel & Spa
. The inside is decorated with warm woods and stained glass. You feel like you are at a high end lodge in a mountain resort. Then, there's the menu which is ever changing with seasonal ingredients and the chef's imagination. For a real treat, make a reservation for the chef's table. The menu features both the prix fixe Vintner Menu and a la carte selections, where you can savor wine country cuisine featuring dishes that honor California's rich culinary bounty, artisan farmers and world-famous wine makers. Vinter Menu is approximately $100 per person and an extra for wine pairings. If you don't drink, the sommelier can create non-alcoholic pairings for you on request. Dinner at Napa Rose is an elegant yet laid-back dining experience. While there is a dress code, it's consistent with the atmosphere. Examples of appropriate dinner attire include dress pants, jeans in good condition, collared shirts, dress shorts, sweaters, blouses, dresses and lifestyle shoes. Napa Rose requests no hats, swimwear, tank tops, cutoffs or distressed jeans.
We recommend making a dining reservation here about 60 days in advance.
Disneyland Romantic Dining at Carthay Circle Restaurant
Carthay Circle is located in the heart of Disney California Adventure Park which embodies the grandeur of the 1920s when Walt Disney first came to Hollywood. The restaurant is located inside the replica of the Carthay Circle Theater, where Snow White and the Seven Dwarfs premiered. There is an intimate lounge downstairs, and the main restaurant is upstairs. Semi private dining and patio seating are also available, so if you have a preference, make sure you mention it when
making your reservation
. The food at Carthay Circle Restaurant is delicious and seasonal as well. Be sure to mention if you're new to this restaurant and your host will give you a mini-tour of the interior on your way to your table.
Romantic Disneyland Restaurant Blue Bayou
You may not think that a restaurant that is located inside a ride at a theme park sounds very romantic, but the mood lighting, fireflies and sounds of the bayou will have you believing otherwise. Located inside Pirates of the Caribbean, it's always a romantic night on the bayou. Arrive early and request a table on the water. You may need to wait a few extra minutes, but the extra ambiance is worth it. You'll also love the New Orleans inspired menu. If you're looking for something extra special, get the 3-course pre-fixe meal which currently includes premium viewing for Fantasmic when showing. With or without the dining package, a meal at the Blue Bayou is pretty spectacular.
We recommend making a dining reservation here about 60 days in advance
.
Tips for Romantic Disneyland Dining
One more incredibly romantic option is not a restaurant at all! It's lagoon-side viewing for World of Color. The World of Color Dessert Party serves up first class romance during showings of World of Color.
See our full Desert Party review here.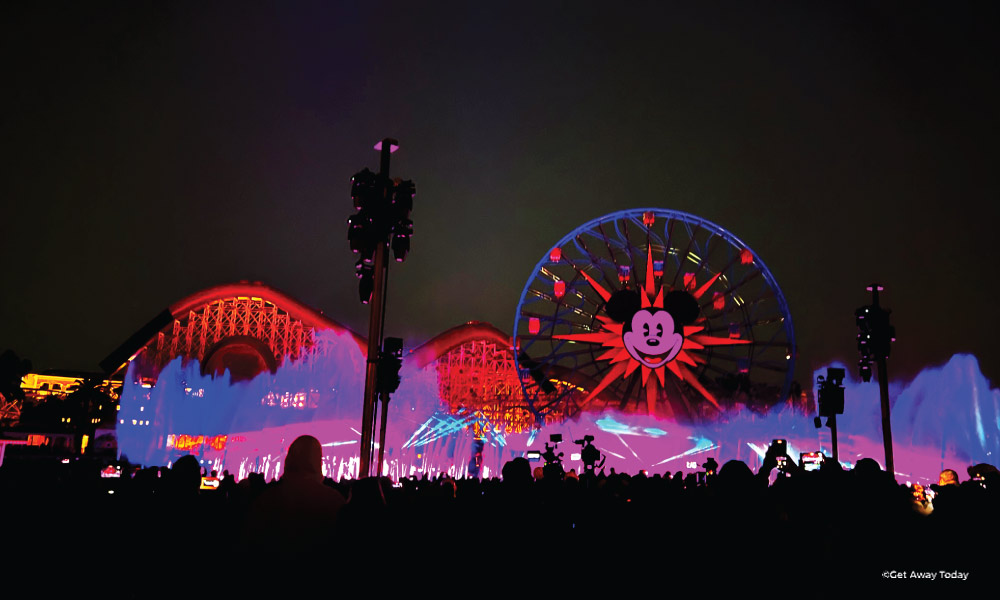 More tips to help you have the most romantic dining and vacation at Disneyland Resort:
Reservations for these romantic Disneyland restaurants can be made up to 60 days in advance.
When making reservations and/or checking in online, you'll be asked if you're celebrating something special. If you are, be sure to say yes! Even if it's not an official anniversary or engagement, let the cast member know that you are hoping to make it a special event. You never know what Disney magic may happen!
Dressing up isn't always required. When you normally think romantic night out on the town, you probably think about dressing up. When you think of Disneyland, you may think of tennis shoes and fanny packs. The nice thing about Disney, is you'll find people dressed from these two extremes and everything in between at the restaurants inside the parks - even Blue Bayou and Carthay Circle.
Park admission is required for both the Blue Bayou and Carthay Circle Restaurants, even with a reservation because they are located inside the parks. However, we make it as easy as possible to secure discount Disneyland tickets.
Surprise your loved one with reservations to one of the most romantic Disneyland restaurants for a night you'll remember forever. And for a vacation you'll remember forever, book with Get Away Today. We'd love to help you find the perfect hotel and lowest price on your Disneyland tickets. Check out our
Disneyland packages online
, or call our vacation experts at 855-GET-AWAY.