Last week we had the best time visiting with our contacts from sunny San Diego! They came by to remind us of why we love San Diego so much and give us the latest and greatest of what's going on. It's a big year for San Diego, and there are so many things you won't want to miss. We've put together a list of 7 awesome things you'll want to do in San Diego:
The MLB All-Star Game will be held at Petco Park on July 12, with special events all week long. It's any baseball fan's dream to see the best players at one of the most beautiful ball parks in the country. You can get your tickets to the game from our partner, Zippy Seats.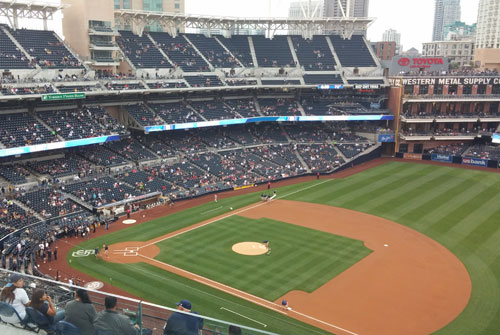 Comic Con is one of the largest festivals the city of San Diego sees celebrating comic books, fantasy, sci-fi and more. Cosplay is a huge part of the festival, so even if you don't attend, there's a good chance you'll see a Stormtrooper, Avenger, fairy, or any variety of creature roaming downtown. The event kicks off on the evening of July 20 and continues through July 24. The event sells out quickly, and that includes area hotel rooms. If you're thinking of going this year, you'll need to book now.
San Diego is home to a number of musical festivals, but one of the biggest is The KAABOO Experience which combines some of the best names in music and comedy for a truly unique event. This year's event will be held September 16 - 18 and will feature Jack Johnson, Goo Goo Dolls, Gavin De Graw, the cast of Silicon Valley, David Cross, Garfunkel and Oates, and tons of other incredible artists. It's a line up you will not want to miss.
October is San Diego's Kids Free Month with free admission to many of San Diego's most popular attractions. The actual deals don't normally get released until August, but it's a good idea to book your hotel early to make sure that you can lock-in the best deal for your San Diego vacation.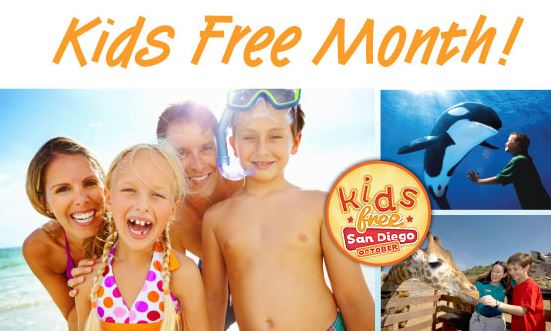 Liberty Public Market is San Diego's newest permanent market that is housed near the airport in a formal naval station. Much like Pike's Market in Seattle, you'll find everything from the freshest local produce, meats, artisan products like cheeses, olive oils, handmade pastas, etc. You can also find delicious prepared foods with everything from gourmet burgers to delicate pastries and everything in between. It's definitely one of the best places to taste the real flavors of San Diego.
Also big news in San Diego is that this year marks the World Famous San Diego Zoo's 100th anniversary. An official celebration begins May 14, so be prepared for fun announcements. In preparation for the centennial year, the Zoo has updated their outdoor amphitheater to include shaded areas, and has also added an outdoor theater as part of the line for tour bus. The San Diego Zoo is also one of the few places in the world where you'll be able to see Giant Pandas and Koalas. It's incredible to think that this park has been around for 100 years!
We also learned a little bit more about San Diego's #1 rated attraction by Trip Advisor and the most visited naval ship in the world, the USS Midway. Our agents love the Midway. The aircraft carrier offers three decks, over 60 exhibits, over 30 aircraft, interactive tours and experiences for the whole family. Your ticket includes an audio tour of most of the areas with one longer version for adults, and a shorter version for families. The USS Midway offers two types of flight simulators for about $8 per person. One is a smaller version that you can control yourself, while the other is a group simulator similar to a Star Tours experience. Perhaps the greatest treasures of the USS Midway are the 20 - 40 docents that serve on the ship. Many of the docents are retired military, and some even served on the Midway. Be sure to take advantage of their personal stories to really get a feel for the USS Midway.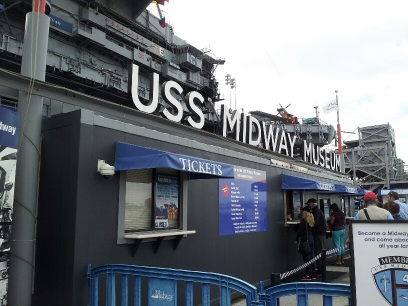 Now that you know what to do in San Diego, we'll give you an overview of where to stay in San Diego. A handful of our San Diego hotel partners stopped by to give us the latest of what their hotels have to offer Get Away Today guests.
The Bahia Resort Hotel is one of our most popular hotels, especially for families. They are located on Mission Bay, have a private beach, two rescue seals, an on-site restaurant, and so much more. All of their guest rooms were completely renovated recently, and during the summer the hotel holds a weekly California Dreaming party complete with a clam bake for an additional fee. Guests at the Bahia are also able to take free bay rides aboard the Bahia Belle. These cruises stop and pick up at the Catamaran Resort Hotel, where Bahia guests also have exchange privileges.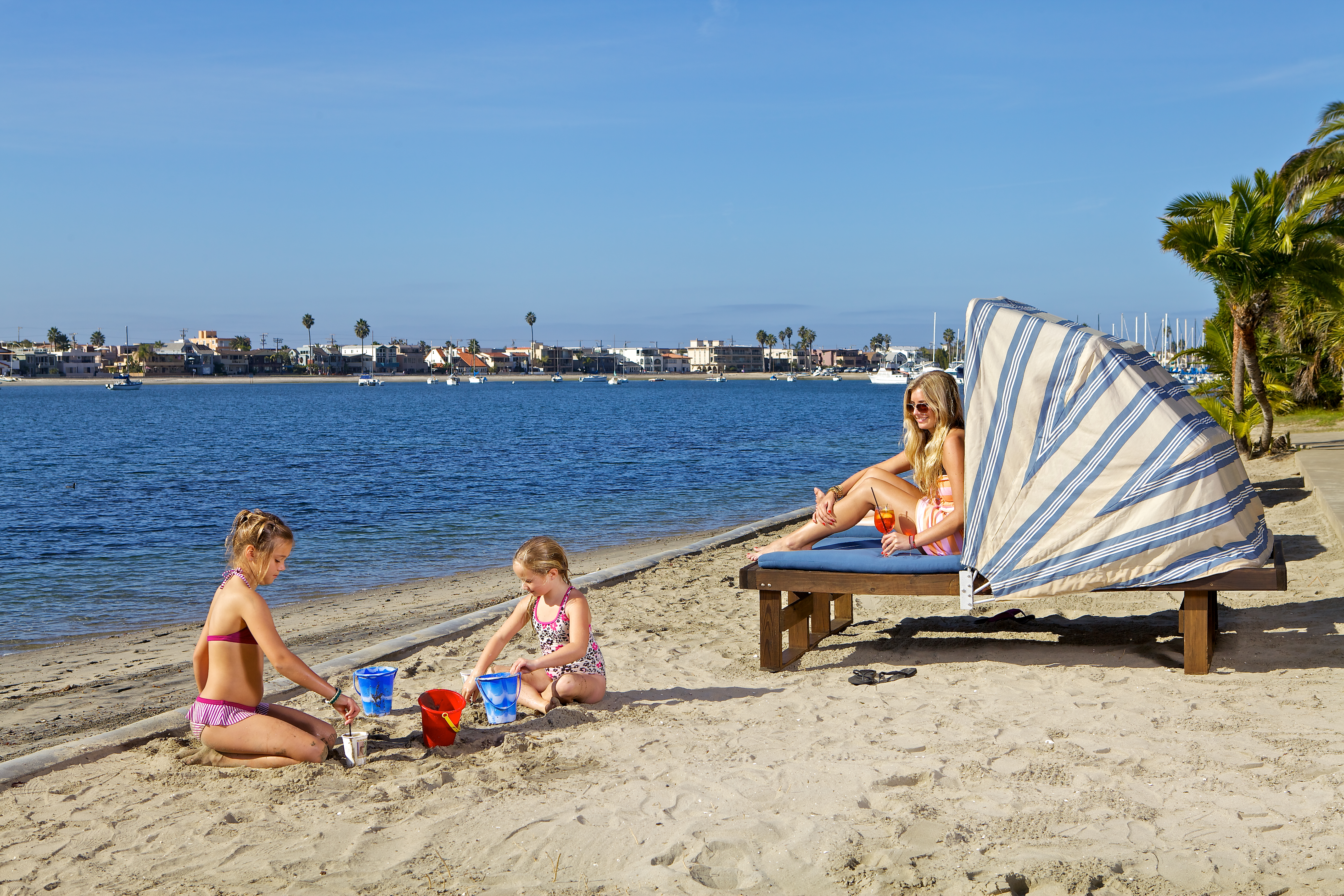 The Catamaran Resort Hotel is a Polynesian themed resort located a mile and a half from the Bahia. The Catamaran is home to a bird sanctuary, and you should be aware that they all talk. The birds are a huge hit with kids! The Catamaran has koi ponds throughout the property, a great pool area, a free arcade for kids and on-property marina rentals. The hotel also recently had room renovations on all their soft goods. They also upgraded all of their double beds to queen beds, which has been even better for families. The Catamaran hosts Sunset Luaus weekly during the summer that features a full cook out, Hawaiian dancers, and more, and sells out every night. It is a great place to stay!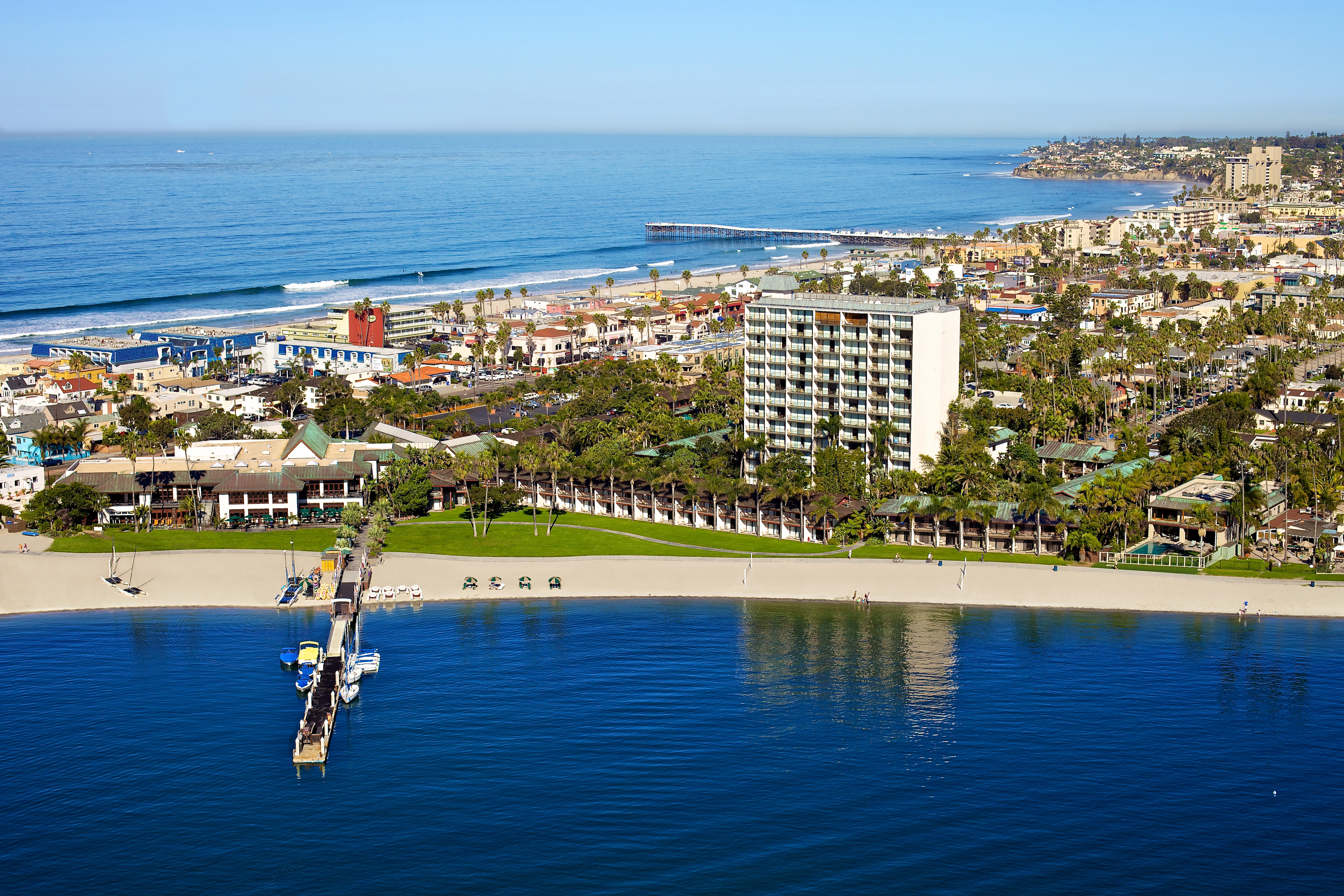 The Embassy Suites La Jolla is one of the few properties in the La Jolla area that offers 340 two room suites; one bedroom and a separate living room area for a total of 510 square feet. The suites offer either one king or two double beds and have 49" TVs in both the bedroom and living room. The hotel serves a hot breakfast each morning and a manager's reception each evening from 5:30-7:30pm. They have a great outdoor patio with fire pits, an indoor swimming pool and a fitness center, all available to guests free of charge. They're also located right night to the UTC Mall with 100 shops, ice skating and restaurants.
The Handelry Hotel is a family owned resort hotel that is conveniently located on Hotel Circle. They have 200 guest rooms with either 1 king or 2 double beds, and each room comes with a mini refrigerator. Get Away Today guests receive free parking, a $14 per night value, as well as a full American breakfast for up to four guests each day. The breakfast is a $16 value served at their in-house restaurant and includes tax and gratuity. The hotel also offers a complimentary shuttle service within five miles of the hotel. Whether you're headed to Old Town, SeaWorld or the San Diego Zoo, they are happy to accommodate you. The Handlery Hotel also features regular Jazz nights on Friday nights where local jazz artists perform and guests get 20% off appetizers. It's hugely popular, so you'll want to join in the fun!
We'd love to help you plan your San Diego vacation. You can book any of our San Diego vacation packages online, or call our agents at 855-GET-AWAY.

Check out these other great articles: