Spending some time at the beach? On top of packing all the essentials, you'll want to make sure you have a few games planned for the family to play. To help, we've gathered 8 of our favorite games to play at the beach.
Who doesn't enjoy a day at the beach? Family beach vacations are incredibly popular and it's easy to see why. The sand, the ocean and the sun are the perfect combination for a great day. With beach vacation season upon us, we want to help you make your next day at the beach even more entertaining and exciting with some of our family friendly beach games.
Hop up off your lounge chair and take the opportunity to get involved in the playtime. You can easily create happy memories with your children that will last a lifetime. Lather up your sunscreen, get your camera ready and start playing!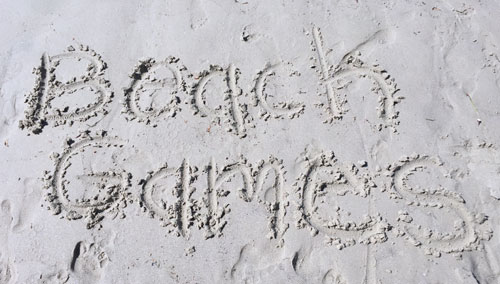 Bucket Fill Relay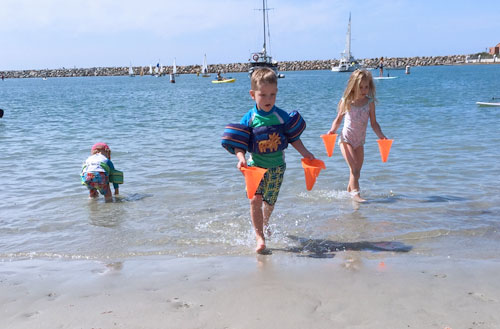 Split your group into two teams. Each team is in a race to fill their own sand bucket with ocean water. Give each team one shovel, cup or anything that they can use to scoop water from the ocean. The scoops should be similar in size and volume to make it fair. As the relay begins, each team sends one team member to the ocean. The person gathers water into their shovel and races back to the bucket. After they pour the water into the bucket, it is the next team member's turn to race to the ocean to get water. If the player races too fast, all of the water may spill out before they reach the bucket! The game continues until one team has a full bucket of water.

Crab Walk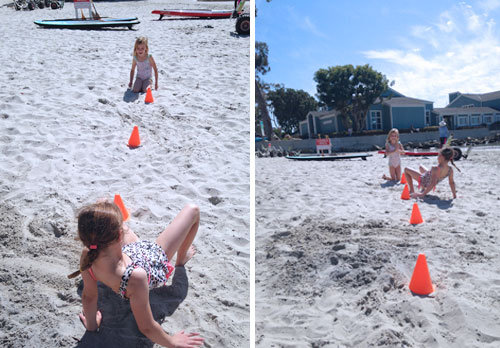 Have you ever seen a crab scurry across the sand? It is amazing to see how fast they can move. Test out your crab walking skills with a Crab-walk Race. We brought a stack of cones to the beach to make things official. You can draw a mark in the sand if you don't have your orange cones with you. Take turns racing around the cones to see who can crab walk through the course the fastest.

Sand Sculpting
Unleash your inner artist and create some body sand sculptures. One of our favorite things to create are mermaid or merman tails! Bury your legs in a big pile of sand. Pack it down firmly. Then use your hands or sand tools to carve a tail. Aren't they fun?

Fly A Kite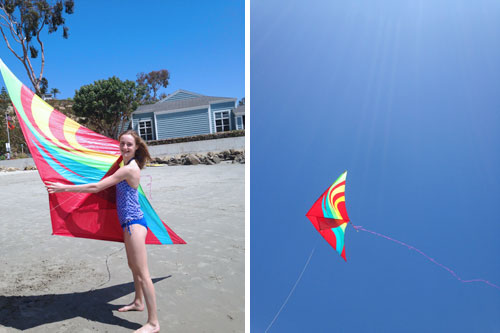 You can always count on the coast to be breezy. Bring your kite along to take advantage of the wind. Many beaches are large enough to accommodate really big kites. They are a lot of fun to fly and you don't have to run and run to keep the kite in the air. The ocean breeze does all the work.

Here's a link to a stunt kite we loved that we found online: Stunt Kite.

Sand Games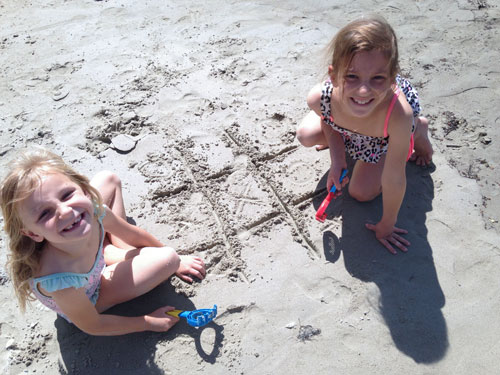 The beach is like a giant canvas. We love writing messages in the sand or drawing pictures. Relax in the sun and play a game of tic-tac-toe! With an endless stretch of beach at your fingertips, the possibilities are limitless. Be creative and have fun.

Just A Head
Some things just make good pictures. This activity is perfect for generating a chuckle and it also makes a great Facebook post! To do the "Just a Head" trick, start by digging a hole in the sand big enough for someone to sit in. Then, fill in the hole with sand. Smooth the edges of the sand around the head to make the picture look authentic. Slap on some sunglasses and a little sunscreen and get ready to watch the entertaining reactions of people who walk by.

Guess the Wave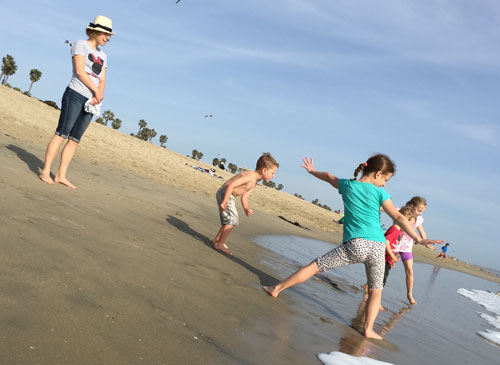 Chasing waves is a classic beach activity. Add an extra element of fun by trying to guess how far each wave is going to come up onto the beach. Let each person draw a line in the sand with their foot where they think the next wave will hit. The person who guesses the closest wins! You can play over and over again, because the waves just keep coming. It is amazing to see how each wave varies.

Bocce Ball Toss
Bocce is a popular game to play on the sand. There are a lot of great bocce ball sets you can purchase for the beach, like this one: 9-Piece Bocce Ball Set, or you can take the general concept and make your own game. To play, a small marker ball is tossed onto the sand. Each player takes a turn tossing their ball as close to the marker as they can get it. The winner is the person with the ball closest to the maker. That person gets to throw the marker and play begins again. If you don't have a bocce set, try tossing rocks or sea shells! It is a lot of fun.

Beach memories are some of the very best kind. Fill your family beach day with these fun activities, or make up your own games! The important part is that you are together and that you have a great time. Here's a list of links to some of our favorite beach toys so you can create your own days of beach fun:

48" Stunt Kite
Mini Traffic Cones
9-piece Bocce Ball Set

Most of all, we hope you have a great time making memories with the ones you love! Whether you're looking for a fantastic spot to watch the surfers at Huntington Beach, a calm spot on Mission Bay, or some fun-in-the sun in Carlsbad, Hawaii or Mexico, we have the perfect beach vacation for you. Look for our extra night free hotel specials and discount attraction tickets to save the most on your vacation. You can book your beach vacation online, or call our vacation experts at 855-GET-AWAY.

Check out these other great articles:
How to Get the Best Photos on Your Beach Vacation
Easy DIY Beach Tent Tutorial
Our Best Beach Tips for Families