The newest and most immersive land at Disneyland is Cars Land. The details are amazing. Find out the Cars Land secrets to make your next trip to Disneyland even better.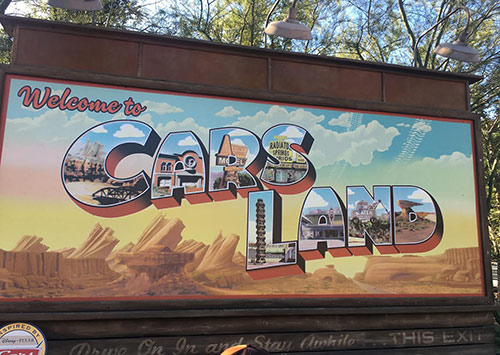 Cars Land is a life-size replica of Radiator Springs from Disney Pixar's beloved movie, "Cars." The following list celebrates many of the hidden details and Cars Land secrets. Before you go, we recommend watching the movie. You'll appreciate the amazing attention to detail honoring the magic of design, engineering and the golden age of Route 66! Drive in to Cars Land as an honorary car on your visit with this road map of Cars Land secrets and tips.
1. The Cadillac Range. One of the icons of Cars Land is the mountain range that serves as the area's stunning backdrop. The mountain range is known as the Cadillac Range and was inspired by the Cadillac Ranch, a row of old Cadillacs buried hood first in the ground in Texas. Each mountain peak looks like the back end of an old Cadillac. One of the Cars Land secrets is that each peak is named after the model year that inspired it; Mount 57, Mount 58, Mount 59, Mount 60, Mount 61 and Mount 62. Splitting the range is Mt. Ever-Rust, Carburetor Canyon and the Lincoln Continental Divide.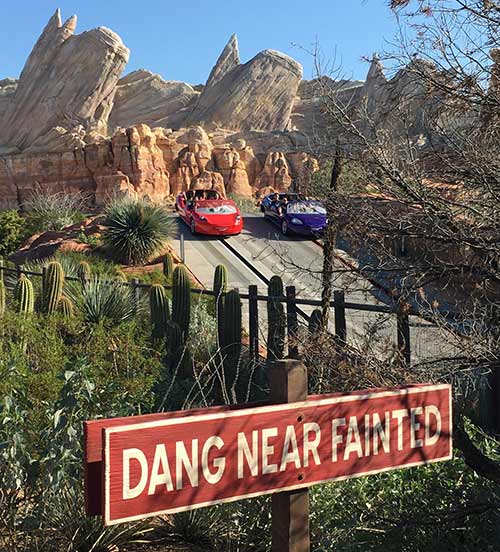 Near the Radiator Springs Racers attraction, a national park-like plaque describes how the Cadillac Range was formed. "The Cadillac Range was formed as the plates crashed into a busy intersection and buckled, which caused the mountain range to form at the contact point. Four thousand feet below the Cadillac Range are the oldest schists and gneisses of this region: The LaSalleous and Eldoradomorphic rocks known as the Coupe Group." The labels are all parts of Cadillac model names.
2. The Lighting McQueen pavement job. As part of Lighting McQueen's punishment for speeding through town and being disrespectful, Doc Hudson mandated that the main road be re-paved. Take a look at the pavement next time you are in Cars Land. You'll notice how the main street is new and fresh while the side streets look much older. It's almost as if Lighting McQueen has just finished laying the pavement! We love that so many Cars Land secrets are extensions of the story.
3. Sally's Cozy Cone Motel Snacks. Stop by Sally's for a refreshment on your road trip! Many people don't realize that you can get a variety of snacks here... but not all in the same place. Each of the five cones offer different treats – just look at the name of the cone to purchase the treat of your choice: Churros, Ice Cream Cones, Cone Queso, Cone-Coctions or Pop Cone. You'll be able to find something for every member of your family here. Just be sure you end up in the right line!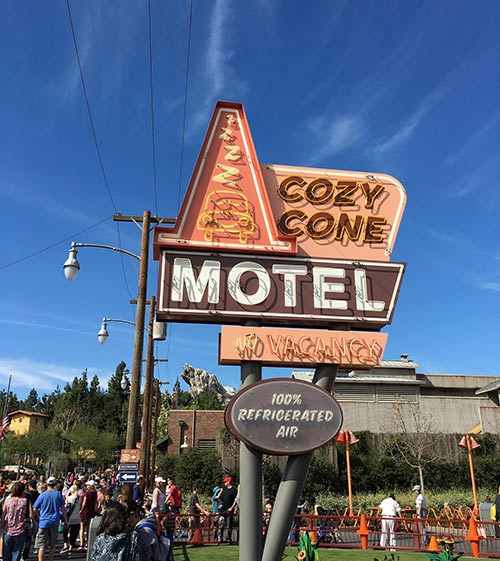 4. Mater's Junkyard Jamboree. On this attraction, you'll be zipped and whipped around by a baby tractor. It's almost as fun as tractor tippin'! If you've never ridden it before, one of the Cars Land secrets is that it's wilder than it appears!
But of course there are more Cars Land secrets to this attraction. For those that love the details and are fans of Mater, the queue line for the attraction is the real star of the show. In the film, Mater's hood has been lost for a while. As part of Pixar's tradition of creating cartoon shorts before feature films, Mater was featured in several shorts with different hoods. Look closely for Mater's hoods in the queue line and you may just find references to "Rescue Squad Mater," "El Materdor" and "Mater the Greater." If you want to watch them all before your trip, these shorts can currently be seen on "Mater's Tall Tales" on Netflix.
5. Flo's V8 Café. The main drive-in at Route 66 is Flo's V8 Café. The café is designed to look like an actual V8 Engine and the area is a throwback to 1960s drive-ins, complete with an amazing 60s soundtrack and friendly staff. Next time you eat there, pay attention to the building itself. Flo's V8 Café is shaped like an Air Cleaner, including a wing nut on the top. The outdoor covered areas were made to look like V8 engine pistons as well – you can even see spark plugs on top!
Another fun Cars Land secret is found inside Flo's. While eating inside the dining area closest to Radiator Springs Racers, look up at the top of the insde wall. You'll see a giant rearview mirror so even if you're not facing the window, you can see what's going on outside.
6. Luigi's Rollickin' Roadsters. You'll find something here that used to only be available in Disneyland Paris and Tokyo Disneyland. Luigi's Rollickin' Roadsters is the first attraction to use Disney's trackless and Wi-Fi technology in Disneyland! But the technogoloy is just one of the Cars Land secrets associated with this attraction. The story is another. Luigi has invited his cousins from "Carsoli" Italy for line dancing in his backyard.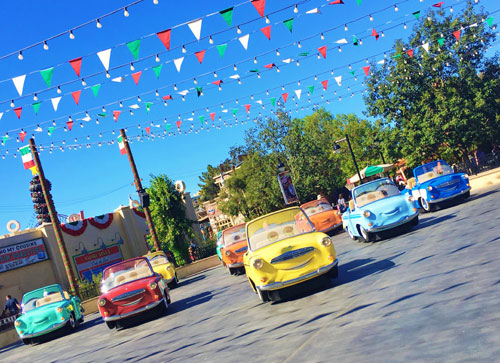 On your way to the adventure, you can find a few fun details at Luigi's Casa Della Tires. You'll notice some interesting names for the tires when you look at the show room. Just remember that Luigi's recommendations are always the whitewalls that are appropriately named after a favorite Italian pasta using white sauce: Fettuccini Alfredo!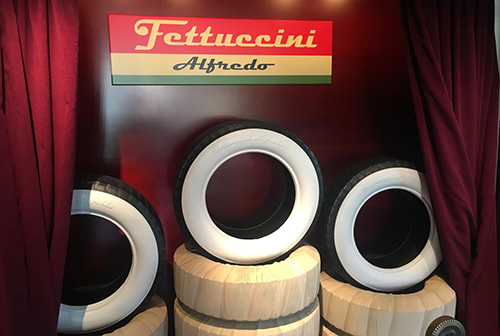 While visiting Casa Della Tires make sure to look at all of the details in the trophy cases. A fan favorite of hidden Cars Land secrets is a picture signed by John "Lassetire" paying homage to Disney's Chief Creative Officer and Cars creator John Lasseter.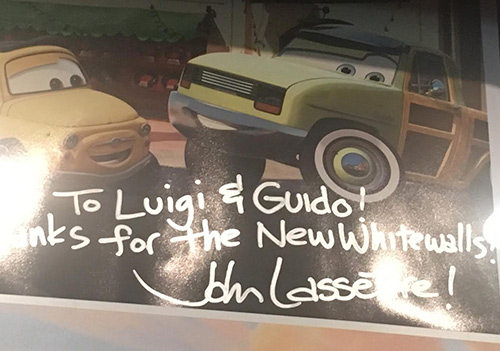 7. Ramone's House of Body Art. Ramone's shop is built as a gift shop for Route 66 memorabilia and Cars Land souvenirs. But, the magic of the shop and the Cars Land secrets are found in the windows. Ramone has spent a lot of time painting hidden Mickeys. Spoiler alert – we put a few close ups of the Hidden Mickeys below. Take some time and see if your family can find them…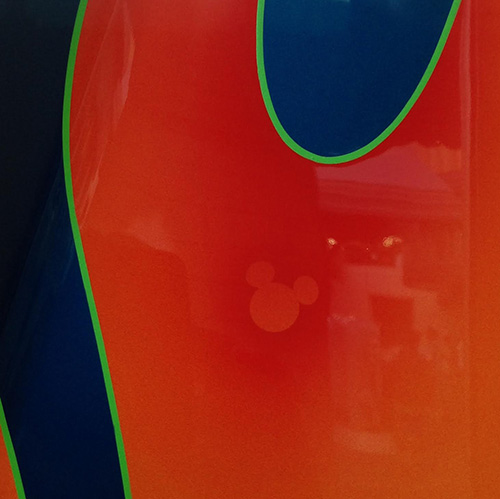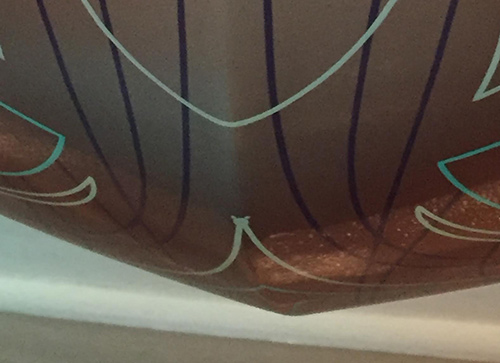 8. The Sha – Boom Lighting Ceremony. Every night immediately after sunset, an amazing array of Neon Lights bounce on, making Cars Land even better in the dark! You can ask a Cast Member or look at your phone for the official sunset time, because you won't want to miss the transformation. One of our Cars Land secrets is the best place to watch the informal ceremony happen. Our favorite spot is on the corner of Cross Street and Route 66 near Flo's, Ramone's and Luigi's. It is a re-creation of a magical moment in the movie where the famous "doo-wop" song plays back drop to the entire town coming alive with neon!
If for some reason you can't get to the area right at sunset, do not miss seeing Route 66 at night. The attractions and the lighting make it a completely different experience. Many times characters from the movie will make an appearance to celebrate the evening in Cars Land as well.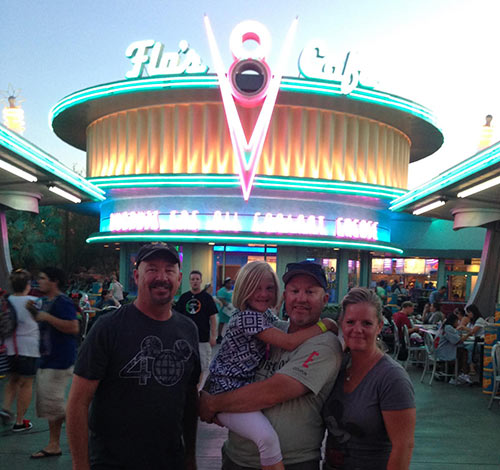 9. Radiator Springs Racers. This can't miss ride is one of the best attractions added to the Disneyland Resort since Pirates of the Caribbean and Haunted Mansion! The queue line winds past fun signs, road side attractions and the original Radiator Springs where Stanley first set up Radiator Springs.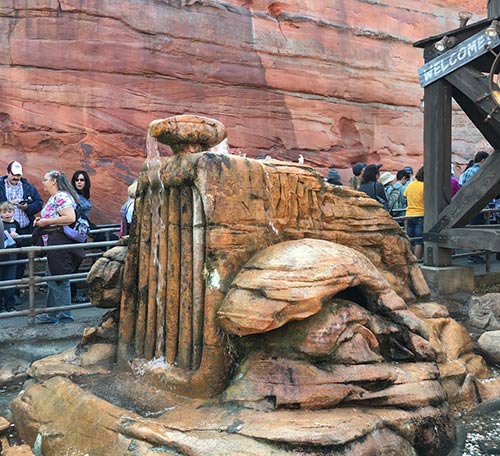 "Racers," as it's affectionately known, takes you on an adventure through Ornament Valley. It tells a great story about making great friends, slowing down and enjoying life, creating good relationships, and helping others on the road.
It's not really one of the Cars Land secrets anymore, but since it's so popular, Fastpass tickets go quickly. Grab a Fastpass early in the morning. If it's offered, you can also use the single-rider option to reduce wait times. This is a good option if your kids are older or if you don't mind riding alone. Oftentimes you end up in the same car as another person in your party anyway.
The attraction makes a pass past a beautiful waterfall, reminding us to "smell the roses" and appreciate the beauty in our world.
Eventually guests meet the Sheriff with an introduction to Mater along with a "tractor tipping" adventure. After running away from "Frank" the angry combine, look closely for Mater's shadow in the moon as you escape.
At this point the attraction splits for two possible experiences; getting a new set of whitewalls from Luigi or a new paint job from Ramone.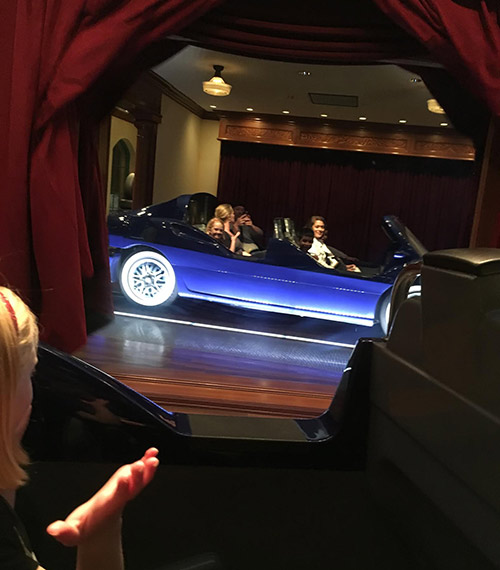 If you go to Luigi's, Guido meets you, jacks your car and switches your tires in world-record time, with Fettuccini Alfredos of course!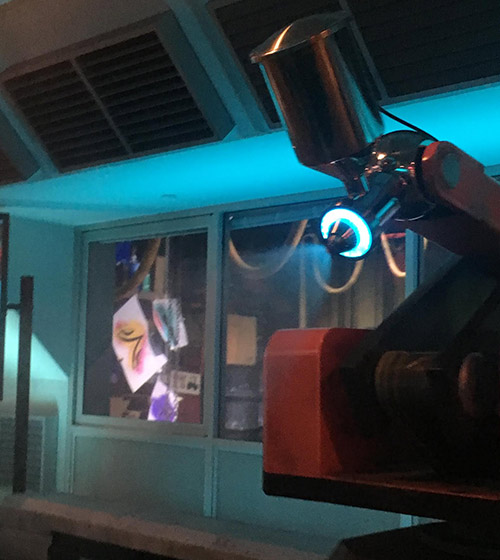 If you visit Ramone's, Flo will meet you while a robotic arm puts on a new coat of paint! Keep your eyes peeled for the same hoods found in the windows on Route 66.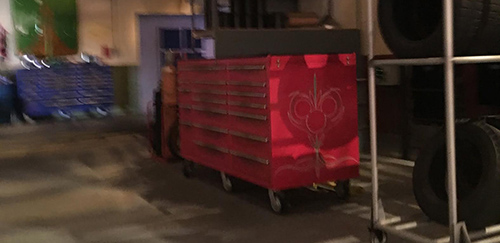 Both experiences lead you into a coaching session from Doc Hudson. Here's another one of Cars Land secrets... If you get whitewalls, look to your right for Doc's toolbox. You will notice one of the attraction's hidden Mickeys.
After your pepe talk, you'll meet up with another car for a fun race through the desert! You never know which car will win. But it's so much fun, you won't really care. The attraction ends at the Tail Light Caverns with all sorts of kitchy, clever signs.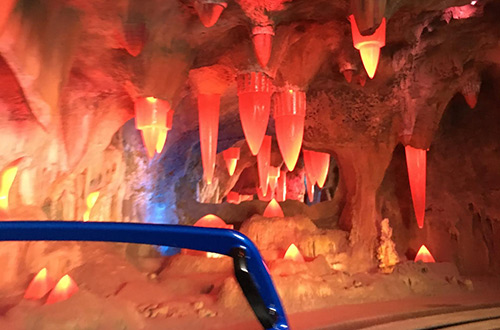 Slow down and enjoy some time with your fleet. Disney's Cars Land is a "road trip" that will always be remembered. Get Away Today can guide you to a creative vacation fit for every member of your garage. With everything from discount Disneyland tickets to the most affordable hotel accommodations, we've got you covered. Call Get Away Today's experts for your free quote today at 855-GET-AWAY or check out our Disneyland packages online.

Check out these other great articles:
Chris Dallin is a Disneyland fanatic. He travels to Disney parks several times a year and continues to find hidden gems, adventure, joy and magic in the Happiest Place on Earth. Tune into future blogs for additional ways to experience the magic of Disney Parks.