Whether you're planning your first or hundredth visit to Universal Studios Hollywood, there are still a "minion" reasons to visit and a "minion" more things to do!! We have compiled everything you need to know about booking your Despicably amazing
Universal Studios Hollywood vacation
plus helpful tips for your vacation. Our team at Get Away Today loves helping our guests plan a vacation made for the movies! We'll put you in the starring role and help you choose the best:
Universal Studios Hollywood area hotel
Discount Universal Studios Hollywood theme park tickets
Extra options like Universal Express and VIP Experience
Plus, we visit Universal Studios Hollywood on a regular basis to keep tabs on all the ins and outs. It's one of our favorite parks to visit, and we especially adore Despicable Me: Minion Mayhem. It is a high energy, action packed motion simulator attraction in 3-D, where you go on a journey to become one of Gru's minions! In this article we talk about all the minion details for riding Despicable Me: Minion Mayhem, meeting Gru and other characters from the movies. Add in the minions' irreverent humor, silly storyline and you'll discover Despicable Me as a perfect match for Universal Studios Hollywood.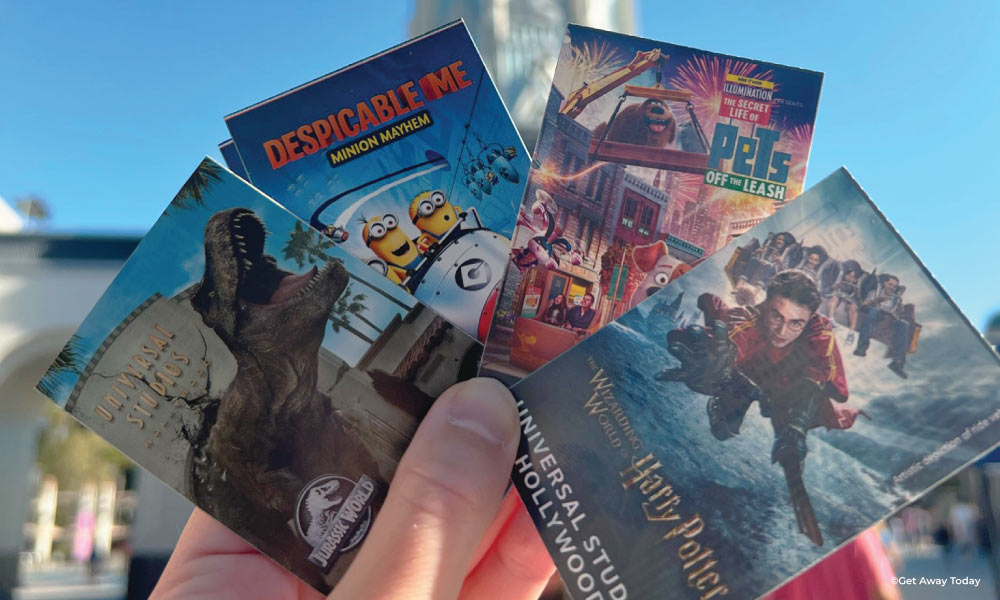 Despicable Me: Minion Mayhem at a Glance
Despicable Me: Minion Mayhem is located in Minion Land at Universal Studios Hollywood Upper Lot. This ride is an excellent choice for
Universal Studios with Kids
. Here are the basics to know before you ride.
Motion Simulation
Minimum Height 40" (101.6 cm)
Under 48" (121.9cm): Supervising Companion Required
Tips for the Ride Despicable Me: Minion Mayhem
Before you even get to the ride itself, the mischief begins. You'll see the outside façade of the ride and it looks just like the movie! Gru's suburban neighborhood is quickly recognizable even down to the last detail with a dead lawn in front of his house. To enter the ride, you'll step into Gru's house where minions on monitors will entertain you while you wait in line. On these screens you'll learn about the recruitments of a minion, and be quizzed to see if you are prepared to become one. Next up you'll grab your 3D glasses and be welcomed by Gru. He explains your training, and warns you too, but then his cute daughters Agnes, Margo and Edith reassure guests. The ride is fun, adventurous and heartwarming. After the ride, the doors open and you finish with a big dance party with the minions! Outside the house is where you might run into Gru, Stuart or other minions friends. Beware of some Gru and minion pranks, and some sweet hugs too, which will certainly make your day!
A Minion Reasons to Shop
After the ride and dance party you'll get to browse the gift shop, Super Silly Stuff. It's stocked full of our favorite Despicable Me souvenirs. Some of our favorite finds include:
Hundreds of stuffed minions—how do you choose just one?
Exclusive toys and gifts only available at Universal Studios
Minion backpacks, purses, totes and more
Minion t-shirts, hats and hoodies
Fart sound makers and more
Plus, doesn't everyone need a fluffy pink unicorn in their life? Inside the Super Silly Stuff gift shop is another character meet and greet opportunity, so be sure to see if any of those crazy Minions are hanging out before you leave.
Minion Playground: Super Silly Fun Land
The best place to run around and get your wiggle out is in Super Silly Fun Land! It's adjacent to Despicable Me: Minion Mayhem and Super Silly Stuff. This elaborate play zone is an interactive Minion-inspired outdoor venue that is a literal interpretation of the seaside carnival from Illumination's "Despicable Me." Designed to entertain guests of all ages it offers more than 80 different water-play features. Absolutely bring water friendly gear to wear or a fresh change of clothes for post play time. A nearby dry zone invites guests to climb, jump and slide, while a second Minion-themed ride, "Silly Swirly," soars and spins guests around for a 360-degree view of "Super Silly Fun Land" aboard a fleet of uniquely styled ride vehicles. Another highlight is the carnival stand, which is also accurately recreated from the movie allowing kids to try to win Agnes's fluffy pink unicorn for themselves.
Minion Meals at Universal Studios Hollywood
If all the play time and exploring has made you hungry stop by Minion Cafe, where you can enjoy a yummy Despicable Me themed meal or minion treat featuring:
Classic Grilled Cheese with Tomato Soup
Meatball Parmesan Grilled Cheese with Tomato Soup
Pulled Pork Grilled Cheese with Banana BBQ Sauce
Chicken Bacon Ranch Mac n Cheese
Nutella™ Banana Pudding
And More! Another great snack option is the walk up Despicable Delights stand where you can sip on a yellow freeze ray smoothie or choose banana & grape cotton candy!
We love being part of the Despicable Me world and now it's your turn! Let us help you plan the perfect vacation to Universal Studios Hollywood. Whether it's a quick getaway to Hollywood or part of a longer Southern California vacation, we will make sure you get the best deal on your vacation package.
Book online
or call our vacation experts at 855-GET-AWAY.