AMC's The Walking Dead attraction is now open at Universal Studios Hollywood. This attraction is the first ever day time, year round attraction featuring AMC's hit show, The Walking Dead.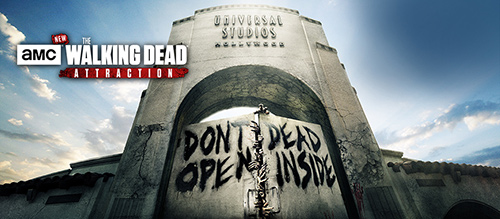 Photo Courtesy of Universal Studios Hollywood
To say that it's been a big year for Universal Studios Hollywood, is almost an understatement. First, The Wizarding World of Harry Potter opened on April 7. With the new land came a major attraction housed in Hogwarts, the park's first outdoor rollercoaster, two live shows, an interactive wand experience, a full restaurant, and so much more.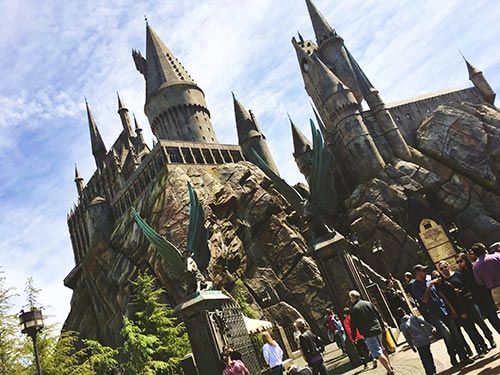 Then, not even three months later, Universal Studios Hollywood opened AMC's The Walking Dead attraction. The new attraction is unlike some of Universal Studios Hollywood's previous AMC The Walking Dead maze attractions that were only available during Halloween Horror Nights as part of a nighttime only, limited time seasonal experience. The new AMC's The Walking Dead attraction at Universal Studios Hollywood is the first ever day time, year round experience that will completely immerse you in the sites, sounds and chills of the show. And, Universal Studios Hollywood is the only place you can experience it.
AMC's The Walking Dead attraction officially opened on July 4, and it has been getting rave reviews ever since. So much detail went into this project that includes some of the most realistic animatronic "hungry walkers" mixed with live actor walkers. That combined with some of the most recognizable and eerie scenes from the series create an environment that is incredibly authentic and so scary for fans of the Walking Dead.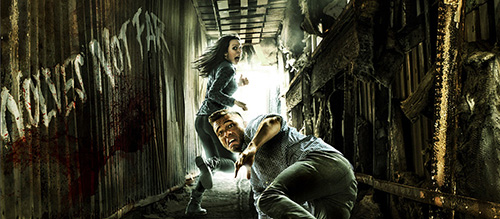 Photo Courtesy of Universal Studios Hollywood
Scenes in AMC's The Walking Dead attraction span the entire six season series and include flailing arms, a crawling torso, real looking fire and other frights that, let's face it, are too scary to write. One thing that definitely helped make this attraction so true to the show is the fact that The Walking Dead's Executive Producer and Director, Greg Nicotero, was heavily involved with its creation.
The entire Walking Dead attraction takes about nine fear-filled minutes to get through, and be warned, that it is quite gruesome. Because of the intense nature of both the live elements and special effects, Universal Studios Hollywood issues a parental discretion advisement for children. We feel like this attraction is best suited for guests ages 13 years and up, but keep in mind, that you know your family better than anyone else. The official pamphlet from Universal Studios references dark corridors where performers jump out from around corners, loud noises, some water effects and enclosed areas, so you can make the best decision for your family.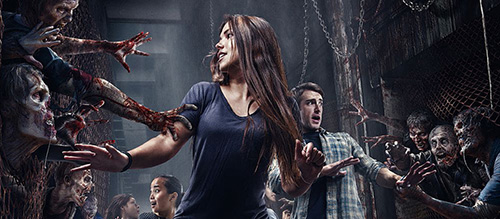 Photo Courtesy of Universal Studios Hollywood
For fans of the show and/or zombies, anyone who loves haunted houses or horror movies, or anyone just looking for something completely unlike anything you've seen before, AMC's The Walking Dead attraction is a must experience.
And if the The Walking Dead attraction isn't your thing, Universal Studios Hollywood also has something for everyone! Everyone will love the Backlot Tour where you'll get to see the tricks of how your favorite shows are made and actual sets from some of the most popular films of all time, plus get a few surprises along the way.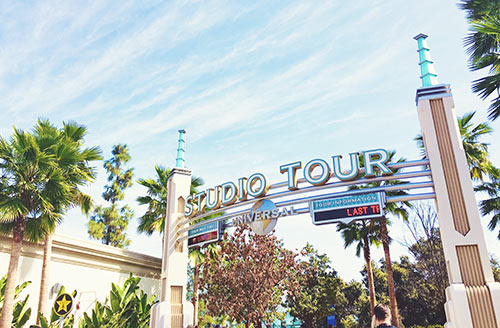 The upper lot of Universal Studios Hollywood has so much to offer. The Wizarding World of Harry Potter is full of magical fun for muggles of any age. Despicable Me: Minion Mayhem, Super Silly Funland, Despicable Me themed restaurants, and character meet and greets with Minions, Gru and his daughters are hugely popular. Shrek 4-D, the Universal's Animal Actors show, The Simpsons Ride and the entire cartoon town of Springfield are just part of the fun.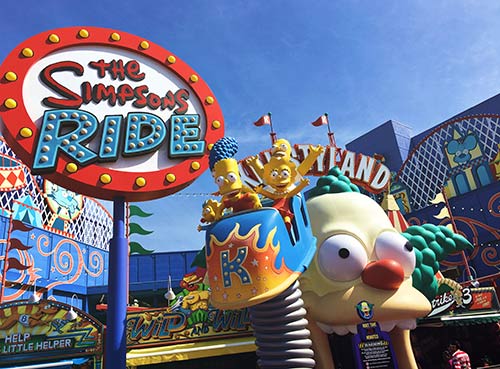 The lower lot features three intense rides; Jurassic Park - The Ride, Transformers - The Ride 3D, and the Revenge of the Mummy indoor rollercoaster. There's also a darling play area for kids, a "live" raptor encounter, meet and greets with characters like Bumblebee, Optimus Prime, Megatron, and Dora the Explorer, and plenty of restaurant options.
Don't miss any of the action at Universal Studios Hollywood this year, and if you're feeling brave, be one of the first to fight for survival at AMC's The Walking Dead attraction! Stay near Universal Studios Hollywood at one of our partner hotels. Or, make Anaheim the home base for your Southern California vacation and save the most with our extra night free offers and exclusive savings like free breakfast. Book your discount Universal Studios Hollywood tickets with Get Away Today to save the most on your vacation. Book online or call any of our vacation experts at 855-GET-AWAY.

Check out these other great articles: