If you are visiting SeaWorld San Diego (and we think you should), you will notice major changes have taken place to the park's main entrance. Earlier this year SeaWorld introduced a brand new attraction called Explorer's Reef. It is a beautiful representation of an underwater land with several pools filled with sea creatures that you can touch. It is very interactive and a whole lot of aquatic fun for all ages!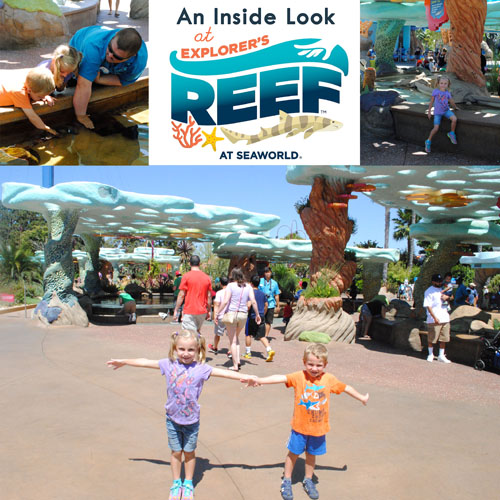 We just returned from a day at SeaWorld and we had an amazing experience at the Explorer's Reef. I had the opportunity to talk to an extremely friendly and helpful employee about the new attraction, and would love to share all of his insights here. This was one of our favorite things about our day at Sea World, and I know you will love it too.
The underlying concept of the Explorer's Reef was to bring more education and interaction to the park visitors--right when they entered the gates. The staff wanted to put the focus on a memorable hands-on experience and less on commercialization. So, all of the gift shops and food vendors were pushed to the corners and other areas of the park to make room for the new attraction. Now instead of immediately reaching for your wallet, you can reach out and touch a real sea creature instead!
Sea World is putting a lot of emphasis on education. You get a scene of that fact just walking through the park. All of the animal habitat exhibits had eager employees ready to answer questions we had about the animals in their care.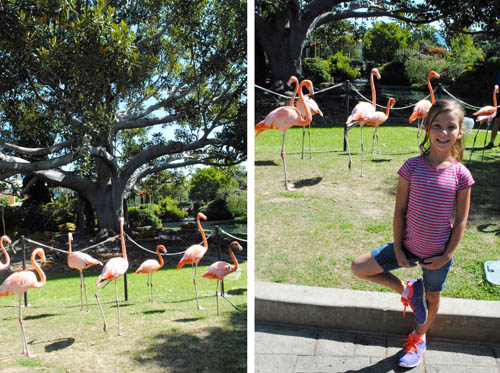 We were wandering through the park and happened upon a flock of flamingos and a handful of employees. After just a few minutes of talking to the workers, we learned so much about the beautiful birds. My kids were amazed that the flamingo babies aren't born pink! We were prompted several times to ask questions and each of my kids was given a bookmark with flamingo facts and pictures on it. Our experience was the same throughout the park! The new Explorer's Reef was no exception. It was well staffed with people waiting to share their knowledge with park guests. A day at SeaWorld is a day of wonder, imagination, entertainment and definitely education!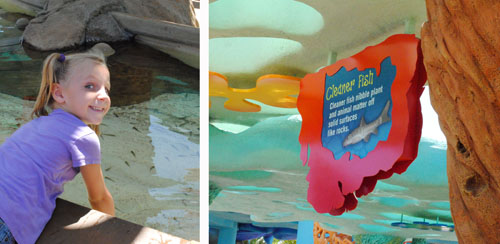 The Explorer's Reef has a large pool of Cleaner Fish. I was told that this is the first hands-on exhibit of cleaner fish in the United States. Many were skeptical that the fish would survive. The employees are happy to report that the fish are not only surviving, but they are thriving. It is so fun to see the little fish swim and feel them slide across your hand as they glide by. We really enjoyed playing with them.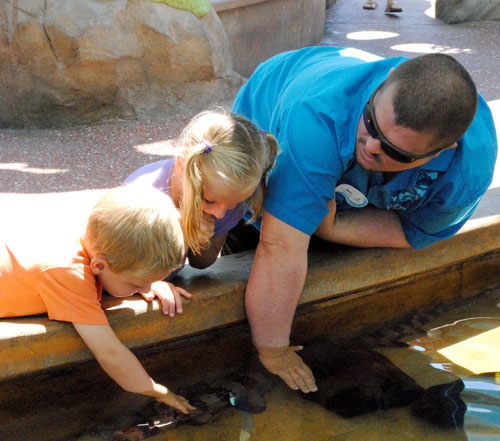 People are fascinated with sharks, so SeaWorld wanted to make sure to have sharks a part of the touch pools. They actually made two areas where guests can touch a real shark. The employee helping us at the shark pool was awesome. He told us all about sharks and explained why it is okay for us to touch the baby Bamboo Sharks. My little girl was afraid to touch the shark! Our helper, put his hands in the water and covered the sharks eyes. He spent over five minutes helping my little girl to gather up the courage to pet the animal. I felt like it was such great customer service and my daughter felt so proud of herself when she finally conquered her fears! It is an experience she will not forget.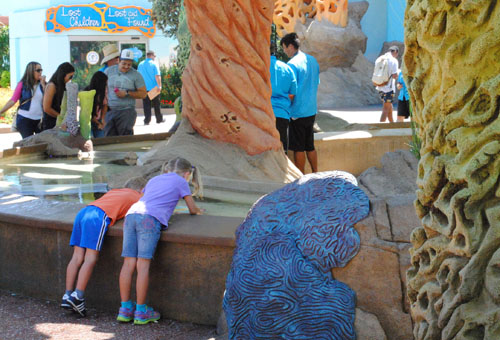 There are so many wonderful things to do and experience at Sea World. The new Explorer's Reef is a great addition to the park. Being able to touch real sea creatures was so fun for my kids. I hope you enjoy it as much as we did. Just think, you can tell all of your friends back home that you touched a real shark! What is cooler than that?

Top 10 Things to do in San Diego
Our Best Beach Tips for Families
DIY SeaWorld Inspired Shark Hoodie
Best San Diego and Carlsbad Vacations